Black Death
| Viking Brewery - Vifilfell Ltd.
BA SCORE
83
good
11
Reviews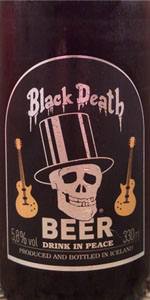 BEER INFO
Brewed by:
Viking Brewery - Vifilfell Ltd.
Iceland
vikingbeer.com.au
Style:
English Stout
Alcohol by volume (ABV):
5.80%
Availability:
Year-round
Notes / Commercial Description:
No notes at this time.
Added by peensteen on 11-08-2011
Reviews: 11 | Ratings: 24
3.43
/5
rDev
-5.8%
look: 3.5 | smell: 3 | taste: 3.5 | feel: 4 | overall: 3.5
I had this at the Icelandic Bar in Reykjavik. Poured into a standard pint glass.
Appearance: Pours a cloudy dark brown with a half finger of fluffy tan head that fades to a ring around the pour.
Smell: A very light roast with some malt sweetness and a nutty quality in the background.
Taste: A strong roast presence with a mild coffee note. Sweet malt backs up the roast with a bitterness in the finish.
Mouthfeel: Medium body with smooth carbonation and a finish that is a bit dry.
Overall: Just an alright beer. The roast is nice, but there needs to be more to back it up. Probably pass on this one in the future.
★
620 characters

3.62
/5
rDev
-0.5%
look: 3.5 | smell: 4 | taste: 3.5 | feel: 3.5 | overall: 3.5
A - Pours with one finger of medium brown head on top of an opaque, black body. The head settles fairly quickly and leaves light lace.
S - Sweet, dark bread with notes of molasses, brown sugar, and cola.
T - Black bread and some molasses up front. The beer transitions to more sugary notes of brown sugar in the middle with some dry toast and burnt caramel. A touch of roast comes out in the middle with smoky chocolate and more burnt sugar.
M - Medium body, moderate carbonation, and a dry finish.
D - Not bad, this certainly seems more like an English stout than anything else with an emphasis on sugar rather than roast. The dry finish is a bit excessive for my taste and it gives the sugary notes a burnt character that becomes cloying in the aftertaste.
★
762 characters

3.95
/5
rDev
+8.5%
look: 4 | smell: 4 | taste: 4 | feel: 3.5 | overall: 4
A - Pours a deep brown/ black with just over one fingee of tan head. Head has good retention and leaves some lacing. A thin cap remains throughout.
S - Roasted malt, a faint sweetness and some anise. Also a bit of dried fruits.
T - Again, roasty malts, plus a bit of char. More chocolate in the taste than the smell. A bit of fruit and anise again. Finshes very roasty and somewhat bitter. Pretty tasty.
M - Mouthfeel is relatively light but not watery.
O - A pretty tasty stout. The finish is quite nice.
★
509 characters

3.8
/5
rDev
+4.4%
look: 3.5 | smell: 3.5 | taste: 4 | feel: 3.5 | overall: 4
This may be an alias for Viking Stout. Not much info on the bottle other than the name of the brewery, abv and a history of Black Death liquor. This was picked up by a friend in Iceland at the airport so this may be Viking Stout in a bottle typically sold to tourists.
Pours jet black, one finger of tan head,some lace left towards the top. Smell is roasted malt, coffee, bittersweet and milk chocolate with subtle smoked notes picked up as well. Taste full of roasted malt, coffee and bakers chocolate, lightly astringent with a mild lactic sourness, lightly ashy and smokey in the finish, dry with a long coffee aftertaste. Light to medium carbonation, medium body, lightish feel at points. Overall this was pretty enjoyable, considering this country went so long without brewing this is farily solid.
★
806 characters

4.09
/5
rDev
+12.4%
look: 4.25 | smell: 4.5 | taste: 4 | feel: 3.5 | overall: 4
Pours a dark brown, almost black colour. Smells of dark malts, coffee, and dark chocolate, clean and not much else. Tastes mostly of dark malts, and faint bitter chocolate; slight coffee taste at the end.
★
204 characters

3.47
/5
rDev
-4.7%
look: 5 | smell: 3 | taste: 3.5 | feel: 3.5 | overall: 3.5
I got this beer from my collegue Diana who was in Sweden and Norway this year. She always brings me some beers from this region. I believe this is my very frist beer from Iceland....here we go!
Poured in my Struise glass this beer looks absolutely perfect. Pitch black fluid and a super nice brown head. Lacing after a few minutes. Smell is bit buttery but not too much.
Taste with far far away some coffeenotes but this must have been coffee they used for their own coffee kettle and then for the brew. But again no problem. Very light mouthcarbonation.
All in all a decent beer for the island but they should give it some more juice (alcohol). Mouthfeel is too thin....
★
674 characters

3.3
/5
rDev
-9.3%
look: 3.75 | smell: 2.5 | taste: 3.5 | feel: 3.75 | overall: 3.5
Served in a pint right from the bottle.
Appearance: Thin brown to black body with a subtle head rising up to about a full finger's length then drops to nada after one sip and zero lacing.
Smell: Hopped, and lightly yeast with notes of barley.
Taste: Malt and hops make this brew feel a little more sour than normal, dark chocolate in the end after you place the glass down.
Mouth: Medium to heavy carbonation, lightly sticky
Overall: Descent brew, I was spoiled earlier with some awesome beers at a beer garden I visited earlier at the Foss hotel...enjoy with love. Salud!
★
581 characters

3.47
/5
rDev
-4.7%
look: 3 | smell: 3.5 | taste: 3.5 | feel: 2.5 | overall: 4
This ominous sounding Black Death Beer comes from the Viking Brewery in Iceland. Now the other brew I had of theirs - Viking Lager, was indeed a lacklustre beer, but I have heard many good things, whispers from men with long hair and big beards who may or may not have been Icelandic... or Danish... or craft beer geeks... either way lately I've had a massive Stout craving and I'm hoping this relatively well-priced Icelandic brew can subside my latest Stout-lust with its roasty charms.
Poured from a 330ml bottle into a nonic pint.
A: Presents a deep, dark, murky brown sea of Stout with a thin mocha lace that resides to a ring that leaves me wanting for a beautiful nitro can consistency... oh well, can't really hold it against Viking for not using a draught widget can I? 6/10.
S: Aroma is a promising mélange of roasted coffee bean, oyster, hints of smoke and forest berries (sort of has a Crowberry aroma to it - we all remember Crowberries from my review of HaandBryggeriet's Kreklingøl - the beer that destroyed my last keyboard). The nose is more dry and smoky than sweet. 7/10.
T: Intriguing, that oyster character really comes through with a salty/meaty (umami) flavour upfront. Following this is: roasted coffee, smoke and dry wild berries in the finish... it's not quite a Germanic/Japanese looooong dry finish but it's also not far off it. The saltiness of this beer automatically singles the experience out - salty brews are fairly rare IMO... definitely a beer that makes you go "Hmmm"*. 7/10.
M: Lacking in body with a mid to light wateriness unbecoming of a decent upstanding Stout but oh well, with a light carbonation. 5/10.
D: Overall not a bad effort considering, you know, Iceland and all that... though I must say Iceland compares badly to its Nordic cousin (that mystical place they call: Norway - the nor-est of ways) with brewers like HaandBryggeriet pumping out champion brews such as Norwegian Wood. Which coincidentally is the brew that Black Death Beer reminds me most of, it's just not as good I'm afraid. 8/10.
Food match: This is one Stout that I would recommend with seafood... specifically: oysters, mussels and scallops.
*"Yeah!" (if you can guess that obscure 90's music reference I will buy you a beer!)
★
2,281 characters

3.42
/5
rDev
-6%
look: 3.5 | smell: 3.25 | taste: 3.5 | feel: 3.25 | overall: 3.5
Format: a standard brown 330mL bottle with a semi-funky, semy-tacky craft label with the rockin' skull-dude.
Appearance: poured into a tulip glass. A jet black body with only the slightest brown highlights around the edges. A one-finger very dark tan head drops to a thick ring.
Aroma: my initial reaction was coffee, but on further inspection it seems more like heavy breads, liquorice and perhaps some umami. There is a touch of roast malts in the background.
Taste: again those heavy dark breads with umami and some roast coffee. Really unusual, but definitely intriguing. Not my favourite stout, but as dark ales go, this is something a bit new to me. I like that.
Aftertaste: plenty of sweetness come through in the aftertaste, which is unexpected after the heavy taste at the front.
Mouth feel: light to moderate in feel, which is unusual for an English stout. Lighter and easier to drink quickly, but funnily enough I think it would be better with a more viscous feel.
Overall: this beer has a very unusual combination of flavours to make a somewhat unique style. I wouldn't say it was typical of the English Stout, that's for sure. Aftertaking the first few sips, I grabbed a TimTam and ate it with this - a phenomenal matching by the way. Flatters this beer fantastically - well worth it. Not bad at around AU$65 a case either.
★
1,342 characters

4.26
/5
rDev
+17%
look: 4 | smell: 4.25 | taste: 4.25 | feel: 4.5 | overall: 4.25
The brewery describes this as a baltic porter. I definitely thought it was a lager, and could possibly fit in the schwarzbier or smoked category. Definitely not a stout.
330ml bottle from Hótel Búðir, January 2015
A - Black with ruby edges when backlight crested by a light brown head
S - Smoked malt at first. Being in Iceland, I thought it might even have mussels in it at first, but the smoke fades slightly to become just one aroma that blends nicely with light roasty aromas. Smells quite lush but not sweet
T - Taste follows the aroma, with great balance so that it is not to sweet, or dry
M - Medium full with a slightly dry bitter finish
O - Judged as a stout, this beer is all wrong, but judged with a schwarzbier in mind (svarturbjór in Icelandic) this is a hit!
★
779 characters
3.2
/5
rDev
-12.1%
look: 3.5 | smell: 3.5 | taste: 3 | feel: 3 | overall: 3.25
This was one of the many beers - and of the better ones - I tried last week when I was in iceland. The waiter at the bat where I had it was an American ex-pat and he said this was a local favorite.
It was a decent stout with some cocoa notes, some smokiness, and a pretty clean (maybe a bit watery) mouthfeel.
★
311 characters
Black Death from Viking Brewery - Vifilfell Ltd.
3.64
out of
5
based on
24
ratings.