Mclean's Pub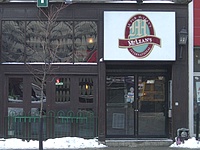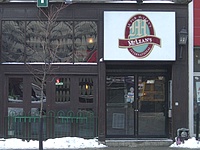 Bar, Eatery
1210 Peel
Montréal
,
Quebec
Canada
(514) 392-7770 |
map
bar-resto.com
Notes:
Recent ratings and reviews.
| Log in to view more ratings + sorting options.
Ratings by Shanex:
Rated by Shanex from France
3.84
/5
rDev
+12.9%
vibe: 3.75 | quality: 3.75 | service: 3.75 | selection: 4 | food: 4
Jul 05, 2016
More User Ratings:
Reviewed by papat444 from Canada (QC)
3.58
/5
rDev
+5.3%
vibe: 4 | quality: 3.75 | service: 4 | selection: 2.75
Nestled in an old building, this place might be smaller be felt more vibrant. Bartenders are very attentive. Beers are the Irish staples plus Mill Street, Goose Island and St-Ambroise as well as a cider or two.
Jan 22, 2016
Reviewed by Tut from New York
2.14
/5
rDev
-37.1%
vibe: 2 | quality: 2 | service: 3 | selection: 1.5
People, if you spend even one hour of your visit to Montreal in this bar you're doing yourself a major disservice. The beer selection is mundane by any standard. Boddingtons?? Labatt?? This is a run-of-the-mill place with nothing to distinguish it from thousands of similar bars. The food may be good but so what? You came to a city with over ten really good brewpubs and bars like Vices et Versa that feature great selections of Quebec craft beers. Don't waste your time in this place with their pedestrian selection. Get a street map, locate the brewpubs, and enjoy the great beers they have.

If this bar really deserves an A- rating like the previous review gave, I wonder what Dieu Du Ciel would merit on that scale.
May 24, 2010
Reviewed by triwolf from Ohio
4.13
/5
rDev
+21.5%
vibe: 4.5 | quality: 4.5 | service: 4.5 | selection: 3 | food: 4.5
Doesn't have the greatest beer selection, but what it does have on tap is good (Hoegaarden, Boddington's, etc.). You can even opt for the large serving size (kinda looks like a yard, but with a tap so you can share with friends). Food is REALLY good with pasta, pizza, sandwiches, & steak taking up most of the menu. My favorite was the Chicken Tikka, but I never had anything bad there. It's also a great place to watch a game as there are multiple TVs placed at all angles. And the staff is very nice & helpful.
May 21, 2010
Reviewed by tittymcj from Connecticut
3.68
/5
rDev
+8.2%
vibe: 4.5 | quality: 4 | service: 3 | selection: 3.5 | food: 4
Came here for the sole purpose of getting a giraffe beer tower. Filled it with Labatte Bleue. Didn't really have any better beer while I was there, but the place was pretty busy, good vibe going on.

Waitress got a little upset because one of my friends kept spilling beer, but she wasn't too bad about it.

Food we got was chicken fingers and nachos, and both were pretty good. Nothing special, but they did their job.

Not too pricey, and generally a nice place to go to get drunk before doing something else. They don't have a fantastic selection of good beers, but it's an upbeat place to go before you go out for good.
Mar 14, 2009
Reviewed by hammerhead24 from New Jersey
3.26
/5
rDev
-4.1%
vibe: 4 | quality: 3 | service: 3.5 | selection: 3
This was the closest bar to our hotel -- other than the Peel Pub (which was far too loud) -- so it became the ending-off point virtually every night of our stay in Montreal. For that, it was perfect.

It's a big place, with two floors. Upstairs has a smaller bar and some pool tables. Downstairs has a bigger bar, most of the dining tables and the jukebox, which is fantastic. Plus< there are a ton of TVs, all with sporting events on.

The draft selection is pedestrian at best, but this was the bar we came to to drink pedestrian beer before calling it a night. It is mostly Canadian macros and your usual Euro imports like Guiness and Harp and the like. There was a Blanche de Chamblay tap, too, I think.

Because we were drinking their vertical pitchers, basically a bong-like device with a tap on the bottom -- we stayed with the Keith's IPA. It was good and the tap lines were clearly recently cleaned.

Overall, we had a great time drinking, listening to good music, watching some MMA fights and just bullshitting as a fluid group of anywhere from two people to 10.

It perfectly suited our needs and I recommend it on those nights that you are in the area with friends that are not into microbrews.
Mar 13, 2009
Reviewed by bkett01 from Massachusetts
3.63
/5
rDev
+6.8%
vibe: 4 | quality: 3.5 | service: 4 | selection: 3.5 | food: 3
Stopped by this place twice while in montreal. The first time was a busy saturday night (during a habs playoff game) so the place had an almost electric atmosphere (which you just don't get for hockey back in the northeast). It's a good sized average bar with two floors (the upstairs has a pool table and extra seating). The waitstaff was all very friendly and helpful (all I encountered spoke fluent english). They were more than happy to recommend other places to stop by and how to get there.
The beer selection was better than average with about 15-20(not exactly sure) taps spanning a nice variety of styles. It's set up as many stand alone towers with 1-4 taps per tower covering most of the bar. For Montreal the prices here weren't bad, but still a little pricey. Also, for all of the people that were smoking in this place, it wasn't all that cloudy on the first floor which I can't say for all the bars I visited. I'd classify it as a good "after work" bar, and it's woth stopping by.
May 11, 2006
Reviewed by DrJay from Texas
3.5
/5
rDev
+2.9%
vibe: 3.5 | quality: 3.5 | service: 4 | selection: 3 | food: 3.5
Pretty much your average pub, but quite large with very high ceilings (this helps a lot when it's busy and there is a lot of smoking going on). The front windows also open up to let some air in. There's a large bar in the back with a wide variety of taps. Most of this space was taken by the regular selection of imports (Guinness, Carlsberg, Bass, etc.), a few macros, and a slim selection of locals (a couple Boreale, Ephemere, and Blanche de Chambly). One local cider was available as well. Good service from the waitstaff and the food was good, if not mostly standard pub fare. Restrooms are located downstairs. Not a bad place to stop for a bite to eat and grab a beer, as long as you're already in the area.
Sep 05, 2005
Reviewed by ikats from New York
3.64
/5
rDev
+7.1%
vibe: 3.5 | quality: 3.5 | service: 4 | selection: 3.5
This is a regular pub with above average beer selection. There is really not a lot to say about this place - typical pub decor, typical wooden tables and chairs, typical bar. Somewhat spacious for a pub. The service was good. I haven't had any food, so I cannot attest to its quality.

As for the beer, I was drinking Unibroue Blanche de Chambly. They also had Ephemere, but unfortunately no Maudite. There were your usual suspects - Bass, Stella, Carlsberg, Hoegaarden, Guinness, and a few micros.

This place was a few blocks from my hotel, so it made a very good last stop to spend a few hours talking about life with a friend. Decent for a stop if you're in the neighborhood, but not worth a pilgrimage.
Jul 25, 2005

Reviewed by francisweizen from Washington
4
/5
rDev
+17.6%
vibe: 4 | quality: 4 | service: 4 | selection: 4 | food: 4
This place seems pretty normal from the outside, and it is. Once you walk in their are many tables, some big TVs, and a long wooden bar, The bartenders are very nice and the tap beer selection is great. They have Maudite and Raftman from Unibroue on tap. and let me say that if you have never had either of these Unibroue beers on tap, that makes this place a 'must-visit' place!

Of course the Unibroue beers on tap are amazing, but this place also has a good selection from McAuslan, Boreale, Unibroue (in bottles), and the main belgians on tap as well, Stella, Leffe Brune and Blonde, Hoegaarden, etc...

They also had a deal on a dinner plate of marinara mussels and a pint of beer, of your choice, with some great frites and mayo. For......$10 (CAD), where can you beat a deal like that?

A comfy bar, with good beer, food, and company. Nice!
Jun 06, 2003
Mclean's Pub in Montréal, QC, Canada
Place rating:
3.4
out of
5
with
11
ratings