Last Minute Stout
| Outcast Brewing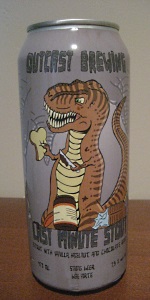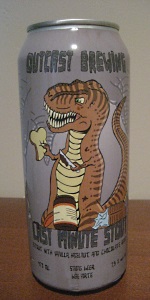 BEER INFO
Brewed by:
Outcast Brewing
Alberta
,
Canada
outcastbrewing.ca
Style:
American Stout
Alcohol by volume (ABV):
7.50%
Availability:
Rotating
Notes / Commercial Description:
No notes at this time.
Added by biboergosum on 05-20-2018
HISTOGRAM
Ratings: 11 | Reviews: 5
Reviews by ChrisCage:
4.27
/5
rDev
+7%
look: 3.5 | smell: 4.5 | taste: 4.25 | feel: 4.25 | overall: 4.25
A- Pours a deep dark blackish-brown color with very little light getting through it.....only when looking from the underside can one see any.....the carbonation appears to be fine and heavy, and the lacing is modest, with many very small circular patches of foam clinging to the side of my glass. The head wasn't overly impressive upon pouring, being only around a half inch thick, and it settled rather quickly into a beige colored ring over the liquid. Decent....
S- Right after the pour there is a heavy vanilla presence, with strong, yet more muted aromas of the advertised hazelnut, chocolate notes, some hints of heavy cream, yeast and biscuit, coffee tones, toasted malt and and Earthy dry finish that lingers ever so slightly on my nostrils!
T- Overall this is quite tasty! Immediate notes of vanilla bean pod, hazelnut fill chocolate truffle (think of those Lindt balls), small notes of bittering black coffee, and the nuttiness brings about a woodsy character that reminds me of bourbon barrel sweetness. There is a tinge of alcohol right before the finish that hits right at the back of the palate too....
M/O- Solid medium-full bodied with relatively smooth carbonation and full flavor! The drinkability is quite high and even though I mentioned earlier that the alcohol hits the palate in a spot before the finish, overall it is rather well hidden. If I had to put a generalization to this one, it is of those Kinder Bueno bars....you know what I'm talking about lol. A nice Alberta made Stout and will enjoy this one again! Cheers!
1,556 characters
More User Reviews:
3.84
/5
rDev
-3.8%
look: 4.25 | smell: 4 | taste: 3.75 | feel: 3.75 | overall: 3.75
473ml can - another biggish stout, this time with the Nutella (sorry, generic hazelnut chocolate spread) angle.
This beer pours a clear (I believe), very dark brown colour, with prominent amber edges, and three fingers of puffy, loosely foamy, and bubbly tan head, which leaves some splendid layered and webbed lace around the glass as it slowly but surely dissipates.
It smells of roasted caramel malt, bittersweet cocoa powder, vanilla extract, a hard to define earthy nuttiness, mild black stone fruity notes, faint anise spice, and some plain leafy, weedy, and floral green hop bitters. The taste is bready and doughy caramel malt, a hint of biscuity toffee sweetness, medium chocolate wafers, a bit of free-range ashiness, those dry vanilla cookies from when I was a kid, still kind of plain nutty esters, and more laid-back earthy, musty, and gently lit-up floral hoppiness.
The carbonation is fairly tame in its workaday frothiness, the body a decent medium weight, and mostly smooth, with just a touch of char getting stuck in a few of my various palates, apparently. It finishes off-dry, the mixed adjuncts still bugging the lingering malt about top billing.
Overall - yep, the vanilla, hazelnut, and chocolate all make noticeable appearances here, however; nothing that really resembles Nutella (I can say it) emerges from the mire. It's a well-flavoured stout, don't get me wrong, but maybe if decisions weren't made at the last minute, a more cohesive product would result, just sayin'. #iknowitsmarketing
1,525 characters

3.73
/5
rDev
-6.5%
look: 4 | smell: 4 | taste: 3.5 | feel: 3.75 | overall: 3.75
3.96
/5
rDev
-0.8%
look: 4 | smell: 4.25 | taste: 3.75 | feel: 4 | overall: 4

3.81
/5
rDev
-4.5%
look: 3.75 | smell: 4 | taste: 3.75 | feel: 3.75 | overall: 3.75
4.03
/5
rDev
+1%
look: 4.5 | smell: 4 | taste: 4 | feel: 4 | overall: 4
4
/5
rDev
+0.3%
look: 4 | smell: 4 | taste: 4 | feel: 4 | overall: 4
Appearance - Pours a cola brown with two fingers of mocha tan head.
Smell - earthy and leafy hops, roasted malts, vanilla, cocoa, hint of coffee bean, nutty aromas, and earthy yeast.
Taste - Bitter earthy and leafy hops upfront. The roasted malts, cocoa, hint of coffee bean come follow suit. The vanilla, nutty aromas, and earthy yeast finish the brew off.
Mouthfeel - Medium bodied with moderate carbonation. Finishes smooth and velvety with the cocoa, roasted malts, and hops lingering.
Overall - A tasty stout that lets all the ingredients shine through. The ABV is well hidden which makes it a highly drinkable brew!
625 characters
4.23
/5
rDev
+6%
look: 4.5 | smell: 4 | taste: 4.5 | feel: 4 | overall: 4
4.02
/5
rDev
+0.8%
look: 3.75 | smell: 4.25 | taste: 4 | feel: 3.75 | overall: 4
Outcast's latest, a high ABV breakfast stout with a host of flavors. It pours dark, with a minimal head that disappears quickly. This appearance is in line with a thin mouthfeel - when I think "stout", I don't think this. The nose is rich and full - vanilla, chocolate and Nutella. The taste follows the nose, but this beer is a bit enigmatic. It's tasty, but it's all over the map.
394 characters

3.94
/5
rDev
-1.3%
look: 3.75 | smell: 4 | taste: 3.75 | feel: 4.5 | overall: 4

4.1
/5
rDev
+2.8%
look: 4 | smell: 4.5 | taste: 4 | feel: 3.75 | overall: 4
A 473ml can, with a canned on date that really isn't too visible, but I would guess 1st November 2017, 'nearly didn't happen'. Poured into a snifter glass.
Appearance: A dark dark brown to black colour with a one finger tanned head that dissipated fairly quickly but left some nice spotty lacing.
Aroma: Vanilla, chocolate, cocoa, hazelnut, cream, honey with light roastiness and a touch of coffee.
Taste: Sweet-ish, light roast, vanilla, creamy coffee, hazelnut, caramel malt, biscuit, coffee and chocolate with a lightly earthy herbal finish.
Mouthfeel: Smooth, medium bodied with moderate to light carbonation.
Overall: Nice and tasty with good vanilla, creamy and nutty flavours.
696 characters
Last Minute Stout from Outcast Brewing
Beer rating:
3.99
out of
5
with
11
ratings