3 Ravens White
| 3 Ravens Brewing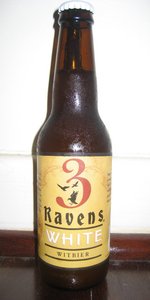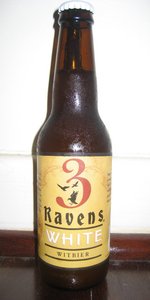 BEER INFO
Brewed by:
3 Ravens Brewing
Australia
3ravens.com.au
Style:
Witbier
Alcohol by volume (ABV):
5.20%
Availability:
Summer
Notes / Commercial Description:
No notes at this time.
Added by vancurly on 03-22-2007
HISTOGRAM
Ratings: 14 | Reviews: 12
None found.
More User Reviews:

2.17
/5
rDev
-28.9%
look: 1.5 | smell: 2 | taste: 2.5 | feel: 2 | overall: 2
330ml bottle into a 15oz glass.
Minimal head on pouring and whatever was there disappears ever so quickly. Dull pale light golden hue that looks unappealing at best.
Smell has faint clove and a little bit of orange peel. Muted, especially considering the extent to which the orange comes through on the taste.
As alluded, lot of orange and orange peel to taste. Plenty of nutmeg there as well. Both big, both not really working that well together.
Not the most sessionable. The lack of carbonation and spice makes this pretty slow going, even on a summer's day.
Been a while since I enjoyed a Wit and it will be longer still. The fonder memories of Hoegaarden are miles away.
680 characters
2.42
/5
rDev
-20.7%
look: 4 | smell: 2 | taste: 2.5 | feel: 3 | overall: 2
Hazy pale straw pour, good persistent head showing some lacing.
Artificial lemony aroma, with some sickly nutmeg and ginger. Really weird, it's like there's some eggs in there or something...
Very similar flavours, faint lemon, nutmeg and that weird eggy taste.
Very watery, moderate carbonation.
Thought this may have been just a bad beer, but the whole sixer was like this.
375 characters
3.62
/5
rDev
+18.7%
look: 3.5 | smell: 4 | taste: 3.5 | feel: 3.5 | overall: 3.5
This pours a very cloudy straw yellow with a head that drops very quickly.
The nose is coriander and jaffas (don't ask me why but that's what I got.). Other herbs come through as well with a bouquet garni effect.
The coriander continues on the palate with some malts in there as well. Ok.
Medium bodied.
306 characters

2.38
/5
rDev
-22%
look: 2 | smell: 1.5 | taste: 3 | feel: 3 | overall: 2
Poured from a 640ml bottle, with it being somewhat problematic, as the first glass had no head, and the second did (the yeast couldn't come out on the first pour even after swirling).
Cloudy pale yellow, with a very small white head which dissipitated into nothing at all.
The smell is nearly pure coriander, and is just overpowering. There is nothing more to it but herbal fragrance. Some mild spice, but it is ridiculously strong and quite off putting.
Taste is similar. Some mild citrus orange flavours, but then a big whack of coriander. I question if I am eating a coriander pizza or drinking a beer. It is at least drinkable.
Quite an effort to get through really, with the strong spice notes. A heavier mouthfell compared to other wits. I don't recommend at all, and in fact am highly disappointed.
808 characters

3.75
/5
rDev
+23%
look: 4 | smell: 4 | taste: 3.5 | feel: 3.5 | overall: 4
Pours a pale translucent canary colour with positivie - if uninspiring - head; steady trickle of champagnesque bubbles keeps it alive from below. Nice murk in the body and an interesting spectrum to 'clear' at the base. I think serving this in a champagne glass was a good idea.
Nose is very pleasantly tart, with a good refreshing tingle to it. Lots of orange and lemon notes, slightly candied with hints of green grapes and apricot jam as well. Spice is vaguely noticeable, slightly peppery, no distinct coriander. Very Belgian smell though, tasty.
Taste is a little bit lacklustre. Well, it's not bad, more lack-fruit. Has a nice tart wheaty malty pervading most of the front palate, with slight citric notes and a dry white wine edge. Finish has pleasant spice, with coriander and more herbal notes, a slight tea edge and finished off with a hint of peppermint. Slight tartness at the back as well puts me in mind of raisins.
Feel is a bit dry on the mid but there's enough body to keep it slick as it goes down. Slight bite at the front, but otherwise no rough edges.
Seems a tad simple overall, but very decent drinking.
1,130 characters
3.62
/5
rDev
+18.7%
look: 3.5 | smell: 4 | taste: 3.5 | feel: 3.5 | overall: 3.5
Bottle purchased for me by @epiclurk.
I swirled the bottle halfway through the pour, then emptied it down to the dregs in the glass, in finest witbier style. The result is a very cloudy, and very faintly pink-tinged pale gold, with a depth of colour slightly heavier than expected. Head fizzles itself out pretty quickly, leaving a ring of very fine white foam that leaves minimal patchy lacing. Overall, not bad, but not altogether that exciting.
Nose is very pleasant indeed. Very fresh and fragrant citrus comes forward nicely, with aromas of bergamot or lemon myrtle. Yes, there's a light spice to it as well from the coriander, which adds a little piquancy to the other sweeter citrus tones. Overall, very aromatic and pleasant stuff.
Taste is a bit more pedestrian. There's still that mild sweet citrus tone, but there's a thinness to the palate, which isn't helped by the lack of true body or sweetness in the beer. Unfortunately, there's also a mild bread yeast funk on the back as well, that dries out the palate and leaves a slightly unsavoury character. But, for 99% of the time it's in your mouth, your mouth will have a good time.
Overall, it's a pretty solid stab at the style, with just a few flaws. Get rid of the flaws and this is probably one of the best Aussie witbiers out there: it certainly has some very pleasant flavours.
1,349 characters

2.3
/5
rDev
-24.6%
look: 3 | smell: 3 | taste: 2 | feel: 2 | overall: 2
I love a good Wit, and I'm not just saying that for any possible pun that may result from this sentence. What's not to like about a Witbier? They're light, spicy, orangey and perfect for summer. But they can go wrong, too much orange/spice and it's "I need another beer after this one" or too little orange/spice and it's "I need another beer after this one. One with flavour next time". So what's it going to be Mr Raven?
Poured from a 330ml bottle into a Pokal.
A: An odd mixture of straw and light brown for the body, due to large yeast particles suspended throughout the glass, with a thin white head. Marking to preference I would give it a 7 (I do like yeast in my glass). To style it's a 5. So I split the difference on this one. 6/10.
S: Quite funky, no doubt due to the huge amount of yeast in the glass, there are some back notes of coriander, orange peel, the classic Witbier aromas, and not much else. 6/10.
T: Too grainy and bready to really come across as a decent Wit. Citric and spice notes linger in the background, along with a dry finish, but it is far too malt driven and just plain ordinary. 4/10.
M: Mid to light bodied and way over carbonated. 4/10.
D: The true litmus test of any brew is "Did I enjoy this?" and to 3 Ravens White the answer is a resounding "No". To be constructive: It needs more balance towards the characters that make a good Witbier: More coriander, more orange peel, more clove, then they need to work out their yeast - there is way too much yeast in this brew, and I hardly ever say that - you know me people! At the end of the day this is one example of a half-assed Wit. 4/10.
Food match: An antacid to deal with all the gas in this Wit.
1,722 characters

3.29
/5
rDev
+7.9%
look: 3.25 | smell: 3.5 | taste: 3.25 | feel: 3 | overall: 3.25
Looks like the real deal and even Smells about average for the style. But the Taste is not rich; clearly unable to benefit from a yeast that works well and replicates in a warm climate. While the Feel is soft from some wheat, it is not fulfilling.
Listed in the 1001 Beers To Drink Before You Die" (a list now 8 years old), I'm hoping that this is not the best wit from an Aussie brewer.
389 characters
3.74
/5
rDev
+22.6%
look: 3 | smell: 4 | taste: 3.5 | feel: 4 | overall: 4
Appearance as per other tasting notes before me; hazy lemon / orange with poor head retention. Striking aromas of big spices - cinnamon, pepper, nutmeg - I sound like I'm ripping off Mullet's note but these characters are very obvious. Perhaps a fraction contrieved. A touch more pedestrian to taste with the spice making way for lemon and faint honey notes before a whack of pepper and 5 spice kicks in on the finish. Quite unique flavours but you do see traces of this in the blond. Love the 640ml bottles - you'd look very cool sipping on one of these at St Jerome and its ilk (if of course they had the vision to stock it).
633 characters
2.83
/5
rDev
-7.2%
look: 3 | smell: 2.5 | taste: 3 | feel: 2.5 | overall: 3
Unlike some of the foregoing reviews my 330ml bottle was anything but lacking in head.The light cloudy yellow beer produced a voluminous head.
Overall I thoight this a litle dull.It had a recognisable tartness and crispness ,but all indistinctive.
The impression was a beer that was still being developed and this was a bottleable try but not a lot more
353 characters
3.19
/5
rDev
+4.6%
look: 2.5 | smell: 3.5 | taste: 3 | feel: 3 | overall: 3.5
A - Poured from a 640ml bottle into a pint glass with virtually no head. A hazy yellow coloured beer.
S - First thing that comes to the nose is some citrus, tarty notes. Some big spice phenols.
T - Taste is very much like the smell but with the wheat malt a lot more noticeable.
M - Fairly light mouthfeel, medium carbonation.
D - Not bad but I've had better wit beers - including other Australian microbrewed ones.
415 characters
3.37
/5
rDev
+10.5%
look: 3 | smell: 3.5 | taste: 3.5 | feel: 3.5 | overall: 3
Appearance - 3.0
Pours a finger of white head that gradually reduced over a goldy beige body with large sediment, unpleasantly reminding me of stomach bile.
Smell - 3.5
Suggestion of banana is quickly overridden by spice and citrus.
Taste - 3.5
Good sweet-tart balance makes for a very refreshing beer, tasting of candy cane, mixed spice, ginger, clove, coriander, lemon and orange peel. A little over spiced in my opinion.
Mouthfeel - 3.5
Medium bodied with lively carbonation. Could stand to be a tad smoother.
Drinkability - 3.0
Perhaps a sessionable beer for some. While refreshing and easy to drink, I found this too spicy to want to drink more than one or two.
OVERALL - 3.35
Not a textbook witbier, but still underrated in my opinion. Tart and refreshing, full of flavour, not a lot to complain about - a good summer beer.
835 characters
3 Ravens White from 3 Ravens Brewing
Beer rating:
3.05
out of
5
with
14
ratings