3 Ravens Dark
| 3 Ravens Brewing
BA SCORE
78
okay
12
Reviews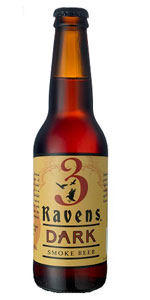 BEER INFO
Brewed by:
3 Ravens Brewing
Australia
3ravens.com.au
Style:
Rauchbier
Alcohol by volume (ABV):
5.20%
Availability:
Rotating
Notes / Commercial Description:
No notes at this time.
Added by brendan13 on 11-28-2007
Reviews: 12 | Ratings: 18
3.48
/5
rDev
+11.9%
look: 4 | smell: 3.5 | taste: 3 | feel: 4 | overall: 4
Pours a viscous dark red brown, with a hint of suspended sediment. Head is reasonably thick but a little loose-bubbled. Good lacing, and the body looks good. Overall a very nice looking beer.
Decent smoke notes on the nose, bit of woodfire, but with a lot of roasted malt notes as well - dark chocolate mocha and coffee. A little freshness comes from a whiff of carbonic acidity, and to be honest detracts a little. Otherwise a pretty decent rauch nose.
Slickness in the mouth with a roasty, smoky burnt character. Absolutely no sweetness to it, which personally I find a bit disappointing, only a light hint of chalky carob on the very back. The smoky character is not as dominant as many of the most robust rauchs, and I really would like a little more body and fullness on the palate, but otherwise it's pretty good.
I'm not convinced there is a better Rauchbier brewed in Australia - this makes a very decent stab at the style. It really lacks fullness and sweetness on the palate, but otherwise very decent.
1,015 characters
3.36
/5
rDev
+8%
look: 4 | smell: 3 | taste: 3.5 | feel: 3 | overall: 3.5
A - Pours a deep red-brown with a thick foamy light tan head. Decent head retention.
S - Light smoke with little complexity.
T - A nice smoke hit right up front. Followed by some toasty malt. A touch of bitterness as well. I don't think it is as bad as some other reviews make it out to be.
M - this has a medium body with a slightly spritzy carbonation. It isn't overbearing but seems slightly out of place.
D - This isn't too bad for the style. It has a reasonable amount of flavour and isn't overbearingly smoky. I can't see myself drinking lots and lots of this, but I can't see myself sessioning any Rauchbier.
619 characters
3.52
/5
rDev
+13.2%
look: 3 | smell: 3.5 | taste: 3.5 | feel: 4 | overall: 3.5
Pours hazy copper with a small fading head.
Nose shows sweet caramel, smoke, bacon and light roasted malt.
More smoke and bacon show as flavours, with sweet clean malt in the background.
Creamy low carbonation and body that suits the beer well.
Pretty good attempt at the style.
281 characters
3.42
/5
rDev
+10%
look: 3 | smell: 3.5 | taste: 3.5 | feel: 3 | overall: 3.5
a: This was a dark, coppery brown color, slightly hazy. It poured with a thin, fizzy head.
s: Light smoke and roasty, malty chocolate. The smoke takes a back seat, but this still smells pretty good.
t: Starts off tasting of earthy chocolate, fades to mild smoke at the finish.
m: Average body with lightly fizzy carbonation.
d: Light on smoke for the style, but the chocolate notes made up for it. Not bad overall.
419 characters
3.26
/5
rDev
+4.8%
look: 3.5 | smell: 2.5 | taste: 3.5 | feel: 3.5 | overall: 3.5
Even though their website says "cellardoor exclusive" I got a couple of bottles of this at Purvis.
A - Pours a dark, some what hazy copper colour with a couple of centimetres of beige head that falls away quite quickly.
S - Very vauge, distant smoke aroma buried beneath some sweet caramel malt like notes. These is also a faint chemical/liquid paper like note upon swirl & sniff...
T - The smokey character comes through a lot more in the taste, sort of like smoked salmon rather than a deli hall full of smoked meats. The caramel is also present.
M - Light to medium bodied with a fairly low carbonation level.
D - Apart from the smell, which I suspect may be from too high a fermentation temp, this is a decent enough beer. Interesting yet not too full on like some other Rauchbiers can be.
799 characters
3.3
/5
rDev
+6.1%
look: 3.5 | smell: 3.5 | taste: 3 | feel: 3.5 | overall: 3.5
Appearance - 3.5
Pours two fingers of dense beige head over a reasonably clear, very dark brown body.
Smell - 3.5
Wood and ham notes from the smoke, the malts providing caramel sweetness and perhaps a little roast.
Taste - 3.0
As someone who has generally found smoked beers a bit too full-on, I am surprised to say that I think this beer could do with more smoke. That said, the dark ale used as a base has a rather mild flavour profile, so it is probably a good thing the beer is only lightly smoked. Caramel and chocolate are there, as well as a little more hop bitterness than most rauchbiers. The smoke is ashy rather than meaty.
Mouthfeel - 3.5
Light to moderate carbonation with very fine bead, light to medium bodied.
Drinkability - 3.5
Like all smoked beers, this is something I would only ever drink one of (unless perhaps if I was in Bamberg). Fairly easy to drink, though.
OVERALL - 3.3
The bottle says this is a smoked dark ale, rather than a lager as is usually the case with a traditional rauchbier. Either way, it is an easy drinking, if ultimately unmemorable smoked beer.
1,094 characters
1.95
/5
rDev
-37.3%
look: 3.5 | smell: 1 | taste: 2 | feel: 3 | overall: 2
I have to admit upfront that I am not a fan of this style of beer. I actually find them close to undrinkable but I persist in the hope that one will do it for me.
The 3 Ravens was not that one. The smokiness seems out of balance with any other flavours.
It looks good in the glass, all dark and inviting with a nice creamy looking head but the first sniff is all smoke and from that moment I got nothing else.
That is not to say it isn't a well made beer though, just not to my taste.
488 characters
3.55
/5
rDev
+14.1%
look: 4 | smell: 4 | taste: 3.5 | feel: 3.5 | overall: 3
Pours a strong brown with a fluffy off-white head that has great retention
Interesting aromas that is less like smoke and more like puffed wheat/weetbix/cereal styled notes. As it warms stronger malt aromas come out.
Palate is very much in the burnt/toasted malt spectrum more than smoke. Infact I hardly see the smoky side, just a toasted wood, burnt malt/carame/nuttyl side. No bitterness. As it warms it sweetens up a little, improving the balance.
Creamy mouthfeel with a decent level of carbonation.
An interesting beer. A unique mix of flavours, that whilst being enjoyable and somewhat compelling, doesn't actually add to the drinkability of the beer. And by the looks of the other reviews it seems they may have finally sorted out some of the earlier "problems". Give it a go.
789 characters

2
/5
rDev
-35.7%
look: 2 | smell: 2 | taste: 2 | feel: 2 | overall: 2
I may have to give this another go just in case it was a bad one, but the bottle I picked up was poor to say the least. Couldnt see a use by date on the bottle.
Brown to black in colour, almost completely flat, strange aroma (maybe slightly infected or oxidised). More or less no smoke aroma, and very little flavour at all. Had to pour it out.
345 characters
2.82
/5
rDev
-9.3%
look: 3 | smell: 3.5 | taste: 2.5 | feel: 2 | overall: 3
Sweet cherry wood, bacon (almost gamey) and milk chocolate on the nose; a very promising start. The palate has a fair bit of fizz and unfortunately this keeps the flvaours under wraps. Certainly underfruited when compared to the nose, and only a touch of milk chocolate pokes out. The Germans are a much better option even if they cost more.
341 characters

3.37
/5
rDev
+8.4%
look: 3.5 | smell: 3.25 | taste: 3.5 | feel: 3.25 | overall: 3.25
I had a 330ml bottle. This been won a bronze medal in the 2014 CBIA Draft Beer Awards in class 5 LL being specialty beer, smoke beer. The label has changed compared to the one shown here and the ABV of the current batch is 5% not 5.2% as per the record.
Appearance: good dark colour and still some light able to get through giving it a dark reddish tinge. Nice slightly off white head.
Aroma: smokiness definitely present with some smoked ham aromas. Very pleasant.
Flavour: good follow through on the palate with the smokiness. Mild bitterness and coffee flavours through to the finish. Silky mouthfeel with moderate carbonation. Very enjoyable.
Overall: Very enjoyable beer overall. Can see why it won a medal. Well balanced flavours and smooth drinking beer. Worth a try if you like a dark beer.
801 characters
2.94
/5
rDev
-5.5%
look: 3.5 | smell: 2 | taste: 3 | feel: 2.5 | overall: 4
Drinking this on a cold winters night.
Serving; Balloon glass.
A/ Dark umbur, with an off white, very light brown head. Quite dark, however very thin especially for a smoked beer. Pours 2 fingers of thin head, that dissipates quite quickly.
S/ Oddly little, however there is the always present woodfire and charcoal.
T/ Taste in this one is quite watery almost lacking, would have loved smokier malts in what is supposed to be quite a palate attacking style. Sweet with subtle hints of early morning bacon and burnt toast with a slight bitter backing.
M/ Very thin too thin for the style with an odd back palate feel.
D/ Quite high. food wise; meat however make sure it's very subtle in flavour, roast pork with apple sauce comes to mind.
All and all this beer is an exact example of Schlenkerla made for the mass Australian market, it could be improved craft beer wise by adding more captivating malts.
910 characters
3 Ravens Dark from 3 Ravens Brewing
3.11
out of
5
based on
18
ratings.