Kokanee Glacier Frost
| Labatt Brewing Company Ltd.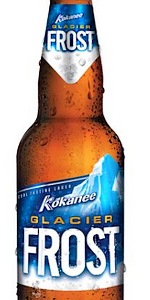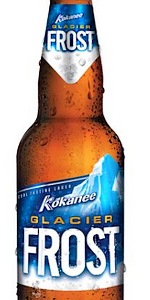 BEER INFO
Brewed by:
Labatt Brewing Company Ltd.
Ontario
,
Canada
labatt.com
Style:
American Adjunct Lager
Alcohol by volume (ABV):
5.00%
Availability:
Year-round
Notes / Commercial Description:
When you're known for glacier-fresh beer, you know your cold and frosty. Brewed from a secret mountain recipe, the Columbia Brewery has created a brand new lager from Kokanee, with an incredibly cool and refreshing taste. Kokanee Glacier Frost is the brew with brrr. And it's loaded with Kokanee's patented Holycrapthisiscoldium™, which guarantees that it goes down easy and is as cold as a snowman with the chills.
Added by pootz on 07-17-2007
This beer is retired; no longer brewed.
HISTOGRAM
Ratings: 5 | Reviews: 3
Reviews by IronDjinn:

2.55
/5
rDev
-1.9%
look: 2.5 | smell: 2.5 | taste: 2.5 | feel: 3 | overall: 2.5
Picked this up fresh from the Kokanee brewery on my way home from visiting Traich out in Creston last time around. Figured I'd give it a shot since it's not available in Alberta yet. The girl working the tap room/gift shop gave me the quick lowdown on it, about the additive that offers a cooling sensation in the mouth as well.
Pours out a pale clear straw, bit of fizzy white head that drops quickly. A bit of solid malt there on the nose, but it gets blocked out by a bit of a chemical taint as well. Not a negative taint, but it gets in the way, and doesn't really do it any favours. The flavour is fairly neutral, some palatable malt up front, but then it all gets watered down very quickly, and disappears as that frosty gum-enhancing additive cleans up on the finish, part flavour, part texture. The mouthfeel holds up, but gets a bit screwy when it comes to that curious little chill blast, just something a bit off about it.
All in all something of a cross between a gimmick beer and a beer cooler malt beverage the way I see it. Not sure what the market is for this besides the try-it-once fad market, and then onto the next big hook.
1,148 characters
More User Reviews:

2.8
/5
rDev
+7.7%
look: 2.5 | smell: 2.5 | taste: 3 | feel: 2.5 | overall: 3
Picked up a 15 pack and headed to the Lake with this one,Pours a light golden pale yellow with a white head which don't stick around too long and very little lacing.
Smells fresh,a little grassy,light malts....not much really.
Goes down rather well,with the fresh cut grass comming through and a tinge of bitterness in the aftertaste and some tin at the very end..in the aftertaste.
Thin and watery like the other Kokanee but hey....i was at the lake and it was a beautiful hot sunny day and this beer was on ice....it went down very well and i enjoyed it,,,,will buy again for such events,but nothing really to sit back and enjoy.Drink this one out of the can and the tinny metallic really comes through,especially when it warms.
730 characters

2.65
/5
rDev
+1.9%
look: 3 | smell: 3 | taste: 2.5 | feel: 2.5 | overall: 2.5
The Market hype on this beer reads like an Opus on corporate brewing boardroom banality....the market hype for this beer may be the product of insulated executive trend mongering, but the brewer took the right direction at least in a small way...it is at least, a light/pale all-malt lager.
...decent heading, fair aroma of sweet malts ( unlike it's sibling Kokanee which has a 25% dextrin bite and body).
Problem with this beer is although it has a light malt character it is very thin in the body and watery in the mouth...of course I served it at a proper serving temp for a all malt beer about 48-50 deg. F....I suppose they(Inbev marketers) have designs of serving it as half frozen slush like Coors. So from the brewery;s accountant and brew master's perspective you don't want to waste a lot of good malt on a drink who's main sales pitch is selling the taste of ice when it is served far too cold to taste...besides good malt protein just clouds up the drink at those temperatures....they want ice ya give em ice...not rich malting.
And this beer's body has enough water to bulk-up as ice if that is the intent.
1,134 characters
Kokanee Glacier Frost from Labatt Brewing Company Ltd.
Beer rating:
2.6
out of
5
with
5
ratings