Bud Light Lime Mojito
| Labatt Brewing Company Ltd.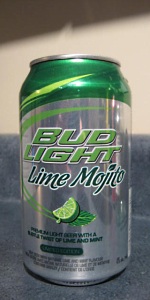 BEER INFO
Brewed by:
Labatt Brewing Company Ltd.
Ontario
,
Canada
labatt.com
Style:
Light Lager
Alcohol by volume (ABV):
4.00%
Availability:
Limited (brewed once)
Notes / Commercial Description:
No notes at this time.
Added by bryehn on 05-28-2012
This beer is retired; no longer brewed.
Reviews: 8 | Ratings: 23
1.68
/5
rDev
-26%
look: 2.5 | smell: 2 | taste: 1.5 | feel: 1.5 | overall: 1.5
Can: Poured a bright yellow color lager with a small bubbly head. Taste is a mix between adjunct notes with too much residual sugar with some lime and clear refreshing mint notes. Taste is a refreshing mix of lime and mint but unfortunately is thrown off-balance by way too much sugar. I am no big fan of those types of beers though mint is an interesting ingredient to add here, the whole thing ends up being way too sweet.
★
424 characters
2.06
/5
rDev
-9.3%
look: 3 | smell: 2 | taste: 2 | feel: 2 | overall: 2
355ml can. "Limited Edition" - hah! Glad I could grab just a single of this, I suppose.
This beer pours a highly diluted apple juice, um, colour, with two fingers of tight, foamy white head, which sinks away quite readily, leaving nothing permanent in the way of lace around the glass.
It smells pretty much like how I remember Bud Light Lime did - chemical-laden Lime Froot Loops, but now with a very subtle, somewhat edgy, metallic green herbal character, which I will have to take on faith, is supposed to be the eponymous mint. The taste is sweet, saccharine cereal grain malt, lime Freezie, and a slowly rising, actually kind of spicy, spearmint candy essence.
The bubbles are a tad prickly, but check out soon enough, the body a thin, watery abyss, and of course, smooth smooth smooth! It finishes sweet, sugary, limey, and minty - so, mouthwashy!
What is the logical end to this madness? When they run out of room for more 'ingredient' descriptors for the name on the can? When they actually get something right, and everyone shakes hands, and the game is over? All I can see about this marketing crock is - if you want a mojito, go get or make or steal a freaking mojito! Not this, not this.
★
1,203 characters

2.06
/5
rDev
-9.3%
look: 3 | smell: 2 | taste: 2 | feel: 3 | overall: 1.5
341ml bottle poured into pint glass 18/7/12
A straw yellow with loads of massive bubbles but nothing for head or lace, shes a load beer as I can hear this thing fizz while it sits on my table
S sweet malt, honey, mint candy not too be confused with actual mint and lime cordial, smells more like a cocktail created in a lab then a beer
T more of the same really, sweet lime with fake mint, tastes pretty synthetic and far from beer
M feels like a macro thin but well carbonated with a little sprite on the finish
O better off mashing some mint into a can of Sprite and dumping in a shot of rum
I need too thank my better half's teenage co-workers for the party leftovers as I'd never spend my own money on crap like this. Mojito and Beer are pretty far apart if you ask me, leave it up to Bud too put them together
★
824 characters

2.3
/5
rDev
+1.3%
look: 3 | smell: 3 | taste: 2 | feel: 2 | overall: 2
Listed as being a Labatt product because I don't think this is out in the USA yet. Says Limited Edition on the can and frankly I don't see them making it again. Thanks for testing it on us Canucks, ABInBev ;)
Pours a pale golden yellow color with a large, spongy white head that burns off within a few minutes, leaving a bubbly collar. Lime and mint battle for a stranglehold on the aroma, with a faint sweet malt smell coming through behind them. The soft mint and sharp lime smells actually complement each other nicely.
The combination of lime and mint flavours however is, for lack of a better word, gross. This beer tastes like someone tossed a couple of pre-chewed sticks of gum or a splash of mouthwash in my glass.
Thin-bodied with ample carbonation. Quite syrupy on the tongue. The finish has a subtle tart bite to it, but the lingering mint flavour in the aftertaste reminds me of a menthol cigarette.
Some flavoured beers, including Bud Light Lime can be tolerable under the right conditions, however this "limited edition" monstrosity should have never seen the light of a patio. Though the label states that this beer has natural flavours, in practise it tastes anything but.
★
1,205 characters
2.48
/5
rDev
+9.3%
look: 2.5 | smell: 2.5 | taste: 2.5 | feel: 2.25 | overall: 2.5
I'll admit I was leery about the mint in a beer, but was very surprised. Actually enjoyed this more the the regular Bud Light Lime. The mint totally complimented the lime and beer. Has to be really cold.
★
204 characters

2.8
/5
rDev
+23.3%
look: 2.5 | smell: 3 | taste: 2.75 | feel: 2.75 | overall: 2.75
This beer is just for a hot summer in front of swimming pool thats it nothing much. I find the price really expensive because it doesn t taste like a premium beer but more like an economical beer. Just because it have lime mojito Labbat decide to put the price high anyways. I taste it in a beer and my wallet still have a souvenir about it. Good taste of lime but where is the mojito ?? I don t taste any mojito inside. Its more like a commercial beer. For me its descent for the summer but for winter or autumn or even spring get something else.
So after all, would I recommend it ? I will say yes why not .
★
609 characters

2.87
/5
rDev
+26.4%
look: 3 | smell: 3.5 | taste: 2.5 | feel: 3.5 | overall: 2.5
Tallboy can from TBS. #5 in a series cataloging the various lagers of questionable quality that I have opted to avoid until now. I am extremely wary of the concept of mojito beer - but given the streak of lame, flavourless swill I have been ticking through lately, the fact that this one isn't just a straightforward pale lager will at least give my tastebuds something interesting/potentially horrifying to analyze. Served ice cold.
Pours a clear, pale straw-yellow colour, with almost two fingers of sparkling, fizzy white head seated atop the surface. The crinkling sound given off as it quickly wilts away over the next minute reminds me of a bowl of Rice Krispies, and other than a thin film atop the liquid, the head leaves no real remnants behind. A pretty standard-looking light beer, really, although I can't say the same about the smell. The aroma is very artificial, and not beer-like at all, but it's not offensive or anything. It's mostly just limeade and mint, with the usual BL weak adjunct sweetness buried beneath these odours. I'll admit it - I kind of like the smell, and as fake as the components seem, it's still superior to most light lagers.
The flavour closely follows the nose - the adjunct sweetness is a little more prominent than in the aroma, combined with artificial lime and minty mouthwash flavour. Not as disgusting as I made it sound. Finishes with a hint of that 'Trix cereal' limey flavour I get in regular BLL and plenty of mint. Thin-bodied and watery, with lots of carbonation. The fizziness combined with the minty flavour gives this a very crisp, refreshing mouthfeel, and it's pretty easy to slog back. Still, the mouthwashy vibe I get from this stuff stops it from being the sort of thing I'd consider consuming in large quantities.
I'm a little shocked. Here I was expecting something legendarily bad, but this really isn't all that terrible. I'd prefer more lime and less mint, but as far as flavoured adjunct light beers go, this is at least tolerable. That being said, it definitely isn't the sort of thing I'd voluntarily spend money on again, but if someone handed one to me I'd have no problem tossing it back.
Final Grade: 2.87, a mediocre C grade. Bud Light Lime Mojito is definitely a niche brew. Mint really isn't a flavour that I would consider a good complement to beer, and if your first instinct was to gag when you heard about the stuff, I can't really blame you. Of course, Bud Light doesn't taste like beer anyway, so to a certain extent, it all comes together surprisingly well - assuming you don't mind artificial mint and lime. If forced to choose (with a gun to my head) I'd probably pick regular BLL over this, but this spinoff isn't as completely awful as it sounds. At the very least, it's a more successful experiment than that chelada atrocity they sell south of the border (whoever invented that stuff should be convicted in the Hague for crimes against humanity). Not really worth trying unless it genuinely piques your curiosity, or if you happen to be a fan of both mojitos and light beer.
★
3,071 characters

2.94
/5
rDev
+29.5%
look: 2 | smell: 3 | taste: 3 | feel: 3 | overall: 3
341ml bottle poured into a 16oz pint glass.
A - Pours as a typical lager: piss yellow, short-lived white head, and lots of carbonation in the glass. No head retention and no lacing.
S - Corn, artificial lime and mint. I'll admit, this isn't the worst aroma for an AAL.
T - Close to the nose, but the mint and lime are a little offensive in the finish. Very watery.
M - Light and fizzy, but the carbonation isn't as overdone as some. Even a bit refreshing.
D - Definitely not the worst AAL out there. While the lime and mint flavors don't come across as entirely natural, they're not completely offensive either. Meh.
★
621 characters
Bud Light Lime Mojito from Labatt Brewing Company Ltd.
2.27
out of
5
based on
23
ratings.