BJ's Restaurant & Brewhouse
BEER AVG
-
none
Awaiting 10 Ratings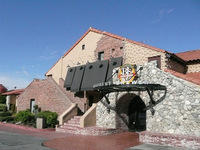 PLACE INFO
Type:
Brewery, Bar, Eatery, Beer-to-go
6424 Canoga Ave
Woodland Hills
,
California
, 91367-2407
United States
(818) 340-4546 |
map
bjsrestaurants.com
Notes:
No notes at this time.
Added by drewbage
Ratings: 8 | Reviews: 5
Reviews by drewbage:

4
/5
rDev
+6.1%
vibe: 4 | quality: 4 | service: 4 | selection: 4 | food: 4
This is the local brewpub for the Western San Fernando Valley area. If you want locally brewed beer this is it.
This is a big sports bar / family resturant type of place with a large bar serving both spirits, BJ's local brews, 4 guest beers (typically Guinness, Piraat, Lindeman's Framboise, and the latest SN seasonal) and the occasional odd cask. Also included in the beer selection is a good number (10-20) of major Belgian bottle beers.
The brewery in the rear may just be the smallest brewery in the BJ's chain with a 7 barrel system crammed into a tiny space.
The brewers here are incredibly helpful if you're a homebrewer. Get to know them and be very nice and you'll get a lot of help from them.
A good location that can be impersonal until your face is known.
Edit: For the past few months the brewery here has been in the process of shutting down and hence the beer quality has been taking a hit. Still worth the visit while we have a brewpub in the West Valley!
989 characters
More User Reviews:


3.38
/5
rDev
-10.3%
vibe: 3.5 | quality: 3.5 | service: 3 | selection: 3.5 | food: 3.5
For what it is, a slightly above average restaurant, that has a larger than is typical beer selecion for a chain restaurant, it's works just fine. I've been known to go here from time to time. I like the Chicago style deep dish Pizza's, the Pazookies (cookie baked in a deep dish pizza tray) and they have a half decent selection of beers. I've been to a few birthdays here, as well as some Laker games. Nothing really rotates that I've seen, but they have BJ's standard lineup of beers (not made onsight) some guests taps (Stone, or a few larger California breweries)
Decent capacity for people as far as space, and for sporting events, they have a lot of LCD screens too. It's just on the outskirts of Warner Center, across the street from a Bevmo. So, if your in the general area, it is an option, since there is not too much else in the vincintiy for decent beer.
869 characters
3.23
/5
rDev
-14.3%
vibe: 2 | quality: 3.75 | service: 3 | selection: 3.5 | food: 2.75
10/22/07 - They used to brew here. Now they don't. They used to have beer appreciation nights once a month here, attended by mighty homebrewers The Maltose Falcons. Now they don't. There used to be free parking here. Now there isn't. The ambiance is all noisy meat market or families (depends on time/day) with big screen sports everywhere you look. Staff is not knowledgable about beer and place is out of special taps every time I go (today, it was BJ's Oktoberfest they were out of). Food is about one notch above Denny's quality and service is somewhat slow any time. Best way to enjoy a beer here is to go right up to the bar, drink it, and get out. Or better yet, get a growler and enjoy it at home. Only reason to go is the beer, and that's getting harder to justify due to the trucked in beer (from their Oxnard location), the lack of special events and now having to pay for parking. I think this was my last trip to BJ's Woodland Hills.
946 characters
4.38
/5
rDev
+16.2%
vibe: 3.5 | quality: 4.5 | service: 5 | selection: 4
I had talked to Drewbage before heading out to Los Angeles and he mentioned his beer club would be meeting at BJ's while I was out there and I should come by and check it out. My girlfriend and I were able to catch the tail end of their Beer Garden Style tasting and after dropping her off at the hotel I went back and had a few more beers with Drewbage and his friends.
The dining area of BJ's feels like any other chain restaurant, there really wasn't anything noteworthy about it. Once you walk around to the back where the tasting was you can see the tanks and area where the beer is made and the back room and patio areas were actually very nice and many people were out there eating and drinking.
As far as service goes I am biased due to Drewbage telling the brewmaster that I was a BA from Boston and him then not only letting me in for free, but brought me the beer that I had missed so I could catch up. He was a real class act and it was most appreciated. After the tasting I was able to help "clean up" by drinking the left overs with Drewbage and a few of the other guys.
When I came back from dropping Jess off at the hotel I had time for a few beers. I went with the stout which was very nice. There was a pretty good selection of beers they made and a few beers from outside that were brought in.
Great location, great beer, great people and pizza (which I didn't try, but Jess's parents did and said they liked it). Everything you could want from a place while on vacation.
1,502 characters
4.22
/5
rDev
+11.9%
vibe: 3.5 | quality: 4.5 | service: 4.5 | selection: 4 | food: 4
This BJ's is in the valley of a suburb of sprawling Los Angeles. It is near a mall and about a mile from the freeway. They have valet parking or self parking is on the roof of the parking structure for BJ's patrons.
A very large restaurant. The decor is rustic. Wooden beams and a brick facade. Posters of the beers BJ's brews are on the walls. The bar is long and the bar area has some tables and chairs with a couple of booths. The rest of the room is large with booths. There is an ajoining room with more seating. The upstairs has some very long tables for large groups. From the bar area one can see the brewing equipment. They have two giant screen t.v.s and a number of t.v.s scattered about the restaurant. They all were showing sports. I was here for lunch and there is a very family oriented feel during the day. Or locals there for the beer and sports. At night I am sure there is more of a melting pot of people.
The food was good. I had an individual size pizza and the house salad. They are known for their 'deep dish style pizza.' The others were happy with their selections. It is better than standard pub food and the menu is vast. Service was excellent. The bartender was on top of everybody's selections and kept the glasses full. He was also knowledgable about BJ's beers and beer in general.
This BJ's has a full bar and a decent selection of wine. They brew their beer at this location. Some of this beer is then shipped to other BJ's locations. They have about seven of their beers on tap at this location. They will also have a BJ's brewed beer on the special tap which rotates. They had the Oatmeal Stout when I was there. Of their beers that I have had I enjoy their Piranha Pale Ale and the Tatonka Stout the most. The PM Porter is not bad. I have heard good things about their Nutty Brewnette, Oatmeal Stout and their red. Other than the Tatonka I do not think their beers really push the limits. Somewhat safe. Some of the beers they make that I have had at festivals are much more daring of course. They have about twenty taps at this location. Some are repeats. They also have a few guest beers. They had Lindeman's, Pyramid Snow Cap, Anchor Steam, Guinness, Piraat and one or two others. The bottle selection is small. Lindeman's, Unibroue, Chimay, Duvel and this selection also rotates.
This location does have a cask. It had the Tatonka Stout which had been brewed with bourbon wood chips when I was there. The cask will rotate as well.
This is a very nice restaurant, brewery and bar. The staff is friendly and is a good place with plenty of room for friends and family.
Note: This location sells growlers for take out. They have 'beer appreciation' nights from time to time.
2,731 characters
BJ's Restaurant & Brewhouse in Woodland Hills, CA
3.75
out of
5
based on
1
ratings.