Okhotsk Blue Draft
| Abashiri, K.K.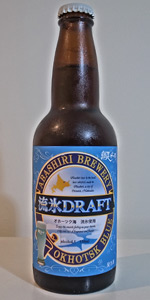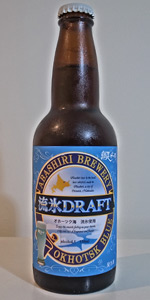 BEER INFO
Brewed by:
Abashiri, K.K.
Japan
ryuhyo.com
Style:
Happoshu
Alcohol by volume (ABV):
5.00%
Availability:
Year-round
Notes / Commercial Description:
No notes at this time.
Added by AxlSkull on 09-16-2014
HISTOGRAM
Ratings: 14 | Reviews: 7

3.49
/5
rDev
+16.7%
look: 4.75 | smell: 3.25 | taste: 3.25 | feel: 4.25 | overall: 3.5
On tap at a Hokkaido food festival in Fukuoka, Japan.
This "blue" beer is actually blue; a nice shade of pale turquoise to be more precise. The body is clear with a white head that is dense and durable. Excellent lacing.
Aroma: mild hops and a hint of the sea.
Flavor: very mild hops and hints of the herbs and the sea.
Feel: very smooth, light body with soft carbonation.
Overall: an interesting but overly mild and meek brew.
432 characters
1.9
/5
rDev
-36.5%
look: 2.5 | smell: 2.5 | taste: 1.5 | feel: 1.5 | overall: 2
its blue. sweet hoppy smell. head doesn't last. low carbonation, thin.
sweet taste but not much else, not that pleasant to drink. Interesting concept, but nothing else. Reminds me too much of a WKD!
hb 4.5
208 characters
3.14
/5
rDev
+5%
look: 3.5 | smell: 3.25 | taste: 3 | feel: 3 | overall: 3.25
3.8
/5
rDev
+27.1%
look: 3.5 | smell: 3.5 | taste: 4 | feel: 4 | overall: 3.75
Poured from a 12 OZ can into a pint glass. The appearance. . . WTH, it is blue. It actually looks like a sport drink with a very small white carbonated head. The aroma is reminds me of liquor instead of a beer. The taste is slightly sweet with no real beer flavors coming out. Maybe this is rice based? Everyone should try this just to give their beer parameters an expanded range. This is my first happoshu style beer so I cannot grade against style.
458 characters
2.84
/5
rDev
-5%
look: 4 | smell: 3 | taste: 2.5 | feel: 2.75 | overall: 3
3.37
/5
rDev
+12.7%
look: 3.75 | smell: 3 | taste: 3.5 | feel: 3.25 | overall: 3.5
2.48
/5
rDev
-17.1%
look: 2.5 | smell: 2.5 | taste: 2.5 | feel: 2.25 | overall: 2.5
12oz can from Jeremy. Novelty beer? Pours out clear sky blue with a small airy head. Sweet, very sweet, candy notes in both aroma and taste. Not good, still trying to get past the color.
186 characters
4
/5
rDev
+33.8%
look: 4 | smell: 4 | taste: 4 | feel: 4 | overall: 4

3.22
/5
rDev
+7.7%
look: 3 | smell: 3.5 | taste: 3 | feel: 3.5 | overall: 3.25
Poured from 12oz can into a dimpled mug.
Appearance: light turquoise -- let's face it, it's candy blue -- with a finger of frothy blue head. Bluer than an alcopop. It is extremely weird for a beer, but hey, it's billed as a blue beer.
Smell: it smells like toasted yams. Not an expected aroma in a beer, but not an unwelcome one.
Taste: it tastes like toasted yams, with maybe a tiny hint of malt. Bitterness is low; there may be no hops in this one. It's not horrible, but really, there's not a lot here to recommend it unless you love yams.
Mouthfeel: light body with a good carbonation and an OK creaminess.
Overall: I am glad I tried this beer, but I don't see myself going back to this particular well.
721 characters
3.01
/5
rDev
+0.7%
look: 5 | smell: 2.75 | taste: 2.5 | feel: 3.5 | overall: 3.5
Water colour blue with a hint of green. Lots of small bubbles, and a few large ones. Half a finger of whitish head that fades oh, so fast.
My mind wants to say "Berries and algae and beer" and that's what I get. A sour like note as well, and some mustiness.
Imagine melted ice with a little beer, and add a hint of berries making it like a faint representation of watery cool-aid.
The thinnest , most watery body imaginable. Lots of soda like carbonation.
I bought into the gimmick, I had to try blue beer. Really though, it could have been so much better than this. Lacking in everything but blue. Drank in Chiang Mai March 3rd 2016.
652 characters

3.07
/5
rDev
+2.7%
look: 4 | smell: 2 | taste: 3.25 | feel: 3.5 | overall: 3.5
Poured into a Seattle Beer Week pint glass. Pours a bizarre light blue with an unusual clarity; there is no hint of amber tones at all. A half finger light blue head with good retention and light lacing. The head looks white from side of the glass, but blue from top, perhaps from the blue beer under it. Odd. Virtually no aroma, a hint of neutral malt and a floral note possible with a lot of sniffing. This is starting to scare me. Flavor is mild, slightly sweet adjunct malt, grain and a bare hint of caramel; lightly floral with a light malt and slight hop finish. Light bodied with active carbonation. Tastes like a very light adjunct lager with the rice component evident in a mild sweetness. Quite pleasant and innocuous, if a bit on the thin side. Adjunct lagers are made to be unassuming and non threatening and this is all that. Honestly, for a gimmick beer, not all that bad. The blue color is fun and there is a very light floral character that sets this apart from other light beer. How did they use malt and not have any amber color in the blue? Best light blue beer I've ever tasted.
1,098 characters
3.25
/5
rDev
+8.7%
look: 3.25 | smell: 3.25 | taste: 3.25 | feel: 3.25 | overall: 3.25
1.75
/5
rDev
-41.5%
Its blue colour may be eye-catching, but there's nothing satisfying about this diluted Happōshu concoction.
108 characters

Okhotsk Blue Draft from Abashiri, K.K.
Beer rating:
2.99
out of
5
with
14
ratings