Watney's Cream Stout
| Truman's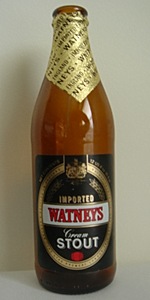 BEER INFO
Brewed by:
Truman's
England
,
United Kingdom
trumansbeer.co.uk
Style:
Milk / Sweet Stout
Alcohol by volume (ABV):
not listed
Availability:
Year-round
Notes / Commercial Description:
No notes at this time.
Added by John on 09-05-2002
Reviews: 6 | Ratings: 15

4.25
/5
rDev
+12.4%
look: 4 | smell: 4 | taste: 4.5 | feel: 4.5 | overall: 4
I feel I must review this since I did drink it often years ago, it was my first stout, and I miss it. However, like most others here, my review is from memory as this has not been around in years.
Dark red-brown, essentially but not quite black, it had a medium brown head.
The taste and aroma were a very nice, full-bodied bittersweet burnt caramel, chocolate, and coffee, with just a little toasty leaf. It was kind of oily and full-bodied, creamy, yet a little lively.
That's as far as I can actually remember. Other than that, the details are lost due top the passage of time.
585 characters

4.23
/5
rDev
+11.9%
look: 4.5 | smell: 4 | taste: 4.5 | feel: 4 | overall: 4
Reviewed from memory -- I do not believe this is made any longer, but i do recall the label stating it was brewed in Canada for Watney's and was export only. I have no idea why i remember this clearly from 1995 when I last had it at a bar called Gravity in Providence RI near Providence College. It was so good I still recall it to this day!
A: Amazing deep chocolate brown, coffe colored head.
S: I honestly dont remember other tham slightly sweet and woody.
T: Excellenet malty sweet flavor. Lactose, smoky.
M: Suprisingly thinner than I expected. Smooth.
D: very drinkable although not likely beyond 3 pints.
BRING BACK WATNEYS CREAM STOUT!
649 characters
4.35
/5
rDev
+15.1%
look: 4.5 | smell: 4.5 | taste: 4.5 | feel: 4 | overall: 4
This review is from memory and I am very nostalgic for this beauty! She was a fine beer with distinctive chocolate notes punctuated by a sweetness that made you want another. I truly wonder why Watneys is no longer available and often sit wondering if there can be anything to replace her. She is missed!
304 characters

3.33
/5
rDev
-11.9%
look: 4 | smell: 3.5 | taste: 3.5 | feel: 3.5 | overall: 2.5
Presentation: 12 oz brown glass UK-generic bottle, golden foiled neck, gold/white/red on black label
Appearance: deep-deep brown, light brown head, good lacing
Smell: roasted malt, caramel, chocolate
Taste: medium body, silky mouthfeel, sweet, very sweet taste, generic fruitness, strong roasted malt.
Notes: not your everyday brew, you won't be able to finish more thn one
385 characters
3.26
/5
rDev
-13.8%
look: 4 | smell: 3 | taste: 3.5 | feel: 3 | overall: 3
Deep, deep black, almost opaque body, with purple-ruby highlights in front of a bright light. Creamy, brown head of small bubbles with a thick layer of lace left inside the glass. Slightly medicinal, soapy aroma mixed in with the roasted malt nose. Deeply fruity, intensely roasted flavor with a lot of burnt, smokiness.
Sweet stouts, an interesting development in the porter lineage. A grist with lots of highly-kilned barley and a wort with a dose of lactose as a non-fermentable sugar which increases sweetness and body makes for a beer that has a sweeter flavor than other dry stouts and porters. Watney's has a very fruity nose, with hints of the residual medicinal, metallic flavors that the dark malts and roasted barley creates. The medium-thin body has a host of flavors, the most interesting of which are the intense, roasted fruitiness, smoky, burnt woodiness and most oddly, worcestershire-like almost sour tanginess.
Odd beer. Not bad, but unusually flavored, with an awkward, almost meaty, boullion-like zing.
1,030 characters
3.16
/5
rDev
-16.4%
look: 4 | smell: 3 | taste: 3 | feel: 3 | overall: 3.5
A surprise find at my local, brewed in Canada by Sleeman (presumably under license) in Guelph, ON. Couldn't resist since I have fond memories of the original Watney's beers. Opaque black/brown, milky texture as I poured. A thin, dark tan head rests atop. The aroma and flavor blends milk chocolate, chocolate malts and rich roasted caramel. It takes some restraint to resist pounding this incredibly smooth brew. To be perfectly honest, I don't know (can't remember) how well this compares to the original. But nevertheless this was a worthy recreation of the Watney's recipe.
576 characters
Watney's Cream Stout from Truman's
3.78
out of
5
based on
15
ratings.