Blue Comet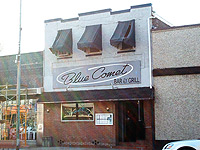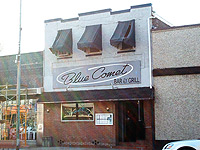 PLACE INFO
Type:
Bar, Eatery
106 S. Easton Road
Glenside
,
Pennsylvania
, 19038
United States
(215) 922-8157 |
map
bluecometbarandgrill.com
Notes:
No notes at this time.
Added by NeroFiddled
Ratings: 8 | Reviews: 6
Reviews by PopeDX:

4.1
/5
rDev
+8.8%
vibe: 5 | quality: 4 | service: 5 | selection: 3 | food: 4
Aaah, El Vómito. A by and large favorite of the local cabal. And things are looking up!
SNPA on tap! SNPA on tap! It's a step in the right direction. Yuengling Black and Tan on tap as well, which is a solid local beer that isn't too widely seen. Chimay Red, Framboise and a couple of German hefes in bottles. And the best damn martini around, a nice shaker full for $7.
So we don't really go there for the beer so much as the atmosphere. Scoring only goes up to 5? For shame. This is the damn coolest place around. Saturday nights Tommy "Not Your Man" Conwell plays a solo acoustic set from 6-10 and does a fantastic job. Pulls out lots of classics and he has just an amazing voice. Sunday evening is Rockabilly, the place is packed but it's so much fun. PBR cans are your friend on Sundays. I believe the PBR and a shot for $3 deal is still going on...
Happy hour is 5-7 weeknights, where there's free wings and "$1 pilsners," which we never bothered asking about. Probably Lite. The food is great too, with good prices. The menu is huge, with a wide variety of hot and cold sandwiches, many varieties of burgers and additional pub grub including GRAVY FRIES. They also have a decent number of platters which rival any restaurant, and a couple of daily specials. Really not a bad place to go for a nice dinner, to be honest.
Come for the vibe, stay because it's cool. Drink SNPA and be happy.
Tell me and these two guys below if you're coming!
Also nearby (3-4 blocks) are Union Jacks Glenside and GG Brewers Brewpub. Oh, and the Drake is getting respectable again and about a 5 minute drive. Not too terribly far a drive to McMenamin's, either, 10 minutes or so.
1,683 characters
More User Reviews:

3.59
/5
rDev
-4.8%
vibe: 4.25 | quality: 3.5 | service: 3.75 | selection: 3.25

3.99
/5
rDev
+5.8%
vibe: 5 | quality: 4 | service: 4.5 | selection: 3
The BI Hometown tour continued ...
I really did not know what to expect. The reviews do not really do it justice. As we walked in, I realized that I was horribly out of place on that particular evening. Holy throwback, Batman! The atmosphere was somewhere between the 1930's and the 1950's. The waitresses were clad in black and most of the patrons were dressed to kill, awaiting the swing band that was to play later that day. I need to come back for Rockabilly night, when I would fit right in. The back bar was Art Deco with a curvy, mirrored setup and an aluminum cooler. Booths ran along the right wall, plus there was a small stage on that side. The soft lighting just helped to accentuate the mood.
As to beer, SNPA keeps me happy. My mom lives in Chico, so it's not like I haven't had SNPA before.
Also, sorry, Idiot, but I do know the owner. He came over and introduced himself at one point.
909 characters
3.95
/5
rDev
+4.8%
vibe: 4.5 | quality: 4 | service: 4.5 | selection: 3.5 | food: 3
What else can be said about the Comet that hasn't already been said? Not much. I love it though. The stories that could be told would take pages. Well, that actually depends on how much you remember. I got my ex-girlfriend pregnant after drinking here one night. Wait, that one wasn't good. I did have a really great time recovering on New Year's Day though. Anyway, I wish I lived closer. In fact, it's a reason to move to Glenside. Oh, and they do have Chimay. I like to have one before I switch to PBR for the remainder of the evening. See ya there!
552 characters
3.5
/5
rDev
-7.2%
vibe: 4.5 | quality: 4 | service: 4 | selection: 2 | food: 3.5
The atmosphere is what this place is all about. The beer is forgettable, although Sierra Nevada Pale Ale has made a recent appearance. This place is perfect for two things: the best cocktails you ever had, and the weekend music gigs. Saturday nights Tommy Conwell performs and Sunday is Rockabilly Night. Both are very enjoyable. Best of all: no cover. Bring your best retro outfit! Mohawk haircuts and pompadours very welcome. The place has two TVs: one has a sign that reads "Talk to the person next to you" and the other plays a classic film, often "Reefer Madness." (Weeds out the jocks.) There are booths in the back where you can enjoy tasty pub grub. Gravy fries and the meatloaf sandwich are particularily delicious.
Like I said before, you don't go here for good beer, but there's something to be said for reliving your high school days with a cold can of PBR in one hand and a shot of whisky in the other. They have a bottle selection, but all low-end stuff. I prefer their dirty martinis, which are the best deal in town, $7, I believe, and you get two and a half drinks out of the shaker. The staff is very curteous and will talk to you if you engage them in conversation. They won't be beer experts, but every one of them can make an awesome cocktail.
The entire place is worth visiting despite the beer situation. The dim lights, the neon, and the classic jazz and big band music give the place a cool, retro vibe and is a magnet for the young bohemian crowd. Prices are very reasonable for drinks and food. However, beware if you abhor cigarette smoke. It is impossible to even drop off mail at this place without smelling like you inhaled a carton of Marlboros.
1,685 characters
3.73
/5
rDev
-1.1%
vibe: 4.5 | quality: 3.5 | service: 4.5 | selection: 3 | food: 3.5
El Vomito, as it's known to the locals, is, well, not going to win awards for brilliant and rare beer selection, but still is worth your time on any given night.
Featuring great rockabilly bands that you could dance the night away to if there was room to (the whole establishment's about 30' long, and 15' wide), the atmosphere of traditional kitsch combined with the music makes it the place to be when you just want to hang with a fun crowd. The more I come here, the more I like it, and the more I ask why I don't stop in more often.
On non-concert nights, the place maintains a good hum, but will let you hear the other people you're with at a simple, conversational tone. The bar attracts a good group of regulars, any day of the week, and, for the DD, they serve the best damn cup o' coffee for miles (and it's a dollar a cup, refills till ya leave the joint). Food is solid for what it is and for what this place wants to be. What does that mean? It means the gravy fries are delicious. Are you starting to get the idea?
The service is very prompt (in such a small joint, it's hard not to be), and for those that care, the bar staff is almost exclusively collegiate, brunette young women, often seen chatting up and flirting with the 70 year old men at the bar.
This is not, by any means, the place to savor a goblet of Chimay (although they do serve the Red here). The Pope likes to get the London Pride or Yuengling Black & Tan (a steal at 2.50 a pint) on draft. SNPA has made an appearance on the line recently. I like to break one of my cardinal rules and drink Yuengling Porter from the bottle. It's that kind of joint. I've also had a few martinis here as well, and I can tell you they pour them cold, stiff, and generous.
Anyway, the point is this: Go, and leave the notepad at home. You'll enjoy yourself, and your final bill will be cheap as all get-out too. It's a cash only joint, too, so bring your greenbacks! The Comet is not somewhere you should specifically make a trip for, but if you're from the Philly area, and you're looking to switch up your regular plans, you'll definately have a good time.
Incidentally, this very much deserves to be a BeerFly location, as you'll often find several Philly area BAs winding down their night here after a vigorous day of pubcrawling. Good times.
P.S.: For those that care, they have a website at:
http://www.bluecometbarandgrill.com/
2,422 characters

3.73
/5
rDev
-1.1%
vibe: 5 | quality: 3 | service: 4.5 | selection: 3 | food: 4.5
Common thought is that this place is either called Cocktails because of the blue neon sign in the front window, or it's a gay bar due to Police Academy using the Blue Oyster as the background for homo jokes. Neither statement is true...but it is a cool place to do lots of things...
...if ever there were a bar that I reviewed where I also cash my checks, receive my mail, get called Norm, break up with girls, get dumped by girls, hook up with girls who were just dumped by other guys, drink with local cops, almost get arrested by local cops (not in the same session,) seen fresh boobies ten feet in front of me exposed at the bar, even had the pleasure of dancing ON the bar with the hottie boombalottie waitstaff, drank til 4am on a Tuesday, started drinking at 11 am on Monday, felt up slooty hoos, GOT felt up by slooty hoos, showed up wearing the vestiges of a thrift shop velvet tux that was ripped up the night before, drank seven nights in a row, and still get warm welcomes (deep breath) the Blue Comet (or as we call it "Chez Vomito) is the place.
Alas, enough about my experiences, let's talk about yours...
This well worn old shoe of a local legend is rounding the corner on its Ninth Anniversay. Inside screams "Vote for Kennedy" and "I like Ike" era lifestyle. Framed hanging photos adorn the pastel green walls dark and dimly lit with candles and a flat black drop ceiling. The bathrooms are 4 x 4 feet in dimension. No joke.
Sierra Nevada constantly on tap is THEE highlight!
Beer is yawn inducing (so go to Union Jacks 1/2 mile down the way first and drink good beer) but a few waves crest the pool of scrod brews et al Chimay Red, SNPA bottles and Fullers, Harp, Bass, Guiness Yuengling Lager & Porter round out the taps. For those looking to relive nostalgic past brews of yore, PBR bottles and cans and Miller High Life adorn the cold box with Rolling Rock ponys, Boddingtons and New Castle bottles. That is as good as it gets. If you like wine or drinks, the entire wait staff is friendly, and eager to please even mixing a drink that you make up on the spot if you are willing to pay for it...and believe me I have more than once. "How about that bottle and some of THAT bottle and a splash of O.J." Puh-lease! How dumb can I be at 2 am?
For a fun date, get there before 9pm on a Friday or Saturday (because the back booths fill up quick in this shotgun room bar. (SEAT YOURSELF...THEY WILL FIND YOU) Order anything off the menu...it's all good and CHEAP! Chili cheese fries are KILLER and the meatloaf sandwich is highly recommended!
Afterwards, drive North on Easton Rd. 1/8 mile and make a right on Keswick at the 7-11 and you'll see the Keswick Tavern. (Don't go there - loud and crappy) Go three store fronts down to Plush...the Suburban bar that thinks it's a Center City club with a DJ. Grab a Victory Hop Devil and sit on the sofa in the shape of a shoe.
Now then, Could you bring your Mother to "Chez Vomito?" Let me say this: I honestly HAVE brought my Mommy to the Vomit an she loved it one Sunday night for Rockabilly Night where the place looks like the set to Coyote Ugly and $3 gits ya a can of PBR and a shot of Kazzee!
Pints are $2.50 to $3.00 and no sports are NEVER on the one t.v. that plays the AMC channel. Also, don't say that you "know the owner" ... they HATE that.
Aw yeah! If you go here, beermail me and the first round is on me. Unless you are PopeDX ;-)
3,440 characters
Blue Comet in Glenside, PA
Place rating:
0
out of
100
with
8
ratings