Keizersberg Abbey Ale

Brouwerij Van Steenberge N.V.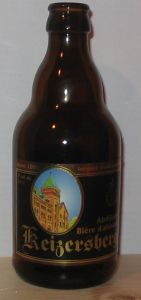 Write a Review
Beer Geek Stats:
| Print Shelf Talker
Style:

ABV:

8%

Score:

Avg:

3.79

| pDev:

12.4%

Reviews:

10

Ratings:

From:

Avail:

Year-round

Wants

Gots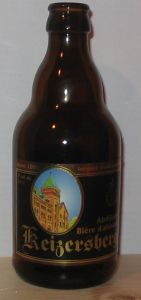 Notes:
Reviews by TheLongBeachBum:
TheLongBeachBum from California
4
/5
rDev
+5.5%
look: 4 | smell: 4 | taste: 4 | feel: 4 | overall: 4
Presentation: Served in a goblet at Lucky Baldwin's Delirium Café in Sierra Madre.
Appearance: Soft golden body hazed with a pineapple juice fluorescence. Bleach white head is crisp in texture but settles at ½" thick. Feisty carbonation builds on the pour and takes some time to reach equilibrium. Long lasting rocky cap slakes down the glass sides as the beer disappears but leaves a gorgeous looking Belgian lacing and mountain range head. Looks attractive and very Belgian.
Nose: Gentle sweetness with some lightly toasted malts which have a grain edge. Pineapple, spices, Belgian yeast, hints of sugared lemon slices and very "fruity" and incredibly fresh Tripel-tastic aromas.
Taste: An extension of the gorgeous nose, superb fruity middle bolstered by Belgian yeast and zippy spices. Sweetness adds Drinkability and edges the alcohol into balance. I could handle a few of these no problem. This one stretched it legs and gives a good example of itself even after a Chicken Curry!
Mouthfeel: Healthy muscles flex the abdomen in this one, pushing the fruity nature whilst allowing the alcohol some freedom but it never quiet escapes.
Drinkability: An easy lay. The alcohol is there, but the fresh fruity nature fools you into forgetting about it. Clean, refreshing and crisp with a soft texture. Dangerous.
Overall: I have had this a few times now, usually at Lucky Baldwin's in Pasadena during Belgium Festivals, but the freshness of the sample at Lucky Baldwin's Delirium Café in Sierra Madre made for a very refreshing and quaffable libation. Well worth trying, but don't forget it's 8% though!!
Aug 04, 2006
More User Reviews:
Sigmund from Norway
3.7
/5
rDev
-2.4%
look: 3.5 | smell: 3.5 | taste: 4 | feel: 3.5 | overall: 3.5
Bottle, at Den Tatoverede Enke, Copenhagen. Pale golden colour, slightly hazy. Moderate fruity sweet aroma. Fizzy mouthfeel. Fairly decent flavour (some oak, spices and a little brown sugar), with a noticeable alcoholic warmth but not unpleasant. Not a bad beer, but Belgium has more exceptional abbey ales to offer.
Jul 01, 2010

ejimhof from Pennsylvania
3.5
/5
rDev
-7.7%
look: 3.5 | smell: 3.5 | taste: 3.5 | feel: 3.5 | overall: 3.5
Dec 04, 2015
BrewMaster from California
4.8
/5
rDev
+26.6%
look: 4.5 | smell: 4.5 | taste: 5 | feel: 4.5 | overall: 5
I had this beer on February 12th, 2005 at Lucky Baldwin's Belgian Beer Fest.
Appearance: Served in a Chimay chalice the beer was a clear golden red with a thin head on top. Not too unusual of a look, but very nice.
Smell: Big caramel aroma comes up from this beer along with a sweet brown sugary smell. Very nice and very reminiscent of a barleywine.
Taste: Lots of complex and bold flavors fighting for position make this a lively and tasty beer. Molasses and caramel are dominant along with some sweet fruitiness. The fruits are somewhat berry-like in character with natural sweetness, not a fake sugary taste. Perhaps a light blackberry flavoring. The ending is very citrusy but mellowed with a touch of bitterness taking on a very sophisticated ending I love in tripels. It's interesting that such a lightly colored beer has such wonderful flavors usually seen in darker beers like dubbels and barleywines.
Mouthfeel: Dazzling on the palate. Nice crisp flavors mix well together to form a parade of splendor in the mouth. Well carbonated and smooth.
Drinkability: This beer reminds me a good bit of one of my favorite beers, Stone Double Bastard. I am impressed by the fact that a tripel can have such outstanding, bold, and rich flavors as this. The natural sweetness and caramel flavors play well and make this beer exceptionally drinkable. It's definately a treat if you come across it. I highly recommend this lovely libation.
Mar 10, 2005
Paddez from Belgium
4.15
/5
rDev
+9.5%
look: 4.5 | smell: 4.5 | taste: 4.5 | feel: 4 | overall: 3
Had this one in 'De Wentelsteen' in Leuven.
Pours a beautiful blonde brew with a big, very attractive, thick and foamy head that stays put for a long time. Very nice looking beer.
The smell is sweet with bananas, malts, yeast and some floral notes. It reminded me of Tripel Karmeliet in many ways.
The taste is great: yeast, lemon, spices and nuts .Other than that there's some bitterness and a hint of alcohol. Pretty complex and very tasty.
Mouthfeel is good as well, with a nice carbonation.
The drinkabillity however is hampered by the high ABV. This one hits really hard. One was more than enough for me. I don't think having several after eachother would be a succes.
Overall: a very nice and solid beer. One of the best ones I've had in the style yet.
EDIT: Had this again a few days ago, and although it tasted equallly great, the beer was maltier and had less floral aspects to it, and more spicy notes. Maybe the serving temprature had something to do with it. I will buy it again soon to find out.
Nov 03, 2004
paterlodie from Belgium
3.15
/5
rDev
-16.9%
look: 3.5 | smell: 3.5 | taste: 3 | feel: 3 | overall: 3
BB 12-01-06. Some white head and a clear golden beer. Nose is alcoholic, yeast fruity, koreander and sweet maltyness in the back. Some cardboard and portyness also but probably of age as this one was in my DBF for quiet some time. Taste is also very alcoholic, dry maltyness and moderate bitterness with some spices in the back. IMO bit pale and missing carracter but nothing off taste so well drinkable.
Feb 26, 2006

jzeilinger from Pennsylvania
4.3
/5
rDev
+13.5%
look: 4 | smell: 4 | taste: 4.5 | feel: 4 | overall: 4.5
A - Pours a crisp, crystal clear golden color, one fingered head after the pour which subsides to an even, thin lacing across the top and very mild carbonation.
S - Aroma is mildly spiced, bready, a little earthy (ver, very slight, though), has some nuances of white grapes in the nose as well.
T - Has a white grape sweet tang on the front of the tongue followed by generous amounts of Belgian spices with a touch of lemon and some apple flavoring. Also has a mild alcohol warming on the way down with very light caramel malt underneath.
M - Leaves a spicy lemon taste in the mouth with mild bitterness presence. Gentle carbonation on the tongue and medium body.
D - A very smooth sipper, I could have several of these, and excellent all around beer.
Aug 30, 2010
mrasskicktastic from New Jersey
3.6
/5
rDev
-5%
look: 3.5 | smell: 3.5 | taste: 3.5 | feel: 3.5 | overall: 4
A - Pale hazy lemon yellow with a large frothy head and a touch of lacing.
S - This smells like apple juice. A touch of orange peel.
T - Well, there is apple juice, but that is far from all this beer has to offer. It has a bit of a lemony presence with a bit of white grapes. Some caramel malt (in spite of the color). Aftertaste is faintly malty with a touch of lemon pith.
M - A bit harsh from carbonation, thin and refershing.
D - Not bad at all. I wouldn't mind having this one again.
May 02, 2007

OWSLEY069 from Pennsylvania
4.2
/5
rDev
+10.8%
look: 4 | smell: 4 | taste: 4.5 | feel: 4 | overall: 4
The newest offering from Van Steenberge. It poured a nice light color with a nice fluffy head. It has aromas of fruit and spice, corriander maye?. It tastes like a nice hardy triple, with that small fruity dryness, and in the end a ever small tartness, with a very clean finish.
May 31, 2007
Stinkypuss from Pennsylvania
4.08
/5
rDev
+7.7%
look: 4 | smell: 3.5 | taste: 4.5 | feel: 4 | overall: 4
Ontap
Appearance: Poured into its proper glass, a bright gold in color with a small fizzy bone white head that did remain for a while. This is a filtered tripel, and exhibits fine clarity poured from the tap.
Smell: Belgian yeast and some doughy malt make up most of the aroma to this golden ale.
Taste: All I can really say is wow, what a beer. Bready malts interact with fruity esters, tart granny smith apple to be specific along with champagne grapes. Very clean and tart bordering on slightly sour but never really reaching it. Really clean abbey ale flavors, enjoyable.
Mouthfeel: Medium bodied, crisp carbonation, fairly smooth.
Drinkability: A very tasty tripel. I may have found my new favorite. Awesome beer here.
Jul 13, 2010
UCLABrewN84 from California
3.31
/5
rDev
-12.7%
look: 3.25 | smell: 3.5 | taste: 3.25 | feel: 3.25 | overall: 3.25
On tap at Lucky Baldwins Trappiste in Pasadena, CA.
Pours a hazy light yellow with a foamy white head that settles to wisps of film on top of the beer. Tiny dots of lace form around the glass on the drink down. Smell is of malt, grain, fruit, spice, and yeast aromas. Taste is much the same with malt, honey, and cardboard flavors on the finish. There is a mild amount of spice bitterness on the palate with each sip. This beer has a lower level of carbonation with a slightly crisp mouthfeel. Overall, this is an above average beer with a nice aroma, but the taste seems a bit old and oxidized.
Mar 13, 2014

desint from Belgium
3.79
/5
rDev 0%
look: 4 | smell: 3.75 | taste: 3.75 | feel: 4 | overall: 3.75
Mar 24, 2015
YvesB from Belgium
3.02
/5
rDev
-20.3%
look: 3.25 | smell: 3 | taste: 3 | feel: 3 | overall: 3
Sep 19, 2017
Keizersberg Abbey Ale from Brouwerij Van Steenberge N.V.
Beer rating:
85
out of
100
with
14
ratings