Zwijntje
| Brouwerij Van Steenberge N.V.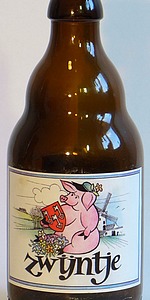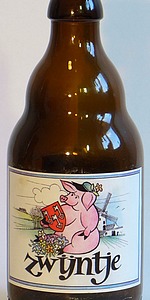 BEER INFO
Brewed by:
Brouwerij Van Steenberge N.V.
Belgium
vansteenberge.com
Style:
Tripel
Alcohol by volume (ABV):
8.00%
Availability:
Year-round
Notes / Commercial Description:
No notes at this time.
Added by thierrynantes on 11-30-2007
HISTOGRAM
Ratings: 15 | Reviews: 5
4.07
/5
rDev
+16.6%
look: 3.5 | smell: 4 | taste: 4 | feel: 4 | overall: 4.5
Pours slightly hazy orange with rather large head that soon dissipates, there is nice downsliding lacing. Aroma is spicy and fruity, some weak floral hops. Taste is spicy and fruity malt, a bit sourish sometimes, hints of citrus with a touch of sweet alcohol. Long lasting sweetish aftertaste. Medium and creamy mouthfeel with nice warming sensation.
Overall, the best about this beer is that is very refreshing for a beer with such high ABV.
443 characters
3.79
/5
rDev
+8.6%
look: 3 | smell: 4 | taste: 4 | feel: 3.5 | overall: 3.5
Picked this bottle up on one of my Belgian buying trips, can't remember where or when though.
The back label says FEESTCOMMISSIE ZWIJNAARDE, then Moederbier Augustijn, so I am thinking this is really an Augustijn Ale (its 8% too) with a little tweek?
Filthy wet, dark rainy evening here in the UK. While waiting for some soup I was making, I decided to cheer myself up by reviewing a beer I'd been saving for 'a rainy day'. It's a swine of a night, so this beer was an obvious choice.
brown 33cl bottle, best before 29 Nov 2009, drank 28 Oct 2008.
Poured into my Westmalle Chalice. Orange more than gold in colour, thin white head. the beer was almost clear, but it had a slight haze to it.
The aroma was of Candy Floss, hops and yeast, strange yet wonderfully different.
Bitter-sweet taste, well carbonated but not over fizzy. Some mixed citrus fruits in the flavour.
The alcohol hovers in the background, then it appears like a hammer towards the end of the swallow.
A very nicely put together beer.
1,010 characters


3.71
/5
rDev
+6.3%
look: 3.5 | smell: 3.75 | taste: 3.75 | feel: 3.5 | overall: 3.75
This beer is essentially the same as Augustijn Blonde. Which is a bit annoying as I also have that beer somewhere in my stash from Belgium. It pours a clear golden colour with a dull white head. Aromas is of malt with caramel. Tastes of wheat, some banana, orange, lemon, toasted malts, spices, caramel, & toffee. Aftertaste is of light spices, malts and a little kick from the alcohol. Overall a decent Belgium strong ale.
423 characters
3.45
/5
rDev
-1.1%
look: 3.5 | smell: 3.5 | taste: 3.5 | feel: 3 | overall: 3.5
3.45
/5
rDev
-1.1%
look: 3.5 | smell: 3.5 | taste: 3.5 | feel: 3 | overall: 3.5
Pours orange and much darker than I expected, a big bubbled head that turned rather quickly to a somewhat thin film. Not clear but I can manage to see through it. Smelled sweet, like those candied orange/citrus fruit jelly candies. Also there was some hop bitterness and maybe some yeasty spiciness to it, but not as much as other Tripels. Tastes a lot like it smells, sweet but not overpoweringly a bit of zest and spice but again not as much as I expect out of a tripel. Well carbonated but it calmed down quickly (about 1/3 of the way through) and not in that silky smooth sort of way, rather just kind of flattened out a bit. Pretty easy to drink and certainly not a bad choice, just a lot of other great ones out there. I will say this, Great Label! Had me feeling Hungry, horny and very confused all at the same time. . . ;-)
831 characters

3.33
/5
rDev
-4.6%
look: 3.5 | smell: 3 | taste: 3.5 | feel: 3 | overall: 3.5
Sorry but this following comment is in french :
Appearance : bière de fermenation haute à la robe dorée, mousse aérienne tenant bien, belle effervescence
Smell : arômes de levures
Taste and mouthfeel : un peu piquante en bouche, amertume prolongée et bien équilibrée
Drinkability : une bière conforme au style triple, mais sans grande originalité
363 characters



3
/5
rDev
-14%
look: 3 | smell: 3 | taste: 3 | feel: 3 | overall: 3
Zwijntje from Brouwerij Van Steenberge N.V.
Beer rating:
3.49
out of
5
with
15
ratings