Vampire Pale Ale
| Brouwerij Van Steenberge N.V.
BA SCORE
83
good
13
Reviews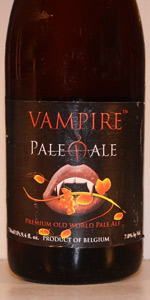 BEER INFO
Brewed by:
Brouwerij Van Steenberge N.V.
Belgium
vansteenberge.com
Style:
Belgian Pale Ale
Alcohol by volume (ABV):
7.00%
Availability:
Limited (brewed once)
Notes / Commercial Description:
No notes at this time.
Added by KansasBeerLover on 10-13-2012
This beer is retired; no longer brewed.
Reviews: 13 | Ratings: 53
4.75
/5
rDev
+31.6%
Picked this up for $4.99 at the Richmond, CA Grocery Outlet. The label is awful, but it's from an actual Belgian brewery, so worth a try, right? I thought it was a fantastic brew, and went back and bought a bunch more.
Appearance: Poured into a chalice, golden, almost clear just slightly cloudy, nice white frothy head. No yeast in the bottle, so it's not bottle conditioned.
Aroma: Belgian ale esters, fruity, spicy.
Flavor: Complex, nice firm bitterness, fruit and spice in spades. Really pleasing. A bit of alcohol.
Mouthfeel: spritzy carbonation, lively.
Overall: Basically everything I'm looking for in a Belgian golden ale. Will keep my eye out for more offerings from this brewery.
696 characters

4.2
/5
rDev
+16.3%
look: 4 | smell: 4 | taste: 4.5 | feel: 4 | overall: 4
Poured from a 750 bomber to a tulip glass.
A center pour gave 3 fingers of large bubbled head, which went to a partial thin head with minimal lacing. The ale is apricot color, a little cloud in the body.
Aroma is fruit and hops. Not overpowering.
Taste follows the aroma. Hoppy with fruit.
Mouthfeel is smooth. Flavor remains on the tongue and roof. A touch of bitterness, very little alcohol.
Overall this is a good brew, Not outstanding, but a very good beer.
476 characters

4.1
/5
rDev
+13.6%
look: 4 | smell: 4 | taste: 4 | feel: 4.5 | overall: 4.25
Pored from a 750ml bottle into a pale ale glass. Served cool
Amber body. Nice thick white foam.
Faint grassy hops. Very fruity. Juicy fruit gum.
Candy, fruit stone , chalk
Very carbonated medium mouthfeel
Okay pale ale.
230 characters

4.08
/5
rDev
+13%
look: 3.25 | smell: 4 | taste: 4.25 | feel: 4.25 | overall: 4
This ale is a beautiful light golden color with a hazy body that deepens the center of the ale to a light yellow/brownish color. Its filled with carbonation and dressed with a nice white head that foams up to about two fingers and slowly thins out into a broken ring around the glass. There is some mild lacing to mark every sip you drink.
Grass, lemon and citrus fruits are present in the aroma; lemon zest and orange peel also come through.
Light and crisp on the tongue, the spices travel through your mouth revealing some coriander, apple malts and a slightly hoppy aftertaste-very slight I might add.
This is a light bodied ale and overall goes down well; its smooth and tasty…there are some sweet undertone that come through in the aftertaste.
751 characters
3.92
/5
rDev
+8.6%
look: 3.5 | smell: 4 | taste: 4 | feel: 3.5 | overall: 4
750ml caged and corked bottle. Strange oral vampire illustration on the label - Mick Jagger would be proud, I think. The most appropriate offering I could find for this most hallow of weens.
This beer pours a hazy medium golden hue, with three fingers of roiling, puffy, and thinly puffy off-white head, which leaves some frizzy table-top cloud lace around the glass as it slowly wisps away.
It smells of sweet, somewhat pastry-esque pale malt, earthy Belgian yeast, some apple mush and Poire Williams fruitiness, and leafy, floral hops. The taste is semi-sweet drupe fruit - more apple and pear - with a sturdy, kind of bready pale maltiness, softened Low Countries yeast notes, and increasingly bitter (everything being relevant the key concept here) leafy, weedy hops. No evidence of the elevated ABV to be found as of yet.
The bubbles, bubbles, toil and trouble (my apologies to Sir Will) are actually average, which works just fine, of course, the body medium-light in weight, and mostly smooth, as some of that initially understated effervescence starts getting frisky. It finishes fairly off-dry, the fruity malt not fading too much, unlike the hops and other bit players.
A decent enough Belgian pale ale, the Transylvanian angle played out by the "Stay Pale" subtitle, as the remainder has nothing so hokey or pandering, just a nicely warming, fruity, yeasty pale ale. If a Twilight or True Blood kiddie happens upon this, and is accidentally introduced to the cornucopia of Belgian beer, then, um, good.
1,517 characters

3.8
/5
rDev
+5.3%
look: 3.5 | smell: 4 | taste: 3.75 | feel: 3.75 | overall: 3.75
I've been anxious to try Belgium ales lately since having tried what seems like every IPA in the universe, and since this one was the only one in stock at my local store, I had little choice. But it was a good choice to start with. Poured from a 750 ml bottle into my 22 oz glass mug (no, it didn't all fit) it has a amber/orange colour and a thick off white head with some lacing. The smell is hoppy and fruity, not over powering. Taste much like the aroma, the fruity/citrusy under taste nicely compliments the hops. Not great, but certainly very good. If I had to rate the bottle though, I'd give it a 1. It comes in what looks like a wine bottle complete with cork and a paper label on it that looks like it came out of the Rocky Horror Picture Show.
754 characters
3.78
/5
rDev
+4.7%
look: 4.25 | smell: 3.75 | taste: 3.75 | feel: 3.75 | overall: 3.75
looks nice and dark orange. smells like belgain funk with apples. tastes kind of like a saison but with less carbonation and more body. some pear and apple with some pepper in there. overall nothing I would seek out.
222 characters

3.74
/5
rDev
+3.6%
look: 3.5 | smell: 3.75 | taste: 3.75 | feel: 4.25 | overall: 3.5
750 corked and caged, poured into a chalice glass. It pours a pale clear gold with a slight brown tint and a fizzy white head that dissipates without leaving any lacing. The smell is caramel, peanut butter, and oranges. Taste is biscuity and a bit grassy with a nutty aftertaste. The mouthfeel is VERY carbonated, which I love. Overall this is a pleasant beer without too much going on with it. It is likeable and solid in just about every way and extraordinary in none I can think of. It is in the mold of Duvel but Duvel does a much nicer job of it. Still, worth picking up for variety.
588 characters
3.5
/5
rDev
-3%
This was sitting by itself, the bottle seemed a bit silly, but even so I picked it up.
Pours a deep amber with a fluffy white head, that dissipates very slowly, leaves minimal lacing behind.
The smell hints of citrus and sweet malt, bread and some herbal or floral notes.
The taste is very interesting. Can't say I've tasted anything similar to this in any other brew, I honestly couldn't put a name to it. Hints of clove, there is a bit of concoction of spice in this that I can't pick apart, the bite from the hops shows up at the end, is fairly mild. The alcohol presence shows up at around the same time. Bitterness takes on a slight soapy feel to the flavor, but doesn't last too long.
This is fairly light bodied but is extremely fizzy, almost soda-like carbonation.
Good to try, but I don't think I would pick this over something new.
850 characters
3.46
/5
rDev
-4.2%
look: 3.25 | smell: 3.5 | taste: 3.5 | feel: 3.25 | overall: 3.5
Poured from a 750 ml bottle into a footed tulip.
A: Amber hue. Pours a 1 finger, bubbly, white head. Settles quickly. Very slight spotty lacing, mostly retreats back into the body of the brew post-haste.
S: Yeast, lemon rind, honey, and clove.
T: Sourdough with a slight hop, accentuated with lemon zest, and dish soap.
M: Light body, with a bit of a floral character.
D: Sessionable
Atmosphere is okay. Fair head, and slight lacing. Nose is yeasty and citrusy with sweet and savory spice accentuates...characteristic of the style. Sourdough with lemon hints, but a bit of a soap palette and an overall floral overtone. Overall, this is a pretty good quaff.
663 characters

3.43
/5
rDev
-5%
look: 4 | smell: 3.5 | taste: 3.25 | feel: 3.5 | overall: 3.5
Corked and caged 750 ML Bottle no best by date.
Clear amber colored all with a tall puffy white head.
Smells on the sweet side with lots of honeysuckle and and coriander. Herbs and pepper in the hop aroma. Smells slightly soapy.
Starts out sweet and flowery in the mouth, fairly mild flavor, no blood tasted. Softy powdery yeast flavor with a good coriander after taste. Herbal and floral tasting this is quite mild and the alcohol is completely hidden.
Mouthfeel is good.
Overall a tasty mild ale. What this lacks in complexity it gets back in user friendliness.
568 characters

3.42
/5
rDev
-5.3%
look: 4.5 | smell: 3.75 | taste: 3.25 | feel: 3.5 | overall: 3
B-
750ml into a tulip. Pours a crystal clear shiny copper penny, dense egg cream colored head slow to recede, clumping froth remains behind, excellent lacing. gorgeous
Aroma is powdery yeast and confectioner sugar, light skinned fruits in the background along with a phenolic musk.
Taste too is yeasty and fairly sweet. Unripened apricot, a pear and some honey. Low bitter, low dry. Hint of zinc at the tail end of the finish. Relatively thin bodied but a touch cloying nonetheless.
cheers
jd
495 characters
3.31
/5
rDev
-8.3%
look: 3 | smell: 3.25 | taste: 3.25 | feel: 4 | overall: 3.25
Pours a murky honey orange with a foamy beige head that fades to nothing. No lacing on the drink down. Smell is of malt, honey, fruit, and slight cardboard aromas. Taste is much the same with fruit, honey, spice, and slight cardboard flavors on the finish. There is a mild amount of earth bitterness on the palate with each sip. This beer has a good level of carbonation with a crisp mouthfeel. Overall, this is an above average beer that is drinkable, but there are some cardboard qualities that make this one seem a bit old.
Serving type: bottle.
549 characters
Vampire Pale Ale from Brouwerij Van Steenberge N.V.
3.61
out of
5
based on
53
ratings.