Golden Pippin Ale
| Copper Dragon Brewery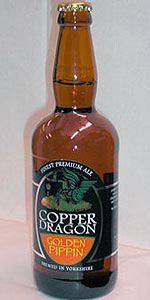 BEER INFO
Brewed by:
Copper Dragon Brewery
England
,
United Kingdom
copperdragon.uk.com
Style:
English Pale Mild Ale
Alcohol by volume (ABV):
3.90%
Availability:
Year-round
Notes / Commercial Description:
No notes at this time.
Added by BeerAdvocate on 06-12-2003
Reviews: 7 | Ratings: 19
3.57
/5
rDev
+2%
look: 3.25 | smell: 3.75 | taste: 3.5 | feel: 3.75 | overall: 3.5
Straw coloured. Slight haziness. Thin head.
Sweet hop and caramel aroma.
Moving from sweet to a mild astringency. Buttery notes.
On the whole quite refreshing.
159 characters

3.65
/5
rDev
+4.3%
look: 4 | smell: 4 | taste: 3.75 | feel: 3.5 | overall: 3
500ml bottle poured into a bog-standard pint glass - bought as part of a 'four for a fiver' promotion at a local supermarket. Best before September 2015
Look: Very pale amber - almost lager-like. Not much in the way of a head and what there was disappeared in fairly short order. Not a massive amount of carbonation.
Smell: With a name like 'Golden Pippin' I was expecting something almost cider-y, but nope - quite a zingy citrus smell with just a hint of maltiness. No nasty chemical smells, which is good.
Taste: Bitter, almost astringent. Doesn't have the teeth-melting hoppiness of, say, some of York Brewery's output but is still a bit on the sharp side and quite 'dry'. Bit of a malty, fruity aftertaste which is not unpleasant once the initial bitterness has worn off.
Feel: Bitter, astringent with overtones of citrus. Might be an acquired taste for some.
Overall: My first experience of Copper Dragon's output - several friends of mine rate them highly and their beers are definitely worth further investigation. As it stands, Golden Pippin is more of a 'summer' ale than the sort of thing you'd probably drink at the butt-end of the year. Not bad, but not brilliant either - there are definitely better pale ales out there.
ETA: The bottled beer is 4.2% ABV.
1,277 characters

3.53
/5
rDev
+0.9%
look: 4 | smell: 3.5 | taste: 3.5 | feel: 3.5 | overall: 3.5
A 500ml bottle with an illegible BB date. ABV is stated as 4.2%. I'm not sure what a pale mild ale is, but I would have thought this is more of a pale ale. Anyway, I digress....
Poured into a straight pint glass. A clear pale-gold colour with good carbonation. Forms a decent head of creamy white foam that hangs around for a minute or two. Aroma of light, grainy malt with a hint of sweetness and mild notes of aromatic citrus.
Tastes of light malt with a mild, crisp bitterness. Notes of grain, dry yeast and subtle citrus. A whisper of diacetyl in the background. A spicy, hoppy bite upon swallowing; reminiscent of a decent pilsner. Mouthfeel is light, smooth, tingly and dry. Slightly astringent. Aftertaste of faintly bitter malt.
Rather nice. Light, but tasty and refreshing. Subtle aromatic hops and a dry character make this a pleasure to drink. Would be great on a hot day. Worth sampling.
902 characters
3.92
/5
rDev
+12%
look: 3 | smell: 3.5 | taste: 4 | feel: 4 | overall: 4.5
Brown 500ml bottle, poured into an 'Old Speckled Hen' vase shaped pint glass. My bottle claims 4.2% Vol, not 3.90. It asked to be served chilled, it was.
Almost pilsnerish in looks, pale golden with a white foaming head. Plenty of carbonisation, bubbles rushing through the body are clearly seen.
The smell is a little 'home brewish' in parts, meaning all the ingrediants feature in the aromas, some citrusy hops, some yeast and a hint of both barley and wheat.
The taste is sharp and citrus flavours dance in your mouth, very refreshing and pleasant. I've had this in cask form and it wasn't as good as this bottle, maybe the cooling makes a difference, or it is a slightly different brew?
Very drinkable in deed.
718 characters
3.89
/5
rDev
+11.1%
look: 3 | smell: 4 | taste: 4 | feel: 3.5 | overall: 4
500 ml bottle, courtesy of Cardinal Pub & Bar, Stavanger. ABV of the bottled version is 4.2%. Extremely pale and crystal clear yellow colour, moderate white head. Very nice hoppy aroma with strong notes of oranges and tropical fruits. The flavour is zesty and well hopped throughout, with a nice grapefruity bitterness in the finish and aftertaste. A typical "summer ale" which I, however, was quite happy to drink on a dreary January night.
441 characters
3.12
/5
rDev
-10.9%
look: 3.5 | smell: 4 | taste: 3 | feel: 2.5 | overall: 2.5
Appearance - Light brown, yellowish, very similar to a dark pilsener. Moderate to small head with sufficient lacing all the way down.
Aroma - Fresh zesty, hops, grapefruit and citrus flavours dominate.
Taste - Citrus hops and alcohol in the mouth. A mildly unpleasent acid, bitter finish with more hops.
Mouthfeel - Acidic and overly carbonated. Reduces as the beer warms up.
Drinkability - average golden ale. Nice aroma but not enough taste for the carbonation and alcohol.
479 characters
2.95
/5
rDev
-15.7%
look: 3 | smell: 3 | taste: 2.5 | feel: 3.5 | overall: 3.5
500ml bottle bought from The Vintage, Antrim... The bottle i had listed the ABV as 4.2% not 3.9 as listed here...
Poured a very pale golden straw colour. White head poured quite small but quite rocky then faded quickly to thin wispy covering. Very, very sparse carbonation.. light patchy lacing...
Aroma - Biscuity malts, some juicy fruits (apples, pears, some grapefruits), freshly cut grass, some sea salt, the faintest of tobacco hints, some toasted bread notes, light peppery hops, floral, some light graininess...
Taste - Quite harsh peppery hop bitterness - a bit medicinal... some light biscuity malts, citrusy fruits (lemons, some grapefruits, apples), definite saltiness, some metallic notes, floral and perfumed...
Feel - Quite smooth with just a little sharp bite coming through... light bodied... Quite drinkable at only 4.2% but the harsh hops are a bit hard to take...
Overall - Another pretty standard and dull English blonde ale... worth a try maybe once...
988 characters
Golden Pippin Ale from Copper Dragon Brewery
3.5
out of
5
based on
19
ratings.