Dismiss Notice
Sour Belgian Golden
| Triumph Brewing Company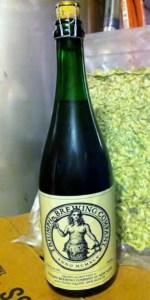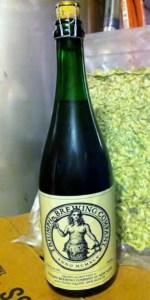 BEER INFO
Brewed by:
Triumph Brewing Company
Pennsylvania
,
United States
triumphbrew.com
Style:
American Wild Ale
Alcohol by volume (ABV):
not listed
Availability:
Limited (brewed once)
Notes / Commercial Description:
No notes at this time.
Added by MasterSki on 08-21-2011
This beer is retired; no longer brewed.
HISTOGRAM
Ratings: 14 | Reviews: 10
Reviews by palma:
3.68
/5
rDev
-11.1%
look: 2.75 | smell: 4 | taste: 4 | feel: 2.5 | overall: 3.5
Purchased at the new hope location. $18 for the 750ml bottle.
Pours a sunburst color. No head. No lace. Disappointing lack of head.
Aroma of vinegar and citrus. Barnyard. Pretty nice sour aroma.
Taste is a very balanced sour. Green apple, big grapefruit, funk, hidden maltiness.
Mouth feel is under carbonated. Weak. Disappointing.
Overall a decent/good sour blond.
380 characters
More User Reviews:
4.25
/5
rDev
+2.7%
look: 4 | smell: 4 | taste: 4.5 | feel: 4.5 | overall: 4
Big thanks goes out to ShadesOfGrey (as I can guess based on the other reviews) for sending me this one as a part of a get-wel box from my accident and to aasher to get all the beer to ship to me! Thanks guys! Shared with beeruser at a recent tasting! Served from bottle into a Boulevard tulip. Poured a fluorescent yellow-orange with a half finger white head that subsided to a minimal amount quickly. Maintained excellent lacing throughout the glass. The aroma was comprised of sweet malt, vinegar, citrus, funk, sour, and lemon rine. The flavor was of sweet malt, vinegar, citrus, funk, sour, tart, lemon zest, and lemon rine. It had a light feel on the palate with high carbonation. Overall this was a pretty good brew. I was really pleasantly surprised at what I found in this one upon first inspection. Everything on this one was spot on for the style and was able to be very while balanced and complex while still bringing the pucker factor. A real pleasure to try and hopefully I get to try something else sour from them in the future. Well done guys, well done.
1,070 characters
4.23
/5
rDev
+2.2%
look: 4.5 | smell: 4 | taste: 4.5 | feel: 4 | overall: 4
As seems to be the theme with this beer, thanks to shadesofgray for sharing! Poured into a tulip in the cellar and enjoyed with Ryan and Joe.
Wow...what carbonation. Long after the pour, fine bubbles swirl about the body. Crisp and clear light amber in color, this is topped off by some very sticky and fluffy head that leaves some nice but understated lacing on the glass.
The aroma is mildly acetic, but it also leaves room for lemon zest and lactic sourness and a familiar, enjoyable barnyard funk. Mild fruity esters finish out the nose. The flavor is similar, as the acetic notes contribute sour cherries along with apricot and peach...maybe even a little bit of grapefruit in here as well.
Light and spritzy on the palate, this is a surprisingly well-executed sour, especially for a brewery who doesn't bottle, let alone bottle sours. Here's to hoping that they bottle those last few barrels and release this again, because this is a gem I'd like to get my hands on.
976 characters

4.22
/5
rDev
+1.9%
look: 3.5 | smell: 4 | taste: 4.5 | feel: 4.5 | overall: 4
Thanks to Alex and ShadesOfGray on this one.
A - Clear solid gold, white bubbly head that faded quickly.
S - Incredibly sour funky aroma. Tons of horse, grass and lemon that just blast the nostrils.
T - Fantastic fruitiness with the sour lemon. I don't get much barrel. Finish is a solid lactic lemon.
M - Small but sharp carbonation. Farily dry, no alcohol.
O - Easily the best triumph brew I've had. The name was a bit deceptive, but definitely a fantastic sour that I'd love to drink a whole 750 of. Crisp, clean, complex. Well done.
541 characters

4.22
/5
rDev
+1.9%
look: 4 | smell: 4.5 | taste: 4 | feel: 4 | overall: 4.5
Thanks to Alex for sharing this bottle, obtained from ShadesOfGray
A - Golden colored beer with a bit of a white head that faded to a nice collar and a bit of lace.
S - Nice tart and sourness in there. There's some lactic sourness on the end, giving it a little bit of a yogurt finish on the nose.
T - As those before me have said, definitely a beer along the lines of Temptation and Brute, although I find it has a little less barrel. Nice sweet, tartness, the lactic on the end gives it a little bit of a fuller and heavier taste than the already mentioned beers.
M - Medium bodied, good carbonation, not particularly dry on the finish.
O - This seems like a fairly complex beer to get right, and Triumph has really nailed it. Great brew, would love to have it again.
775 characters


4
/5
rDev
-3.4%
look: 4 | smell: 4 | taste: 4 | feel: 4 | overall: 4
11/6/2011
Bottle shared by Carlos, thanks!
A: Transparent gold with a big white head.
S: Sweet sugary peach and apricot with pronounced lactic notes. Leather is light and there's a little barnyard character.
T: Moderately tart with a light citric acidity. Notes of apricot blend with peach and an upper moderate lactic sourness. Acetone is light. The beer finishes lactic with an increased citric acidity and lingering apricot.
M: Medium body with upper moderate carbonation.
Overall: Good stuff from a brewery I'd never heard of.
536 characters



4
/5
rDev
-3.4%
look: 4 | smell: 4 | taste: 4 | feel: 4 | overall: 4
Thanks to Alex via ShadesOfGrey for this one.
A - Pours a lighter golden yellow color, fizzy white head, some bubbles, nice collar, spotty lacing.
S - Nice lighter sour/tartness, fruity, touch of oak. Not too in-your-face...more light and enjoyable.
T - Not as sour as Brute or Temptation, but right up there as far as taste. Fruity, oak, slightly sweet (but not overly sweet).
M - Light, fizzy carbonation, dry sweet finish.
O - Really enjoyed this one...very easy to drink and the bottle was gone so fast between us all. I would def have this one again, if offered. Not quite on the level of Brute or Temptation, but still one helluva golden sour.
657 characters

4
/5
rDev
-3.4%
look: 4 | smell: 4 | taste: 4 | feel: 4 | overall: 4
Pours a white head. Leaves a little lace. Color is a vibrant hazy golden orange.
Aroma: Very fruity. Lemon and zest with some spice. Some peaches and apricots. Very sour and oaky. A clean sour.
Taste: Very sour. Mouth puckering. Green jolly rancher. Mango and peaches. Very fruity. Woody. Lots of funk. Sour and acidic. Not medicinal.
Mouthfeel: Sour, but clean. A little tart. Lighter bodied. Medium carbonation.
Overall, a fantastic beer. Drinkable and enjoyable. A real treat to have. I could drink a decent amount of this. Thanks Ryan!
543 characters

4.1
/5
rDev
-1%
look: 4 | smell: 4 | taste: 4 | feel: 4 | overall: 4.5
Bottle. Shared by shadesofgray at Darkness Day. Excited to try this as I haven't heard too much about them. Cork comes off with a slight pop and pours a clear yellow orange color with a white bubbly head that quickly settles to collar around the glass. Nice aroma of citrus lemon, fruit, vinegar, and mild funk. The taste is very similiar to the aroma with a start of tart lemon acidity mixed with a barrel/farm funkiness. Not overly funky though. Decently clean finish. In a day where stouts were being poured left and right, this was a solid refreshing beer to drink. Light/medium mouthfeel with carbonation. Overall, rather enjoyed this one.
644 characters

4.22
/5
rDev
+1.9%
look: 4 | smell: 4.5 | taste: 4 | feel: 4 | overall: 4.5
Thanks to ShadesOfGray for sending this our way. 750ml corked and caged bottle. Served in a Heady Topper glass.
A - Finger of off-white foam settles to a thick cap, some lace, and a murky golden body.
S - Lactic sourness, fruity Pez notes, and oak and mild acetobacter that grows in intensity as it warms up. Very much in the Brute/Temptation vein of American wilds.
T - Again, a nice blend of acetic and lactic sourness, some oak that has a slight dill note to it. There's some malt sweetness, as well as some tropical fruit funk to it.
M - Oaky, tannic, with some carbonation zest, and a medium body that is bigger and creamier than I expected. No alcohol present as far as I can discern.
D - This was a pleasant surprise. I think this is their first sour and bottled offering, which makes it quite impressive. This was probably the quickest consumed beer of the evening, and there were a lot of great beers. I'll have to keep my eye open for future Triumph bottle releases.
981 characters
Sour Belgian Golden from Triumph Brewing Company
Beer rating:
4.14
out of
5
with
14
ratings