Natural Living Center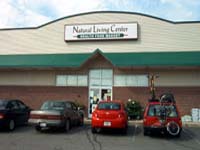 PLACE INFO
Type:
Store
209 Longview Dr
Bangor
,
Maine
, 04401-3649
United States
(207) 990-2646 |
map
naturallivingcenter.net
Notes:
No notes at this time.
Added by bennybrew
Ratings: 11 | Reviews: 9
Reviews by beyah:

3.88
/5
rDev
+6.3%
vibe: 4 | quality: 4 | service: 3 | selection: 4.5 | food: 4
A little out of the way but not very far from the Mall.
Great place for homebrewers to get hops grain and malt, they carry all the popular brands.
Great Beer selection, I can always count on something new I haven't tried yet.You can find beers from Belgium, Germany, England, Canada and the US.
The natural food portion of the store has a little deli that is quite good. They have beet sugar and corn sugar for us homebrewers.
When in Bangor this is a nice place to stop, I always walk out with more than I had planned.
524 characters
More User Reviews:
4.37
/5
rDev
+19.7%
vibe: 4 | quality: 4.5 | service: 4.25 | selection: 4.5
Really one of the better craft beer selections in Bangor. Have consistently found epiphany and swish here on their shelves. Have both Maine offerings (most of the best beers weve got) and a lot of foreign and out of state ones as well. Recommend it to anyone in Bangor area
273 characters
3.85
/5
rDev
+5.5%
I visited the NLC last week. I have been there a couple times over the last few years. A pretty well stocked half isle of beers. A good selection of local beers, Allagash, Shipyard offerings. Some beers from Southern Tier, Rogue, Sierra Nevada. I bought a 4 pack of Guinness Foreign Extra Stout. It is also interesting to note that there was no BMC beers to speak of. This is certainly not a beer store but a health food store that has a nice selection of beers. I would not go out of my way to seek out this store to buy beer, but if you are in the Bangor area its worth stopping in.
584 characters
3.15
/5
rDev
-13.7%
(I previously reviewed the NLC as a Homebrew Supply Shop but then realized it was under the "Beer Store" category. So here's my review of it as a beer store.)
The NLC in Bangor is one of the very few places in Bangor to get some really good beer. They have a very good selection for half an aisle of stock plus a fridge.
Quality is not so great as it seems like they don't get a lot of turnover of their stock. I think most people don't know that they sell good craft brew there.
Service is non-existent. Don't expect to get a recommendation or many people to help you for that matter. It's just not the strong point of the place.
Selection is surprisingly very good. Belgian Trappist beers, 22oz bottles from the major craft brewers around the US (i.e. Stone, Dogfish Head), 12oz from local craft breweries (i.e. Long Trail, Allagash) and some stuff from Britain (Old Engine Oil) and Canada (Unibroue).
Still comes out a bit on the pricey side but you would expect it coming from there. Their focus is not on the beer selection but on organic products.
1,058 characters
1.85
/5
rDev
-49.3%
This is a review of the Homebrew section of this store.
If your looking to buy kits than this place has a minimal amount available. I cannot vouch for the freshness of the contents.
As far as grain goes I left the place disgusted. They dispense their grain from the plastic self-dispense tubs that candy stores use so obviously unless they are going through the stuff like hotcakes you run a serious risk of buying some rancid grain. Yum.
There are a few things in ziplocks but the labels on them look like old newspapers you found in gramma's attic, truly scary. I have to wonder what folks do for their all grain supplies in Bangor. I assume The onliners do great business up here.
I called first to see if they had a few specific hops and some melanoidin and was put on hold for 15 minutes till I hung up. Upon calling back I was told they had Fuggles and Pheonix and nothing else but they did have the melanoidin so I made the decision to go and when I got there found the Homebrew area a wreck. Grain on the floor and old, old bags strewn about.
I'm finding myself getting pissed off all over again just recalling the experience.
Decent beer selection kept me from coming back to burn the place.
1,209 characters
3.2
/5
rDev
-12.3%
While being the only place around the Bangor area for home brew supplies, I wish we could get more selection from them.
It seems having a corner on the market in the little backwoods of Maine means that we do not need much.
Liquid yeasts are non-existent, however, I have heard rumors that they will order stuff for you (the sources also have stated that the speed in which they order for you is lacking, if they even remember to order it).
The equipment is pretty spot on with plenty of stuff to start you on the road to an exciting career in home brewing.
I shop here because there is no other place around, if only we could convince Roberta at the Store Ampersand to start selling supplies again...
705 characters

3.7
/5
rDev
+1.4%
The Natural Living Center has the best selection of organic beers in the area. But don't expect to find much more than that besides some microbrews from a few Maine breweries and some imports.
The best thing about NLC though is their homebrew supplies. If you're ever interested in starting to brew your own beer, this is most likely the place you'll go to get your starter equipment and supplies. While I have been told their selection has been going downhill, it is still the best place in the Bangor area to buy homebrew supplies without resorting to ordering online or driving long distances.
Their help has always been kind which is another plus with this store.
669 characters

3.7
/5
rDev
+1.4%
This is the place to get beer in Bangor....by default. First the good news. A decent selection. A pretty good range from various breweries. Allagash, Sea Dog, Shipyard, Casco Bay, Geary's and Gritty's are all represented Some Spaten (Optimator) and Paulaner and a decent selection of Unibroue (including Ephemere, tough to find round these parts). Samuel Smith's other imports. Not a huge Maine beer selection but passable. Also Long Trail and Magic Hat.
The bad news is that there is alot of old beer sitting around. If it's some bottle conditioned Unibroue or a strong double bock, maybe that's a bonus or at least neglible. But Casco Bay Riptide Red tends not to age well-especially two years past its best buy date. I saw Geary's Summer Ale with 2 different sets of artwork on the sixpack so at least one of those is at least a year and a half old. Buyer beware. That being said, most of the beer was within freshness dates.
The service was friendly enough but the day I was there they were not particularly knowledgeable. Maybe the beer guy wasn't around. Also carry an assortment of homebrew supplies. If the local grocery store doesn't give you what you need, it might be worth a trip here.
7/2005 Happy to report a couple things have improved. Selection is a bit better (Dogfish Head, Belfast Bay, more diverse Unibroue stuff, Andrew's) and they seem to have a better rotation going to cycle out that old beer. I couldn't find anything out of date. Nice people there too, service with a smile. Prices are more than fair for the area. This is THE place for beer in Bangor and no longer just by default.
1,618 characters
3.65
/5
rDev 0%
EDIT 8/21/5
they have added a cooler for beer! just a 2 door slider thingy but there is no light on in there! and it offers some protection from the phosphorescent lights that they have. most of the 750's and other more expensive beers are in there. another step in the right direction. also, they seem to have taken on the few dfh's available up here.
EDIT 5/22/5
i was in buying some spices and such and had occasion to meet the beer buyer and he seemed genuinely interested in getting more better beer. he even lamented all the beer being out under the florescent lights. the selection did seem better than before and the shelves seemed fuller. these are good signs but for now i'll just mark up service a notch.
EDIT 12/5/4
this place has changed quite a bit. there used to be 2 natural living centers, one in bangor and one in brewer and now there is but one. there used to be a bunch of dusty old bottles but that seems to be in the past as well. all the bottles i looked at were reasonably fresh (at least in date). also, the selection seems to have improved but not quite enought to raise that score. i found some celebration (never seen it in maine before) and some quelque chose. i am not quite ready to be really impressed (its no marty's thats for sure) but they have made some real improvements.
[old review] so there in the back, behind the large selection of flours and organic cane sugar, yes, there is beer. not a huge, maine beer and beverage type selection but a decent one and a good mix. more imports than the grocery store i've been to in the bangor area as well as a decent selction of maine brews and micros from away.
where they lack is in quality control. the folks are friendly and try to be helpful but mostly they are there to sell tofu and natural suppliments. but you better be checking dates. i just bought (6/8/03) a casco summer fest ale (not casco summer ale) that was dated 01. oops.
this is the only beer store i know of in bangor although i haven't looked to hard. if i need a good selection without going to portland i go to burby and bates in orono.
2,117 characters
Natural Living Center in Bangor, ME
3.65
out of
5
based on
11
ratings.