Rock Hard Red
| Gray's Brewing Company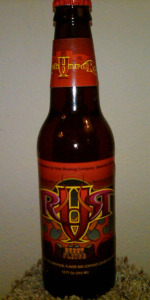 BEER INFO
Brewed by:
Gray's Brewing Company
Wisconsin
,
United States
graybrewing.com
Style:
Fruit / Vegetable Beer
Alcohol by volume (ABV):
5.20%
Availability:
Year-round
Notes / Commercial Description:
No notes at this time.
Added by beerwolf77 on 06-01-2010
Reviews: 7 | Ratings: 17
5
/5
rDev
+155.1%
look: 5 | smell: 5 | taste: 5 | feel: 5 | overall: 5
I'm from Wisconsin and I'm surprised more bars don't serve this. Best drink ever, so much so that I drink it by the pitcher no ice. I ask for it everytime I go to a new bar and no one ever has it. I honestly would drink this everyday for breakfast lunch and dinner
264 characters

2.46
/5
rDev
+25.5%
look: 2.75 | smell: 3 | taste: 2.25 | feel: 2.25 | overall: 2.25
First of all, this is not a beer people. It says right on the label it's a "Berry Flavor Malt Beverage." It is kind of misleading because they included it with their 8pk sampler and you will see it side by side with other Gray's beer. Basically this is just a high octane Seagram's or B&J cooler. It pours a clear red color with a little bit of pink fizz. The smell is that of sweet cherry mixed with alcohol. It tastes very sweet and has a little bite. Very similar to children's cherry cough syrup.
512 characters
1.87
/5
rDev
-4.6%
look: 1.5 | smell: 2 | taste: 1.5 | feel: 3.5 | overall: 1.75
Pours a clear, rose red color. 1/5 inch head of an off-pink color. Poor retention and poor lacing. Smells of cough medicine fruitiness, hint of pale malt, and slight metallic notes. Fits the style of a Malt Beer and a Fruit / Vegetable Beer. Mouth feel is sharp and crisp, with an average carbonation level. Tastes of cough medicine fruitiness, hint of pale malt, and slight metallic notes. Wow, this is hard to drink due to the cough medicine flavors, the lack of any complexity, and the overpowering sweetness.
518 characters
1.85
/5
rDev
-5.6%
look: 2 | smell: 2 | taste: 1.5 | feel: 2.5 | overall: 2
12 oz bottle poured into a Sierra Nevada imperial pint. "Flavored Beer", "artificial flavor and color added (FD & C #40)". No date.
Thanks Beerwolf77?
A - Believe it or not, Rock Hard Red pours an illuminated pink-ish bright red color with an insane amount of carbonation. It fizzes louder than soda and produces a plump and loose light pastel-pink head that disappears before the "beer" is finished coming from the bottle. Scores a 2 for sheer red-ness!
S - Reminiscent of something summer...a HA! Kool-ade! The aroma reeks of sweet, overly sugary (when instead of mom making it, you got your hands on the sugar jar and doubled the recipe) artificial "wild berry". I have a feeling this is going to taste like a Flavor-Ice. At the same time I find myself grossly intrigued.
T - Spot on. This tastes immediately like an over-sugared Flavor-Ice of some berry variety. Does this sugary flavor have a niche market besides kids? It wouldn't be so bad if, on the finish, an actual hint of beer came through with a husky grain flavor that actually ruined it.
M - I can't stress enough how overly carbonated this is. Crisp and sharp but sweeter than all get-out, RHR is incredibly light-bodied.
D - Honestly, the only two things going for this beverage are a) it's cool-looking, tribal-ish label, and b) it's nostalgia. But it's funny that this alcoholic beverage makes me reminisce about my childhood summers. Thanks for that Todd.
1,431 characters
1.69
/5
rDev
-13.8%
look: 3 | smell: 1.5 | taste: 1.5 | feel: 2.5 | overall: 1.5
The label states clearly this a fruit flavored beer. So I will review it as such.
Poured into my pint glass the beer is bright clear berry red. A small amount of pink head forms and fades rather quickly. No lace.
The aroma is pure cherry kool aid. Not a hint else of anything. This smells more like berry pucker than a beer. It's not bad just a bit strange.
The flavor is pure sweet berry juice and a vodka like boozey kick. It's likke a melted snow cone with alcohol in it. Again not horrible just super sweet and simply not beer like.
Thin highly carbonated body. Very spritzer like.
Overall I understand what they were shooting for and they nailed it across the board. Not exactly my thing but I imagine there is an audience that would go nuts for this stuff.
768 characters

1.48
/5
rDev
-24.5%
look: 2.5 | smell: 2 | taste: 1 | feel: 1.5 | overall: 1.5
12oz. bottle poured into an imperial pint. No bottled date.
(A)- Pours a clear but pale ruby red color. No head formation.
(S)- Smells like sugary strawberry-ish koolaid.
(T)- Tastes like a cherry/strawberry syrup you put on snow cones with a dry, almost bitter corn husk funk at the end.
(M)- Fizzy carbonation level. Tastes like a flavored yet carbonated sugary syrup.
(D)- Honesty, I will never have this again. Sorry, but I am not a fan. Nothing about this reminds me of a beer. It even says on the bottle that artificial flavors are used as well as Red#40 or whatever it is. Even my girlfriend who likes this kind of stuff did not like it.
649 characters
1.24
/5
rDev
-36.7%
look: 2.5 | smell: 1 | taste: 1 | feel: 1.5 | overall: 1.5
It's a hot day, and I'm in the mood for artificial fruit-flavored malt products that contain certified color FD&C Red #40!
Well, not really, but I am a firm believer that in order to appreciate the best of things, one must expose oneself to the worst of things to have a valid comparison.
A. Looks just like a slightly pinker version of Hawaiian Punch soda. Fizzy just like a soda, and just like a soda it also does not have any foamy head at all. Terrifying color not found in nature, and the bottle is proud enough of the Red #40 to have it stated as such on the label.
S. Terrible artificial fruit smell / Children's Cough Syrup / decomposing fruit gas. Liquid jolly ranchers candy. I'm getting diabetes just from the smell alone.
T. The flavor of the raspberry filling in your local convenience store's filled donuts which have been sitting on the reduced price shelf because they have gone stale. Or like those horrible 'bug juice' packets also sold in convenience stores. Now I think I may have gained diabetes and also possibly stomach ulcers.
M. The body is the body of a thin seltzerey soda, not a beer.
I'm not going to have this one ever again. Because now I know what fruit beers should never ever be like...candy and cheap soda.
1,246 characters
Rock Hard Red from Gray's Brewing Company
1.96
out of
5
based on
17
ratings.