Whole Foods Market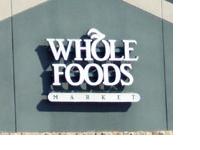 PLACE INFO
Type:
Store
2700 Wilson Blvd
Arlington
,
Virginia
, 22201-3804
United States
(703) 527-6596 |
map
wholefoodsmarket.com
Notes:
No notes at this time.
Added by BeerAdvocate
Reviews: 15 | Ratings: 27

3.94
/5
rDev
+0.5%
vibe: 4 | quality: 4 | service: 3.75 | selection: 4 | food: 4
This is one of the better Whole Foods in NVA for beer. The selection isn't huge but there are always bombers and 6/4 packs that I want to get. Prices here are as good as you will find in DC. I have never run into any knowledgeable employees here but the Whole Foods people are always less down-trodden than typical grocery store employees, so that's a plus. I am also a fan of the many cheese samples nearby.
Upstairs they have about 8 taps and they normally have some decent options. However, there is always just one person for the whole bar so you have to wait in line behind people buying coffees and lattes. Galaxy Hut is across the street if you want a bar anyway.
This is the best place to buy beer in the Clarendon area, if you need special stuff or a larger selection take a trip to Arrowine or Total Wine.
819 characters

3.39
/5
rDev
-13.5%
vibe: 3 | quality: 2.5 | service: 4 | selection: 4
Visited the bar on a Monday late lunch time.
Not the highest ranked place, but WF can definitely be an oasis in the beer dessert. I would visit and drink again, especially if my wife needs to shop.
A - Its a grocery store that sells great beer. The atmosphere at the bar is more grocery store than craft beer.
Q - Had a Goose Island Lolita, but it smelled like soap. Make sure they rinse the glass before pouring a beer.
S - The good and the bad. The person behind the bar is also waiting on customers buying coffee, etc. He/she makes the lattes. So service can be slow with a general lack of attention. On the other hand, I stumbled upon their shipment of GI BCBS, coffee and rye. I bought the first bottles as they were kind enough to bring them to the bar and fix the SKU so I could take my leave. Both tenders seemed to be very enthusiatic about beer.
S - A good selection of beer on tap. About 7 or 8. WIde variety. No too common either.
V - The prices at the bar were above average. The price I paid for the four-pack of BCBS Coffee was less than Total Wine.
1,070 characters

3.59
/5
rDev
-8.4%
vibe: 4 | quality: 4 | service: 3.5 | selection: 3
First time in any Whole Foods so I thought I'd stop in and take a look. The beer section was small but had a little of anything you could want. Nice selection of bombers and 750's as well as a good amount of 6 packs. Everything was kept cold which is always a plus.
They had 4 taps to fill up growlers I think it was 2 Pilsners and 2 Pumpkin beers but don't quote me on that. Prices on everything was more than fair.
It is about a 15 min drive for me so unless I wanted a specific growler they had or was in the area to grab dinner I don't think I would go back just for beer. Who knows though...
598 characters

3.56
/5
rDev
-9.2%
vibe: 4 | quality: 3.5 | service: 3 | selection: 4
My go to Whole Foods. Su (the beer buyer) knows his beer, but he is the only one. He hides the good stuff in the back for those in the know (like it or hate it). Always carries some good Belgians on the shelves, but nothing you won't see somewhere else. Great selection of 6ers, average selection of singles. Everything is reasonably priced. Be forewarned, parking is a pain in the you know what.
Recent purchases:
Stone IRS/Belgo Anise
Dogfish Head Life and Limb 2
Firestone Walker Parabola
Aecht Schlenkerla Rauchbier Marzen
528 characters
3.3
/5
rDev
-15.8%
vibe: 3 | quality: 3.5 | service: 3 | selection: 3.5
Situated in Clarendon, this particular Whole Foods has some of the standard selection of most grocery stores and liquor stores in the area.
The bottle area is actually quite small, and there isn't that much variety or choice. The only exception I could find here is you might find some Terrapin. The bombers selecion was quite disapointing as well being rather run of the mill and ordinary.
The store is also quite small for the neighborhood and is extremely busy and crowded making it hard to walk through. I would skip it and go somewhere else.
548 characters

3.85
/5
rDev
-1.8%
While the selection may not be as big as I would have hoped (P Street DC and Vienna locations boasts a better selection of brews) there was still a nice assortment of sixes, especially for a grocery store chain, with a slight emphasis on locals and the more mainstream micros (Brooklyn, Bear Republic, etc.). I doubt most people are coming here solely for the beer, and were I not trying to hit every beer store in Arlington, in an attempt (which is proving unsuccessful) to bring back a bunch of locals, I wouldn't have stopped here. Good grocery store though, like all other Whole Foods. Interestingly enough, this store does not carry Great Lakes or some of the brews that are not distributed to VA, so head on over to the Whole Foods in DC. Sigh the things I have to do sometimes...
786 characters
4.2
/5
rDev
+7.1%
Nice diverse beer selection. And they have now added 32oz and 64oz growlers like many other NoVA Whole Foods. The growlers themselves are $3.99 and they say they will fill others growlers. They have posted their offerings on Facebook a couple of times. A couple of their offerings have been:
"Eggenberg Pilsner, Blue Moutain Kolsch 151 and Rogue Yellow Snow on tap. Fills are 8.99 for 64oz. /5.99 for 32oz".
"On tap right now for 8.99 for 64oz. /5.99 for 32oz
fills: Lagunitas IPA, Eggenberg Pils, and Flying Dog's Garde Dog
(which, by the way, is delicious!!). For a higher price, we have theincredible rarity of Southern Tier's GEMINI at $11.99 and $8.99 respectively."
675 characters

4.3
/5
rDev
+9.7%
For the most part their selection was similiar to other Whole Food stores but I was pleasantly surprised and found a few things I did not expect to see at a Whole Foods. The staff was very knowledgeable and helpful and let me know what they were expecting in and when in the following weeks, like HopSlam and Brooklyn BLACK OPS.
Also don't forget to look at the column to the right of the wall of beer; it had several things I almost missed that were pretty good like Dogfish Head's World Wide Stout.
Prices were on par with other stores. Would recommend checking out if you're in the area, but not really worth going out of your way to visit.
646 characters
4.15
/5
rDev
+5.9%
This is a good place if you're local to stop and see what they have and pick up a few things. You probably won't find any thing too special here, but there is plenty of great stand-by beers here. I wouldn't really recommend someone go out of their way to visit this Whole Foods, especially with some of the other places in the area to get beer (I'm thinking Fairlakes Whole Foods here, although I haven't been there yet). Still I recently found some great Winter/Christmas seasonals there for a reasonable price.
Everytime I am here, there are several others looking through the craft beers and buying stuff as well, so there seems to be a good turn around on the stuff. I've personally had good experience with the service here. Several times I've been approached by the sales person for help, and when I had questions they seemed very knowledgeable, both about the beer in stock and about the craft in general.
913 characters
4
/5
rDev
+2%
like most Whole Foods, this place is high traffic and one can assume that the beers see a nice rotation, everything was kept in a cold case
didn't need any service but I was asked if I needed any, can't expect much more than that
selection is pretty standard for a Whole Foods, nothing particularly rare but a nice range of breweries and styles, the store makes nice use of the space they have available with about 20 horizontal feet of cooler space, of note was the Fuller's Vintage 2008 that I haven't yet seen elsewhere, mostly six-packs but a nice selection of bombers, won't stop by here looking for anything special but would certainly drop in if I needed beers while in this part of the metro
701 characters
4
/5
rDev
+2%
Went here on my most recent weekend jaunt to DC. Friday evening the place was packed. After picking up some dinner I wandered over to the beer cooler. Not a huge selection but definately has a bias toward American craft beer. I quickly snagged a sixer of Bell's Two Hearted which is what I went in for(It is not distributed in MA). The selection was small but noticed plenty of Bell's, Troegs, North Coast, and Southern Tier to make a nice rounded selection. I did not notice any employees around the beer/wine section but other employees at the butcher and check-out were quite helpful. Prices were right on track for the area, completing an overall great experience.
GC
673 characters
3.7
/5
rDev
-5.6%
Pleasantly surprised with this find. I can usually count on Whole Foods to offer a solid selection of craft brews, and this one did not disappoint. It seemed to offer a slightly more extensive menu of beers than does the Whole Foods on Wisconsin Ave. in DC, my other point of reference for the chain in the Metro area. Well stocked with Troegs, DFH, and Anderson Valley. I was rather impressed with the variety of imports they offered as well. Prices were competetive, and were perhaps lower than average for the local market. Service was poorer than I'm accustomed to for Whole Foods. That notwithstanding, a fine place to pick up some beer.
642 characters
3.55
/5
rDev
-9.4%
Nice beer area-laid out well.Be sure to check out behind columns and displays.I found mutliple cases of Stone's Vertical 04 back there.The shelf of bombers is sort of behind the 6 pack rack as well.Didnt see any help to speak of.There was a guy stocking the macros but he didnt seem too interesetd if I needed help.Damn good selection-not as thorough as the Vienna store.Could use more imports-Belgian,Brits,Germans- a good place to stop if you cant get out to Vienna to the Whole Foods or Norms-I dropped a quick hundred.
522 characters
4.55
/5
rDev
+16.1%
WOW.... This place improved a ton since the last time I was there about 3 months ago. At the time it was a good place to get a quality six pack of beer. They made the best of a small space devoted to beer and I was not disappointed. But now the selection is downright spectacular. Its still not quite up to Whole Foods in Vienna, but they added an entire section of warm storage for belgians and other hard to find imports. The pricing on the Belgians is excellent with many quality 750s at 5.99. Rochfort 10 33cl were 5.99 as well, which is pretty damn good. Six pack prices in the refridgerated section are good to average with some good sale prices. They also now have a new refridgerated section dedicated to bombers and 500ml german imports with some excellent selections. Pricing on the bombers is average.
Their beer manager here is definitely doing a good job and seems to be adding interesting things all the time. They always have the latest and greatest seasonals, along with lots of hard to find imports. Beings that this is right down the street from my place, it is definitely where I will be going in the future for beer. Hands down the best beer store for miles. Funny that it happens to be in a supermarket!
1,228 characters
4.65
/5
rDev
+18.6%
AKA Whole Paycheck to some peeps, this is located in a a neighborhood in the midst of gentrification. It's located about 3 blocks from the Clarendon Metro station, so not too far away for a beer run if you're a local. They carry a decent amount and variety of beers. Trappists, Victory, some Stone, some Rogue, Unibroue, and Dogfish Head pop into mind. The beer shelves fight for space with the wine selection (I've talked with their beer manager, Bill about this) so the offerings tend to change. Still, I've found the beer manager to be quite responsive to me, and willing to take any requests I have into consideration. Beer tastings also seem to happen on a fairly regular basis.
683 characters
Whole Foods Market in Arlington, VA
3.92
out of
5
based on
27
ratings.