Maibock
| Legend Brewing Co.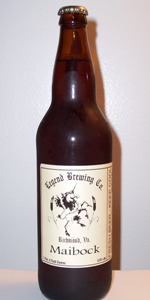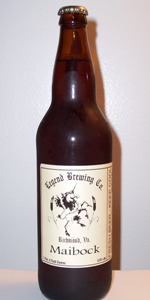 BEER INFO
Brewed by:
Legend Brewing Co.
Virginia
,
United States
legendbrewing.com
Style:
Maibock / Helles Bock
Alcohol by volume (ABV):
6.60%
Availability:
Spring
Notes / Commercial Description:
No notes at this time.
Added by hopsaplenty on 04-23-2005
HISTOGRAM
Ratings: 59 | Reviews: 25
3.8
/5
rDev
+1.9%
look: 4 | smell: 4 | taste: 3.5 | feel: 4 | overall: 4
What the french toast! This is a great beer, taste super fresh and the bottles have a taste like it came right from the tap!
I keep glass mugs in the freezer and pour my beer in them, free luxury, and when you pour the beer its like it should be on tv!
You know the commercials where the glass fills up and the head barely spills over the edge! True tv beer
Thanks legend Narley!
384 characters
3.6
/5
rDev
-3.5%
look: 3.5 | smell: 3.5 | taste: 3.5 | feel: 3.5 | overall: 4
a: pours out a tight off-white head with low retention, medium bourbon amber in color
s: toasty/sweet euro dark lager malts - vienna and munich, give a crackery aroma with some brown sugar residue, benign hop aroma, decent maibock nose
m: carbonation moderate and a bit prickly, lighter in body with a slight slickness in the aftertaste
t: well flavored with toasty dark lager malts, notes of toasted crackers and a touch sugary, moving to a light balancing bitter in the finish as the sugars clean up, pretty nice and thankfully lacking in some of the off flavors often found with this brewer
d: no problem, a flavorful, drinkable lager
bomber from Once Upon a Vine, Richmond
681 characters

4.13
/5
rDev
+10.7%
look: 4.5 | smell: 4 | taste: 4 | feel: 4 | overall: 4.5
Bomber via trade as an extra thanks to billab914 on BA. I allowed my fiancee (damn I hate that word, I just need to get married already) to use half the bottle to cook a seafood stew and then I drank the other half of it with the stew. All of the above tasted great.
This beer pours a bright, clear golden-copper color with a thick two-finger white head that takes several minutes to fade and leaves some lacing on the glass.
The aroma is very nice and fitting for the style. Sweet malt, nuts, earth, and a little toast/biscuit.
Flavor is also great. Sweetness level is spot-on and the beer is very well-balanced. Lots of caramel on the flavor, along with some light fruity notes, honey, earth, and some restrained bittering hops. Very tasty for the style.
Smooth on the palate with medium body for a maibock. Carbonation level is just about right.
A damn solid beer overall. Extremely drinkable. Really great for something that is 1) a lager, 2) not barrel aged, 3) less than 7% ABV, 4) not produced by a hyped up brewery, and 5) not that rare. I approve.
1,061 characters
4.13
/5
rDev
+10.7%
look: 4 | smell: 3.5 | taste: 4.5 | feel: 4.5 | overall: 4
Poured from the bottle into a Pilsner glass. Orange-amber with a 1-finger tan head that subsides slowly to just a thick film. The smell is toasted biscuit with a hint of sweetness.
Toasty and sweet malt hits you first, not a whole lot of hops, except for a little spiciness on the finish. Overall it's sweet and earthy. A little apple tartness showed up as it warmed a bit. Great mouthfeel, not too heavy or too light. As a few others mentioned, there is a little alcohol that becomes noticable after a few gulps, but I could drink this all night. I paired it with some lightly salted popcorn, which worked out pretty well. Overall a great slightly more affordable alternative to Dead Guy if you can get your hands on it.
721 characters

3.72
/5
rDev
-0.3%
look: 3.5 | smell: 4 | taste: 3.5 | feel: 3.5 | overall: 4
Pours a reddish copper color with an initially robust head that diminishes quickly leaving only a slight lace. Sweat bready malt aroma. While the flavor is pretty restrained and nicely dry with just a touch a roast, like any good miabock, but it's also a bit too fruity and not very smooth, unlike better examples of the style. On top of that, the alcohol is kinda harsh for 6.5%.
Kind of a let down considering it's a stab at one of my favorite styles by one of my favorite breweries. Despite what I expected, I'm not entirely blown away. Still, it's fairly solid and very drinkable, I was just expecting more…
619 characters
4.12
/5
rDev
+10.5%
look: 4 | smell: 4.5 | taste: 4 | feel: 4 | overall: 4
22oz brown bottle, no date info
Crystal clear burnished copper. Modest, fizzing head of loosely packed deep eggshell colored bubbles that quickly settles and disappears. There are a handful of sporadically active carbonation streams. Sweet, fruit nose, apples and caramel, nut meats, with some pointed alcohol, but inviting. Opens with a pleasing sweet, softly nutty note. Malty and rich, the apple and caramel kick in through the middle. Finishes with soft spicy hops at first and then smooth alcohol takes over, but it is masked by some sweet malt making it warming after the fact. The sweetness lingers along with the alcohol. Smooth and finely carbonated, possessing a medium body. Solid, enjoyable, and drinkable.
721 characters
3.14
/5
rDev
-15.8%
look: 4 | smell: 2.5 | taste: 3.5 | feel: 3 | overall: 3
Well, this one started out awesome, then kind of fizzled out. I guess you can't have everything all the time. Though it didn't really impress me, I would be willing to try thier other beers. The head on this baby was very thick and foamy. It had great retention, which did last a long time. The smell was just your average malt/hop aroma, with nothing else to back it up. Kind of a let down IMO. The taste atleast had some caramel going on, as well as a slight alcohol taste, to keep it going. All in all, not bad, but also not good. Just average to me.
553 characters
4.3
/5
rDev
+15.3%
look: 4 | smell: 4 | taste: 4.5 | feel: 4 | overall: 4.5
22 oz. with no freshness date, served chilled in a pilsner glass. Pours an amber/orange color with some sediment floating around and a 1 finger tan head that doesn't leave lacing until the second pour. Smells of caramel, hops, earth, and perhaps corn. It has a medium body with a fair amount of carbonation and there are grassy/floral hops on the palate that deliver a nice bitterness. These are balanced by a buncha malts which are all at once sweet, grainy, nutty, biscuity/toasty, with some bubblegum and diacetyl notes. It has traces of alcohol and metal which are the reason the taste isn't a five. It seems to be more concentrated on the malts in the beginning and hoppier toward the end. I'm not sure how true to style this is, as the only maibock I've had is Dead Guy, and it's been a good six months since I've tried it, but this is a tasty beer either way.
866 characters
3.28
/5
rDev
-12.1%
look: 3.5 | smell: 3 | taste: 3.5 | feel: 3.5 | overall: 3
Light amber with a foamy, three-finger off-white head that reduces to a wisp of froth. Brown sugar and biscuity malt aromas with a phenolic kick as well.
Crisp mouthfeel. Grainy, bready malt flavors up front, turning a bit syrupy as it warms. Just a hint of tea-like hops near the finish. It's not cloyingly sweet, but it is a very malty brew.
Hard for me to judge this within its style as I've had very few maibocks, but this was interesting to try.
457 characters
Maibock from Legend Brewing Co.
Beer rating:
3.73
out of
5
with
59
ratings