Imperial Brown Ale
| Legend Brewing Co.
BA SCORE
84
good
15
Reviews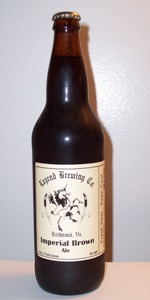 BEER INFO
Brewed by:
Legend Brewing Co.
Virginia
,
United States
legendbrewing.com
Style:
American Brown Ale
Alcohol by volume (ABV):
7.50%
Availability:
Rotating
Notes / Commercial Description:
No notes at this time.
Added by hopsaplenty on 03-01-2005
Reviews: 15 | Ratings: 24

3.35
/5
rDev
-12.1%
look: 3.5 | smell: 3.5 | taste: 3.5 | feel: 3 | overall: 3
A 22 ounce bomber bottle poured into a nonic pint glass. The ale appears a hazed medium chestnut color with two fingers of quickly fading foam. Nose and flavor are of caramel, toffee, slightly nutty, sweet and grainy. The body is slightly lacking, but the carbonation levels are adequate.
288 characters
3.43
/5
rDev
-10%
look: 4 | smell: 3.5 | taste: 3.5 | feel: 3.5 | overall: 3
Thanks to jcwattsrugger for bringing back this 22 oz. bottle for me from Virginia...
Pours dark brown with a tan head that stays. Trailing lace slides down the glass with a few dots sticking.
The smell is of brown sugar, toffee, and some resin.
The taste is of brown sugar and resin. There is a hop presence, in the form of resin, but remains sweet throughout. Boozy. It has characteristics of a barleywine and a brown ale. Interesting. A bit astringent. Whiskey-ish, sweet finish.
Medium-to-full bodied. A bit sticky, with some residual sugars sticking to the palate, along with some saltiness.
Not too fond of the touch of salty character. It's an interesting attempt to imperialize a brown ale, with a barleywine touch. It could work, but, this one's a bit tough to get through. This bottle reads 8.5% alcohol, so I assume they upped it 1% this year - it shows. Things just don't seem to mesh as well as they could, but has enough to be able to finish it after slow sipping.
984 characters
2.71
/5
rDev
-28.9%
look: 4 | smell: 3 | taste: 2.5 | feel: 3.5 | overall: 2
22 oz bottle 8.5% marked on it
medium shoe-leather brown with an off white head that didnt last or lace much
smell was very understated with mostly alcohol nose with a little nuttiness.
After the smell i was surprised to taste up front a rancid nut flavor. it had all the old nut oil taste which i couldnt get past..
I hope this was a bad bottle, but it has been refridgerated so im not so sure. it didnt smell bad, or taste bad, just rancid nut oil...
not something i would drink again ever.
500 characters
3.57
/5
rDev
-6.3%
look: 4.5 | smell: 2.5 | taste: 4 | feel: 4 | overall: 3.5
Poured from a 22 oz. bomber into Sam Adams 'super' pint glass on a cool fall day off work. Immediately impressed with appearance. Semi-opaque light brown color with a large head that dissapates to a steady thin layer.
The smell, on the other hand, is extremely understated. If you get right in there you may be able to pick up some caramel and toffee notes but it smells more like tap water to me. This is something I wish Legend would address across the board.
Flavor attacks the taste buds with chocolate and caramel melding with an earthy, spicy hop backing. Fitting for the style, but nothing too unique or exciting. Mouthfeel is chewy with a dry finish. Pretty drinkable for an imperial ale. Alchohol warms slowly and isn't very noticeable to the taste. I'd have another.
Note: This bottle was marked 8.5% instead of 7.5%.
831 characters
3.9
/5
rDev
+2.4%
look: 4 | smell: 4 | taste: 4 | feel: 4 | overall: 3.5
In a cask at the Capitol Ale House in Innsbrooke.
Deep brown almost black in color. Fluffy but thick three finger head. Good lacing on the pint glass.
Nose is of roasted malts, coffee, caramel, and grains.
The flavor is big and balanced. Big grain flavors in front. Caramel and coffee flavors follow the time. Present bitterness never leaves the tasting. Nice big full bodied brew and very smooth finish.
If you can find it you can drink it but the OH molecule is a little to high to have a lot of it at 7.5%. A good solid brew through and through but it could be a little bit better in all areas.
603 characters
3.58
/5
rDev
-6%
look: 4 | smell: 3.5 | taste: 3.5 | feel: 4 | overall: 3.5
Pours a deep mahogany brown, with a fluffy three finger head. Good retention, followed by sticky lace.
Aroma is of lightly roasted coffee, toasted malts, caramel, and a touch of stale grain. The flavor is a bit better, being nicely balanced between the malt and hops. Great toasted grain, biscuit, caramel, and milk chocolate flavors up front, followed by a firm bitterness. Full bodied and smooth. Drinkability is decent, but the alcohol does leave a lingering burn after the swallow.
Overall, not bad.... but not great. Usually I'm a huge fan of Legend's seasonal offerings, but this just doesn't quite do it for me. There just isn't enough of a brown ale left in here after "imperializing" it. Like Legend says, it's kinda like a weak barleywine, and a poor one at that. It's worth picking up and trying. For less than $5, it's a good value, but I won't be hording any, like I do their barleywine...
910 characters

4.42
/5
rDev
+16%
look: 3.5 | smell: 4 | taste: 4.5 | feel: 4.5 | overall: 5
Presentation: 22 oz. brown bomber bottle, no dating of any kind, poured into a pint glass.
Appearance: Poured a clear deep reddish brown color. The head formed 2 fingers thick and retained nicely.
Aroma: Burnt caramel, coffee, nutty, and some piney hops mixed in there as well.
Taste: Starts off with some bitter burnt caramel and coffee flavors, very deep. The hops remain in the background in the beginning and middle and there's almost some sweet malts coming through there as well. The finish is bitter and chocolately, with some carbonation lingering on the back of the tongue as well along with a slight alcohol warming.
Mouthfeel: Fairly thick, almost chewy, yet still quite smooth. The carbonation was more livel than it looks in the glass, but it balanced nicely.
Overall: This is good stuff. Their regular brown ale is one of my favorites and this might be even better. The bottle claims 8.5% ABV but it's hidden quite nicely. Highly recommended, especially if you're a fan of brown ales.
1,013 characters
3.75
/5
rDev
-1.6%
look: 4 | smell: 4 | taste: 3.5 | feel: 3.5 | overall: 4
22oz. brown bottle, no date information.
Clear deep oxblood. Dense tall head of mixed size latte colored bubbles which slowly settles to a brief collar, and left no lacing. Dispersed carbonation streams laze upwards. Rich aromas of roasted coffee, burnt caramel, and soft piney hops fill the nose. Mouthfilling roasty flavors are complimented with an ample malt body. The light pine hops fill things out and carry into the finish. The bitterness adds an astringent note which lingers. The finish is a bitter, piney, and sweet triumvirate which ends in a draw. The whole thing is a mishmash of flavors that simply never seems to organize itself. Medium body with a smooth, almost silky mouthfeel. The flavors were enjoyable despite their lack of organization, and the 8% alcohol is only noticeable after the fact. I'd still be willing to try another bottle.
860 characters
3.82
/5
rDev
+0.3%
look: 3.5 | smell: 4 | taste: 4 | feel: 3.5 | overall: 3.5
Thanks to hopdog for this...
Appears a rich brown with a red hue. A small tan head quickly fades into a small cap. Tiny remnants of lacing are left around the glass.
Smell is of toffee, caramel, mild sourness, and earth notes.
Taste is of the same aromas with mild sour cherries buried behind the flavors. I'm not sure if that's good and I'm not sure why we keep having this problem with the Legend brews. Steve said he put this one in the fridge as soon as he received it so who knows?
Mouthfeel is medium bodied, sweet up front that fades into a quick tartness.
--update 9/11/07
appears a dark chestnut with a milky, tan head that slowly fades into a batter-like cap and collar.
Smell is of hoppy grapefruit, grassy, earthy, and herbal with notes of fresh grain.
Taste is of the mentioned aromas with a decent balance. Notes of black tea and rye shine through.
Mouthfeel is medium bodied, slightly astringent, along with caramel sweetness, cocoa, toffee, malts, and a decent amount of hops.
Previous scores:
A - 3.5
S - 3.5
T - 3.0
M - 3.0
D - 3.5
1,049 characters

3.98
/5
rDev
+4.5%
look: 4.5 | smell: 4 | taste: 4 | feel: 3.5 | overall: 4
Poured a dark red, little head. I was going into this thinking imperial as "slap yo mamma" hoppy but this wasnt the case. The hoppiness was evident but not overwhelming. In comparison to the regular brown though it was hoppy.
It was a little bitter but was blended well with fruit and caramel aromas. There was a slight coating mouthfeel that gave way to a warming finish. Firm, smooth body. This is both a refreshing and hearty beer good for those cool summer days.
469 characters
3.78
/5
rDev
-0.8%
look: 4.5 | smell: 4 | taste: 3.5 | feel: 3.5 | overall: 4
22oz bottle obtained via trade with pentathlete. Thanks for the opportunity...
Poured into an imperial pint glass, formed a 3/4" tan head over the clear reddish brown brew. Pillowy head lasts nicely, with ample frothy lacing. Aroma is doughy malts, with a touch of vanilla and some light fruitiness. Taste exhibits a solid grain presence, with the same fruitiness and touch of vanilla that the nose indicated. Ratio of flavors seems almost perfect. Mouthfeel seems a bit too thin, although it helps make the brew even more drinkable. Not usually a fan of Imperial Browns, but this one wasn't too bad.
604 characters
3.65
/5
rDev
-4.2%
look: 3.5 | smell: 3.5 | taste: 3.5 | feel: 4 | overall: 4
Light caramel brown colored body with tall tan bubbly head. Not much lacing. Big nutty aroma with and almost equally big bitter floral hoppiness. Some caramel as it warmed. Flavor started with some caramel and a nutty backing. The floral hoppy notes and bitterness were in the taste also and didn't quite meld together with the malty components as well as I would have liked. Finished up with some bitterness and light caramel with a hint of warming alcohol. Fairy thick mouthfeel and pretty smooth. Decent enough drinking but the hops seem out of place here. Not sure if some aging would be in order to fix that but someone else can find that out. Solid effort that could be much better if tweaked a little.
709 characters
4.65
/5
rDev
+22%
look: 4.5 | smell: 4.5 | taste: 5 | feel: 5 | overall: 4
DISCLAIMER - my scores are strictly as a comparison to the style, and do not reflect my views of the beer compared to other styles.
Best brown ale - period. After a series of mediocre brews, and disappointing ones (Westvleteren was drank the same night) this has renewed my expectations of beer. Pours a immensely dark brown - basically, it is as dark as brown can get without becoming black. Big, juicy head - amazing lacing. A nice layer of head stayed with the brew the entire time. Toffee, caramel, and just a bit of alcohol round this beer out. Perfect balance.
Am i saying this is the best beer in the world? No - but it is the best example of the style I've ever had.
682 characters

4.12
/5
rDev
+8.1%
look: 3.5 | smell: 4 | taste: 4.5 | feel: 3.5 | overall: 4
Pours a deep chestnut color with a very brief head and no lace. The somewhat nutty nose features buttery notes with toffee aromas. The rich, roasty palate includes a fairly complex mix of dark flavors: toffee, a rich caramel, a touch of chocolate, a slight nuttiness, a nice burnt bitterness (which is most pronounced in the finish), and a bit of toasted grain thrown into the mix. A silky mouthfeel with very mellow carbonation.
I was wondering how they were going to make this a "Imperial" brown ale with out it turning into some kind of porter, so I did a side-by-side comparison of this one with their regular Brown ale. And, while I'm not so sure the term Imperial is all that accurate, it certainly is darker, richer, features heavier toffee and caramel flavors, and is even smoother that the regular brown ale. Highly recommended
842 characters
4.17
/5
rDev
+9.4%
look: 4 | smell: 4.5 | taste: 4 | feel: 4.5 | overall: 4
Another bomber from Legend, a brewery I'm liking a little more with each beer. Review #300 - not only a beer no one has reviewed, but one listed as retired. I'm thinking it's either a one-off release that they decided to bring back or one that they stored at the brewery and decided to re-release after some cellaring. The label on the bottle I have says nothing about the beer except its name and ABV (8%), with no freshness or bottling date. It pours a deep plum/garnet color with a small off-white head that retains a collar of foam throughout. The smell is heavy on diacetyl, with soft butter/butterscotch, caramel, and nutty malts, and hints of dark fruits (currant?). The taste has a big bitterness with pine/juniper, and raw, coating hop oils balanced by the heavy dose of buttery/caramel malts. In addition, there are notes of coffee and mild toasty malts, all on top of a big thick body that is slightly drying and fairly effervescent, yet remains quite smooth. Overall pretty drinkable and doesn't quite let you know how strong it is until the end. A tasty beer, and a style I'd like to see more brewers attempt. Hopefully they'll brew this more often, perhaps as a seasonal.
1,185 characters
Imperial Brown Ale from Legend Brewing Co.
3.81
out of
5
based on
24
ratings.