Twisted Helles
| Frankenmuth Brewery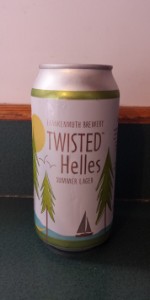 BEER INFO
Brewed by:
Frankenmuth Brewery
Michigan
,
United States
frankenmuthbrewery.com
Style:
Munich Helles Lager
Alcohol by volume (ABV):
5.50%
Availability:
Summer
Notes / Commercial Description:
No notes at this time.
Added by adams82 on 06-23-2013
Reviews: 13 | Ratings: 66

4
/5
rDev
+6.4%
look: 4 | smell: 4 | taste: 4 | feel: 4 | overall: 4
Pours a lemon yellow with a nice white head. It has a sweet smell. It is a very nice helles lager. Very nice sipping beer on a hot day. It is a very enjoyable beer.
164 characters

4.65
/5
rDev
+23.7%
look: 4.5 | smell: 4.5 | taste: 4.75 | feel: 4.5 | overall: 4.75
First time trying a Frankenmuth product..
Bought a six pack at Food Town of all places..
Overall I thought it was pretty tasty.
Sorry, it's midnight... that's all I got.
170 characters

3.94
/5
rDev
+4.8%
look: 4 | smell: 3.75 | taste: 4 | feel: 4 | overall: 4
This is a very good beer for whats its intended for. this beer is an outdoors session beer and is very crisp and refreshing. The look is a lightly hazy yellow and reflects the summer season in its glory. I taste notes of orange peel wheat and malts. Very good lager. I would grab one while mowing the lawn or camping.
317 characters
4.69
/5
rDev
+24.7%
look: 4.75 | smell: 4.5 | taste: 4.75 | feel: 4.75 | overall: 4.75
Out of a can. Smooth taste, no off flavors, no annoying bite, doesn't feel too light or too drying, it's a pretty awesome beer really. Not sure what other people are looking for in a beer, this is a classic with no real issues.
I have a feeling most of the people giving this low ratings prefer more bitter hops. They think that little hops = no flavor. Though this is often the case, this beer still has a lot of flavor, and it is better than most beers of the same variety that rely on the bitter hops gimmick for appeal to the ignorant, foolish masses who consume them.
573 characters
3.33
/5
rDev
-11.4%
look: 3.5 | smell: 3.5 | taste: 3.25 | feel: 3.25 | overall: 3.25
Poured into a snifter. Thanks, Darren.
A: Opaque gold. A white one finger head that dissipates to a foam ring. Light lacing.
S: Lemons' wheat, corn. Citrus and grains.
T: Lemony,' wheaty, sweet, with a malt backbone. Light and summery.
M: Light to medium with light carbonation.
O: A decent middle of the road lager. Nothing special. Good after a bout with yard work.
372 characters
3.68
/5
rDev
-2.1%
look: 4 | smell: 3.5 | taste: 3.5 | feel: 4 | overall: 4
12 ounce can into lager glass, canned on 3/10/2014. Pours lightly hazy deep gold color with a 1 finger fairly dense white head with solid retention, that reduces to a thin cap that lingers. Light spotty lacing clings on the glass, with a moderate amount of streaming carbonation. Aromas of lemon zest, pear, apple, cracker, biscuit, light honey, herbal, grass, and yeast earthiness. Nice and pleasant aromas with well balanced pale malt, earthy hops, and yeast ester notes; with solid strength. Taste of lemon zest, pear, apple, cracker, biscuit, light honey, herbal, grass, and yeast earthiness. Minimal balancing earthy bitterness on the finish; with lingering notes of lemon zest, pear, apple, cracker, biscuit, light honey, herbal, grass, and yeast earthiness on the finish for a short bit. Nice balance and solid robustness of pale malt, earthy hops, and yeast ester flavors; with a very clean finish with zero cloying flavors; Medium carbonation and body; with a very smooth, crisp, and slightly bready mouthfeel that is nice. Alcohol is well hidden with zero warming present after the finish. Overall this is a nice Helles style. Very clean and well balanced flavors of pale malt, earthy hops, and yeast ester notes; and very smooth and crisp to drink. A nicely enjoyable offering.
1,288 characters

4.25
/5
rDev
+13%
look: 4.25 | smell: 4.25 | taste: 4.25 | feel: 4.25 | overall: 4.25
This is a really nice tasting lager. It has more malt flavor and body than many other lagers I have had, but it still is refreshing and smooth. The color is a deep gold with a little bit of amber. It is slightly cloudy and retains a thin white foamy head. The taste is unexpectedly nice, it is malty with a light sweetness and very little bitterness. It has just the faintest hint of lemon zest. Great balance and smooth, smooth. An excellent summer brew from Frankenmuth Brewery. I'll be buying this one again for sure.
520 characters

3.68
/5
rDev
-2.1%
look: 3.75 | smell: 2.5 | taste: 4 | feel: 4.5 | overall: 4
Appearance - golden color, slight haze. White fluffy crown melts quickly but leaves behind some lacy patches.
Aroma - standard grainy macroish sniff.
Taste - robust grain base, light orange citrus edge balanced by a light bite of hop. Very well balanced, clean, and enjoyable.
Mouthfeel - a touch of slickness, but good crisp carbonation and medium to light-medium body.
Overall - easy pick to pair up with some smoked ribs. Great session beer as summer winds down.
470 characters

2.99
/5
rDev
-20.5%
look: 3.5 | smell: 2.5 | taste: 3 | feel: 3.75 | overall: 3
I picked up a can of Frankenmuth Brewery's Twisted Helles a couple days ago for $1.69 at The Lager Mill. It says that it was brewed at Point Brewing Company, so apparently this is contracted brewed. I'm not a big fan of this brewery but it's been pretty hot lately so a Helles Lager sounds pretty good, so lets see how it goes. No visible canning date, but it showed up recently so it can't be too old. Poured from a 12oz can into an Imperial pint glass.
A- The can actually looks really good, I like the design it's nice and clean looking and it does a good job at sticking out. It poured a hazy pale/straw yellow color that took took on a golden/orange color with two and half fingers worth of fluffy white head that died down to a thin ring that stayed till the end and left some decent lacing behind. This is nice looking beer, it's a little hazy for the style but other than that it looks nice.
S- The aroma starts of with a medium amount of sweetness followed by some sweet, grainy, bready, and biscuit like malts aroma that are a little on the light side. Up next comes a doughy yeast aroma with no detectable hop aromas. The aroma wasn't that good, it was very bland with pretty much no complexity.
T- The taste seems to be fairly similar to the aroma and it starts off with a good amount of malts, with the grainy and bready flavors sticking out the most. Up next comes some noticeable doughy yeast with just a slight bit of hops coming through on finish imparting a earthy hop flavor and a medium amount of light bitterness with a very bready aftertaste. This was a pretty average tasting Helles Lager, it's a little on the bland side for the style and it doesn't compare to an authentic German Helles Lager.
M- Pretty smooth, clean, crisp, on the thicker side of being lighter bodied with a medium amount of carbonation. The mouthfeel was nice and pretty true to style, I thought it worked well with this beer.
Overall I wasn't a big fan of this beer and I thought it was a very average example of the style, it wasn't as crisp, refreshing, and slightly complex like some of my favorites of this style. This beer had ok drinkability, it was pretty smooth and light, but the flavors didn't do a good job at holding my attention and one is enough for me, If i was in the mood for a beer that was somewhat similar to this I would grab a Genny Cream, it's cheaper and has just about as much flavor. What I liked the most about this beer was the mouthfeel and appearance they were both good with the mouthfeel being my favorite and I thought that aspect was the truest to style. What I liked the least about this beer was the aroma, it was very bland, a little aromatic hops would help it out a little. I wouldn't buy this beer again, I would rather have an authentic German version of this style, but If I wanted to keep it local I would go with Tri-City's Hell's Half Mile, it's just a better example of the style in every aspect. All in all this beer just wasn't for me, i know this style is all about being nice in hot weather and easy drinking, but it was a little bland for the style and that kept me from coming back for more. This was another barely average beer from Frankenmuth Brewery, you guys better step your game up or these newer brewery's are quickly going to overshadow you.
3,305 characters
3.55
/5
rDev
-5.6%
look: 3.5 | smell: 3.5 | taste: 3.5 | feel: 3.5 | overall: 3.75
A: Bright golden straw color, somewhat clear body, fair amount of bubbles rising.
S: Has a malty crispness to the nose complimented by an earthy hop presence. Slightly reminiscent of a macro, but better then that.
T: Biscuity, earthy, some notes of corn, and just a hint of citrus.
M: Very crisp and light bodied.
O: A great beer for a hot day, although there are others I would choose first.
399 characters
4
/5
rDev
+6.4%
look: 4 | smell: 4 | taste: 4 | feel: 4 | overall: 4
A pale gold color, and lightly hazed, it certainly looks like a Helles. A cleanly white, soapy, craggy pillow of a head displays very good retention and rests lightly on top of this brew. It remains half a finger or so in height for the entire session and leaves solid, consistent lacing deposits on the walls of the glass, mostly in patches.
This beer definitely offers the full profile expected from the style in both aroma and flavor. It's moderately hoppy, neither overhopped (Americanized, essentially) nor weak. A definite Noble hop variety makes for a distinctively traditional offering, particularly combined with the somewhat floral element and the light, biscuity malt. The Noble hops are not only leafy and mildly (unoffensively) sulfuric, but give a light spiciness as well. This may be the most accurately brewed beer I've had from Frankenmuth, from a technical standpoint. It's refreshing and perfect for summer to boot...
...which wouldn't be possible if it wasn't light-bodied and crisp. There's a little smoothness to the feel off a moderate carbonation, but the crispness is key.
1,097 characters
4.09
/5
rDev
+8.8%
look: 3.75 | smell: 4 | taste: 4.25 | feel: 4 | overall: 4
Can poured into a Pilsener glass.
A- Lightly hazed, deep golden body seems to lighten a bit as the haze clears. Moderate-heavy carbonation. Thin, white head drops then reinvents itself throughout the glass as the carbonation continues to rush toward the surface.
S- Lemony as I crack the can. Clean, biscuit-like/bready backbone. Light, spicy hops.
T- Nicely melded combination of flavors. Initial rush of orange pulp and lemon zest, pizza dough from the malts. Some spicy hops to provide balance.
M- Medium body and carbonation. Nice dryness I'd associate with the citrus component.
O- I had high hopes going in as Frankenmuth has proven itself with the German styles. It lived up to my expectations. A real thirst quencher after lounging poolside.
A previous reviewer mentions zest additions. The label mentions lemon and orange flavors. Not sure if it's an addition or just a quality from hopping/yeast. Either way, it works.
Bonus: It's canned and a sub-$9 sixer. I'd buy a case for summer consumption (BBQ/Beach/Ballgames).
Time to fire up the grill and pair another can with some seared meats!
1,109 characters
4.5
/5
rDev
+19.7%
look: 4.5 | smell: 4.5 | taste: 4.5 | feel: 4.5 | overall: 4.5
Hooray for Michigan Craft Beer in a can!
This tasty beverage pours a moderate golden color, slightly hazy with a billowy white head. The aroma is a mix of sweet cereal grains, lemon/orange like citrus and noble hops.
There is an excellent balance to the flavor of this beer. Nice grainy malt notes up front, lots of noble hop flavor and fruity/citric notes on the end. Very little hop bitterness, but tons of noble hop flavor; I love it! Very well rounded. I was skeptical of this one, as most beers with added citrus flavors tend to be dominated by fake tasting extract, but Twisted Helles appears to have been made from actual zest, so it doesn't suffer from this flaw.
Crisp, clean and refreshing; the perfect beer for a hot summer day. I've found that this style is generally poorly represented and not brewed for packaging nearly enough, which is a shame, because it's so tasty and quickly became one of my most sought after styles after first discovering it. It certainly fits the season, but I wish it were available year round. The "twist" (the addition of lemon and orange zest) may not make this a 100% true Helles lager, but I don't care; it's fantastic!
Big thanks to Frankenmuth Brewing Co. for canning such a wonderful summer beer! I will be buying the <expletive deleted> out of this beer this season.
1,326 characters
Twisted Helles from Frankenmuth Brewery
3.76
out of
5
based on
66
ratings.