True Blonde Ale
| Tampa Bay Brewing Co.
BA SCORE
79
okay
15
Reviews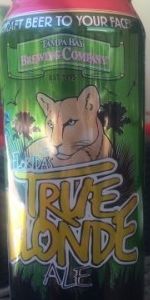 BEER INFO
Brewed by:
Tampa Bay Brewing Co.
Florida
,
United States
tampabaybrewingcompany.com
Style:
American Blonde Ale
Alcohol by volume (ABV):
5.30%
Availability:
Year-round
Notes / Commercial Description:
No notes at this time.
Added by BeerAdvocate on 03-24-2004
Reviews: 15 | Ratings: 47

3.68
/5
rDev
+10.8%
look: 3.5 | smell: 3.5 | taste: 3.75 | feel: 3.75 | overall: 3.75
Pours a straw colored yellow.
Not much aroma. Faint grain.
Taste is crisp mild citrus. A little grassy.
Smooth and light. Good in a light way.
165 characters
2.82
/5
rDev
-15.1%
look: 4 | smell: 2 | taste: 3 | feel: 2 | overall: 3.5
I don't mind this beer, I wouldn't go out of my way to order it. But it looks good tastes alright smells alright. The lace disappears quickly. But it sells
155 characters
3.72
/5
rDev
+12%
look: 3.75 | smell: 3.5 | taste: 3.75 | feel: 4 | overall: 3.75
Yup, the carpet matches the drapes.
A golden, at best, color with a short-lived white head. No lace left.
Smell is saltines with a hint of malt and some grassy notes.
Taste is a good balance of malt, grass, floral & maybe a hint of hops.
Body is light-medium, effervescence is restrained. Unexpectedly, a hint of warming well after the swallow.
345 characters
3.4
/5
rDev
+2.4%
look: 3.75 | smell: 3 | taste: 3.5 | feel: 3.5 | overall: 3.5
A-a clear pale blond with a shorter lasting head that leaves some nice lacing
S- not much to it. At least not that I noted.
T- it has a very mild but pleasant taste. An easy drinking flavor for hit weather
M- thinner but not bad. A slight hint of carbonation.
O- blondes are tricky. It comes pretty close and erratic on the side of being a little under than overwhelming.
375 characters
2.46
/5
rDev
-25.9%
look: 3 | smell: 2 | taste: 2.5 | feel: 3 | overall: 2.5
First had: on tap at the brewpub in Tampa
This is not my style of beer, but for the style, this one was not TOO bad, especially considering most of TBBC's beer were not very good.
Clear golden pour with a small foamy white head; decent retention, minimal lacing. Light pale malt aroma, toasted grains, mild herbal hops. Taste was equally light and on the bland side, pale malts, light hops, cardboard. Light body, not very tasty, but drinkable for the style. Ask for a Miller Lite, and they'll give you this.
510 characters
3.69
/5
rDev
+11.1%
look: 4.5 | smell: 3 | taste: 3.5 | feel: 5 | overall: 4
Looks like a perfect blonde ale. Shining, blonde golden color with awesome clarity and a two finger creamy white head, nice retention and ok lacing.
The aroma is an average blonde. Clean with hints of grainy, bready notes and subtle citrus hints. Very light.
Taste follows. Clean, crisp, easy drinking with faint hint of citrus, orange on a nice bed of fresh baked bread and a hint of caramel.
Clean, crisp, refreshing
Overall, an easy drinking, balanced, refreshing beer!
476 characters
3.6
/5
rDev
+8.4%
look: 4 | smell: 4 | taste: 3.5 | feel: 3 | overall: 3.5
Poured on-tap at the Tampa Bay Brewing Co brewery in Ybor City. The beer was served in a pint glass, and pours a crystal clear and vibrant yellow-gold color with a thin film of head. The nose is light, and slightly grapefruit in character. The beer's flavor is an extremely light malt, with very subtle hops at the end, and tart citrus balancing throughout. Slight roasted and smoked aftertaste, with toasty malt flavors. Slightly sour finish, and a bit watery.
461 characters

3.5
/5
rDev
+5.4%
look: 3.5 | smell: 3.5 | taste: 3.5 | feel: 3.5 | overall: 3.5
Served on tap at the TBBC in Ybor city. Ordered as part of the 10 beer sampler.
This one is a clear beer with white foam. See through and golden sparkles.
Taste and smell are both light and citrussy. There is a mild hop that keeps the balance in check.
Smooth, easy to drink. Good beer.
289 characters

3.56
/5
rDev
+7.2%
look: 4 | smell: 3 | taste: 3 | feel: 4 | overall: 5
Stopped in for lunch and asked if they had any cask left, I was surprised when they said this was the beer on there. A Kolsch on cask? I was obviously intrigued enough to try it.
Very cloudy golden color with about a finger and a half of white head. Very nice lacing left on the glass all the way down.
Smell is a bit grainy and earthy, very light all around. Not much to it, just nice and simple.
Taste is similar to the smell, slightly grainy and earthy but surprisingly clean. Just a bit of flavor comes through from the hops. Everything is very light all around.
The cask body is a bit fuller than the draft body, very creamy and smooth with very little carbonation, even for a cask ale.
This was extremely refreshing on such a hot and humid Florida day. Very enjoyable.
779 characters

3.85
/5
rDev
+16%
look: 3.5 | smell: 3.5 | taste: 4 | feel: 3 | overall: 4.5
Clear golden color with a bright yellow heading. Left lacing all throughout the tasting.
Smell is zesty,nice pilsner malt profile with a very subtle hoppiness.
Taste is very light and crisp. The hops match up perfectly with the lighter maltiness.
Mouthfeel is light bodied great carbonation.Slight sting on the tongue. Very wet.
Drink is excellent very drinkable not heavy at all and a perfect beverage for the day my wife and I went there.
444 characters
3.18
/5
rDev
-4.2%
look: 3.5 | smell: 3 | taste: 3 | feel: 3.5 | overall: 3.5
The wife's favorite at TBBC which she seems to always order and I finish. Not a favorite of mine but can't let it go to waste.
A: Pours a light golden hue with a nice foamy head. Good retention and a touch of lace.
S: Light malt aromas with just a touch of hops.
T: Same as aroma. Light pale malt dominates with just a touch of grassy green hops. Rather bland, but still better than BMC.
M: Light in body rather crisp.
D: Not bad if it's your thing. I believe this one is on the menu to satisfy the BMC crowd. If that is the goal they succeed. For true beer lovers look elsewhere and you will be rewarded.
610 characters
3.1
/5
rDev
-6.6%
look: 3 | smell: 3 | taste: 3 | feel: 3 | overall: 3.5
Simply put, this is Tampa Bay brewing's BMC-drinker pleaser. If you're gonna serve all your own brews and not have a macro-lager to placate the dedicated macro-drinker in the crowd, you have to brew a mild malt, low-hop yellow. Otherwise the stubborn non-craft drinker in the crowd will whine and take the group elsewhere along with their beer money.
So this is a nice crystal clear yellow with moderate carbonation and a quick-fading head. A little malt in the nose and in the flavor, with just enough hops bitterness to keep things in balance. Easy enough to drink if it weren't for the boredom. For what it is and the consumer at whom it's aimed, it's a nice beer. For the BA types, there's far better to be found at TBBC.
727 characters
3.32
/5
rDev 0%
look: 3 | smell: 3.5 | taste: 3.5 | feel: 3 | overall: 3
Just your average every day yellow. Better than most but dull.
Pale clear gold with a one inch head crowning the glass.
Acceptable smell of wheat, maybe a skunky tone but nothing over the top.
Taste was a little above average. A summer "after the lawn is cut and I'm sitting on the patio drinking the afternoon away" beer. Slight malt, maybe some sweet corn with a lemon finish.
Smooth, crisp mouthfeel that wasn't bad but I'm not going to drink/pay for another.
466 characters

2.93
/5
rDev
-11.7%
look: 3.5 | smell: 3 | taste: 3 | feel: 3 | overall: 2.5
This is the most mainstream of Tampa Bay Brewing Co.'s beers and also my least favorite.
It's quite light with a crisp taste. I noted a bit of funkiness in the beer, but nothing serious. But it is strange since all their other beers had not off-flavors at all. So it must be by design.
I wouldn't have this beer again. I'd only recommend it for those who are used to mainstream beer. But even then, Tampa Bay Brewing Co. offers better choices.
449 characters
2.78
/5
rDev
-16.3%
look: 3 | smell: 2.5 | taste: 3 | feel: 3 | overall: 2.5
Clear, golden with no head. Absent retention or lacing. Aroma is light with domestic characteristics and distant malts. Taste begins with rubbery hops, very oxidized pale malts, and ending in an herbal finish. Mouthfeel is acidic with a medium body. Finish is out of balance with the very herbal bitterness. Not very good.
Made with Pilsener, Vienna, Caramel pils, and wheat malts. Mt.Hood bittering and Liberty finishing hops.
430 characters
True Blonde Ale from Tampa Bay Brewing Co.
3.32
out of
5
based on
47
ratings.