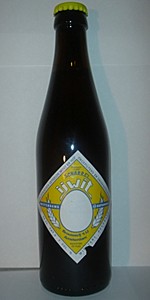 BEER INFO
Brewed by:
Brouwerij 't IJ
Netherlands
|
website
Style:
Witbier
Alcohol by volume (ABV):
6.50%
Availability:
Year-round
Notes / Commercial Description:
A full-bodied, Amsterdam wheat beer that is dangerously 'moreish'. Slightly cloudy, it has a beautiful golden colour and a soft, foamy head. When we brew IJwit, we use wheat malt as well as barley malt, which is also how the beer gets its name. The wheat malt gives the beer a delightful, fresh flavour, and the addition of coriander and lemon during the brewing process produces a rich aroma of banana, citrus and spices. Topped off by a fine, slightly sweet aftertaste, IJwit is a delicious thirst-quencher.
Added by BeerAdvocate on 09-03-2003
Reviews: 32 | Ratings: 84
3.43
/5
rDev
-10.9%
look: 3.5 | smell: 3 | taste: 3.5 | feel: 4 | overall: 3.5
The third and final of this quick IJ tasting. Common denominator seems to be somewhere in the yeast. Similar mango esters as the triple. This is a bit more tart and has a slight hint of bile in the nose (not a bad thing to me). Color is hazy straw, head is somewhat rocky but goes away quickly. Nice wheat and yeast flavors. I like the body of this much more. Very light. Finishes clean. Really just dig the birds on the label.
★
427 characters
3.42
/5
rDev
-11.2%
look: 2.5 | smell: 3 | taste: 4 | feel: 3.5 | overall: 3
A strong Wit style, but too clear for the style, even after swirling the bottle a little. Nice white fluffy head stands up and stays with you through the beer. A Belgian twang to the wit tartness is a nice balance. The bottle was a little oxydized, the beer was almost 2 years old. The label says that it is 100% organic except for the hops, if that tickles your funny bone.
★
374 characters
3.4
/5
rDev
-11.7%
look: 2.5 | smell: 2.5 | taste: 4 | feel: 3.5 | overall: 3.5
A- A hazy beige color with just a few white bubbles of head. Second beer I've had from this brewery and they both looked like this, I can excuse the haziness and color a little more for this style at least.
S- Kind of a muddled earthy mess. A bit of citrus and coriander but also earth, grain and a touch of piney, spicy hops. Not what I was expecting.
T- Much better than the smell. Spice (coriander and clove) shine through above notes of citrus, fruity bubblegum and banana. A pleasant mix if not entirely what I expect from a wit.
M- Medium light in body with medium carbonation, okay for the style but I think the high alcohol made this one a bit more dry than it should be.
D- Far from the best wit, it has decent spices but the coriander/orange flavor should dominate, not wrestle with clove, bubblegum and dank earth the way they do here. An okay beer but not one I will soon go for again.
★
901 characters
3.34
/5
rDev
-13.2%
look: 2.75 | smell: 3 | taste: 3.5 | feel: 3.5 | overall: 3.5
Hazy yellow colour, small head that fades soon,. leaving some lace. Smell is very faint, some tones of spices, banana, coriander. Medium to full palate. Taste has a noticeable citric tone that is not present in the smell. Spices, banana, coriander, clove. Good.
★
261 characters
3.33
/5
rDev
-13.5%
look: 4.5 | smell: 4 | taste: 3 | feel: 3 | overall: 3
07/07/07- Purchased at John's Marketplace in Portland, OR.
Presentation- 11.2oz bottle with no freshness info. Strange how some of this breweries beers have a date strip and some don't. Poured into my Petrus chalice.
Appearance- Deep golden colored, lightly clouded pour. The bottom the the glass looks clear as day while it gets cloudier as it gets to the top. One small yeast chunk floats in suspended animation. Full 1 inch head on pour which settles at a 1/4 inch. Pretty nice lace patchwork is left behind after each sip.
Smell- Fairly musky scent in the nose. Grassy with corriander and white pepper. A tiny bit of fruit peel scent if really digging deep.
Taste- Has a pretty decent hop afterbite. Almost like a unripe orange pith flavor. Starts out nice and sweet and succulent and turns dry and kinda setzerlike. Light corriander and white pepper and some confectioneirs sugar at first. Just seems to get a bit lifeless as you get halfway in.
Mouthfeel- The slightest touch watery with a dry mouthfeel, but full. Effervescent carbonation level.
Drinkability- It started out very good and took a turn for the bland. Still worth a try. It's damn dry as a bone though and the carbonation seems champagne like. Kinda like a Bud Select with a decent flavor added at the end and a good wit at the begining. Jekel and Hybe beer here. Does have a good abv kick though at 7%.
★
1,393 characters
3.32
/5
rDev
-13.8%
look: 3 | smell: 3.5 | taste: 3.25 | feel: 3.5 | overall: 3.25
A: clear yellow colour, dense 1cm thick head, doesn't look like a witbier
S: citrus, hints of coriander, slight peppery notes
T: orange, rather sweet, less spices
M: light to medium body, good carbonation
O: doesn't look like a witbier, does taste like one, and is better then a lot of others
★
296 characters
3
/5
rDev
-22.1%
look: 3.5 | smell: 3.5 | taste: 3 | feel: 2.5 | overall: 2.5
I drank this beer at the brewery where it was poured into nice looking glasses.
An orange, yellow fizzy beer with a creamy head.
Smell is sweet and aromatic with coriander and orange. The sweetness overrules the yeasty smell, which normally imparts a slight tartness and spiciness.
Taste is SWEET, like it hasn't been fermented properly. Sweetness is actually all there is for the first few sips. Then the yeast gives some spicy character and spices also comes through. Obviously no hop character. Mouthfeel is sweet and full. This is probably a mistake and can't be ment to be like this.
★
599 characters
IJwit from Brouwerij 't IJ
86
out of
100
based on
32
ratings.