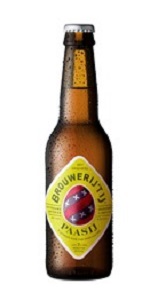 BEER INFO
Brewed by:
Brouwerij 't IJ
Netherlands
brouwerijhetij.nl
Style:
Belgian Pale Ale
Alcohol by volume (ABV):
7.00%
Availability:
Spring
Notes / Commercial Description:
Our bokbier for Easter; not too sweet, thereby producing a fine flavour. The flavour and aromas give a nicely balanced mix of fruit, coriander, yeast and hops. An enjoyable combination in which the bitter element gets an additional boost from the lightly roasted malt. The aftertaste is slightly sparkling, with a long-lasting, fresh, sweet flavour. An excellent beer for celebrating the arrival of spring!
Added by BeerAdvocate on 03-01-2005
Reviews: 10 | Ratings: 29
4.32
/5
rDev
+11.9%
look: 4 | smell: 4.5 | taste: 4.5 | feel: 4 | overall: 4
PaasIJ, the ale from brewery 't IJ, could have been meant for Easter. Bottle 33 cl. , bb. jan-2011.
Unfiltered, unpasteurized, bottle conditioned bio-beer.
Looks golden orange, fluffy head, nice lacing, ok carbonation, and very active from the bottle.
Smell and taste are of grassy, piny and citric hops. Good malts, raw smell and taste from the yeast. Apricot in the background.
Sweet alcohol in the aftertaste.
Mouthfeel: smooth and easy going down.
Good drink: refreshing and warming at the same time.
A very pleasant and complex brew from this brewery.
One of their best, I think. It reminded me of Arabier, from De Dolle Brouwers (also an unpasteurized beer).
★
668 characters

4.32
/5
rDev
+11.9%
look: 4 | smell: 4.5 | taste: 4 | feel: 4 | overall: 5
Pale yellow with a dense white head. Masses of coriander in the aroma, rounded off with some citrus and orange, neutral taste with coriander and fruit aromas. A bitter, spicy finish that ends very dry.
Very good beer, with lots of coriander. Varies a bit from year to year, but usually pretty good.
★
301 characters

4.1
/5
rDev
+6.2%
look: 4 | smell: 4 | taste: 4 | feel: 4 | overall: 4.5
A - creamy white head with excellent retention caps an effervescent pale amber body.
S - mainly floral and yeasty notes, green apple and coriander feature also.
T - belgian yeast, bit of spiciness, acidic tart apples, not big flavours but subtley beautiful.
M - highly carbonated, medium in body.
O - this is a little beauty, very glad I came across it at the International Beer Shop. Highly drinkable and thirst quenching.
★
428 characters

4.08
/5
rDev
+5.7%
look: 4.5 | smell: 4 | taste: 4 | feel: 4.5 | overall: 4
Orangy yellow colour with a massive white head that sticks around and leaves a lot of lacing.
Wheat, yeast, some wet grass and a little orange peel in there.
Great yeast taste up front with more grassy and some orange flavours following. Finishes with an alcoholic sweetness.
It's light, smooth and refreshing.
A little heavier and more earthy in taste than usual for a strong pale ale but it goes down so easily, this is a beer made for drinking.
★
448 characters
3.88
/5
rDev
+0.5%
look: 4.5 | smell: 4 | taste: 3.5 | feel: 4.5 | overall: 4
Tasted by half-pint on tap, Lowlander Cafe, Drury Lane, Central London. The beer menu says this is a Spring/Easter special beer brewed with coriander and curacao... Served chilled in an Affligem goblet.
A: cloudy/hazy pale amber hue, coming with a nice frothy white beer head which sustains just well.
S: restrained grainy malts, very creamy; on top of a mild coriander-spicy and curacao-citrus note ladden with green apple-ish perfumy fruitiness... A harmony on the aroma~~
T: creamy-textured grainy flavour upfront, followed by a light taste of honey-tea, hints of perfumy citrus-zest/curacao, and faintly coriander touch plus a metallic hint at the back. Very soft aftertaste of grains and residual bittering hop flavour, plus a lingering green apple-ish perfume.
M&D: extremely silky smooth and creamy... medium-bodied ale with a fuller profile underneath. A decent seasonal pale ale worth trying (not for those looking for bold flavours, though).
★
957 characters

3.75
/5
rDev
-2.8%
look: 3.75 | smell: 3.75 | taste: 3.75 | feel: 3.75 | overall: 3.75
33cl bottle. Pale amber, clear, with a white head. Smells like yeast, yeast spices and faint sourness. Bitter-sweet and metallic taste, with notes of honey, herbal hops, spices. Actually quite enjoyable.
★
203 characters

3.72
/5
rDev
-3.6%
look: 3.75 | smell: 3.5 | taste: 3.75 | feel: 4 | overall: 3.75
From a 330ml bottle into a tulip pint.
A: Pours a clear light-golden amber, with a dense white head. Really nice head retention, leaving good lacing on the glass. Not too visibily active.
S: Right after the pour, very yeasty. After a while, some bready malts come through, maintaining some spicy yeast notes. Corriander and citrus.
T: Quite yeasty up front, followed by dark-bread grain flavors and yeast. The after taste is pretty
M: Pretty thick and smooth/silky. Leaves a bit of a tingle on the tounge.
★
508 characters

3.54
/5
rDev
-8.3%
look: 3.75 | smell: 4 | taste: 3.25 | feel: 3 | overall: 3.75
Poured to a Brouwerij't IJ glass.
A: The body is very low carbonated with a yellow colour with a non existent (white) head that has totally no retention nor lacing - just a thing in this brewery.
S: The aroma has a big citrus profile with a yeasty hint.
T: The taste is mostly yeasty, just like all the beers from this brewery. There's little to no complexity on the taste of these beers, they mostly appear to be the same.
M: The carbonation feels a bit harsh with a medium to low body. The beer appears to be kinda out of date.
O: Just finished my tour on Brouwerij't IJ, it's good to acceptable with an awesome expectation for the future of this brewery.
★
658 characters
3.47
/5
rDev
-10.1%
look: 3.5 | smell: 3.25 | taste: 3.5 | feel: 3.75 | overall: 3.5
330ml bottle at Café van Daele, Amsterdam:
This one wasn't a bad effort from 't IJ although I didn't enjoy it anywhere near as much as I did their Zatte tripel. This one had quite an unusual aroma that I couldn't quite place at times but the taste wasn't a bad one at all & overall the balance of the beer was pleasant with some bitterness at the end to counter the sweetness that featured throughout. An easy enough beer to drink & one that I'm glad I tried, particularly as it's a spring seasonal but I'm not sure it's one that I'd pick again.
★
547 characters
3.45
/5
rDev
-10.6%
look: 3.5 | smell: 3.5 | taste: 3.5 | feel: 3 | overall: 3.5
Coded No 7 BBE 1(or 11)-07. 7% ABV. Poors in with nice head and nicely opalizing golden to orange beer under it. Smell shows lots of koreander and curaceau and candy so maltyness is hardly noticed but litle tomatojuice/sweet corn slightly in the back. Taste is also lots of koreander in witch this brew IMO is overdone,, further uiet alcoholic, candysugar and going then over in long and bit hanging aftertaste. Makes mouthfeel also bit rough and that in combination with flowery koreanderfields not in harmony. Still an enjoyable brew and IMO no bock but more a BSPA or BPA.
★
575 characters
PaasIJ from Brouwerij 't IJ
3.86
out of
5
based on
29
ratings.