Turbock
| Brouwerij 't IJ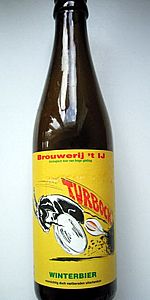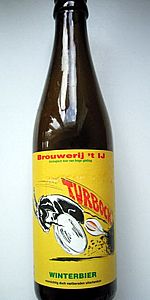 BEER INFO
Brewed by:
Brouwerij 't IJ
Netherlands
brouwerijhetij.nl
Style:
Belgian Strong Dark Ale
Alcohol by volume (ABV):
9.00%
Availability:
Winter
Notes / Commercial Description:
No notes at this time.
Added by BeerAdvocate on 03-01-2005
This beer is retired; no longer brewed.
HISTOGRAM
Ratings: 13 | Reviews: 13
None found.
More User Reviews:
4.6
/5
rDev
+27.1%
look: 4.5 | smell: 4.5 | taste: 4.5 | feel: 4.5 | overall: 5
Interesting label! Kind of like their regular bock, but the goat appears to be firing a rocket out of its ass! It reads: Biological beer of high fermentation. (I'm assuming "organic"). At least maintainable to: see capsule (ECO logo at bottom left of label). Bottled on yeast (bottle conditioned). Unfiltered and unpasteurized. Carefully yet resolutely pour out. Category S, 9% ALC. (does not state by weight or volume).
Brouweij 't IJ's Turbock winterbier pours a hazy, deep pumpkin orange and tarnished copper body beneath a massive head of some of the creamiest off-white lace I've ever seen. It continually holds a creamy covering across the surface, and it leaves thick walls of creamy lace about the glass. Most impressive!
The nose is rich with Brettanomyces (mineralish, tart, leathery, wet straw, mustiness), candy, spice, some leafy hops, and sweetish, caramelish malt.
In the mouth it's remarkably smooth... airy and cottony soft, with a medium-full body and gently effervescent, very-fine bubbled natural carbonation.
Yeast fruitiness like orange marmalade flitters about in the flavor along with swirling notes of spice over a base of caramelish malt. The spice is firm, and lingers nicely in the finish with some notes of cinnamon, ginger, and nutmeg. Some leafy hops make an appearance at the swallow, but soon fade leaving only the spices behind.
Really quite nice! The alcohol never shows in the flavor or aroma, and it's remarkably drinkable. I'm leaving the house to find more now for this year's Thanksgiving and Xmas feasts!
1,561 characters
3.95
/5
rDev
+9.1%
look: 4.5 | smell: 4.5 | taste: 4 | feel: 4 | overall: 3
Re-review, cellar sample.
Gusher! Huge head, takes awhile to settle. Big Brett aroma of sourdough, dried pineapple. Alot like Burton Bridge Empire IPA. Very fruity and full, then bone dry and ghostly in the finish. This was in the fridge for months, and it still gushed. Tasted great though. Brett bomb!!
04-10-2007
Green cap reads "lot 76...10'06"
Pours a deep orange, turbid with carbonation. Fine foam, pillowy head. Looks very Belgian, yet it's Dutch. Looks like an abbey blonde.
Smells of Brett, sweet overripe melon, yeast chalkiness. Noticeably similar to some Jolly Pumpkin yeast aromas.
Taste is tropical fruit, muted cardamom spice, and alcohol. ABV is somewhat masked, but it really can't be denied. Other T'IJ beers top out at 9% or better, and this one does too, most likely. Metallic mineral water in the aftertaste.
Prickly carbonation and fullness keeps the feel interesting, but alcohol can detract from it's drinkability. Worth a try, and i'll pick up another to cellar.
I've read that this was formerly known as the seasonal "Ijnde Jaars".
1,069 characters
4.12
/5
rDev
+13.8%
look: 4 | smell: 4.5 | taste: 4 | feel: 4 | overall: 4
Thanks to dickinsonbeer for this...
Appears a hazy light gold with a small white head that slowly fades out. Lots of scattered lacing is left around the glass.
Smell is of cinnamon, sugar, ripe apples, light barnyard funk, and vanilla cream esters. Obvious brett presence is there, although I'm not sure it's meant to be. By denying this as a bock and thinking of it as a saison, it's better than par.
The taste is of the same aromas. Spiced apple in a sugary, candy mix. Mmmm, loving this non-"saison".
Mouthfeel is mildly tart, sweet, and dry.
Overall? Again, I'm not sure if it's supposed to be this way but it's damn good!
631 characters
3.41
/5
rDev
-5.8%
look: 4 | smell: 3 | taste: 3.5 | feel: 3.5 | overall: 3.5
This beer has not been retired, I just bought it 2 weeks ago.
Appearance is great, a huge head fills half the glass, the beer is a murky brown with a lot of carbonation.
Smell is slightly sour, fruity and there is some alcohol coming through.
Taste is smooth with some caramel and toffee, together with the maltbitter of the darker malts and some candysugar. Alcohol is nicely hidden. Body is sticky and the beer is sweet.
One of the nicer beers from 't IJ, that is not infected.
492 characters
3.98
/5
rDev
+9.9%
look: 4.5 | smell: 4 | taste: 4 | feel: 3.5 | overall: 4
Notes: picked this up at great Amsterdam beer shop (de Bierkoning) located in the Centraal district. Bought March 14, drank March 24. Bottle cap says "Nr. 83, THT 12.07" I assume this means batch/bottle 83, good until Dec. 2007, but I am not sure. Made from all organic ingredients, otherwise bottle is in dutch, so I don't understand the rest.
Appearance
Big white, fluffy white head with some biggeer bubbles on the side. Settles down in a couple minutes to a thin layer with thicker rim
Dark hazy red copper (unfiltered)
Good amount of sediment on the bottom
Aroma
Yeasty, similar to the taste description
Mouthfeel
Sharp carbondioxide bite up front, medium to full bodied, fairly dry after awhile, nothing particularly outstanding one way or another.
Taste
Supposed to be a bock, but tastes more like a dubbel – in general, very Belgian taste
Raisons, grassy
At 9%, the alcohol leaves a pleasant burn deep in the chest
Fairly strong and Lingering maple syrupy sweetness
Light bitterness on the lips and back of the mouth – noticable hop presence, but subdued malty sweetness
Drinkability?
Fine. Only bought one, but could have drank a couple more.
Overall – Not quite I was expecting from a bock beer, but lived up to its winterbier label – heavy, rich flavors with a decent alcohol presence. Having tried a few beers from this brewery, I would recommend anyone visiting Amsterdam to grab a couple bottles.
1,456 characters
3.08
/5
rDev
-14.9%
look: 3.5 | smell: 3 | taste: 3 | feel: 3.5 | overall: 3
330ml bottle bought online from The Cracked Kettle, Amsterdam...
Poured a deep hazy amber colour. Tan head poured very big, bubbly and fizzy then faded quite quickly to wispy coating with thick edging... light patchy lacing...
Aroma - Strong spicy yeast, very floral - definite lilies to the fore, grassy, wet (rotten ?) hay notes, burnt sugar / toffee sweetness, lots of ripe apple and pear fruitiness, some spicy dried fruits (raisins and currents), sea salt, black pepper and nutmeg...
Taste - Lots of floral notes mixed with toasted bready malts - a bit of a strange mix... a lot of vegetal traces, yeasty, quite salty, definite overripe (maybe rotten) fruits (pears, apples, bitter oranges), buttery, light caramel sweetness, strong soapy / dishwater traces...
M&D - Sharp and dry... light / medium bodied... too many off flavours to have me coming back for more...
Overall - Very disappointing... not really much to recommend here...
944 characters

3.62
/5
rDev 0%
look: 3.5 | smell: 4 | taste: 3.5 | feel: 3.5 | overall: 3.5
Cleaning out my fridge, decided to finally drink this fucker. Bought this while in Amsterdam early 2008.
Hazy burnt orange color into my pint glass. Bottle was a gusher, so about 1/4 of it was donated to my table. Little head, with not much lacing. Lots of white cottage cheese looking bits tumbled into my pint glass too. Hm.
Tart, peppery, some alcohol.
Mouth mimmicks the taste. Quite sour. Is there brett in here? Some solventy alcohol.
Tastes "hot". Alcohol seems quite apparent.
Overall I think this started as a good beer. I got this from the guy working in the bottle shop across the street from Cafe Gollem. Getranke kettle or something? This beer was just far too old. Held up reasonably well for it's age though.
728 characters

3.9
/5
rDev
+7.7%
look: 4 | smell: 4 | taste: 4 | feel: 4 | overall: 3.5
why is this retired? its just a seasonal thing thats all....
Had fresh on tap at the tiny brewpub in Amsterdam: Pours a quite dark colour. aroma of chocolate tar and slight slight port. Taste is quite powerful and delicous yet defined and crisp. goes down smooth and doesn't have a kick with that 9%. a great brew...
For a bock beer this is inspirationally full and sneaky!!
this was a treat when it was only 3 degrees outside!!
430 characters
1.79
/5
rDev
-50.6%
look: 3 | smell: 1.5 | taste: 2 | feel: 1.5 | overall: 1.5
It has a reddish color, quite dark. It is totally filled with floating tiny things. Tiny, but a lot.
Decent foam, beige in head. Three fingers.
The smell is awful. Stale malt.
Beside that: no. Nothing beside.
Pungent taste, plastic-like. Boh.
Let it go...
255 characters
3.41
/5
rDev
-5.8%
look: 4 | smell: 3 | taste: 3.5 | feel: 4.5 | overall: 3
Can't believe this beer "has been retired", otherwise how have I obtained this bottle? 9%abv., BBE 10/06, served in a broad-rimmed goblet.
A: dark honeyish amber colour, very cloudy as the chunks of yeast-sediment dive into the glass mercilessly... A nice, tight and foamy off-white beer head comes with it though, and the superb retention is fed by extremely lively carbonation.
S: caramel-maltiness and a honeyish note support a prevailing fruit-estery yeastiness, while a semi-thick, chewy grainy note and faintly noble hoppyness sustain in the background. Not my cup of tea though.
T: very mild candyish+caramely maltiness lightly treads on the palate upfront; a mild flow of soft hops as in Belgian ales gradually develops, but within boundaries; some fruitiness, suggesting plums, figs, and Chinese red-bean paste, is there but also understated. Finished with a dryish-sweet aftertaste of fruity yeasts. A simple and timid flavour-profile overall.
M: creamy-textured, very soft and more approachable than its constantly vibrant fizziness suggests; for 9%abv. the palate is absolutely light and clean, without any unwanted residual sugary flavour.
D: overall this is an easy-drinking strong bock, and not as sweet as many of its Dutch+German counterparts. But still it's not attractive, complex, or thirst-quenching enough to be outstanding.
1,353 characters
3.5
/5
rDev
-3.3%
look: 3.5 | smell: 3.5 | taste: 3.5 | feel: 3.5 | overall: 3.5
Got this yesterday at Whole Foods on North in Chicago.
At 5.29 for a 33cl bottle, it was definitely on the pricey side... but I am a sucker for bock's and this goat looked interesting!
It poured a cloudy golden amber with a very thick creamy head that condensed after a few minutes. Still a nice inch of head now as I drink it.
Served in a stein and didn't get much aroma from it. Maybe a little roastiness.
This is definitely not a bock in any german sense, although I get a bit of roast/chewiness almost toffee malt at the end. Not dark, not sweet. A light ale that is more like a saison maybe? so I guess its like a light belgian ale with some malty undertones? Well its about as much of a bock as scotch silly is a scotch ale. Very pricey and although its interesting, its not something I would be likely to buy again.
The cap was green and did not have any other info on it.
There was a label that said 8 1002 near the cap but I am not sure what that means.
977 characters
4.1
/5
rDev
+13.3%
look: 4.5 | smell: 4.5 | taste: 4 | feel: 3.5 | overall: 4
Muddy pumpkin (that becomes turbid pumpkin on the final pour) with a blizzard of dark yeast and a flurry of uprushing carbonation. This beer is anything but sterile and lifeless. The ecru cap is huge thanks to all the bubbles. It looks soft and unsticky, but a surprising amount of lace sticks in small chunks and amorphous blobs. Both the beer and the glass that holds it can be classified as a beautiful mess.
The nose is funktastically funkilicious. I don't know if the yeast strain resided in a farmhouse, a barnyard or was found in the wild, but it's a humdinger. A huge cloud of spicy phenols is assauting my nostrils each time I put it over the glass. Rotten fruit, horse blanket, clove and black pepper lead the way.
First of all, Turbock is not a bock, it's more of a BSDA-BSPA-wild ale hybrid. It isn't Belgian (but it was brewed in the Belgian style), it's strong (9.0%) and it's top-fermented (i.e. an ale). Now that that's out of the way...
The flavor profile is essentially the nose in liquid form. The brewery must have added an entire spice rack to this sucker because it's incredibly potpourri-like on the palate. Warm waves of clove, cinnamon, black pepper and cardamom splash and crash over my tongue with each sip. The rotten fruit comparison still applies... but it's enjoyable rotten fruit.
I'm surprised to taste such prominent Band-Aid phenolics. They don't reach Islay whisky territory, but those who aren't used to such a distinctive flavor are likely to think the beer is infected. Nope, it's just incredibly wild and wacky. I also get an oakiness on the finish that counters the (mild) candi sugar sweetness of the beginning and middle. This is incredibly complex beer.
A slight tongue numbing now that I've reached the bottom of the bottle is the only hint that alcohol is present. That may not be strictly true, but there's so much else going on with the flavor profile that alcohol isn't noticed unless searched for.
The screws that hold the mouthfeel together are beginning to loosen; the only evidence that this bottle has seen better days. I don't mind... much. The light-medium feel and the generous carbonation keep drinkability on the high side.
Brouwerij 't IJ is one of the world's most original breweries. I'll have to check my 't IJ reviews, but I'm pretty sure that I've enjoyed every beer of theirs that I've been lucky enough to drink. It'd be great if this country could get their entire lineup within a few months of being bottled. Shelton Brothers, are you listening?
2,536 characters
3.63
/5
rDev
+0.3%
look: 4.5 | smell: 4 | taste: 3.5 | feel: 3 | overall: 3.5
ABV=9%
A turbid pour in to a Duvel glass, fully half of the vessel is foam, creamy, puffy, softly crumbling. The ale itself is a murky amber hue.
Aroma is slightly sour, yeasty, with citric undertones. Spicy, fruity, and distinctly Belgian.
Taste: less excitement here. Sour at the front, then fading back into a sugary/fruity melange. Spicy, for a minute, then dull. Substantive body, pleasant flavor, but nothing really grabs you here...
...maybe it's an old bottle? I'm finding floaties at the bottom, and it's retired on the site, but I've never seen it before.
Decent, but I expect more. Maybe if I'd had it when it was fresher?
647 characters
Turbock from Brouwerij 't IJ
Beer rating:
3.62
out of
5
with
13
ratings