Brouwerij 't IJ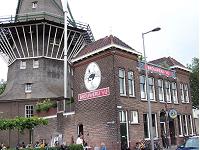 PLACE INFO
Type:
Brewery, Bar, Eatery
Funenkade 7
Amsterdam
, 1018 AL
Netherlands
+31 20 622 8325 |
map
brouwerijhetij.nl
Notes:
No notes at this time.
Added by BeerAdvocate
Reviews: 42 | Ratings: 80

3.78
/5
rDev
-5.3%
vibe: 4 | quality: 3.75 | service: 4 | selection: 3.5
Visited: March 2016
It's impossible not to mention that this is a brewery/bar in a windmill. It's a very cool place, in a very nice neighborhood, along the water, away from city center. The place was so crowded, we couldn't find tables to sit, but found space at the bar. The beer is cheap, from 2.4 to 3 euros, but come in small glasses (only size). They have a nice selection, with different styles, on tap, a couple bottles. They do close early, and there isn't much option for food.
487 characters

3.7
/5
rDev
-7.3%
vibe: 4.5 | quality: 4 | service: 3.5 | selection: 3.5 | food: 3
I visited this brewery tap on a Friday evening in late October 2011. To get there, either take tram 10 from Leidseplein to Hoogte Kadijk, or tram 14 from Dam Square to Portanusstraat. It is a two minute walk from either stop.
It only opens from 3pm to 8pm and seems to be very popular, being filled with (mostly) locals chatting away and having a few beers. The pub is located in a former bath-house just beside/underneath the windmill. It has fairly basic decor; white tilled walls, shelves lined with a myriad of old beer bottles, wodden tables and chairs/benches. The best way to get served is to go up to the bar, but wait service may be available. I had their Bokbier (as it is bokbier season) and also a couple of others including Struise (in a bottle). We also had some Skeapsrond; - a sheeps cheese made with molk from sheep fed with spent malts from the brewery. Very nice with a beer.
It is cheaper to drink here than other places in Amsterdam, so that contributes to it's popularity. It is a nice place to spend a couple of hours.
1,043 characters

3.7
/5
rDev
-7.3%
vibe: 4 | quality: 4 | service: 4 | selection: 3 | food: 3.5
Enjoyed a sampler here as well as a couple extras once I was done with the sampler. I had the Natte, Zatte, the Pilzen, and something else I forget. All were enjoyable...nothing groundbreaking, but enjoyable. The pilzen was my least favorite. It was just typical and didn't offer any greatness over other common pilsners. All beers were very reasonably priced.
The brewery itself is on the outskirts of Amsterdam in a residential neighborhood. It's inside a windmill, which is cool. The benches outside on which to enjoy some beers are nice, and there are vines all around you. Some small snacks are available, like some cheese made just for the brewery which was quite good (had a nice farmhouse funk to it). There are also nuts, hardboiled eggs, salami, etc.
Tours are available, but if you've been on a few before, they're very similar and unneeded. If you're in Amsterdam, stop by here to enjoy some beers outside on a nice day.
936 characters
3.7
/5
rDev
-7.3%
vibe: 4 | quality: 3.5 | service: 3.5 | selection: 4
I can't really underrank the place because this is just simply a proeflokaal, so it's not really meant for you to have a blooming social experience.
I rode my bike after exiting In de Wildeman and stopping for lunch at Burger King (gotta spare some budget there) over in front of the Centraal Station and thereon it was a pretty easy ride. you first spot the mill and get there quite easily to encounter a big "bierbrouwerij 't IJ" sign. the proeflokaal is just behind the mill.
Stepping in, this place doesn't try to be anything else that what it actually is: the back room of a brewery. swivel doors would just guide you to the fermentation tanks, which you can spot through the egg-shaped windows.
Three brits sitting at one end of the bar, one dutch at the other and the bartender which seemed to have a bit of a hippie air. I sat on the tables- empty at this time, and ordered progressively through their selection of available IJbrews- Natte, Zatte, Columbus, Scharrel and Struis. the place begun to get crowded and it was a further more pleasant environment.
The place is notably cheap- most beers are around 1.90euro and don't go above 2.20euro. you can also get a bit of paraphernalia but then you'd really have to be a hardcore IJfan. enjoyable experience, but I guess there's only so much to expect from it.
1,332 characters

3.7
/5
rDev
-7.3%
vibe: 4 | quality: 4 | service: 4 | selection: 3 | food: 3.5
To begin with, I should admit that my experience at Brouwerij 't IJ may or may not be truly representative of the average experience (though looking at their photo on their website, I am lead to believe that it is). It was a very warm day, with temps in the mid-70s. The sun was shining, and it was as if all of Amsterdam wanted to come hang out at the brewery. It was PACKED. With no seating outside or in, I was at least able to find a small piece of wall to lean against and sip my beer.
That said, I was very impressed with the service. Inside, three bartenders were doing a remarkable job managing the hordes of people. The lines continuously stretched well outside the door all afternoon, but the three bartenders quickly took orders and handed you your beer within seconds. There is very little food to be had at the Brewery, but if you do order a plate of cheese or salami, the plates are all pre-prepared so there is no wait time after ordering. There was also an eight year old girl (who looked startlingly similar to Shirley Temple) collecting empty glasses.
The selection, though reasonable, was slightly disappointing with two of their beers already sold out by early afternoon (I have no way of knowing whether they sold out that day, or if they simply had never been replenished from the day(s) previous.) There were four of their beers on tap (Natte, Wit, Passij, and Columbus), and they were also selling bottles of Struis.
In terms of the atmosphere, the location is lovely. The brewery is in an old windmill right along the water, and the outdoor patio seating surrounds the base of the mill. Though crowded, everyone was good natured and friendly.
If large crowds don't frighten you and you want to enjoy a good beer on a sunny day, go for it. But there are other spots in town that offer a greater selection and a bit more quietude that lead me to think I will likely not return.
1,906 characters

3.68
/5
rDev
-7.8%
vibe: 3.75 | quality: 4 | service: 3.5 | selection: 3.5 | food: 3.5
Let's start with the huge windmill on top of the brewery with picnic tables outside and decent bar scene inside. It took awhile to figure out but you order from the center of the bar only, and on the side for to go beers and food. Small handful of beers on tap, and 5 or 6 in bottle. Decent range with Natte being my favorite. Worth a stop in while in Amsterdam but take an uber vs walking from downtown
403 characters
3.5
/5
rDev
-12.3%
vibe: 3.5 | quality: 3.5 | service: 3.5 | selection: 3.5
It was super crowded when I went. I wanted to try a flight and there were not enough glasses go to go around. The bar suggested I bus some of my own glasses if I want to be next in line. So I did that, collected someone else's drinks when they were done. Not bad but difficult to find a spot and get my drinks.
310 characters
3.5
/5
rDev
-12.3%
vibe: 4 | quality: 3.5 | service: 3.5 | selection: 3.5 | food: 3
+ We visited the brewery on a Saturday and the place was packed from when we entered on 3 pm untill we left at 5;30. There was a mixed crowd with a number of tourists, but most of the people were Dutch. On the wall there were dusty bottles, which were covered by spider webs. The place looked pretty old, but this was also kind of charming.
+ We got the tour and the guy who showed us around, did not have a lot of brewing knowledge. Who knew that in the mash tun the malt and water are cooked and you can get endless alcoholpercentages if you leave the beer in the fermentation vessel long enough. There were a couple more of these stories that weren't quite right. However, it was a nice story and the brewery looked nice. Maybe except for the mess it was at certain places, empty crates were everywhere.
Then we entered the bar where we drank the Plzn, which is a top fermented pilsner with a good bitterness; IJwit, a witbier which was way too sweet, almost not 100% fermented; Struis, also way too sweet and unbalanced and the Columbus which was great, balanced, malty and bitter. So, overall the beers were not great, but not too bad. ( I noticed that the bottled versions usually develop a rather tangy, sour taste).
+ Prices were very low, 1,70 euro for the 5% beers and 2 euro for the 9%ABV beers.
+ We ordered some cheese and dry sausage which were very nice and combined very good with the beer.
+ The brewery is opened from Wednesday till Sunday, 15:00 till 20:00h. Take bus 22 in the direction of Insulindeweg. Every Friday afternoon at 4 'o clock there is a free tour. Other times and dates will cost 3 euro per person. Minimum 20 people, but you can always hook up with other people.
1,710 characters

3.25
/5
rDev
-18.5%
vibe: 4 | quality: 3 | service: 3 | selection: 4 | food: 2
This still is a classic brewpub to visit. A great atmospher and a typical style of Amsterdam humor. The big plus is that the beer tastes much better in here then when you drink it some where else. Much less sour.
It is actualy a simple interior, next to beer the choices of what to eat and drink a limited, but the main thing is; there is IJ beer.
The location is especialy nice with terras weather, sitting outside next to the brewery. Although a little outside the centre it still is worth visit.
If you go there combine it with the must see bars in amsterdam Wildeman and Arendsnest.
590 characters
3.23
/5
rDev
-19%
vibe: 4 | quality: 3 | service: 3 | selection: 3.5 | food: 3
7-01-2011
The overall atmosphere is that of a local watering hole/secret among the locals interspersed with a few tourists who have either wandered unknowingly or luckily to this quaint brewery; Myself belonging to the latt
er. The Ij Brewery is a good escape from the overpriced and tourist saturated parts of the city and is a must visit on any respective beer nerds to do list. Arrive early and find a place to sit or stand, inside or out. Relax with the locals who have lived in Amsterdam or enjoy the experience with friends, albeit, and intimate experience is probably best saved for another venue due to the large crowds that gather here.
The brewery itself is a small operation but has and is expanding throughout the Netherlands and mostly Amsterdam. Ij beers can be found in many shops throughout the city including Albert Heijn, Super de Boer, and the Dirk 3.
The beers are good, but I believe most of the ratings on this site to be a bit inflated for a few reasons that may stem from either inexperience, or just the added buzz from such an interesting place transferring over to the at best, average beer quality. Most of the beers have a beef quality too the taste with a saliva type mouth feel that is present to the finish. Imagine drinking a beer with a beef bullion cube dissolving in the middle of it and this is the best way I can describe it. Similar to the taste of a musty cellar. More than likely due to the type of Hops that the brewers use., as this taste is present in all of the beers.
They offer a white beer cheese and a selection of meats to quell an empty stomach, and they do not suck. That is all I ever had when visiting and I suggest checking their website for a better idea.
Atmosphere in this respect trumps overall quality.
1,768 characters
3.15
/5
rDev
-21.1%
vibe: 3.5 | quality: 2 | service: 3.5 | selection: 4
I was really looking forward to visiting this place after reading reviews of the place.
Sorry folks, I was bitterly disappointed. It's Bock beer season in the Netherlands so naturally I had to try their bock. It was not very good.
Then I tried their Plzen (Pilsner) and I wasn't too happy with that either.
My wife and I sat outside at their beergarden type layout outside the tasting area, and that was the best part of the experience.
Maybe I was there on an off day, but I ran into a guy who was at 't Arendsnest the day before and he wasn't very impressed as well.
572 characters
1.53
/5
rDev
-61.7%
vibe: 1.5 | quality: 2 | service: 1 | selection: 1.5
Rudest Service Ever!
I have never experienced such rude service as I have at this place. I was there on July 4th.
Here are some lines that were directed to me from the bartender: 'Didn't you hear me?' and 'I get the same questions hundreds of times', and the manager, once I complained about the service, was almost as rude and dismissive. The beer here is not good enough to make up for the poor service. My overall impression of the place is very negative, although it the place is attractive.
My recommendation is to either order their beer at the cafe next door (Langendijk Eetcafe) if you really wish to sample this brewery's beer or try a totally different, unassuming, and more convenient place such as De Bekeerde Suster- which has a few good beers of their own and much better service.
797 characters
Brouwerij 't IJ in Amsterdam, Netherlands
3.78
out of
5
based on
961
ratings.