Dismiss Notice
Brouwerij 't IJ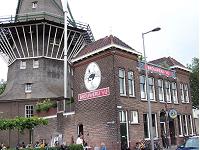 PLACE INFO
Type:
Brewery, Bar, Eatery
Funenkade 7
Amsterdam
, 1018 AL
Netherlands
+31 20 622 8325 |
map
www.brouwerijhetij.nl
Notes:
No notes at this time.
Added by BeerAdvocate
BEER STATS
Beers:

21

Reviews:

Ratings:
PLACE STATS
Reviews:

41

Ratings:

Avg:

3.97

pDev:

13.1%

Taps:

0

Bottles/Cans:

0

Cask:

N

Beer-to-Go:

Y
Reviews: 41 | Ratings: 77
4.13
/5
rDev
+4%
vibe: 4.5 | quality: 4.5 | service: 4 | selection: 4.5 | food: 2
I went to Brouwerij 't IJ while on vacation in Amsterdam, bought the t-shirt, and have been getting comments ever since! Every beer festival, somebody notices.
The beer isn't too hard to find around Amsterdam, but visiting the tasting room is an experience in itself. It's a small building and a little smoke-filled and dingy inside, but it really is a great atmosphere. I met a few other American tourists while there and had some great conversation about the beer.
Also, the beer and glassware store De Bierkonig is owned or managed or something by one of the brewers. I talked to him at both places, but don't remember what his relation is to both places.
Overall, if I get back to Amsterdam, I will be back at the IJ Brewery for some cheap beer that is delicious and a t-shirt that always gets a comment. Try the Columbus, it's great.
★
838 characters
4.13
/5
rDev
+4%
vibe: 5 | quality: 4 | service: 4 | selection: 4
This place was slammed with locals. If your in Amsterdam you gotta go! Everyone was drinking and having a great time. I went in there with a local friend and we had a blast. I mean how can you not have fun at a brewery in a windmill in Amsterdam?
The beer was really good. They had like 5 taps or so of belgian stuff that was pretty tasty. The people were great, I had so much fun. I had a double and a triple. Both were drafts and they also had plenty of beer to-go. Good times, I love traveling and drinking beer! I hope I can do this the rest of my life.
★
559 characters
4.13
/5
rDev
+4%
vibe: 5 | quality: 4 | service: 4 | selection: 4.5 | food: 3
The Brouwerij 't IJ, pronounced "eye", is the best place to taste the Breweries offerings.
One point worthy of note > The "IJ Proeflokaal" is not really a Brew-Pub at all, not least in the 'classic' sense. Visitors are often bemused to find this place closed on Mon. & Tues. & always after 8pm. So do not set out for this place in the late evening. A 'Proeflokaal' is strictly speaking only supposed to be a "Tasting Café", this allows the Brewery to sell its beers to the public for a few hours each day, whilst allowing them to actually try them at the same time. Having a 'Proeflokaal', as opposed to a full blown Bar, or Café, has certain tax advantages on the upside, but quite severe opening restrictions on the down side. As such, this is why the Proeflokaal is only allowed to open during certain restrictive hours, & it never opens at night.
That's the downside, get here at 3pm when it opens though, & its all good news. I have been here several times, once I walked it from the Main Train Station, but other times I caught the Bus (#22, I think) that stops almost outside. Either way it is an experience. Set in the Eastern Docks on the waterfront, it certainly is heart warming to see the great massive Windmill above the Brewery. Quite a unique setting.
Once inside, the interior is rather basic, wooden and well-worn. Rows of bottled beers line the walls on shelves. The range of Beers produced, are usually all on sale on draft, at least if supplies are available. All of the bottled beers, including some of the Seasonal beers in Bottles are for sale as well. Another point worthy of note is the fact that the Draft Beers are Filtered, but the Bottled ones are not; so it is worth trying both versions if you are one of those curious types of people like me.
Only served plates of Cheese & Cold Meat Snacks when I was there, but it was jam packed with Amsterdam Characters which made up for it. Left-overs from 1963, Drop-Outs, those "really cool Art Teachers that you had at school" types, Weedies, bespectacled Lennon look-alikes, Hippies & a healthy smattering of Tourists plus Beer-Geeks. Superb & very Funny at times!!!
It's a while since I have been here, but I greatly enjoyed the experience on every occasion. I hear from my friends that have been here as recently as a few months ago, that is has not changed at all since I last came here.
Get here early in the afternoon, try & avoid the often thick acrid Purple Haze & concentrate on the beers – it's well worth it.
★
2,531 characters
4.18
/5
rDev
+5.3%
vibe: 4.25 | quality: 4.25 | service: 4 | selection: 4.25
Located next to the Gooyer windmill, this is one of the most picturesque breweries I have visited! They have been open since 1985, in a building that used to be a municipal bath house, and have been crafting beer there ever since. The bar is a newer addition and they had 6 beers on tap when we visited. They are one of the only breweries we saw in Belgium and the Netherlands that actually offer a sampler, so we were able to try all the beers amongst our group. The walls of the tasting room are old and cracked white tiles from its bath house days and are lined with dusty and faded beer bottles. My Minnesota radar was on and I spotted a Fitgers sticker on one of the doors. Most of the beers were Belgian style, like a tripel, dubbel, and wit, but had a house flavor that didn't quite fit those categories.
The tripel and wit were a bit rough on the finish...perhaps too much coriander or other spices? Their Struiss barleywine was fantastic though, dripping with dark fruit, sugar, yeastiness and complexity. The busy family style bench and table set up in the room encouraged talking to neighbors and we ended up discussing beer with Canadian ex-pats and several locals. A very fun place to visit and worth the trip out there.
★
1,235 characters
4.36
/5
rDev
+9.8%
vibe: 4.5 | quality: 4.5 | service: 4.5 | selection: 4
A little jet-lag on my first day in Europe did not deter me from a nice stroll from my hotel to the 't IJ brewpub. I was in AMS from Sunday to Tuesday, so Sunday afternoon was my only chance, as it's closed Mon/Tues. Set aside a cool windmill on the eastern edge of town... has a slew of chairs and some tables outside for when the weather is nice and/or when the inside gets overcrowded. And it does! Some people were even just sitting on the curb out front quaffing. Try that in the US! I entered through the end door, and inside the place is long and narrow, about 15' x 60'... the bar is along the back, left side, and there are long tables in one near corner and some small tables near the windows opposite the bar. Just aft of the bar to the left is some brewing equipment visible in a back room. All along the tops of the walls are 3 or 4 shelves packed with assorted, extremely dusty bottles, the majority of which were Dutch biers... The lightbulbs hanging from the ceiling had what looked like ostrich egg-shell lampshades. Old posters of bier and bier-related items also adorn the walls. Place is not a bastion of spotlessness, but is has a warm, comfy feel....a place I could hang in for hours. Service is only available at the bar....just mosey on up, order, pay and quaff. People were lugging trays of brew from the bar out to the street and side patio... The 'tenders were very friendly and helpful with my inquiries. They had 2 of their bottles biers plus 4 draft 't IJ brews (wine, too). I had 3 biers on site, and all were tasty and well-made. I especially enjoyed the Columbus. I wish I had the hours available to spend there.
Prosit!!
overall: 4.36
atmosphere: 4.5 | quality: 4.5 | service: 4.5 | selection: 4 | food: n/a | $
90
★
1,751 characters
4.39
/5
rDev
+10.6%
vibe: 4.5 | quality: 5 | service: 4 | selection: 4
ZATTE is where its AT! On a solo backpacking trip last summer I met a few guys at the flying pig and we journeyed over to this place. After a long walk we got there and it was closed (and raining) my spirits sank deeply but thankfully they opened up and hooked us up with samplers. Natte, zatte, wit, columbus, etc. not expensive in any way and good pours of each. my favorite by far was zatte. If i ever get back to amsterdamn this is going to be one of my first stops. the guy that served us behind the bar is one of the brewers and he's able to actually talk beer with you in english. Its good to meet new exciting people in new exciting places and this is a great place to do so. thanks to the guys at brouwerij't IJ, they really made that day a good one!
★
759 characters
4.44
/5
rDev
+11.8%
vibe: 4 | quality: 4.5 | service: 4.5 | selection: 4.5
A hike from Central Station, but easy to get to and worth the trip. Took us about 30-45 minutes walking to get there. Make an afternoon trip of it.
We went for a tour, but they only offered them on Friday afternoons so we just sat outside and enjoyed some of their 2euro beers. Friendly staff, can't beat the price in Amsterdam, and a good selection. I believe they had all of their regulars on tap and all their seasonals were offered in bottles. Even had a take-away variety pack.
The beer place to go in central Amsterdam. Most cafes and bars carry bottles of their beers for cheaper than pints of Heineken too.
★
616 characters
4.5
/5
rDev
+13.4%
vibe: 4.5 | quality: 4.5 | service: 4.5 | selection: 4.5
Wow! I recently travelled to Holland, Belgium and Germany with two buddies. We stopped in at several or more bars/pubs eah day. I tried many legendary trappist ales and worldclass beers. I enjoyed the Brouwerij 't IJ best of all.
The brewery is in an old windmill in Amsterdam which is way cool. The brewery is the watering hole for regular folks after a hard days work (riding your bicycle can develop a thirst!). Although its not fancy or classy inside, the atmosphere is unique with all the beer bottles on the walls and the brewing equipment behind the door to the backroom.
All the locals were unbelievably friendly and I joined a table of good friends and we talked and drank excellent beer for hours. I have to rave on the Columbus offering. It had the taste and drinkability of any world class ale at only 1.90 euros for a fresh glass from the tap. Delicious!
You should probably take the #10 trolley out to the brew pub and save your feet. I walked through the red light district, past the zoo, and another long four blocks or so until I saw the windmill. It is crowded but what a great place! I will return!
★
1,127 characters

4.54
/5
rDev
+14.4%
vibe: 3.5 | quality: 5 | service: 4.5 | selection: 4.5
Our party sought this place out as more of a afternoon trip. It is off the beaten track but well worth it! What hit be was the beer drinkers.
They were there for great beer.
You can see the windmill building from far away. However, it just sort of pops out at you. The inside is a bit dingy and industrial. However the service is brisk and the beers are superior to most other amsterdam breweries. We were there for a happy hour period apparently as they closed down at 5:00.
If you are in Amsterdam and love beer and hanging with beer drinkers. Seek this place out.
★
570 characters
4.56
/5
rDev
+14.9%
vibe: 5 | quality: 4.5 | service: 5 | selection: 4
Have been here several times. It is one of the most essential and most special beer destinations in Amsterdam. It's a bit of a trek from Central Amsterdam, a nice bike ride or a hell of a walk. The atmosphere is incredible, one of the most beautiful breweries I've ever seen. Inside, you will find a busy U shaped bar, with very reasonably priced beers and great service. All of the patrons are locals or occasional beer hunters. Last time I was there the beers were 2 euros a glass, a bargain. The beers are very high in quality, mostly in the Belgian style. Overall, it is an incredible beer stop, a place I will never forget and a place I hope to visit in the future. If you go to Amsterdam and you do not go to this brewery, check yourself into a physciatric facility when you get back.
★
790 characters
4.93
/5
rDev
+24.2%
vibe: 5 | quality: 5 | service: 4.75 | selection: 5
this place is awesome! do yourself a favor and get a sampler and grab a seat outside! they had a good selection of beer and my personal favorite was the IPA. the atmosphere was great they had big outdoor picnic tables, so you were able to sit with other people and enjoy beer. but one of my personal favorite feature of this brewery was it was located right beside a windmill. if you've ever been to Amsterdam you know everything is only a stone throw away, so with that being said hit this place up
★
499 characters
Brouwerij 't IJ in Amsterdam, Netherlands
89
out of
100
based on
41
ratings.