Brouwerij 't IJ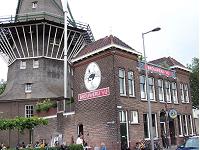 PLACE INFO
Type:
Brewery, Bar, Eatery
Funenkade 7
Amsterdam
, 1018 AL
Netherlands
+31 20 622 8325 |
map
brouwerijhetij.nl
Notes:
No notes at this time.
Added by BeerAdvocate
Reviews: 42 | Ratings: 80
3.15
/5
rDev
-21.1%
vibe: 3.5 | quality: 2 | service: 3.5 | selection: 4
I was really looking forward to visiting this place after reading reviews of the place.
Sorry folks, I was bitterly disappointed. It's Bock beer season in the Netherlands so naturally I had to try their bock. It was not very good.
Then I tried their Plzen (Pilsner) and I wasn't too happy with that either.
My wife and I sat outside at their beergarden type layout outside the tasting area, and that was the best part of the experience.
Maybe I was there on an off day, but I ran into a guy who was at 't Arendsnest the day before and he wasn't very impressed as well.
572 characters
3.8
/5
rDev
-4.8%
vibe: 2 | quality: 4 | service: 4 | selection: 4 | food: 4
This is another great place to visit while in Amsterdam. I actually walked all the way from the city center, though. I'd recommend some other way of transit, as it took around 35 minutes each way. But you'll see it if you're walking, right in a huge windmill! A great landmark for anyone visiting Holland.
There are benches and such all around the windmill. Almost all seating is outside, and it's right next to the road. There's a river on the other side, I'm not sure why they don't build a patio overlooking the river. Would have been a better atmosphere, but as it stands, the atmosphere is not good.
The beer though, is pretty good, with a great selection of different types. Then you can get a wide array of bar food, including a cheese platter, nuts, etc. Self-service at the large bar inside. Good prices, from 1.90 to 3 euro a pint depending on the beer.
865 characters
3.5
/5
rDev
-12.3%
vibe: 3.5 | quality: 3.5 | service: 3.5 | selection: 3.5
It was super crowded when I went. I wanted to try a flight and there were not enough glasses go to go around. The bar suggested I bus some of my own glasses if I want to be next in line. So I did that, collected someone else's drinks when they were done. Not bad but difficult to find a spot and get my drinks.
310 characters
4.13
/5
rDev
+3.5%
vibe: 4.5 | quality: 4.5 | service: 4 | selection: 4.5 | food: 2
I went to Brouwerij 't IJ while on vacation in Amsterdam, bought the t-shirt, and have been getting comments ever since! Every beer festival, somebody notices.
The beer isn't too hard to find around Amsterdam, but visiting the tasting room is an experience in itself. It's a small building and a little smoke-filled and dingy inside, but it really is a great atmosphere. I met a few other American tourists while there and had some great conversation about the beer.
Also, the beer and glassware store De Bierkonig is owned or managed or something by one of the brewers. I talked to him at both places, but don't remember what his relation is to both places.
Overall, if I get back to Amsterdam, I will be back at the IJ Brewery for some cheap beer that is delicious and a t-shirt that always gets a comment. Try the Columbus, it's great.
838 characters
4.1
/5
rDev
+2.8%
vibe: 4.5 | quality: 4.5 | service: 4 | selection: 4 | food: 3
This is one of my favorite places in Amsterdam. Its so easy to spot from Centraal Station being in a windmill that directions are simple. It is a little far but worth the journey.
The beer is excellent and the service it great. They do tours frequntly and are always happy to answer questions.
The food is minimal, a cheese plate if you are hungery, but we are there for the beer, which it cheap considering the quality you get and the going rate for Hienken in the rest of the city.
Great, great place. I even bought a t-shirt.
528 characters
4.44
/5
rDev
+11.3%
vibe: 4 | quality: 4.5 | service: 4.5 | selection: 4.5
A hike from Central Station, but easy to get to and worth the trip. Took us about 30-45 minutes walking to get there. Make an afternoon trip of it.
We went for a tour, but they only offered them on Friday afternoons so we just sat outside and enjoyed some of their 2euro beers. Friendly staff, can't beat the price in Amsterdam, and a good selection. I believe they had all of their regulars on tap and all their seasonals were offered in bottles. Even had a take-away variety pack.
The beer place to go in central Amsterdam. Most cafes and bars carry bottles of their beers for cheaper than pints of Heineken too.
616 characters
3.78
/5
rDev
-5.3%
vibe: 4.5 | quality: 3.75 | service: 3.75 | selection: 3.5
very cool setting in amsterdam, on a nice day the patio is very cool where you can sit under some trees and sip their beers and enjoy some quality people watching. beer isn't amazing, but a fun hour or 2 hanging out at a great spot. definitely recommend to folks visiting amsterdam...easy tram ride from city center.
316 characters

3.25
/5
rDev
-18.5%
vibe: 4 | quality: 3 | service: 3 | selection: 4 | food: 2
This still is a classic brewpub to visit. A great atmospher and a typical style of Amsterdam humor. The big plus is that the beer tastes much better in here then when you drink it some where else. Much less sour.
It is actualy a simple interior, next to beer the choices of what to eat and drink a limited, but the main thing is; there is IJ beer.
The location is especialy nice with terras weather, sitting outside next to the brewery. Although a little outside the centre it still is worth visit.
If you go there combine it with the must see bars in amsterdam Wildeman and Arendsnest.
590 characters
3.23
/5
rDev
-19%
vibe: 4 | quality: 3 | service: 3 | selection: 3.5 | food: 3
7-01-2011
The overall atmosphere is that of a local watering hole/secret among the locals interspersed with a few tourists who have either wandered unknowingly or luckily to this quaint brewery; Myself belonging to the latt
er. The Ij Brewery is a good escape from the overpriced and tourist saturated parts of the city and is a must visit on any respective beer nerds to do list. Arrive early and find a place to sit or stand, inside or out. Relax with the locals who have lived in Amsterdam or enjoy the experience with friends, albeit, and intimate experience is probably best saved for another venue due to the large crowds that gather here.
The brewery itself is a small operation but has and is expanding throughout the Netherlands and mostly Amsterdam. Ij beers can be found in many shops throughout the city including Albert Heijn, Super de Boer, and the Dirk 3.
The beers are good, but I believe most of the ratings on this site to be a bit inflated for a few reasons that may stem from either inexperience, or just the added buzz from such an interesting place transferring over to the at best, average beer quality. Most of the beers have a beef quality too the taste with a saliva type mouth feel that is present to the finish. Imagine drinking a beer with a beef bullion cube dissolving in the middle of it and this is the best way I can describe it. Similar to the taste of a musty cellar. More than likely due to the type of Hops that the brewers use., as this taste is present in all of the beers.
They offer a white beer cheese and a selection of meats to quell an empty stomach, and they do not suck. That is all I ever had when visiting and I suggest checking their website for a better idea.
Atmosphere in this respect trumps overall quality.
1,768 characters
4.93
/5
rDev
+23.6%
vibe: 5 | quality: 5 | service: 4.75 | selection: 5
this place is awesome! do yourself a favor and get a sampler and grab a seat outside! they had a good selection of beer and my personal favorite was the IPA. the atmosphere was great they had big outdoor picnic tables, so you were able to sit with other people and enjoy beer. but one of my personal favorite feature of this brewery was it was located right beside a windmill. if you've ever been to Amsterdam you know everything is only a stone throw away, so with that being said hit this place up
499 characters
4.39
/5
rDev
+10%
vibe: 4.5 | quality: 5 | service: 4 | selection: 4
ZATTE is where its AT! On a solo backpacking trip last summer I met a few guys at the flying pig and we journeyed over to this place. After a long walk we got there and it was closed (and raining) my spirits sank deeply but thankfully they opened up and hooked us up with samplers. Natte, zatte, wit, columbus, etc. not expensive in any way and good pours of each. my favorite by far was zatte. If i ever get back to amsterdamn this is going to be one of my first stops. the guy that served us behind the bar is one of the brewers and he's able to actually talk beer with you in english. Its good to meet new exciting people in new exciting places and this is a great place to do so. thanks to the guys at brouwerij't IJ, they really made that day a good one!
759 characters
1.53
/5
rDev
-61.7%
vibe: 1.5 | quality: 2 | service: 1 | selection: 1.5
Rudest Service Ever!
I have never experienced such rude service as I have at this place. I was there on July 4th.
Here are some lines that were directed to me from the bartender: 'Didn't you hear me?' and 'I get the same questions hundreds of times', and the manager, once I complained about the service, was almost as rude and dismissive. The beer here is not good enough to make up for the poor service. My overall impression of the place is very negative, although it the place is attractive.
My recommendation is to either order their beer at the cafe next door (Langendijk Eetcafe) if you really wish to sample this brewery's beer or try a totally different, unassuming, and more convenient place such as De Bekeerde Suster- which has a few good beers of their own and much better service.
797 characters
Brouwerij 't IJ in Amsterdam, Netherlands
3.8
out of
5
based on
971
ratings.