The Churchill Arms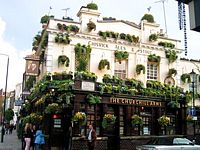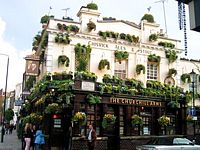 PLACE INFO
Type:
Bar, Eatery
119 Kensington Church Street
London
,
England
, W8 7LN
United Kingdom
+44 20 7727 4242 |
map
churchillarmskensington.co.uk
Notes:
No notes at this time.
Added by BeerAdvocate
Ratings: 13 | Reviews: 11
Reviews by GreenCard:
3.93
/5
rDev
-1%
vibe: 4.5 | quality: 4 | service: 3.5 | selection: 4
The exterior is the typical brick and dark wood, but over that (when I visited) was pine-cuttings and small Christmas trees around the top awning to keep with the season. Lots of stained-glass or frosted windows, so you can't really see in. Therefore, you might be surprised when you open the door and see how packed it is. The first time I tried to go there (on a Saturday evening), I skipped it and moved on to another pub. When I came back the next day in the afternoon, it was busy but not crowded.
The interior is dark wood, burgundy patterned carpets, and heavily decorated with Churchill memorabilia. The cieling is covered with pots and jugs (not sure why). Again, in keeping with the season, the inside was densely decorated with more pine-cuttings and Christmas lights. Really cozy.
Not a huge selection from handpump, all Fuller's. This evening they had ESB, London Pride, Jack Frost's, and IPA. On keg, the standard stuff. I didn't see what was in bottles. Despite the small selection, the quality is good. I went for the winter warmer, Jack Frost.
All in all, a really enticing place to be. I would have loved to whiled away a few hours there, but I had to move on. Will definitely return if I'm in the area again.
1,236 characters
More User Reviews:

3.58
/5
rDev
-9.8%
vibe: 4.5 | quality: 4 | service: 2.75 | selection: 3.5
Visited early afternoon. Place is just outside Kensington Park. It was crowded.
V - A classic English pub atmosphere. Crowded. Interesting stuff all over the walls. Churchill themed. 4.5
Q - Keg and hand-pulled beer. Love it. 4
Ser - No table service. 2.75
Sel - A Fuller's pub, which is fine by me, but the selection is going to be limited. 3.5
F - I did not eat but the pub is directly connected (via in inside door to a Thai place.)
441 characters

3.04
/5
rDev
-23.4%
vibe: 2.75 | quality: 3 | service: 2.75 | selection: 3.5
I visited here just after opening on Saturday and it was quite full. Decent selection of fullers beers but service was poor. I found the inside very cluttered as the had a lot of things up for the rugby world cup. Just an average pub really.
241 characters
4.09
/5
rDev
+3%
vibe: 4 | quality: 4 | service: 4.25 | selection: 4 | food: 4.25

4
/5
rDev
+0.8%
vibe: 4 | quality: 4 | service: 4.5 | selection: 3.5 | food: 4
Had this place targeted during my (mostly business) visit based on reviews here. Got to meet a friend here who also just happened to be in Old Blighty at the same time, making the visit all that much cooler. Schedules only coincided on St Patrick's Day, however, so we had to manage, though it really wasn't as bad as expected.
This is a Fuller's bar as others have pointed out, and though those beers are only decent (IMO) - and I tried the full selection - the atmosphere helps make up for that. Started with an ESB, and took it to the sidewalk outside, always a great option if it's not raining. Came back inside for our 2d rounds and got a look at the Churchilliana decorating the walls. Though it was packed, all inside were extremely friendly and good-spirited as we made our way to the bar. The barmaids were extremely friendly and service was fast, despite the crowds; got one laughing pretty good at my Yank pronunciation of "Chiswicks" (the silent "w" gets me every time).
The real surprise is the restaurant in the back; despite the crowds, we got seated in about 5 minutes and were treated to some very good (and HOT!) Thai food. Seating for food, back behind the bar area, is in a very nice "garden" atmosphere, surrounded by hanging plants.
All in all a great visit; would like to try it again sometime on a day other than St Paddy's, but I suspect the review would only get better. Highly recommended.
1,422 characters

3.85
/5
rDev
-3%
vibe: 5 | quality: 4 | service: 4 | selection: 3 | food: 4
The first time I came here, we'd just arrived into Laaaandan and dropped our bags off at the hotel. We wanted somewhere to grab a quick bite and a cheeky pint. We weren't prepared for what we were about to experience.
Four hours later, we were still playing I-Spy among the paraphenalia hanging off the ceiling. I'd ended up in a genial argument about London Porter versus Guinness with the locals and came to the conclusion that they were both bloody brilliant. The Thai food was so good we almost ordered again. Gerry the landlord is the kind of character you couldn't invent if he didn't exist.
We go back there and just sit in a corner and peoplewatch over a pint or five. A pub where the atmosphere is not painted on the walls - anyway, there'd be no room to.
767 characters
4.13
/5
rDev
+4%
vibe: 5 | quality: 4 | service: 4 | selection: 4
Had this place on my print out of BeerAdvocate places to visit, but only noticed it as we passed by it on a bus tour, so we had to memorize the way, as we waited for the next stop. Inside the place was really unique, with a butterfly garden in the back. People watching aspect of this place is extraordinary, and the beer selection is above average even for a place such as London. I would also imagine that this would be an easy sell for those BAs that have significant others that are not as keen on visit beer places, as this has a good amount of history and uniqueness for everyone who is visiting.
602 characters
3.86
/5
rDev
-2.8%
vibe: 4 | quality: 4 | service: 4 | selection: 3.5
As a sucker for all things Fullers and a bit of a Churchill Mark, I REALLY enjoyed this place. We were in on a drizzly Friday night and the place was heaving... A fella was leaving and saw we were in need of a table so he sorted us out... This place has very interesting memorabilia all over the place and is probably worth checking out in the early afternoon so everything can be seen... The outside is gorgeous too even in the rain... They had the entire Fullers line on (less porter :-() and all were quality we made a night of it alternating the sublime Chiswick with ESB... Didn't try the food, but they do thai whic at the least smelled wonderful... Check it out if you're in the area...
693 characters

4.63
/5
rDev
+16.6%
vibe: 5 | quality: 5 | service: 4.5 | selection: 4 | food: 5
This is probably my favorite eating/drinking establishment anywhere. The combination of an English pub in the front and a Thai restaurant in the back is both fascinating and satisfying. It's odd but it really works.
This is a Fullers pub with the regular Fullers offerings such as London Pride and ESB. While you enjoy the beer, there's plenty to see. You could spend the entire day in there and still not take in all of the unusual decor. It's strange and fitting at the same time. I find the American presidents room particularly interesting. And the exterior is beautiful. It's decorated with dozens of hanging flowers in the warmer months and evergreens in the colder months. It's really impressive to see.
Unlike most beer oriented establishments, the food is outstanding. It's run by a Thai family and is pretty authentic (at least by my standards). I can't help but order the hotter dishes. By the end, I can no longer taste the beer but I never regret it.
I really love this place. It's truly one of a kind.
1,018 characters
3.86
/5
rDev
-2.8%
vibe: 4 | quality: 4 | service: 4 | selection: 3.5
Not far from Nottinghill Gate Tube Station, this is a lovelly looking pub both inside and out. The floral display is very good for London (car fumes and general bad air kills things in London), it always looks a picture. Inside it is packed with Churchill (The Great British Leader of WW11, not the ciggy firm) pictures and artifacts.
Always seems to be full, often unable to get a table straight away, but there has always been enough space to stand on each occassion I have been. Shoppers, tourists and locals in about equal numbers frequent the place.
The Fuller's Brewery's beers are in fine form here, in cask condition and not too cold/hot, a common fault in a lot of London pubs.
The service has always been good, never the same staff (another London pub problem), but the ones here are obviously trained better than most.
The selection is OK, but of course only Fuller's beers are in casks, all the others are Lager type drinks.
The pub is on a lot of bus routes, so not difficult to find and as I said earlier, fairly close to Nottinghill Gate tube. Well worth a visit.
1,093 characters
4.05
/5
rDev
+2%
vibe: 4 | quality: 4 | service: 4 | selection: 4 | food: 4.5
I stopped here for dinner and a beer while in London (early 2006). Easily found just west of Hyde Park. I was surprised to find a Thai restaurant attached to the pub, but it turned out to be a good combination.
There were at least 4 Fullers ales on tap, all cask-conditioned. I went for the ESB, which tasted awesome (it was the first non-Euro-lager I'd had in a week). Even though the place was really busy we got a table within 15 minutes. We didn't have to wait long for the food either (maybe 10 minutes). Good quick service, tasty food.
544 characters
4.33
/5
rDev
+9.1%
vibe: 4.5 | quality: 4.5 | service: 4 | selection: 4.5 | food: 4
One of the pubs universally accepted as one of the best in London. I frequented this pub as much as possible, and was fortunate that it was not far from my bankers (a common destination for most expats).
Atmosphere: This pub is larger than most London pubs, occupying a semi-detached building at a corner, with generous outdoor seating (and windows) providing a great people-watching venue in good weather. Unlike many of the plasticky refits, this pub is quite genuine, and the glowing white building stands out like a beacon. Inside, they lean a bit heavily on the Churchilliana (no bad thing in my book), but otherwise it is very warm and welcoming, with a well-mixed crowd of tourist, locals, and beer enthusiasts.
Selection: This is a Fuller's pub, so of course the majority of the offerings are Fuller's beers (a GOOD thing), with the usual mix of cider, lager, and bottled offerings. Guinness is also usually available as well.
Quality: This is practically Fuller's brewery tap in London, and as such offers the full range of Fuller's beers in top condition. In addition, they offer some of the best Guinness pints in London, as well as the requisite lagers and bottles for the less-informed.
Service: Service can be a bit hectic, but is generally very professional and friendly. They're used to tourists and don't make you feel like an idiot. The best strategy is to walk in and ask for a pint of "best." And, remember to buy a few for the publican!
Food: The Churchill Arms was one of the first pubs to pioneer offering Thai food in addition to some traditional fare. While not my favorite pub offering (I prefer the traditional), they do this very well here. One of the best places to stop for a pint and a bite when out and about.
Backwash: One of the best places to experience the best that British pubs in London can offer. A not to be missed stop for any beer aficionado in London, as well as a reliable oasis for the weary tourist.
2,014 characters
The Churchill Arms in London, GB2, United Kingdom
Place rating:
84.6%
out of
100
with
13
ratings