Diplomat Delicatessen & Spirits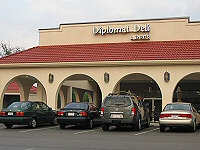 PLACE INFO
Type:
Eatery, Store
1413 Montgomery Hwy
Ste 101
Vestavia
,
Alabama
, 35216-3685
United States
(205) 979-1515 |
map
diplomatdeli.com
Notes:
No notes at this time.
Added by au1sec
Reviews: 14 | Ratings: 16
4.13
/5
rDev
+1%
vibe: 3.5 | quality: 4 | service: 4.5 | selection: 4 | food: 4.5
First time visit to Diplomat this weekend. I stopped in here with my wife and kids for lunch on Saturday at 11:45. There was a busy crowd with most of the tables occupied. Larger place than I had expected and a few tables outside as well.
The high gravity beers are along the entrace wall in the window. There is a long row of coolers along the back wall with singles and packs. Selection is good...Ommegang, Trappestis Rochefort, St. Bernardus, Lazy Magnolia, Bells, Abita, Boulevard, Unibroue and Macros.
The servers were very friendly, quick and hard working. This is a family friendly place. The staff were very kind and patient with my special needs children who can be a little roudy at times.
I had the Reuben which was great. It had a tangy russian dressing on it which was a little different for me but good. Prices seemed reasonable.
The only negative aspect of this place was that it is popular and crowded. The beer along the front wall is somewhat hard to get to without sitting in someone's lap while they eat. But I suppose you know that is what you are getting into when you go in there to eat. I will definitely be back!
★
1,143 characters
4.2
/5
rDev
+2.7%
I have been to the place several times. The first time I went was with the wife for lunch. They have great food, both hot and cold sandwiches. They also sell beer and wine. They ahve some of the beer stacked in the front window and in the back in coolers. Most of the beer is in coolers. They have a good selection for Alabama and it is getting better. If in the area it is worth the stop to check out what they have for beer and grab a sandwich. I try to top by on the way home every so often to see what they have new in stock.
★
529 characters
4.35
/5
rDev
+6.4%
Very nice place set up as a deli as well as a package store. The alcohol is around the sides of the deli and is not obtrusive at all. The workers are very nice and helpful if you are looking for anything and more than happy to make suggestions or answer questions about most of their inventory.
There is a large selection of about seven coolers wide with great variety of unusual and rare beers. With the new beer laws in Alabama they regularly host craft beer tastings and other events, often free to the public, from many vendors.
The only knack is the price, if you are purchasing a six-pack of a specific beer you can find some deals, but they make a profit on the make your own six pack and the individual beers. Make sure if you make your own six pack to not include the higher priced specialty beers with non specialty ones or your price will be significantly higher.
★
878 characters
4.3
/5
rDev
+5.1%
I love this place. Diplomat has a good menu and a huge selection of beers. In fact nearly the best in Birmingham well its Vestevia technically. Service is solid and friendly. Knows their beers and likes to talk to you and help you find new ones to try. food is good as well. go to eat and have a drink or just to have a beer.
outside or inside. love it can't tell enough good things.
A Must Try for beer lovers or wine. prices are a bit high but well worth it in my opinion. all bottles so far can be purchases one and or make your own sixer no draft beers though well not yet:)
Beau of Bama
★
593 characters
4.85
/5
rDev
+18.6%
First of all, I am bias for this place. I am more of a sandwich connoisseur than a beer connoisseur (I will at least buy a case of mass produced domestic beer, but would not buy a bad sandwich) and this place is my favorite hot sandwich shop I have ever tried across our great country. I recommend the Ambassador or a Rubin for a hot sandwich.
About the beer, it has the best selection of beer in Alabama to buy and take home with you. A whole wall of singles. Mass and micro; Foreign and domestic. Buy a fine wine or liquor too. Always friendly service and can talk the trade with the friendly owner. Not a place to get plastered. Just enjoy a great sandwich and a great beer.
**Edited**
To note comparing apples to apples, this is a very fine beer store "for the State of Alabama" and not for the nation as a whole. The selection is growing every few days due to the new beer law, but you can find more selections in other states. It is only fair that I bump selection down -0.5. Still the best I have seen in this sad state.
★
1,030 characters
4
/5
rDev
-2.2%
This strange little deli/beer store is in the relatively upscale Vestavia area of Birmingham. It's not a real big place, but they have quite a few coolers so much of the beer is refrigerated and also seems in date. This is Birmingham, so the selection is limited to abvs below 6%. In that context this place has quite a few beers on offer, including most notably a quite good German selection for the area. Many beers are available as singles as well. I went in for a sixpack of Lazy Magnolia, but they were out and didn't know when they would have more. I expected the place to look and feel more upscale, but its definitely more homey and simple than that. Not a bad place to check out some beer, but I don't know if they have a whole lot that Whole Food doesn't have.
★
770 characters
4.35
/5
rDev
+6.4%
I hit up this place over the weekend to pick up some brews I can't get in BR. Amazingly, as restrictive as the alcohol laws are in Alabama, there was still plenty here that I can't get at home. Sweetwater, Terrapin, Yuengling, Left Hand, and others are available here that I can't get locally.
The prives seemed a bit high, I paid over $40 for 4 6-packs of regional brews, but I was thrilled that they allowed mix & match 6-packs.
I didn't have any of the food, although my local friends claim it's a nice place to eat.
★
521 characters
4
/5
rDev
-2.2%
Stopped in over Thanksgiving, although I had eaten here many times when I still lived in Birmingham.
No quality issues with any of the beer, all appeared to be in date and appropriate with respect to season.
Selection was quite good (for Alabama). Have to keep in mind the laws that prevent the really interesting stuff from landing here.
Service was fine as far as food goes. With the beer, I did have one offer to help me find a particular beer when I was looking at the cooler, but I didin't pursue it.
For me, the Diplomat offers a great beer selection to go with really good deli food (Senator and reuben are two of my favorites), as well as a convenient "south of Birmingham" location to get a good selection of beer.
Pricing is a bit high, but the selection and food make up for it.
If you are in the area, stop in for lunch (avoid prime lunch hour as it gets pretty crowded), and grab a couple of beers.
★
930 characters
4
/5
rDev
-2.2%
Ok, so finding a good deli in the southern states is sometimes hard to come by. Way to go Birmingham for having this place for the past 25 years or so! We all know that right now getting a huge variety of beer in Alabama is impossible, but Diplomat has the best variety and good volume. I have visited here a couple of times in my travels and they are always well stocked.
The food was totally solid. I enjoyed the Embassy and german potatoe salad and a beer for like $10. The only thing I would change is the bread, but I am always picky about bread. This place doesn't have any taps, but if you want a good beer with a simple lunch or dinner, then check this cool little place out and hang with a couple of friends. Awesome.
★
729 characters
3.85
/5
rDev
-5.9%
I thought I'd put my .02 in after actually eating here. I've visited a few times when wanting a single that was unavailable at World Market, and when I did not want to drive all the way to Vulcan Beverage . My number ratings are for the store as a beer store, while taking into consideration the fact that there is a restaraunt side of things, too.
The prices for their singles are the same whether you take the beer to go or drink it there. So really, the prices are pretty good if you eat in but a bit pricey if buying to go. The really great thing about it is, this deli has the best beer selection for any restaraunt in Birmingham! The sandwiches are great. The side items are great. The beer selection is great (for Alabama). They seem to get most new beers to the state pretty soon after they arrive. I've seen North Coast, Left Hand, Rogue, Samuel Smith's, Paulaner, Tucher, Sweetwater, and Olde Towne, to name a few. All in all, it is a better place to eat and have a beer than to stop by to purchase a beer.
★
1,019 characters
4
/5
rDev
-2.2%
I have been going to this place since I was knee high. Of course, back then it was just to eat. Now, whenever I go there, I always go and check out there beer selection and then order my food. All the sandwhiches I have had from here are always good. The Embassy, the Italian Sub, and the Reuben are always good. The German potato salad has always been a favorite of mine.
The beer selection is the best as far as restaurants go around this area. Whenever I hear of new beer being distrubted in the area, the Diplomat always has it. And I think, but don't qoute me on this, every beer they have are sold in singles, which is nice if you are dinning in and have time to down a couple. They also have packs of whatever they have in singles.
Staff is little lacking in knowledge of the beers (a lot of the staff looks underage). And there is one lady who works the register who never seems to smile, but everyone else there is super nice.
★
939 characters
3.85
/5
rDev
-5.9%
As has been noted elsewhere, your two best bets for beer in Birmingham are the Diplomat and Vulcan Bev. Vulcan used to have a beerfly listing, but somehow it got deleted and has been put back in queue and now must wait months to be approved. So for the sake of anyone traveling to Birmingham anytime soon, i must direct you to look up Vulcan Beverage using online yellow pages.
So, yeah. What everyone else has said. This is a hole in the wall that surprises you with its enormous beer selection. Most of what is available in this state is sold in this store. And it's a tad pricey, but not a bad tradeoff for the selection.
Food is excellent. I've never had a bad sandwich here, and the service when you sit and eat is very good. But not everyone who works here knows beer.
★
780 characters
4.35
/5
rDev
+6.4%
A wonderful deli with a spectacular beer selection (for Alabama, which has a 6% max law, uggh.)
If you're looking for certain beer, that is sold in Alabama, this place will have it.
I highly recommend the "diplomat sandwich" and the beer cheese soup, along with your favorite beverage on a rainy saturday afternoon. At lunch time during the week, this place is packed with deli-eaters. Come early of late, but try to avoid 11:30 - 12:15 or you will likely get to stand and wait.
The nasty parking lot has finally been redone and the facade replaced. A traffic light has also been added to assist ingress/egress.
★
620 characters
3.8
/5
rDev
-7.1%
Kind of a hole-in-the-wall place in Vestavia...tough enough to find if you're looking for a place to eat, but you'd never expect to find the beers that they have inside. If you're looking for it, just head north on Hwy 31, its on the right in a strip mall...Pier 1 on one end, and Diplomat is on the other. The prices are a bit steep, but if the beer is sold in bottles in Alabama, there is a 99% chance its available at Diplomat, and you can buy singles, and its all kept cold. The deli is good, they also sell some wine and grocery items, but I go for the beer. It, along with Vulcan Beverage, has the best selection in Birmingham.
★
633 characters
Diplomat Delicatessen & Spirits in Vestavia, AL
91
out of
100
based on
14
ratings.