Gasthaus & Gosebrauerei Bayerischer Bahnhof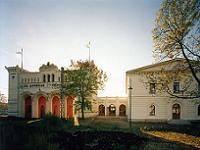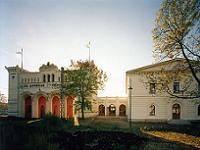 PLACE INFO
Type:
Brewery, Bar, Eatery, Beer-to-go
Bayerischer Platz 1
Leipzig
, 04103
Germany
+49 341 1245760 |
map
bayerischer-bahnhof.de
Notes:
No notes at this time.
Added by BeerAdvocate
HISTOGRAM
View: Beers | Place Reviews
Ratings: 13 | Reviews: 4

4.43
/5
rDev
+16.6%
vibe: 5 | quality: 4.5 | service: 4.5 | selection: 4
What a beauty of a place to drink beer -- and a rare, quality beer at that! (Gose!)
I took us a while to finally work our way around this unfamiliar city. Finally as we walked toward the entrance, my heart was pounding and my mouth watered with anticipation. I first feasted on the delight of seeing it all: The place is a converted, old-abandoned and once railway terminus building that looked like its architects actually anticipated not its agéd sorrowful demise, but rather its new incarnation into a brewery/brewpub: It has a beautiful, original but newly painted archway out front reminiscent (on a smaller scale) of the famous one greeting visitors of the Plzeň institution (and seen on bottles of Pilsner Urquell). Indeed, the history of the location is described in the brewpub's menu card (and see their nice website).
The inside matched every bit the perception and anticipation of the exterior. As we entered, a large wooden bar was on the left, aligned with tall bar-seating tables and a number of busy waitresses were carrying loads of beer and foodstuffs to and fro. I can still picture the uniquely shaped tall beerglasses on their trays -- each with the killer of all luscious thick wheaty-firm heads that a beer could ever have!, shaking atop each and every glass, bouncy and unyielding (and taking a few good gulps and a couple "got-beer lips" to avenge).
The setting was pretty massive and we quickly noticed how crowded it was for a Monday eve (though still plenty of room for us). The menu was rather large and inviting, although time constraints precluded us from sampling. What we did see looked scrumptious - likely accounting for its busy atmosphere of young and old alike. Time also limited my wandering about, so I mostly stayed put with my friends and my beer. There were many additional seating areas and spaces visible from our seat and from trips to the WC and likely even more that we didn't take the chance of seeing.
Only too few "prosts" later, and it was Auf for now...
I very much hope to return back some day soon, and will update and elaborate more and on the food. I also hope to linger and try out some of the other establishments I am researching.
2,212 characters

3.98
/5
rDev
+4.7%
vibe: 4 | quality: 4.5 | service: 4 | selection: 3.5 | food: 3.5
This was my first beer in Leipzig and my first ever Gose. Took a bit of trouble to get to as there is at the moment (May 2008) quite a bit of construction going on. There's some sort of massive tunnel being dug underneath the city. The old railway facade will remain (they actually moved it about a hundred meters), but in the meantime the brewery/restaurant is a bit hard to find.
Once inside, it's quite a bit more modern-looking than one typically sees. The layout of the restaurant, the sheen of the wood and the carefully arranged bric-a-brac on the walls meant that it wouldn't look out of place in the US.
However, one sip of beer is all that it takes to realize that you're in one of the most unique places on earth. My first reaction to Gose was overwhelmingly positive. The beer itself was a very cloudy, pale yellow. I tasted a fair amount of coriander and was reminded of a Belgian witbier. The salt was there, but it wasn't too strong. A bit of acidity (probably the salt). Absolutely lovely. I also tried a pils, but it was nothing to write home about. The pils is unfiltered, with a color similar to the Gose. The taste was subdued. I would have done better to have ordered another Gose.
1,204 characters
3.89
/5
rDev
+2.4%
vibe: 3.75 | quality: 4 | service: 3.75 | selection: 4 | food: 3.75
3.8
/5
rDev 0%
vibe: 3.75 | quality: 3.75 | service: 3.75 | selection: 3.75 | food: 4.25

3.75
/5
rDev
-1.3%
vibe: 4 | quality: 4 | service: 3 | selection: 4 | food: 4
Visited the Bayerischer Bahnhof so I could try their Gose from the source. The place is quite large, rather modern-looking with hardwood everywhere and tables built around their brew kettles. (I doubt they're used given their proximity to the tables but they had electricity wired to them and monitoring machines hooked up, so who knows?) It was pretty crowded when we arrived on a Sunday around 1pm.
I tried two beers, their Gose and their seasonal Bockbier. The Gose was what I expected (having previously tried it on tap at the Map Room in Chicago), well worth the trip alone though not as good as Ohne Bedenken on the north side of town. I drank mine straight (you can find my review on this sight for more info), though I noticed many drinking theirs as cocktails mixed with various syrups. Their Bockbier was quite a pleasant surprise... Nice and malty with a nice balance of sweetness and just enough bitterness. They also offer an unfiltered Pils, Hefeweizen and Schwarzbier. A good selection for a German brewery.
Their food was very good, though not incredible. I had a Stadtwurst salad (I soon found out that Stadtwurst is similar to bologna, not bratwurst) which was good. My wife had leeks with potato pancakes. I didn't have the leeks, but I stole one of her pancakes which was delicious. The food was definitely worth the price, though it seemed clear that you came here for the beer, not the food.
The atmosphere was family-friendly, which was good because we were traveling with our 15-month-old. The service was so-so, but typical for Germany (in other words, slow and somewhat unattentive). Overall, while I liked my visit to Ohne Bedenken better, Bayerischer Bahnhof was well worth the trip just south of the Old City and a must-stop for any beer lover visiting Leipzig.
1,793 characters



3.04
/5
rDev
-20%
vibe: 3 | quality: 3.75 | service: 2.25 | selection: 3
Before you walk 25 minutes from the train station to the Gosebraueri Banhoff I strongly suggest you CALL and make sure they don't have a corporate event. I walked 25 minutes from the train station, and there was a security guard blocking the door, they were closed to the public for a corporate event. I was VERY disappointed, I would have sat in a corner somewhere to sip a beer...no go (or, no gose actually). I am only in Leipzig for two nights, i have traveled all the way from the U.S., went thru a lot to get there, and can't get in. Asked the security guard if I could get in the next night and he said sure. Now I realize he was a rent-a-dick and had no idea.
So, I managed to find a cab and got a ride to Ohne Bedenken across town and had a great evening of gose and a really delicious meal. NEXT night, my only other night in Leipzig, i head up to GB Bahnhof again, only this time I take the train. Get to the door and its freakin Groundhog Day...another corporate event, this one for Siemans employees...and another security detail. This night I decide to take a chance and breeze through the door like I am supposed to be there...I get about 20 feet and the security woman taps me and asks where is my wristband. I am about to cry, I considered this place a Mecca of gose and this is probably the last night I will ever be in Leipzig, and it's another corporate event and i can't talk my way in...ca'nt they have a corner somewhere where a gose-seeking beer traveler could sit and have a gose and not disturb the corporate event? I phoned the establishment from the parking lot and asked for the manager. Politely explained my plight, the previous night's attempt, it is my last night in Leipzig, and asked if it was at all possible to sit somewhere briefly inside as I had traveled so far, and I got a curt no and then he hung up before I could say anything else. This place left a very bad taste in my mouth. The website SAYS its open and then it's not really.
So, turned away from the Gosebraueri Bahnhof two nights in a row. This really sucked. I nabbed another cab which took awhile and went back to Ohne Bedenken. They were happy to see me and remembered me. At Ohne Bedenken they have the GB Bahnhof gose AND the other traditional one, Dollnitzer. And Ohne Bedenken has a large and nicely designed Biergarden, beautiful historic-looking cafe, excellent goses, and most important NICE people. And my food was great both nights...I highly recommend the vegetarian dish although they have lots of meat too. If you can only pick one place in Leipzig it's Ohne Bedenken hands down...the Gosebraueri Bahnhof was not very friendly to me and is way more interested in hosting corporate events than letting thirsty beer travelers in. But if you do go call first and make sure they don't have a corporate event when you plan to visit.
2,848 characters

2.98
/5
rDev
-21.6%
vibe: 3 | quality: 3 | service: 2.25 | selection: 3.75 | food: 2.75
Nice interieur, slow waiters, food not very well (chewy), bought a seidel that was already used. Beers are OK.
110 characters
Gasthaus & Gosebrauerei Bayerischer Bahnhof in Leipzig, Germany
Brewery rating:
3.77
out of
5
with
1,882
ratings