Chang Beer (Export)
| Cosmos Brewery (Thai Beverage Plc.)
BA SCORE
64
poor
204
Reviews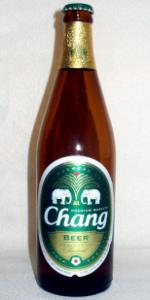 BEER INFO
Brewed by:
Cosmos Brewery (Thai Beverage Plc.)
Thailand
thaibev.com
Style:
American Adjunct Lager
Alcohol by volume (ABV):
5.00%
Availability:
Year-round
Notes / Commercial Description:
No notes at this time.
Added by Gusler on 12-20-2002
This beer is retired; no longer brewed.
Reviews: 204 | Ratings: 531
2
/5
rDev
-24.8%
look: 2 | smell: 2 | taste: 2 | feel: 2 | overall: 2
Lived in Thailand for a few years, and I didn't make much money at the time. Due to the circumstances, I stuck mostly to Mekong and Tsang Thip "whiskey" for normal drinkin'. On payday, we would splurge and actually drink beer. Sometimes, we would go downtown, and pay $8 for Guinness. But mostly, we would drink Singha, Carlsberg, or whatever else would be at the bar.
Only on rare occassions were we forced to drink Chang. This would usually be at the touristy areas. It is even considered poor by Thai standards, as was mentioned earlier. Having it travel overseas makes it even more horrible. You will experience a watered down look, no head, skunky smell, bad mouthfeel, and weak flavor.
Overall: Keep very far away from this beer. Use only to wash out your mouth after drinking flaming shots of Mekong...
★
816 characters
3.25
/5
rDev
+22.2%
look: 2.5 | smell: 2.5 | taste: 4 | feel: 3 | overall: 3
This is the most popular beer in Thailand, not for its merits as a beer, bot for its price and high alcohol content (6.4). For the cost of 70 cents, once gets a 640ml (~22 ounces) from 7-11. That'll be enough to get you feeling pretty good. It's potent stuff.
One of the side benefits of the beer is a very cool label featuring two elephants on an oval label. Chang means Elephant in Thai.
The beer does not have a particularly interesting taste, but is not bad at all. Pretty damned good when ice cold on a hot day. It is quite drinkable in any situation, though.
As previously stated, the main benefits of this beer are price and alcohol content. Deffinitely give it a try when in Thailand, but don't be bothered to pay the export import price unless you're looking for an exotic change from your regular Mickey's.
★
826 characters
2.03
/5
rDev
-23.7%
look: 2.5 | smell: 2 | taste: 2 | feel: 2 | overall: 2
Used to be 6.4%, but it seems dumbed down now to 5.0%, and I hope it wouldn't taste so thick and sugary as before?
The BB date is 13 Jul. 06.
Very pale straw hued, with a short-lived white beer head and a moderately carbonated body. The nose is pretty modest, if anything, with some malts and corn-like grainy smell, very faint trace of lemony hops. The palate is the same, sharply gassy upfront, then thin-bodied flavour of some sweet grains and sugars, but turning more and more watery as it goes... almost like a lemonade without the lemony edge!!! Finished with less sugary touch than its previous version (6.4%) but still a bit sticky on the palate. Overall, it has all the cheap and overly light texture I haven't confronted for a long long time, and even its predecessor tastes better than this one. One of the worst beers I've had, and not as a result of mis-handling or any "excusable" factors I believe. Not recommended at all.
★
942 characters
2.26
/5
rDev
-15%
look: 3 | smell: 2 | taste: 2 | feel: 2 | overall: 3
The pour clear light golden amber color, the head adequate as is the lace, both bright white in color, malt nose, somewhat crisp and fresh. Start malt, the top cadaverous, finish bitingly acidic, the hops pertinent to the style, dry lingering aftertaste, beats "Water", but just barely.
★
286 characters
Chang Beer (Export) from Cosmos Brewery (Thai Beverage Plc.)
2.66
out of
5
based on
531
ratings.