Federbrau Beer
| Cosmos Brewery (Thai Beverage Plc.)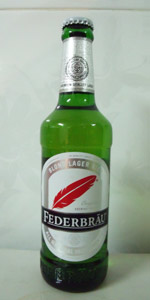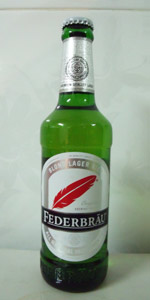 BEER INFO
Brewed by:
Cosmos Brewery (Thai Beverage Plc.)
Thailand
thaibev.com
Style:
Euro Pale Lager
Alcohol by volume (ABV):
4.70%
Availability:
Year-round
Notes / Commercial Description:
No notes at this time.
Added by Everydayoff on 02-13-2011
Ratings: 11 | Reviews: 6
Reviews by Everydayoff:
2.78
/5
rDev
-3.5%
look: 3.5 | smell: 3 | taste: 2.5 | feel: 2.5 | overall: 3
Poured 330ml bottle into a pils glass with filling date on Jan'11 but no best before date.
A:
Golden yellow color with decent white frothy head that well retain itself then gradually dissipate and left with good lacing patches. Average amount of visible carbonation can be detected.
S:
Cover with barley malt, musty bread and faint medicinal scent.
T+M:
A bit acidic, very slight bitterness, core flavor is on the middle by malt sweetness that exhibit until the end with subtle bready tang at the same time. Rather high crispness in the mouth, light body, finish is clean.
D:
This is another beer from the macro brewery in Thailand. Feathery and easy drinkable but still lack some taste dimensional.
703 characters
More User Reviews:

2.28
/5
rDev
-20.8%
look: 2.25 | smell: 2.25 | taste: 2.25 | feel: 2.5 | overall: 2.25
So so beer. I got this in Bangkok. It's a light golden color and mostly clear in a glass with a small head that disappears quickly when poured. It has a dry, slightly bitter flavor. Overall, it's not horrible, but also not a repeat for me.
243 characters

3
/5
rDev
+4.2%
look: 3 | smell: 3 | taste: 3 | feel: 3 | overall: 3
640ml green glass bottle with a branded pry-off crown cap purchased at a Tesco Lotus in Thailand.
4.70% ABV.
Off notes of burnt malt and cigarette tobacco blend with herbal smoke and pils malts.
Light-bodied, smooth, wet, overcarbonated, crisp , somewhat refreshing.
Interesting - almost to the point of being unique albeit in a bad way. Drinkable and enjoyable for what it is. I intend to revisit this, if only because its flavour is so different from that of the macrolagers put out by Thai breweries.
High C / AVERAGE
525 characters
1.94
/5
rDev
-32.6%
look: 2 | smell: 1.75 | taste: 2 | feel: 2 | overall: 2
2.99
/5
rDev
+3.8%
look: 2 | smell: 3 | taste: 3 | feel: 3 | overall: 3.25
Can from Top Supermarket in Koh Samui. From notes.
A - Gold pour with a bright body and medium carbonation. One finger of white head was gone fast and left no lace and a film of retention.
S - Grainy, mild hop. The grain isn't adjuncty. Not bad.
T - Grainy, mild hop again, apple, honey, sweet lageriness.
M - Medium carbonation, medium body, dryness in the finish.
O/D - Fairly decent lager for the region. Tasty enough but not complex, while being quite drinkable. One to seek out if Chang doesn't rub you the right way.
527 characters
3.12
/5
rDev
+8.3%
look: 3 | smell: 3.5 | taste: 3 | feel: 3 | overall: 3
sampling all local brews I can get hold of while on my hols in Thailand ....
this brew has a very light almost transparent color a malty and nutty nose ....
the taste is rather light, slightly sweet, coffee notes, and a little bit soury in the aftertaste
although, unlike the name would suggest, not a german style Pils, this is brew perfectly suited to enjoy on a hot tropical afternoon ...
394 characters
3.1
/5
rDev
+7.6%
look: 3 | smell: 3 | taste: 3 | feel: 3 | overall: 3.5
currently traveling through SE Asian and sampling all the local brews i can find. there's a distinct style to the light-bodied lagers specifically suited to the blazing heat and humidity of the region, so reviews are based on my understanding of the style.
got this 650 ml bottle at the supermarket as Bangkok braces for flooding. this has put a serious run on necessary items (obviously including beer), and just about every other beer is completely sold out while there a number of these Federbrau left in the fridge. not a good sign, further enforced by a freshness date indicating this is 3 months old. the label claims this is brewed "according to the purity laws" and correctly cites only barley malt, hops, water, & yeast as ingredients, but like any light-struck beer in a green bottle, this one has turned and has a mild "skunk" flavor to it. it's definitely light bodied w/ a very nice crisp carbonation, but i'll have to track down another bottle to reassess the taste to determine whether or not the brewer is actually aiming for the Heineken flavor profile
____
i got hold of another of these beers that was within a week of its freshness date stamp and it is definitely NOT a "skunk"-style beer. although it qualifies as a "euro-pale lager" by virtue of proper ingredients and brewing style, it falls directly into the SE Asian style of lagers that have a distinct, biscuity pale malt sweetness that lingers on the palate (rather than finishing w/ a clean or slightly bitter hop finish). it's still very refreshing and well done for the style; however, my initial experience once again raises the question of when breweries are going to finally quit using the dreadful green glass bottles?
1,705 characters
2.75
/5
rDev
-4.5%
look: 2.75 | smell: 2 | taste: 3 | feel: 3 | overall: 3

Federbrau Beer from Cosmos Brewery (Thai Beverage Plc.)
Beer rating:
0%
out of
100
with
11
ratings