Rip Roarin' Red Ale
| Beermann's Beerwerks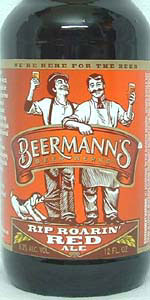 BEER INFO
Brewed by:
Beermann's Beerwerks
California
,
United States
beermanns.com
Style:
American Amber / Red Ale
Alcohol by volume (ABV):
6.20%
Availability:
Year-round
Notes / Commercial Description:
No notes at this time.
Added by feloniousmonk on 06-22-2003
This beer is retired; no longer brewed.
Ratings: 10 | Reviews: 9
Reviews by FacistCannonBall:
3.78
/5
rDev
-0.3%
look: 4 | smell: 3.5 | taste: 4 | feel: 4 | overall: 3.5
Looks good out of the bottle into the glass with a moderate head and plenty of lacing down the glass. The caramel and chocolate malts strongly influence the beer's smell. Also, not much in the way of hops in smell. The taste is pretty big with lots of malt and hop bitterness on the finish. A good beer with lots of flavor that'd go well with food.
348 characters
More User Reviews:
3.76
/5
rDev
-0.8%
look: 4 | smell: 3 | taste: 4 | feel: 4 | overall: 4
I originally sampled this beer on 9 March 2003. I am writing my review from my notes.
This pours a beautiful clear red color w/ a frothy head. This beer is an enjoyable one to drink. Very full mouthfeel w/ lots of hop flavor & a dry finish. thanks beerguy101
259 characters

3.92
/5
rDev
+3.4%
look: 3.5 | smell: 4 | taste: 4 | feel: 3.5 | overall: 4
Pours a clear red brown colored ale with a fast fading tan head.
Aroma is sweet and malty and reminds me much of a good Scottish ale. There is a fruity and smoky aroma here that really reinforces the sensation of sniffing a Scottish ale and a good one. Fruity and figgy aroma mixes with the hop aroma most a tea hop scent.
Taste is neutral malty and a bit peat smoky at the start. Lots of caramel and toffee flavor here but this isn't a sweet beer. Hop bitterness is a bit woody and drying and a good match for the taste.
Mouthfeel is good, maybe a little light.
Hmm far more drinkable than I would have guessed from looking at the first couple of reviews. An OK red but a quite good Scottish ale when I drink it. Recommended.
738 characters
4
/5
rDev
+5.5%
look: 4 | smell: 4 | taste: 4 | feel: 4 | overall: 4
A good balance of malt and hops makes this a solid beer. Reddish amber body was topped by an off white head that laced the glass nicely. Hops were aroamtic and lent good flavor to the brew. Solid mouthfeel very drinkable, did not have the chocolate notes some ambers can have. Good beer.
287 characters
4.2
/5
rDev
+10.8%
look: 4 | smell: 4 | taste: 4.5 | feel: 4 | overall: 4
12oz bottle acquired in trade with riversideAK (thanks!).
Poured a medium and cloudy copperish color with an averaged sized off white head. Aromas of floral hops, citrus, caramel, and toasted malts. Tastes of caramel, floral hops, some citrus, and lightly fruity. Nice bitter finish. Some lacing left on the glass. A very nice Amber Ale.
Notes from 5/13/08
359 characters

3.65
/5
rDev
-3.7%
look: 4 | smell: 4 | taste: 3.5 | feel: 3.5 | overall: 3.5
I thought the aftertaste was a bit long and made the next drink seem not as appealing. Drinkability was low but the fact is the taste was pretty solid and thats what truly matters. Lots of charred smells and fruity but the taste differs in that its more sweet than it smells. Nice beer for the price range.
306 characters
4.06
/5
rDev
+7.1%
look: 5 | smell: 4 | taste: 4 | feel: 4 | overall: 4
Med red color. Large head. Aroma is roasted malts, caramel and chocolate. A full bodied Red Ale. Big flavored chocolate and caramel malts. Hops are bold, bitter and grapefruity. This is a pretty aggressive beer, yet there is some smoothness to it as well. Interesting red ale. Mouthfeel is full and creamy. Finish is dry. Aftertaste is bitter.
343 characters
4.1
/5
rDev
+8.2%
look: 4 | smell: 4 | taste: 4 | feel: 4 | overall: 4.5
Pours a light reddish amber with a medium sized creamy off white head. Left OK lace.
Smells of sweet roasted malt, a bit of cocoa, fruit and a zingy hop aroma.
Mellow flavors of sweet toasty malt, fruit, caramel and dry chocolate. Nice spicy hop profile and a dry nutty aftertaste.
Medium bodied with a clean full mouthfeel and good carbonation.
Good flavorful Red Ale and highly sessionable.
396 characters

4.4
/5
rDev
+16.1%
look: 4.5 | smell: 4.5 | taste: 4.5 | feel: 4.5 | overall: 4
Appearance: fully red color, bright and a little dark, with an impressive head, towering in scope and size, tall and fluffy, creamy, lacey.
Aroma: Sweet, fruity (vinous, perhaps), spicy, peppery, nutty, big with the maltiness, and showing it's slightly above-average alcoholic strength.
Feels richly roasted, even burnt, without even tasting it. Toasty .
Nice hops up on top, and a thick, lush, cherry-ish mouthfeel, sweet and fruity, again. All of the flavors detected in the nose return in the flavor, and it's a welcome arrival on the 'buds. Very thick, very full, very tasty. Assertively chewy texture, tangy, fruity, wonderful. Long, fruity, hoppy finish, sweet, seductive. I can't think of a bad thing to say about this beer, no matter how hard you twist my arm. My notes from the first bottle consumed say: "Feels a little thin near the end, but loses none of it's special charm." Well into sample #2, I don't know what the hell I was talking about, and all charms shine ...well, no, now I get it, yep, it does fade a touch, but it's still a great tasting brew. Warm, cheery, substantial. A genuine surprise, too: a brewery I'd never heard of, that no one's entered on the site, and it's a damned delicious, unforgettably flavorful beer. Gotta love that!
Much thanks to weefishheads!
1,294 characters
Rip Roarin' Red Ale from Beermann's Beerwerks
3.79
out of
5
based on
10
ratings.