Mad Brewers Raspberry Wheat Beer
| Malt Shovel Brewery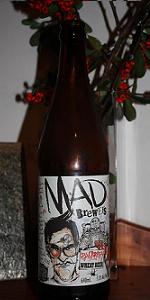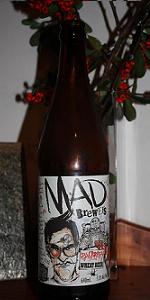 BEER INFO
Brewed by:
Malt Shovel Brewery
Australia
maltshovel.com.au
Style:
Fruit / Vegetable Beer
Alcohol by volume (ABV):
5.00%
Availability:
Limited (brewed once)
Notes / Commercial Description:
No notes at this time.
Added by lacqueredmouse on 04-11-2008
This beer is retired; no longer brewed.
Ratings: 6 | Reviews: 6
Reviews by lacqueredmouse:
3.28
/5
rDev
+17.1%
look: 4 | smell: 3.5 | taste: 3 | feel: 3 | overall: 3.5
Found at Porters Liquor, Pyrmont.
First impressions are that I love the label. Reminds be of the US craft brews I see in BA magazine but never get a chance to try. What a shame.
Pours a clear, pinkish-orange colour, with some pretty good, white fine-bubbled foam. Lots of streaming carbonation. Looks pretty good.
Definite raspberry characters on the nose, but it's quite herbal, almost like raspberry leaf rather than the fruit itself. Hints of green tea and almost a cidery character too. It's interesting.
Taste is a remarkable letdown. Initial hint of raspberries is swamped almost immediately by the MSB yeast-stock character. Touches of acidity, but not at all in the manner of a fruit lambic - it's more of a carbonic acidity, like soda water.
Also tastes rather like it's quite heavily hopped, although why they would do such a thing to a fruit beer is beyond me. (Although, I guess, they are mad right?) It might, in fact, be some other element, not hops, but there's certainly a bitter character there. Mouthfeel is quite light and spritzy. It's suitable.
It's not great, but it's different. And overall it's pretty drinkable. Hopefully the Mad brewers at the Shovel will think of something different to brew next though...
1,251 characters
More User Reviews:
2.71
/5
rDev
-3.2%
look: 4 | smell: 3 | taste: 2.5 | feel: 2.5 | overall: 2.5
Drank from my Duvel Tulip
A - Pours a reddish Amber colour, slightly hazey with a tight white head tha stays the distance.
S - No suprise that it smells like rasberries and not much else.
T - Sickly sort of Rasberry flavour that coates the tongue and leaves a slight caramel flavour.
M - Sligtly over carbonated and medium body.
D - Not a big fan of this beer and falls a long way short of and Belgian takes on this type of Ale.
433 characters
2.37
/5
rDev
-15.4%
look: 2.5 | smell: 3 | taste: 2 | feel: 3 | overall: 2
Seen in a range of bottle shops around Adelaide, but picked up from Fassina in Arndale shopping centre (South Australia).
The body is crystal red, with soapy white head that retreats into liquid nearly as fast as you can pour it.
Citrus and sweet berries are noticed on the nose; similar to a Belgian Lambic, but with less strength.
The texture and flavour of a typical Lager are prominent, but the large over-sweet raspberry kick definately throws things in an interesting direction... a very unbalanced direction. There's little complexity here, and the small chance you have of discovering something more is over-shadowed by another big hit of raspberry.
Due to the medium-to-high carbonation and the strong one-track berry flavour I think this one might be better liked by the ladies - however even they may find it too sickly after a few.
Not one I'd recommend or buy again, but there's definately a market for it.
924 characters
2.85
/5
rDev
+1.8%
look: 2.5 | smell: 2.5 | taste: 3 | feel: 3 | overall: 3
A - Poured out a clear, yellow color with hints of pink. A small, white, fizzy head did not last long or leave any lace.
S - It smelled strongly of raspberries. Some wheat-like aromas, too.
T - This was very sweet and strong on the raspberry flavor. Grain and light caramel malt favors were present, too.
M - It was crips, fizzy and sharp. A light-bodied beer.
D - This is an okay beer. A little too fruity for my taste, but it is drinkable.
445 characters

3.16
/5
rDev
+12.9%
look: 3 | smell: 2 | taste: 3.5 | feel: 4 | overall: 3.5
Coppery brown colour, a lot of head when poured, doesn't hang around though. Little bit of lacing. No carbonation. Not too bad, what I'd expect from a berry beer.
A bit sour with berry hints. Not very pungent, pretty watery actually. Pretty much again what I'd expect for a berry beer, only subdued even further. Not much wheat or beer on this nose.
Taste is much improved, a lot of flavour which isn't quite as sour as your average fruit beer. Lots of fruit on it, with a genuine raspberry flavour, not some artificial or sweetened imitation. Sadly, that raspberry is the only real flavour. The palate is long and quite well-balanced between sour, sweet and bitter, but it's still very simple. Could use more dry hopping, just a bit, to remind one that it's beer.
766 characters
2.45
/5
rDev
-12.5%
look: 3 | smell: 3 | taste: 2 | feel: 3.5 | overall: 2
Appearance - 3.0
Poured a clear weak Ribena sort of colour with two fingers of pink head that quickly reduced to a thin layer.
Smell - 3.0
Not dissimilar to Belle Vue Kriek in smell; musky and oversweet, but not sickly so. Aromas of sweet raspberry, a little mint and lemon.
Taste - 2.0
This is like a lambic without the sourness for balance. Close to being sickly sweet, flavours of raspberry jam, a whisper of mint, and very little bitterness. Way to similar to cordial.
Mouthfeel - 3.5
The over sweetness gives a syrupy feel, but the carbonation is fine and moderate which suits the style.
Drinkability - 2.0
Would I drink this again? No. Did I finish my 500mL glass? Yes, but it wasn't easy.
OVERALL - 2.55
I wouldn't discount this beer as a total failure. I'm sure it would appeal to women, and it makes an interesting alternative to a Lambic, although too sweet. Still, I won't be sad when is disappears.
915 characters
Mad Brewers Raspberry Wheat Beer from Malt Shovel Brewery
Beer rating:
0
out of
100
with
6
ratings