Mad Brewers Hoppy Hefe
| Malt Shovel Brewery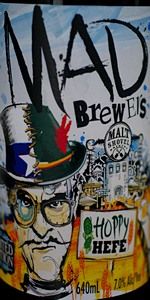 BEER INFO
Brewed by:
Malt Shovel Brewery
Australia
maltshovel.com.au
Style:
American Pale Wheat Ale
Alcohol by volume (ABV):
7.00%
Availability:
Limited (brewed once)
Notes / Commercial Description:
No notes at this time.
Added by ADZA on 02-13-2012
This beer is retired; no longer brewed.
Reviews: 15 | Ratings: 24

3.37
/5
rDev
-13.1%
look: 3.5 | smell: 4 | taste: 3 | feel: 3 | overall: 3.5
Drank from my Duvel Tulip
A - Poured a amber/honey colour with two fingered frothy off white head that laced well
S - Wow..a fairly intense sweet tropical aromas with passionfruit, pineapple, lemon and a slight hint of banana
T - Expected big things with the taste after the great aromas but was a little disappointed. Get alot of sweet malts, light wheat with the tropical pineapple some orange and lemon come through aswell but it lacks that intensity that I expected.
M - light to medium bodied with medium to high carbonation
O - Great aromas that is let down by the taste. A little too sweet for my liking so definately not a session beer.
649 characters
3.4
/5
rDev
-12.4%
look: 4 | smell: 4 | taste: 3 | feel: 3 | overall: 3.5
640 ML poured into a tulip
Thanks to Mr Kennedy for the bottle
A-- Poured a clear honey gold color. Just a couple of small beads of carbonation showing on the sides of the glass with this. Two finger dirty white head that slowly faded to a thick collar. Spots of lacing here and there. Good head retention to this.
S-- Good nose. Lemon, orange, and passion fruit to start. Once it opens up get Banana and clove in the background. Well done on the nose part. Quite well balanced.
T-- Not real hoppy at all. Flashes of pineapple and passion fruit.
M-- Slightly syrupy and a decent amount of alcohol to this for the ABV. Lemon, Pineapple and Passion fruit and the mid and back of the palate. Good amount of acid in the finish, though staying true to the wheat character of this as a lot of wheat malt and quite clean. High carbonation and to me a medium high feel. Has more wheatwine feel than pale wheat due to how heavy and syrupy this is.
O-- Might grab another to see how this cellars and if the syrupy quality drops off. Very well balanced and choice of hops works well with the wheat malt. Alcohol is a little too obvious and it gets a bit tough to drink at the end but this is a good departure and a good effort.
1,225 characters

3.45
/5
rDev
-11.1%
look: 4 | smell: 4 | taste: 3 | feel: 3.5 | overall: 3.5
Pours a not hugely attractive golden Carlton Draught colour. Don't hugely like the look of its body, although I've got to be fair and say the head is decent and the lacing is actually really good.
Whoa, they have not skimped on the aroma hops. Big dose of CCC- lemon, herbs. Then there's a subtle wheatiness giving a herbed bananas impression.
Comes up a bit short in the taste, with nothing but a sweetish malt. It's not offensive and is enjoyable, but has no real substance.
Has a decently syrupy body to it, bit of alcoholic astringency though.
To be honest I would buy this beer again as it's definitely enjoyable. Not a classic though. Really nice nose anyways.
670 characters

3.47
/5
rDev
-10.6%
look: 3 | smell: 3.5 | taste: 3.5 | feel: 3.5 | overall: 3.5
Turbid looking gold colour. Raw, grassy, slightly fruity hops on the nose and palate. Not much/any wheat in the flavour profile. Background phenols from possible use of wheat beer yeast, but its lost in the alcohol flavour - and beer is pretty dry. Serving it "hefe" is nice when you can taste the yeast - but not so much when the beer is heavy on hops and alcohol. Nice enough beer, but not in the league of Schneider Weisse Hopfenweisse.
439 characters
3.47
/5
rDev
-10.6%
look: 3.5 | smell: 4 | taste: 3.5 | feel: 3 | overall: 3
Pours a dark golden colour with a fluffy, albeit non-persistent head.
Wow - a massive hit of hops in the nose! Unmistakable citra twing with some fruitiness (non-citrus) there as well. Along with some caramel malts, at this stage one could possible mistake this for a traditional IPA.
Taste is very nice - solid hop flavour backed up with restrained bitterness. It's sweeeet. Possibly erring on the side of sickly sweet - I wonder what speciality malts were using in this one. I've got to say, I'm having a hard time trying to pin-point any significant wheat flavour. Definitely no use of traditional hefeweizen yeast strains - none of the traditional spiciness that isn't just coming from the hops. Medium bodied with a medium-thick mouth-feel.
With very little to no discernible wheat character, this beer is much MUCH closer to a simple American IPA than an American Wheat Wine or German Hefeweizen. Nonetheless, it goes down very smoothly and quenches the thirst - can't ask much more from Mad Brewers.
1,011 characters
3.62
/5
rDev
-6.7%
look: 3.5 | smell: 4 | taste: 3.5 | feel: 3.5 | overall: 3.5
Pours a slight hazed golden yellow hue which leaves a two finger head and sporadic lacing,the smell is really citrusy with hints of orange zest,lemon rind,grapefruit and gooseberries,the mouthfeel is a touch sticky and creamy but only just over light bodied and the NZ hops come through rather dominant with tastes of gooseberries,kiwi fruit,candied wheat,orange zest and nectarines with the finish nothing like a Hefe and has a touch of bitterness and overall i know they say its a cross between an American Wheat Wine and Hefe but its comes across as neither just a nice hoppy American wheat beer still nice though cheers.
624 characters

3.68
/5
rDev
-5.2%
look: 4.5 | smell: 4 | taste: 3.5 | feel: 3.5 | overall: 3.5
A - Two fingers of dense creamy head with excellent retention, light amber colour, beautiful thick lacing.
S - Bubblegum, hops and lots of grainy wheat.
T - Grassy hops, artificial banana flavouring, strawberry bubblegum, low bitterness.
M - Medium to full mouthfeel, low carbonation.
O - An interesting idea, and pretty well executed.
339 characters
3.75
/5
rDev
-3.4%
look: 4 | smell: 4 | taste: 3.5 | feel: 3.5 | overall: 4
Pours hazy dark amber with a large, fading head.
Nose shows tropical fruity hops, lychee, peach, nectarines. Like fruit confectionery, very sweet smelling.
Similarly fruity falvours, but not more of the wheat comes through. Pretty sweet. Very sweet actually.
Body should be a bit lighter, it'd make it more refreshing.
318 characters
3.95
/5
rDev
+1.8%
look: 4 | smell: 4 | taste: 4 | feel: 3.5 | overall: 4
Had this on tap recently and reall enjoyed it. Probably too much. Anyway picked up a bottle to imbibe in the quiet of home. One note, the best before date is one year from bottling. Not sure how this would develop with some age, but I wouldn't risk it.
Great looking frothy heady. Almost creamy. Light amber and a touch of haze. Low carbonation. A bit darker than a typical wheat beer (which this is not) makes me believe there is a good dose of crystal malt. Can probably find some info on that.
Very nice spicy and citrus hop aroma. Something else there in the background. Fennel? Something vegetal. Just enough to notice but not offensive in any way.
Taste really hit me at first. The sensation settles down half way through the glass but it's still very enjoyable. The spicy hop character continues in the flavor where it joins the sweet bready malt base. The malt profile is not anything like I expected. It still contains as much wheat as is typical for the style but the other 55% just seems to dominate. As I said, I would guess there is a good % of crystal and any other pale barley malt would not be a generic flavorless variety. I think it does work but for my tastes, it's just a little on the sweet side and a little heavy in the mouthfeel.
Overall I'm a bit disappointed its only a one off. This is a great beer to expose people to hoppy beer without overwhelming them or smashing their taste buds to bits. One of my favorite mad brewers beers.
1,464 characters
4.07
/5
rDev
+4.9%
look: 4 | smell: 4.5 | taste: 4 | feel: 3.5 | overall: 4
Clear golden colour with a creamy, off-white head. Good head retention. Nice.
Bright tropical fruit aromas wtih lots of Galaxy and Sauvin-type hop aromas. Nice mild clove notes too. The notes of both hop and hefe are present.
Delicious and balanced with the tart wheat adding complexity to the Strong Pale Ale type hop flavour. Lots of tropical fruit and a hint of apple along with some spice. Really enjoyable if a touch astringent.
Medium body with moderate carbonation. Good.
I really like this. The hop character is really there and, for once, Malt Shovel has put something together than is worthy of being called a craft beer.
635 characters

4.1
/5
rDev
+5.7%
look: 4 | smell: 4 | taste: 4 | feel: 4 | overall: 4.5
Pours a cloudy golden color with about 1cm of chunky head that fades away pretty quickly, but clings to the glass. Smells yeasty and hoppy, some citrus and some spiciness. The taste is very hoppy, not just bitterness, but lots of hop flavor. Grassy and fruity, with more citrus and a tiny bit of cloves and banana. Very smooth and finishes leaving a lingering hoppy aftertaste. Mouthfeel is very light and creamy, exactly what I would expect from a hefe. Overall, it's a great hefe and a great beer. Strong but well balanced. I will be getting this again.
555 characters
4.1
/5
rDev
+5.7%
look: 4 | smell: 4 | taste: 4 | feel: 4 | overall: 4.5
Tap at Local Taphouse in Melbourne. From notes.
A - Poured dark copper with decent carbonation. Cloudy with one finger of fluffy white head leaving OK lace and a film of retention.
S - Tons of citrus, slight yeast and lot's of sweet tropical fruit from a nice combo of hops.
T - Sweet tropical fruit, citrus, lot's of hops and a light wheaty malt profile.
M - Nice carbonation, light body and a sweet tropical hop finish.
O/D - A nice hoppy hefe. Really flavourful and deceptively strong. Delicious and different. Maybe it's the exposure to different hops but they're used well over here. A good one.
605 characters
4.13
/5
rDev
+6.4%
look: 4.5 | smell: 4 | taste: 4 | feel: 4 | overall: 4.5
Pours a lovely hazed, burnished amber colour, with flashes of ruby and gold at the centre and edges respectively, especially when held to the light. Head is a full, frothy off-white meringue, forming cascading, anarchic lace. Body is firm but light, without much visible carbonation. Looks damn good.
Nose is bright with crisp tropical fruits and a leafy, slightly fragrant citric overtone. Slight peppery spice comes through as well. It's very pleasant indeed.
Taste is not as bitter as I may have expected, with more of that leafy, slightly citric echo on the front palate, before a smooth and rather light wheaty character melts down the centre of the tongue. Very light bitterness on the finish, leaving the palate cleansed but not overwhelmed. Feel is also good, although I was tempted to say too thin early on—in fact, the clean smoothness just adds to the drinkability, without relying too much on getting the balance perfect. It's an interesting approach.
Yep, I really loved this beer, although the "hefe" in the name probably puts some folks off when they actually try it. Hef it is not, but it compares favourably to some of the good hoppy American Pale Wheat Ales such as Lagunitas Little Sumpin' Sumpin'.
1,222 characters

4.3
/5
rDev
+10.8%
look: 4 | smell: 4 | taste: 4.5 | feel: 4 | overall: 4.5
Pours a cloudy gold - one finger coarse off-white head. Good lacing.
Aromas of pine, citrus, bananas, in that order.
Taste is a sensation, MB at the top of their game. Floral hops dominate a complex palate, with hints of pine, bananas and a little pineapple. Integration is the key, no real standout flavour. Alcohol well hidden.
Mouthfeel crisp and well carbonated.
Overall, best of MB so far.
398 characters

4.5
/5
rDev
+16%
look: 4.5 | smell: 4.5 | taste: 4.5 | feel: 4.5 | overall: 4.5
Bottle: 640mL (pint) bottle. Big brown longneck bottle, funky and distinguishing label.
Appearance: Slightly hazy golden colour with fine carbonation. Good two-finger head which settles to a half-finger solid foam. Solid lacing. A nice looking beer.
Aroma: Bitterness coming from tropical fruits, peaches and lychees. Bitterness is met by a mild sweetness that resolves and rounds the flavours.
Taste: Some bitterness up front, certainly a good dose of herbs at the back of the mouth. The flavours of the aroma come through good and strong.
Aftertaste: Bitterness drops, replaced more by a citric sweetness to finish it off.
Mouthfeel: Medium-bodied and medium carbonation. Suits the style quite well.
Overall: A very nice version of the American wheat beer - better than the Americans seem to do it :)
808 characters
Mad Brewers Hoppy Hefe from Malt Shovel Brewery
3.88
out of
5
based on
24
ratings.