Mad Brewers Ginger Chops Ale
| Malt Shovel Brewery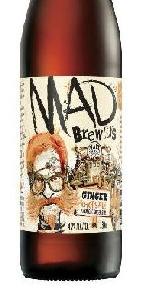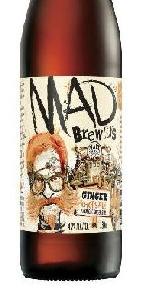 BEER INFO
Brewed by:
Malt Shovel Brewery
Australia
maltshovel.com.au
Style:
Herbed / Spiced Beer
Alcohol by volume (ABV):
4.20%
Availability:
Limited (brewed once)
Notes / Commercial Description:
No notes at this time.
Added by ADZA on 06-26-2012
This beer is retired; no longer brewed.
HISTOGRAM
Ratings: 7 | Reviews: 6
Reviews by SmashPants:

2.38
/5
rDev
-3.6%
look: 3 | smell: 2.5 | taste: 2 | feel: 3 | overall: 2.5
Bottle: standard but solid 330mL brown bottle, funky and distinguishing label - not quite up to the MB norm though.
Appearance: golden amber in colour, a finger of head that dissipates quickly.
Aroma: the ginger is certainly there, but is fairly muted. There isn't much else going on either, which to me means that the ginger is too muted.
Taste: a somewhat artificial ginger flavour dominates, but again is reasonably sedate. I usually don't like a ginger whack, but this ale needs something to hide the unfortunate undertone of artificial tasting fug.
Aftertaste: a slight bitterness accompanied by the odd ginger flavour and the artificial fug. Not brilliant but not unpleasant; the flavour lasts quite a while, which scores points in my book.
Mouthfeel: a bit watery. Fairly light mouthfeel with moderate-to-high carbonation. Not bad, but a heavier body would have carried it better.
Overall: an unfortunate blend of artificial, harsh ginger and an unusual and not terribly pleasant undertone of off malts. The first Mad Brewers beer I haven't immediately fallen in love with.
1,086 characters
More User Reviews:
3.12
/5
rDev
+26.3%
look: 3 | smell: 3.5 | taste: 3 | feel: 2 | overall: 3.5
Pours dark amber with a fading white head.
Nose shows heavy ginger and some honey. Smells like ginger bread. Pretty tempting.
Honey and ginger as flavours too. Not bad but a bit too sweet with no balancing bitterness.
Body feels watery.
The honey adds an interesting spin.
275 characters

2.01
/5
rDev
-18.6%
look: 4.5 | smell: 3.5 | taste: 1 | feel: 2 | overall: 1.5
Was quite excited to taste this beer however was extremely disappointed. Strong ginger flavour however otherwise very watery. Quite bitter when was expecting some sweetness.
May be refreshing on a really hot day, but it won't be my first pick.
Bottle states "limited edition" and I can live with that.
303 characters

2.25
/5
rDev
-8.9%
look: 2.5 | smell: 2.5 | taste: 2 | feel: 2 | overall: 2.5
Had to try this after the perfectly insane 'Scribbly Gum Lager' set my taste buds alive sometime last year. Much respect after that BLT tasting brew reminded me of the flavour of bacon so dearly missed. Ginger beer? Really Mad Brewers?! Don't even like ginger beer but will give it a go nonetheless.
Tap poured into a schooner glass.
A: Typical amber body with a non-existent cream coloured head.
S: Ginger... Obviously. I can also detect light fragrance of wheat and honey in the background. Overall pretty weak with fragrance - more like those watery tap beers you get in the local pub.
T: As advertised; ginger beer with an emphasis on the beer part. It's actually quite boring and not what I was expecting from Mad Brewers who are renowned for just that- being mad. Feels like more could have been added, eg; big hops, orange peel or even coriander.
M: A bit on the watery side. Would have preferred some sticky and resinous but I guess Mad Brewers were going for a light body. Shame that.
D: I could see this as a decent hot day in summer beer, however in the middle of winter here it only serves to disappoint me. If they had put more flavour and body into this brew it would have succeeded admirably but as it stands an average beer at best.
Food match: Normally matching ginger beers with spicy asian flavours is the way to go, not so in this case, best stick with something light like a salad.
1,409 characters
2.45
/5
rDev
-0.8%
look: 2.5 | smell: 2.5 | taste: 2.5 | feel: 2 | overall: 2.5
First thing ive got to say is why bring this out in our winter its not like its going to fly off the shelves i mean summer yeah it prob have a chance to be picked up by randoms wanting something different and also i found it in the cider fridge and as clearly stated its an Alcoholic Ginger Beer its definately not a style i go out of my way for but anyway it pours a crystal clear very light amber hue and leaves a fast vanishing one finger head and no lacing,the smell is ginger and a touch of herbal hops but thats about it nothing else gets through,the mouthfeel is lightbodied and watery and thye taste doesnt get much better either with hints of ginger obviously,some herbalness to it,pale malts and finished with a bittersweetness which is ginger dominated and yeah its like they have stated its a beer with ginger added and unfortunately its a horrible base beer used as the ginger dominates and in this case i hate to say it as i hate ginger but thank god it does as it takes a little attraction away from a horrible tasteless beer and overall why release a Summer drink in Winter and not even make it right drink if your up for something tasteless or if your girlfriend likes ginger as i will not revisit this.
1,220 characters

3.1
/5
rDev
+25.5%
look: 3.5 | smell: 3.5 | taste: 3 | feel: 3.5 | overall: 2.5
Pours a yellow gold with a decent head which quickly subsides. I suspect a lack of bottle conditioning is the culprit.
Smell is a good amount of herbal ginger. Maybe a hint of malt.
Taste has more ginger, with a fairly insubstantial base beer present. Get a bit of POR? Just a generic sort of macro flavour, minus the normal unpleasant chemicals. Aftertaste has gingery vitamin supplements.
Mouthfeel is soft and highly carbonated. Pretty drinkable.
Hard to rate this. Personally I find it highly drinkable, but the extent to which it is a "beer" is somewhat questionable, and what is present of the beer is clearly mediocre. Still enjoyable and refreshing, and extreeemely easy to drink.
692 characters
Mad Brewers Ginger Chops Ale from Malt Shovel Brewery
Beer rating:
2.47
out of
5
with
7
ratings