Michael's Bistro & Taphouse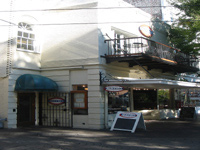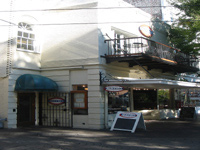 Bar, Eatery
1427 University Ave
Charlottesville
,
Virginia
, 22903-2606
United States
(434) 977-3697 |
map
michaelsbistro.com
Notes:
Recent ratings and reviews.
| Log in to view more ratings + sorting options.
Ratings by Proteus93:
Reviewed by Proteus93 from Virginia
4.18
/5
rDev
+6.4%
vibe: 4 | quality: 4 | service: 4 | selection: 4.5 | food: 4.5
Decent ambiance... quite a big selection, with generous choice of Belgians available.

Nice, low light... 11 beers on draft (which, at time of visit, included, as written on their board: Guinness, Smithwicks, Paulaner Hefe, Smuttynose Old Brown Dog, Chimay Cinq Cents (???), Maredsous, Sierra Nevada Bigfoot, IPA Nectar, Original Sin Cider, Black & Tan, Left Hand Polestar Pils

Prices was between reasonable and a bit pricey... I enjoyed the bison burger, which rang in at about $10. Service was not too shabby at all, but we went on what could be expected as a quiet night, so that might not be the case on a Thurs, Fri, or Saturday evening on The Corner.

All in all, probably one of the better selections you are going to find in town to sit down and eat, with prices reflecting such in that sense.
Mar 29, 2008
More User Ratings:
Reviewed by JessPrice
4.09
/5
rDev
+4.1%
vibe: 4.5 | quality: 4.5 | service: 3 | selection: 4.5
Really great place on the corner for a quieter night out with close friends, or a date. If you want to people-watch, the balcony provides choice views of all the passersby.

The lighting is low and feels as if the place is candlelit, so it's conducive to hours of conversation. Every time I've gone, I spend at least 2 hours there, meaning I leave several delicious beers deep and my bank account several pounds lighter (always worth it, though). The first time I had a Kasteel Donker was here, and it was life-changing. This is a place the make memories. If you're ever in Charlottesville, make time for Michael's.
Jul 21, 2012

Reviewed by argock from Virginia
4.28
/5
rDev
+8.9%
vibe: 4 | quality: 4.5 | service: 4.5 | selection: 4 | food: 4
My wife and I had a great visit with an excellent beer selection (both draft and bottles) at reasonable prices, and good food that was a bit on the expensive side. Their draft list currently includes FW Union Jack IPA, AV Boont Amber Ale, Lagunitas Undercover Shutdown Ale, and Von Honsebrouk Brigand in addition to 6-7 other high-quality draft offerings. They serve their beer at appropriate temps in proper glassware. In addition, they have $3 drafts from 4-6 PM 7 days a week. They offer up a nice bottle list, although, aside from Founders KBS, they don't have anything you can't find at a good beer store (i.e. Westmalle, Rochefort, Kasteel, etc.). We enjoyed our entrees -- bison burger for $10 and they had several vegetarian options as well. We enjoyed the atmosphere and will definitely be back.
Jun 28, 2010

Reviewed by ggaughan from Pennsylvania
3.98
/5
rDev
+1.3%
vibe: 4.5 | quality: 4 | service: 3.5 | selection: 4 | food: 4.5
Visited here for dinner with my wife on a recent vacation on a suggestion from the owners of the B&B we were staying at. The main focus of this review is the beer but the food is very good as well. The entrees are inventive and not your run of the mill chicken and beef dishes. We had a bananas foster dessert that was great as well.

I was suprised to see the fairly large selection of beers they had on tap and it bottles. It was great to see some local PA beers here like Troeg's, Victory and I think Stoudt's. They also had a few Brooklyn beers on tap and a handful of quality Belgian's on tap and even more in bottles. The beers I ordered were served in the appropriate style of glassware if not the exact glass. Overall this was a very cool place for just dinner, drinks or more importantly both. Although we sat a table, the small bar area was cozy and inviting as is the remainder of this place.

You could almost miss the door for Michael's if you walk by too quickly. The place is on the 2nd floor of a building right through the heart of the UVA campus.
Dec 10, 2006
Reviewed by lawhoo97 from Maryland
3.9
/5
rDev
-0.8%
vibe: 4 | quality: 4.5 | service: 3 | selection: 4 | food: 4
If you are the UVA Corner and are looking for excellent beer and good food -- Michael's is the place to be. It has a pub-type atmosphere, but you will not find many undergrads here. Michael's is the place where graduate students, faculty, and professionals come for a lunch, dinner or a break.

The food focuses on a seasonal menu with a number of very solid standbys. My favorite is the Cubano and the soup is always excellent. The service is some of the best in town.

The reason to come is for the beer. Lots of unusual and hard to find brews with taps that rotate for the seasons. Moreover, the atmosphere is one where you are encouraged to enjoy your malted beverage of choice at your own pace.
Nov 06, 2006
Reviewed by gosurfobx from North Carolina
4.28
/5
rDev
+8.9%
vibe: 4 | quality: 4.5 | service: 4 | selection: 4.5 | food: 4
The best place in C-ville's corner district to grab a beer. Usually about 12 or so beers on tap and great selection of bottled beers. About 20 or 25 belgians are offered along with some good microbrews. They even have some hard to find beers like rogue's locker stock and Starr Hill's cask conditioned Pale ale.

The food is pretty good and the prices are not crazy. During normal dining hours they offer a four beer sampler where you can sample four draft beers for about $5. A great place to go if your a beer lover in Charlottesville.
Jan 20, 2006
Reviewed by spiffylubes from Virginia
4.38
/5
rDev
+11.5%
vibe: 4 | quality: 4.5 | service: 4 | selection: 4.5 | food: 5
As a current resident of Charlottesville living on a graduate student's salary, I would say that Michael's is easily my favorite place to go as a "nice" dinner out. If you ask me (or any of my friends), the food is always delicious and interesting, since they change the menu every couple of months. The rainbow trout stuffed with crab I had last night was particularly good. The atmosphere is pretty good, not too loud considering it has a decently sized bar, and not too dark or smokey or anything bad like that. The service is generally pretty good, but I've had a few servers who've been pretty lazy about taking orders, though not with bringing them.

Anyway, I have also found the beer selection here to be very very good. I won't lie, even with a list of 20-30 Belgians, I almost always break down and order a Hoegaarden (its summer, gimme a break), but just seeing Westvleteren 12 and Westvleteren 8 on the menu amazed me. They draught selection is constantly rotating, with many local Cville brews, and other Virginia brews, along with a good selection of others, specifically (considering my preference) a particularly delicious batch of Ayinger hefeweizen. I can't remember any other specifics from the menu, but believe me, it is very good.

I thoroughly everyone suggest this restaurant, if not for the beer, then for the food. And get the calamari.
Aug 27, 2005
Reviewed by philipt from North Carolina
3.94
/5
rDev
+0.3%
vibe: 3.5 | quality: 4 | service: 4 | selection: 4
Not really a beer bar. It's more of a food joint with a pretty good beer selection.

A small bar with a limited draught selection. A couple of good beers on tap but the real gold is found in their bottle selection. Michael's is the where I tried Storm King Stout for the first time (Lagunitas was also instock).

I didn't try the food, but I understand it's pretty good.

Overall, not a bad place for beer, but not the best atmosphere for beer drinking.
Nov 01, 2003
Reviewed by CSimon from Virginia
4.33
/5
rDev
+10.2%
vibe: 4.5 | quality: 4.5 | service: 4 | selection: 4.5 | food: 4
This is on a very short list of my favorite places to drink beer in the country. Ginger Man (Austin), Blind Tiger (New York), d.b.a. (New York), and Redbones (Somerville, MA) join Michael's on this elite list.

The rotating selection of about a dozen taps typically includes about eight solid beers and two or three excellent ones. Also, the selection of bottles, about forty in number, includes many excellent beers such as Bigfoot and World Wide Stout . Storm King Stout is not easy to find on tap, but I have seen it here often.

Few things go better with these beers than a perfectly grilled medium-rare bison burger, with bison meat from nearby Georgetown Farm.

Great place.
Jul 01, 2003
Reviewed by Wildman from Ohio
4.1
/5
rDev
+4.3%
vibe: 5 | quality: 4 | service: 4 | selection: 4 | food: 4
This place is an upstairs restaurant with an eclectic menu and small bar. It has a nice selection of 12 micros on tap that they rotate. I had the Stone IPA, a perfect compliment to my meal. Also they had a nice selection of over 20 micos in bottles. I would not order a meal if getting the World Wide Stout however. The atmosphere was great, with some people playing improtu folk and nice crowd and great staff. Very small patio area. Would go back here again to eat and imbibe.
Jun 19, 2003
Michael's Bistro & Taphouse in Charlottesville, VA
Place rating:
3.93
out of
5
with
14
ratings