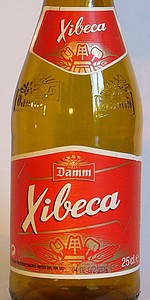 BEER INFO
Brewed by:
Damm S. A.
Spain
estrelladamm.com
Style:
Euro Pale Lager
Alcohol by volume (ABV):
4.60%
Availability:
Year-round
Notes / Commercial Description:
No notes at this time.
Added by Andreji on 07-20-2006
Reviews: 8 | Ratings: 15

2.11
/5
rDev
-23.6%
look: 2.5 | smell: 1.5 | taste: 2.5 | feel: 2 | overall: 2
Easily found in many format types. Pale gold color, crystal clear appearance. Brief crown, white in color. Sulphury & slight metallic odors. Sparkling upfront. Thin body. High carbonation. Watery mouthfeel. Artificial sweetness & floral bitterness. Flat.
254 characters
1.75
/5
rDev
-36.6%
look: 1.5 | smell: 1.5 | taste: 2 | feel: 2 | overall: 1.5
Cheap Barca swill... Enough said. But as I've got to type 250 characters:
If you find yourself broke in Barca, no doubt you'll end up drinking this, as I did in my youth on many occasions. You could do a lot worse down Lidl, where they offer some really horrendous stuff. Back in 2001 They had stuff as cheap as water, but not as good. A cold forty of this will hit the spot when your baking in the Barca sun. For me I'll have one when I'm there next just for nostalgias sake.
477 characters
1
/5
rDev
-63.8%
look: 1 | smell: 1 | taste: 1 | feel: 1 | overall: 1
If you are posed with the opportunity to purchase this beer in a 40oz glass bottle, allow me to suggest an alternative. Step 1: drive around the neighborhood until you find a roadkill skunk. Step 2: return home and place this roadkill skunk in your blender, food processor, or any small household appliance that will liquefy the contents. Step 3: pour the contents into your choice of drinking vessel. Step 4: enjoy! It's still better than Xibeca.
Seriously. On a trip to Barcelona to visit a friend who was obsessed with this beer, I had a sip here and there of several different containers of it, I would assume different batches, although I did not examine the labels very closely. Every single one tasted like skunks had been swimming in the fermenters.
758 characters

3.63
/5
rDev
+31.5%
look: 4 | smell: 3.5 | taste: 3.5 | feel: 3.5 | overall: 4
A: Pours a great crystal clear golden straw color with nice foam cap.
S: Aroma is of pilsner malts, and light hops.
T: Taste is of pilsner malts and a light hops as well with a slight corny taste.
M: Mouthfeel is a medium body with a slightly watered taste.
O: Overall nice solid drinker thanks to my lil bro for bringing it back from Spain.
345 characters
3.4
/5
rDev
+23.2%
look: 3 | smell: 3 | taste: 3.5 | feel: 3 | overall: 4
A - Light, clear yellow color with an average sized, foamy, bubbly, white head. Decent retention with just a bit of lacing left.
S - A bit thin. Fair amount of bready and a bit less grainy malt aroma. Pretty typical smell for the style, maybe a bit more wheat aroma than others.
T - Fairly bready, with some wheat flavors. Some other grainy malt flavors also there. Touch of grassy hop and very slight mineral taste in the background that comes out a bit more toward the end.
M - Light body with about average carbonation. Pretty watery but has a smoothness and refreshing feel.
D - Really a very drinkable beer. It is smooth and very refreshing. A little bland, so you might not be inclined to grab another, but if you are drinking it in Spain, another would probably hit the spot.
Notes: ABV = 4.6%. Had a couple of these in Barcelona as they are quite cheap at the grocery stores. A nice bready malt lager that is very refreshing and easy to drink. It really hit the spot in the Barcelona sun and that is probably when this beer should be drank, on a hot sunny day when you want something to cool off and to refresh you. Overall just an average beer, but a wonderful combination of location and beer makes up for it. If you are in Barcelona pick some up to escape from that mid-day sun.
1,295 characters
3.13
/5
rDev
+13.4%
look: 3 | smell: 2.5 | taste: 3 | feel: 3.5 | overall: 4
My family brought this one back for me from a trip to Spain. Poured as clear as day, an off-yellow color, looking like apple juice. The head looked nice: foamy, 2-finger, went down nice and slowly. The smell was almost nonexistant, but from what I could tell, it was pretty generic and malty. The taste was surprisingly decent: it was a standard cheap beer taste, a bit light and watery, but it really hit the spot. My thirst was definately quenched. It had little bitter bite at the end too, to save it from a completely bland taste. I could imagine myself sitting at a Spanish restaurant and drinking can after can of this beer. While by no means special in any way, this beer could be a solid choice to accompany a full meal on a hot day.
741 characters
3.08
/5
rDev
+11.6%
look: 2.5 | smell: 2 | taste: 3.5 | feel: 3.5 | overall: 3.5
Haven't seen one of these sold in anything but a 1 L bottle. Very cheap and found easily in the refrigerated section of the market.
A: very clear yellow, slight fizz.
S: typical lager smell, not much, a touch of alcohol and light malts
t: very smooth and refreshing. no strong flavors here, but no obvious off-notes or defects. good for a hot day or salty spanish food, but not for much else.
mouthfeel: fairly watery
drinkability: there's a reason this is the young students beer of choice- you can put these away all night if you are so inclined.
554 characters
3
/5
rDev
+8.7%
look: 3 | smell: 3 | taste: 3 | feel: 3 | overall: 3
Xibeca is a release for the catalonian community of cheaper beer meant to be shared (cerveza para compartir). It's sold in 'litrones' (1L bottles) and is cheap as hell, and was a standard in the freezer at my friend's house near Alfons X.
The pour is clear, clean golden with a gentle, white head that lasts and is stable but a considerable activity inside making it look a bit like a soda.
Smell and taste-wise? nothing fantastic. it's quite dry and wheaty/grainy instead of malty making it a fantastic thirst quencher. medium body, too, not watery at all I would believe.
Sure, it's not fantastic, but under the brutal Barcelona sun I will stock up on Xibecas again next time.
688 characters
Xibeca from Damm S. A.
2.76
out of
5
based on
15
ratings.