Deadicated Amber Ale
| Devil's Canyon Brewing Company
BA SCORE
82
good
15
Reviews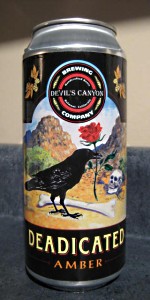 BEER INFO
Brewed by:
Devil's Canyon Brewing Company
California
,
United States
devilscanyonbrewery.com
Style:
American Amber / Red Ale
Alcohol by volume (ABV):
5.50%
Availability:
Year-round
Notes / Commercial Description:
No notes at this time.
Added by nickd717 on 09-09-2009
Reviews: 15 | Ratings: 52
3.38
/5
rDev
-4.2%
look: 3.5 | smell: 3.5 | taste: 3.25 | feel: 3.75 | overall: 3.25
5.4% per the label.
Pours a hazy copper with a foamy khaki head that settles to a partial film on top of the beer. Foamy swaths of lace form around the glass on the drink down. Tiny particles of sediment are seen suspended in the beer after the pour. Smell is of malt, caramel, earth, and citrus fruit aromas. Taste is much the same with slightly tart malt, earth, caramel, and citrus fruit flavors on the finish. There is a mild amount of hop and earth bitterness on the palate with each sip. This beer has a lower level of carbonation with a slightly crisp mouthfeel. Overall, this is an above average beer with a solid aroma, but the slight tartness in the taste is a bit odd to me.
Serving type: bottle.
709 characters
3.92
/5
rDev
+11%
look: 4.5 | smell: 3.75 | taste: 4 | feel: 3.5 | overall: 4
473ml can. Weird raven death imagery on the label - oh, Cali!
This beer pours a slightly glassy dark ruddy amber colour, with two fat fingers of puffy, silken foamy pale beige head, which leaves some pretty stellar honeycombed lace around the glass as it gently ebbs away, turning then to some equally thorough drooping webbed, branched vistas in the process.
It smells of biscuity, bready caramel malt, a touch of Toffifay, dried orange peel, and dusty, musty leafy hops. The taste is more crisp, dry bready malt, biscuity crackers not far from mind at all times, some oily nuttiness, a bit of musty caramel, some mild chalky cocoa notes, and softly bitter earthy, leafy hops.
The bubbles are a tad frisky at times, but duly settle down to business, the body a serviceable medium weight, and smooth with a high-palate airy caveat. It finishes off-dry, the caramel, biscuit, and nutty malt flavours all coalescing agreeably to a steady detente with the lingering, indeterminately bitter hops.
An enjoyable enough amber ale, a category replete with all things boring, usually, so it's nice to see a more peppy version, via the malt, especially, hit the shelves. If you like a bit of multivaried sass with your malty tipple, give this one some love.
1,251 characters

3.37
/5
rDev
-4.5%
look: 3.5 | smell: 3.25 | taste: 3.25 | feel: 3.75 | overall: 3.5
5.4% ABV according to my can. 16 fl oz aluminum can served into a Uinta brewing pilsner glass in me gaff in low altitude Los Feliz, Los Angeles, California. Reviewed live. Expectations are average; this is me first beer from this brewery.
Served straight from the fridge. Side-poured with standard vigor as no carbonation issues are anticipated.
Paired with tortilla crisps and salsa.
A: Pours a 3.5 finger beige colour head of nice cream and thickness, decent frothiness, and good (~4 minute) retention. Body colour is a dark amber. Translucent. Semitransparent. Abundant visible carbonation bubbles. No yeast particles are visible. No bubble show. A bit dark for the style, but the head is above average overall. It's appealing.
Sm: Floral hops, light toasted malt, toffee, caramel, spruce, and buried fruit zest. A somewhat intriguing aroma of mild strength. Caramel and toasted malts are dominant. Not strictly to style conventions, but pleasant and inviting. I'm excited to try it.
T: Cream up front gives way to the amber malt, toasted malt, and caramel body. Floral hops lend a bit of flavour, but come off generic. No yeast character or alcohol comes through. Maybe light toffee. A hint of candi sugar. A touch oily - a highlight here, with some light chestnut. Digging the well-executed nuttiness; it works well here. Surprisingly well balanced and built for the style. I actually rather like it. Good depth of flavour, though it lacks complexity or true subtlety. Still, I like what they're going for and I think it's well-executed for a nutty amber.
Mf: Silky smooth and refreshingly wet. Good presence on the palate. Lightly oily. Chewy. Good body. Complements the flavours quite well.
Dr: Quite drinkable, actually. I quite like this one. A surprisingly good amber from Devil's Canyon. I look forward to trying more of their beers. This will stick out as one of the better ambers I've had of late. I'd have it on-draught, but I doubt I'll be buying the canned form again soon; it's not THAT impressive. This has me real interested in the brewery.
B-
2,076 characters

3.53
/5
rDev 0%
look: 4 | smell: 4 | taste: 3.25 | feel: 3.75 | overall: 3.25
Lovely foamy pour with a very handsome red amber color. Pleasant grainy smell. Sudsy and lively on the tongue. Malty with a distinct roasted flavor.
I wouldn't say this will enliven the Amber Ale category, but it's perfectly drinkable. It has that herbal, slightly dirty hop taste that is not my favorite, but it seems like the classic Amber taste.
Scratchy, dark bitterness for the finish. Woody notes. Resiny taste in the back of the throat. From the 22 oz bottle purchased at Whidbey Beer Works in Oak Harbor, Wash. for $5.50.
531 characters

3.89
/5
rDev
+10.2%
look: 3.75 | smell: 3.5 | taste: 4.25 | feel: 3.75 | overall: 3.75
The CANQuest (TM) is suddenly making a detour into the late-1960's/early-1970's, or is it? I have been saying that we are making a return to that period for a couple/few years now and people are starting to get hip to what I am saying. I was vilified as an early punk in the early-1980's for my fascination of the hippies, but it was all part of the same counterculture movement.
I just reviewed Rivertowne Brewing's Grateful White, which was a little more subtle in its allusion, save for its verbiage. Yeah, the psychedelic graphics were a hint, but still subtle. This one is full-on Grateful Dead, from the intentional misspelling of the word "dedicated" to the skull, bone, crow/raven (?) and rose on the label art. I lost my virginity shortly after high school graduation to an older hippie chick during a Grateful Dead show on City Island (Harrisburg, PA) in 1983 and although I have not found it again, I thank her for the opportunity. Good times, man, good times. I also thank the Friendly Greek in Lancaster, PA for making this and a couple of other Devil's CANyon CANs available to me recently.
Man, I need to open a door or a window! The smoke is getting overwhelming in here. The Crack reveled another brimful craft CAN and I like that this is becoming a trending norm, rather than an anomaly. It is the darker beers, like an amber, for which the inverted Glug was created. The pseudo-cascading action is much more visible in such beers. I soon had two fingers of rocky, deep-tan head with good retention. Color was that shade of deep-amber that makes me wonder where amber leaves off and copper takes up. The NE-plus quality clarity allows me to once more look into the future and the weekend of 28 February when Val MidWest and I will be jointly celebrating our 21st and 50th birthdays, respectively, in her hometown of Lincoln, NE, where I was initially inspired to coin the term/phrase. Nose was very malty, but of a biscuit malt variety, as opposed to a simple sugary malt bomb. Mouthfeel was medium and the taste was of minty hops! I have had such Ambers in the past and if this is also a coming trend, I say bring it on! Yes, the malt was still discernible, but the hops were taking the lead. The finish was decidedly dry, especially for an amber. I CAN rememeber John Frantz, formerly of LNCBC, saying that the Amber style was dying about a decade ago. It is this kind of revamping that will revive it.
2,426 characters
3.68
/5
rDev
+4.2%
look: 4.25 | smell: 3.75 | taste: 3.5 | feel: 3.75 | overall: 3.75
A big shout out to the legendary woodychandler for this beer. Poured from a 16 oz. can. Has a pretty dark amber color with a 1 inch head. Smell is of caramel malts, a bit of hops. Taste is well balanced hops and malts, light caramel, refreshing and easy drinking. Feels medium bodied in the mouth and overall is a good quality beer.
332 characters
4
/5
rDev
+13.3%
look: 4 | smell: 4 | taste: 4 | feel: 4 | overall: 4
On tap at Zibibbo, Palo Alto.
Pours a lovely deep, dark copper colour, with twinges of red. Head is fine, poured a little low, but it has good retention. Very still in the glass, but looks solid. Sudsy lacing. Looks nice.
Pleasant nut characters on the nose. A little roasted malt sweetness, almost caramelised on the palate. Flavours of toffeed almonds. Some hoppiness wafting around to cut through the sweet flavours a little. Very nice.
Taste is very similar. More nuttiness, sweet candied almonds in particular. Hint of seltzer bottle water coming through on the back which adds some refreshment and lightness that wasn't suggested on the palate. Bit of bitterness on the back. Pleasant and reasonably crisp finish. Unusual, but pleasant for an amber. Mouthfeel smooth on the start, but crisp on the finish.
Yeah, this is a very nice beer. It's a good example of why an amber ale and a red ale are different styles to my mind. This one is nuttier, and maltier, while still retaining a subtle American hop bite. Very pleasant - this is something I could drink all night.
1,078 characters

3.56
/5
rDev
+0.8%
look: 4 | smell: 3.5 | taste: 3.5 | feel: 3.75 | overall: 3.5
473ml can poured into pint glass 9/1/13
A clear reddish copper with lots of bubbles of all sizes including some giants, a tight tan finger of foam has decent retention and leaves some random lace
S nutty toffee with some leafy, citric hops, fairly basic but decent
T a slight herbal aspect with some faint chocolate on top of what I smell, again not earth moving but respectable
M has some body and its creamy from the bubbles, slightly earthy aftertaste
O reminds me more of nutty brown ale then anything, OK beer but nothing to go looking for
nothing wrong with this one but nothing to set it apart from all the others, worth a shot but don't go looking for it
672 characters

3.06
/5
rDev
-13.3%
look: 3.5 | smell: 3 | taste: 3 | feel: 3.25 | overall: 3
A very random grab while in Tampa, FL last month. Kept in fridge for the last few weeks.
A- The tallboy can pours out a dark red, mostly clear ale. A foamy cap builds up to just under one finger. Decent head retention as it dies to a medium belt at the edges. Plentiful lace in the form of sheets.
S- Heavy malts produce most of the aromatics for me with plenty of caramelized notes. A high dose of toast and roast grains join that. Hints of pine and citrus hops secondary to that with something slightly metallic.
T- Firstly, whatever was metallic goes away here for me. The hops brighten up some with more pine and orange peel hints coming out. Caramelized crystal grains make up most of the flavor with nutty, toasty and some roast tones adding to the malt profile.
MF- Medium bodied, perhaps just a bit above that, with a creaminess on the palate. Carbonation is on the high side with a moderately bitter finish.
Takes a bit of time to balance out on the palate but in the end it finds a decent balance between caramelized malts and citrus hops with some pine in there. Tastes oxidized and slightly metallic at times but it seems to go away with time.
1,160 characters

3.65
/5
rDev
+3.4%
look: 3.5 | smell: 3.5 | taste: 3.75 | feel: 3.5 | overall: 3.75
Poured from can into a pint glass
Appearance – The beer pours a deep amber color with a 2 finger billowy white head. The head fades rather rapidly leaving a lighter level of lace on the sides of the glass.
Smell – The aroma is of lightly toasted malt with some bready aromas and a rather decent showing of caramel. Along with these smells so too comes some aromas of a floral and nut with a small amount of a citrus smell.
Taste – The taste begins with a caramel malt flavor mixed with a rather decent bready taste. As the flavor advances nut flavors as well as a hint of cocoa come to the tongue. While these flavors enter the brew sweetens up a bit but is balanced by some herbal and grassy flavors coming to the tongue more toward the end of the taste. In the end the combination and transitioning of flavors end up leaving a bready and crisper flavor to linger on the tongue.
Mouthfeel – The body of the beer is on the rather average in terms of its thickness and creaminess with a carbonation level that is rather average as well. Both are appropriate for the style and good for the crisp feel of the brew all while keeping the lightly roasted flavors from being sensed.
Overall – A rather enjoyable amber with a slightly sweeter but still balanced flavor.
1,276 characters
3.47
/5
rDev
-1.7%
look: 3 | smell: 3.5 | taste: 3.5 | feel: 3.5 | overall: 3.5
Ran into this on tap at the California Cafe in Los Gatos, CA, this is a dark copper mahogany colored brew with a whispy white topping that leaves some reasonable signs of lacing. The nose picks up caramel and a suggestion of chocolate with a very mild pine hop. Subtle but pleasant. The tongue picks up tangy grass hop and tart caramel malt with a touch of berry and some pine finishes off the dry hop bite. Medium bodied at best with very subtle carbonation, a very dry but smooth feel. This is too acrid to be high on my list but it's not bad. A little sweetness to balance, more of the pine idea would have made this more flavorful for me.
642 characters

3.63
/5
rDev
+2.8%
look: 3.5 | smell: 3.5 | taste: 3.75 | feel: 3.75 | overall: 3.5
Never heard of this brewery before and since I'm trying hard as hell to get to a thousand reviews before new year's eve, I bought it and another one.
This one falls into your nothing special/ average beer.
A desent beige head, ruby amber color with light lacing.
The aroma was basically all malt which one might or could expect from beers in this catagory.
Taste was malty with a dry tangy finish.
It drink smooth across the palate with a dry bitter finish.
Go 878!
465 characters

3.2
/5
rDev
-9.3%
look: 3 | smell: 3 | taste: 3 | feel: 3 | overall: 4
On draft at Beer Friday at Devil's Canyon, apparently also known as "Thomas Morgan Amber Ale." Pretty standard amber ale overall.
A - Deep amber color, small off-white head.
S - Caramel malt and some citrusy hops.
T - Caramel malt and citrusy Cascade hops. Not particularly good or bad, just average.
M - Medium body, medium carbonation.
D - This is the one category where this beer fares well. Like other DC beers, it's pretty drinkable. Just wish these guys would foray into some more interesting stuff.
520 characters

3.21
/5
rDev
-9.1%
look: 3.5 | smell: 3 | taste: 3.25 | feel: 3.25 | overall: 3.25
Fits the appearance of an amber to a T. Amber hue, finger-width head, light lacing. Smell is wheaty and malty. Caramel, toffee, bread, crackers, faint dry hops and hay.
Ambers are a guilty pleasure of mine, but I am pretty particular with them when it comes to taste. This one has a nice balance that I enjoyed. Not overly malty like some tend to be, with the hops coming through just enough to balance things out. Nice doughy, bready, cracker character held up by the hefty but not overbearing malt backbone.
Straight shooting amber.
537 characters

3.37
/5
rDev
-4.5%
look: 3.5 | smell: 3.25 | taste: 3.25 | feel: 3.75 | overall: 3.5
Pretty drinkable amber with decent flavors but everything going on for this beer is pretty muted/watered down. Not enough malt heft, not particularly roasty, not really hoppy or anything, just ok all around.
207 characters
Deadicated Amber Ale from Devil's Canyon Brewing Company
3.53
out of
5
based on
52
ratings.