Belle
| Devil's Canyon Brewing Company
BA SCORE
83
good
15
Reviews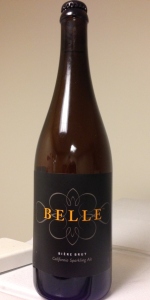 BEER INFO
Brewed by:
Devil's Canyon Brewing Company
California
,
United States
devilscanyonbrewery.com
Style:
Bière de Champagne / Bière Brut
Alcohol by volume (ABV):
6.00%
Availability:
Rotating
Notes / Commercial Description:
No notes at this time.
Added by afrokaze on 03-20-2012
Reviews: 15 | Ratings: 40
4.06
/5
rDev
+13.4%
look: 4 | smell: 4.25 | taste: 4 | feel: 4 | overall: 4
A: Pours a translucent golden with a white head.
S: Non-citrus-forward-fruity hop character in the nose, with peach, apricot, and fruity Belgian yeast esters.
T: Malty, crisp, some apricot, funky belgian yeast, citrus.
M: Light bodied and smoothish.
O: Pretty good, though I feel like the style is more apt for a hoppier, more orange, tropical fruit-forward taste.
368 characters

4.04
/5
rDev
+12.8%
look: 3.75 | smell: 4 | taste: 4 | feel: 4 | overall: 4.25
Attractive golden brew with a modest foam in the Troubadour tulip. The warm wheat taste is so inviting. There is just a touch of yeastiness, and the dry finish does reveal the Belgian character, though rather shyly. Fruity aroma with a pleasant pear taste.
Light bodied but definitely malty. Totally drinkable, mild, and mellow, but with a Belgian yeasty zing. I think this is a category that should be explored more by American brewers. From the 750 ml bottle purchased at Whidbey Beer Works in Oak Harbor for $8.25.
518 characters

4
/5
rDev
+11.7%
look: 4 | smell: 4 | taste: 4 | feel: 4 | overall: 4
A - Pours a super clear golden-orange with a finger of frothy white head. The head fades down at a normal pace leaving behind some lacing.
S - Aroma is a mix of sweet grainy malts, some lemon zest and light grassy hops, and a bit of honey.
T - Starts off with a mix of sweet grainy malts with some light citrus hops and lemon zest. Through the middle, some biscuity malt comes through with some light grassy hops and honey. The finish is a mix of sweet grainy malts, lemon zest, light grassy and citrus hops, and some champagne yeast.
M - Medium-light bodied with moderate carbonation. Feels smooth with a dry and lightly tart and sweet finish.
D - Very drinkable. Smooth and well balanced. Very drinkable, but a touch empty.
729 characters

3.8
/5
rDev
+6.1%
look: 3.5 | smell: 4 | taste: 3.75 | feel: 3.75 | overall: 3.75
Pours a lightly hazy pale yellow with a small white head. In the aroma, a dry fruitiness and somewhat champagne like. In the taste, sweet to dry pears and a mellow yeasty presence. A small bite and lighter bodied mouthfeel, with dry pear skins and fruitiness in the aftertaste. Quite nice, fruity and dry.
305 characters
3.71
/5
rDev
+3.6%
look: 4 | smell: 3.5 | taste: 3.75 | feel: 3.75 | overall: 3.75
poured from a 750ml bottle into a flute. no dating that i could see.
looks very attractive, pale yellow with lots of small carbonation. head is small and bright white.
mild aroma, slightly champagne like.
taste is also very mild, some maltiness, quite pleasant really, just no particular powerful flavor. could probably slam this all night.
feel is a tad below medium, only slightly dry at the finish.
overall, an interesting experience. likely wont be avidly hunting this style down again, but would consider it if one popped up on the shelf.
551 characters
3.69
/5
rDev
+3.1%
look: 3.75 | smell: 3.5 | taste: 3.75 | feel: 3.75 | overall: 3.75
Large format bottle decanted into a flute over the course of several pourings. This effervescent sparkly brew is a light lemon yellow color with a frothy persistent white head. Aroma prominently features doughy pilsener or pale malt, apple and pear-like esters along with a little Belgian yeasty funk, hard fruit candy, and faintly fragrant and earthy hay-like hops. Smells like a hybrid continental lager/Belgian or French ale, quite unique, although the aroma was subdued overall. Palate was also quite distinctive and surprising, a solid backbone of doughy sweet malts propping up a strong gooseberry hop flavor that gathered steam over the course of the session and some mellow yeast-derived phenols. There is quite a pronounced residual sweetness that almost veers into cidery territory, the carbonation is much lower than expected (or than the appearance suggests!), and the mouthfeel is almost chalky and thicker than expected. Finishes rather hoppy, more gooseberry jam and candied lemon. This beer does not jive particularly well with written descriptions of the style (e.g., Larson's "Beer Select-o-pedia", 2014) although it does convey some Belgian character and is interesting on the basis of its own merits. I probably wouldn't move mountains to obtain another bomber.
1,281 characters
3.61
/5
rDev
+0.8%
look: 4.5 | smell: 3.5 | taste: 3.5 | feel: 4 | overall: 3.5
Poured from a 750mL bottle into a tulip glass. Bottle is capped, not corked.
A: Gorgeous and perfectly clear gold. Slight bubble streams rise in necklaces of ephemeral beads. Very light head. Looks like champagne.
S: Sweet and malty
T/M: Interesting. Not as champagne-like as others of the style, but still crisp, dry, carbonated, and vaguely wine-like. Unfortunately, it also tastes lagery and the aftertaste is lingering, sweetish malt (corn?) mixed with dry-flat yeast.
O: Rather disappointing, honestly. A pretty good beer, but a far cry from DeuS or Malheur Brut. Tentatively recommended.
597 characters

3.59
/5
rDev
+0.3%
look: 4.25 | smell: 3.25 | taste: 3.5 | feel: 4 | overall: 3.75
750ml bottle poured into flute 10/1/13
A clear pale straw yellow with plenty of tiny champagne like bubbles, champagne like foam that fizzes out in seconds and makes some noise, meets the style and looks more like champagne then beer
S reminds me of apple juice and ginger ale dumped in the same glass, mineral water and white fleshed fruit with champagne yeast
T the gingers a little spicy and it mimics the smell with some citric and bready notes topping it off, unripe hard pear becomes noticeable with some hay I didn't pick up on the nose
M pinprick bubbles in a thin body, its alive for sure and a little slick after the fact, its on par for the style
O decent beer in a style that has very high expectations, even the low point still smelled OK, Oh dear that could be interpreted in a number of ways
Perhaps I've just been very lucky or even spoiled with some beautiful examples of the style in the past, this is a decent brew and perhaps I shouldn't make comparisons to classics that cost twice as much
1,020 characters

3.5
/5
rDev
-2.2%
look: 3.5 | smell: 3.5 | taste: 3.5 | feel: 3.5 | overall: 3.5
On tap at Harry's Hofbrau, 3/15/12, for Devil's Canyon (sort-of) tap takeover.
Pours a light straw gold with good clarity and lively carbonation, head settles quickly with almost no lacing.
Smell is light grainy malt, hay/wheat, earthy hops, some citrus and a bit of honey sweetness. A bit of off aromas (veggie/band-aid) are evident too.
Taste is a clean malt sweetness, somewhat bready and grainy, some herbal hops, corn, some lemon citrus and bit of tartness in the finish.
Has body more like a pils or kolsch, but has the prickly carbonation from the champagne yeast. Light and effervescent with a clean finish, no sign of the ABV.
Another interesting one from Devil's Canyon, it's cool to see that they're branching out from their regular lineup. More like a kolsch with a champagne yeast finish than a dry traditional brut, but the malt and slight citrus adds some character. Very drinkable but 1 is enough for me.
935 characters
3.5
/5
rDev
-2.2%
look: 3.5 | smell: 3.5 | taste: 3.5 | feel: 3.5 | overall: 3.5
As a Belgian beer, this is somewhat okay. As a biere de champagne, it's so-so. Has a consistent sweet tone. Seems a bit too thick for the style and a bit too bready. It's okay, but it doesn't really do much for me. A good attempt at a style rarely done.
253 characters
3.47
/5
rDev
-3.1%
look: 3 | smell: 3.5 | taste: 3.5 | feel: 3.5 | overall: 3.5
On tap at the BevMo Holiday Beerfest held at Golden Road Brewing in Los Angeles, CA.
Pours a clear light yellow with a foamy off-white head that settles to a film on top of the beer. Small dots of lace form around the glass on the drink down. Smell is of malt, fruit, and yeast. Taste is much the same with a mild bitterness on the palate with each sip. This beer has a lower level of carbonation with a slightly crisp mouthfeel. Overall, this is a pretty good beer that is pretty tasty but fairly basic.
506 characters

3.34
/5
rDev
-6.7%
look: 2.5 | smell: 3.5 | taste: 3.5 | feel: 3 | overall: 3.25
Straw-light gold color with a thin sizzling disc of white foam. Retention is near poor.
Dry malts with a crackery nose and a fruity push of white grape and gooseberry. Faint crispness masked by active yeastiness and vinous character. Hint of white cranberry, without the tartness.
Has too much sweetness for a Brut. Pale malt sweetness with light strawberry. Gooseberry and faint banana. Finishes a little drier with leftover carbonation. Body is wet, but boring. Does not exude crispness or real drinkability.
512 characters

3.16
/5
rDev
-11.7%
look: 2.75 | smell: 3.5 | taste: 3 | feel: 2.5 | overall: 3.5
C
750ml into a tulip. Pours a crystal clear light golden copper, minor pure white head was brief, minor lacing. Fails terribly in qualifying carbonation for a Bière de Champagne.
Aroma is mild, yeasty, lightly sweet, unnameable light skinned fruits.
The flavor is an interesting collection, yet none clearly describable. Mid level sweetness from unripened fruit, fairly dry finish. Light in bitter. Medium bodied mouthfeel feels inappropriate.
a disservice to consider this a Bière de Champagne
it is a Bière de Garde
cheers
jd
534 characters

3.12
/5
rDev
-12.8%
look: 3.25 | smell: 3 | taste: 3.25 | feel: 2.5 | overall: 3.25
[Suggested Glassware: Flute]
The pour was a sparkling clear pale yellow with a small (less than 1 finger) white fizzy head that diminished in a matter of seconds, and had virtually no lacing at all.
The aroma was of a light grain malt, mild grassy hops and a musty horse blanket yeast with notes of citrus (lemon) and green apple.
The taste was a tad sweet and lightly grainy with a good fruity presence early on, becoming a bit yeasty and very lightly bitter with a hint of citrus and a funky fruity ending. The flavor lasted a very short time proceeding the swallow, with a funky fruity grain aftertaste lingering on for a short while longer.
Mouthfeel was extremely light in body and watery in texture with a strong fizzy champagne like carbonation.
Overall I found this to be a very interesting style of beer. It is a lot like a fizzy light ale, but not, with a nice fruity undertone. I am not a big fan of Champagne, so this is a perfect sustitute to have on hand for those holiday toasts...
http://www.facebook.com/KAJIIsBeerReviews
1,044 characters
3.04
/5
rDev
-15.1%
look: 3.5 | smell: 2 | taste: 3.5 | feel: 3.5 | overall: 3
750ml Burgundian bottle, an appropriate start to New Year's Eve 2013 celebrations.
This beer pours a crystal clear, very, very pale golden straw hue, with three fingers of fizzy, sparkling foamy white head, and some sparse rising effervescence, which leaves a few patches of streaky, sudsy lace around the glass as it quickly dissipates.
It smells of semi-sweet, crisp grainy pale malts, a bit of lemon rind, some quite sharp grassy, leafy hops, a subtle yeastiness, and more than a bit of overcooked veggies. The taste is sweet, sugary, somewhat biscuity pale malt, some apple and pear fruitiness, a waning lemon crust note, mildly gamey yeast, earthy honey, and leafy, weedy hops.
The carbonation is finely fizzy, which by nature is short-lived and enticing, the body medium-light in weight, and a tad clammy in its rather plain smoothness. It finishes well off-dry, the honeyed graininess contending expertly with the lingering fruitiness, wafting heat, and echoes of the skunkiness that really never was.
Whew - this sure started off as one hell of a surprise - could an apparently crafted Biere Brut actually be anything like the bottom shelf stars of your local booze-mart? Thankfully, that initial unpleasantness burns off soon enough, leaving something drinkable enough, but with few characteristics to recommended it as a Champagne analogue - biscuity grain, and swirling tiny bubbles, to name a few. Not at all in the same league as Charlevoix's Brut or the venerable Malheur or Deus.
1,498 characters
Belle from Devil's Canyon Brewing Company
3.58
out of
5
based on
40
ratings.