Boltmakers Arms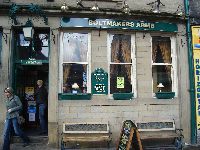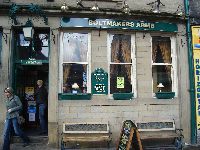 Bar
117 E Parade
Keighley
,
England
, BD21 5HX
United Kingdom
+44 (0)1535 661936 |
map
boltmakersarms.co.uk
Notes:
Reviews by TheLongBeachBum:
TheLongBeachBum from California
4.66
/5
rDev 0%
vibe: 4.5 | quality: 5 | service: 4.5 | selection: 4.5
After an early start at the Livery Rooms, it was time to head across town to Stop #2 on our Keighley pub crawl. The rain continued to fall but soon I found myself in front of the **mighty** Boltmakers. The cleaned stone built façade and stern Victorian frontage is broken with a series of dark green and gold Timothy Taylor signs.
I have left my original BeerFly (below) unchanged; it still sums up perfectly my thoughts about this place. However, the great news is that the beer range has expanded, significantly! Now a full range of the locally brewed Timothy Taylor Ales are on Sale, bar the seasonal Porter (which I don't much care for anyways). On my visit Five Wickets were dispensing TT Ram Tam, Landlord, Best Bitter, Golden Best and Dark Mild. Bottles of Havercake Ale, as well as Landlord, were also available for take out. In addition to the house brews, two more Guest beers were also on sale at the top of the back end of the Bar, I recall one being from Saltaire Brewery, but I was here only for the Taylors. Awesome TT selection AND Guests - Seven (7) Real Ales in a Pub whose interior feels no bigger than the main room in my small Long Beach Apartment, selection mark is revised accordingly.
The quality of the Timothy Taylors beers in the Boltmakers is DEFINITIVE and has been for many years. And it's good to report that "Nowtz Changed". I ordered a Pint of Ram Tam, and it was served like a Guinness, a 2/3rd Pint pull into the logo'd TT Pint Glass followed by a gentle 30 second, or so, period of settling. This was all wrapped up with a quick pull and a few careful "flicks" of the Beer Engine to produce a very creamy looking dark pint of Ram Tam with a fine creamy head barely larger than a 5-pence piece – the stunning looks and presentation were only a flavor of things to come, the Ram Tam was intensely quaffable, sheer luxury.
A sorely missed delightful little gem and still the crowning glory in Taylors estate for my money. Quite simply, Mecca for Taylors Men of the North, or as one local said during my visit;
"Aye Lad, thaz ne'er supped reet T'hay-lerz….til thaz bin ere!"
Bring your Prayer Mats. Very Highly Recommended.
Last Visit: Saturday 8th April, 2006.
** ** ** ** ** ** ** ** ** ** ** ** ** ** ** ** ** ** ** ** ** ** ** ** ** ** ** ** ** ** ** ** ** ** ** **
Keighley (pronounced "Keeth-lee", in case any non-UK residents ever get round to reading this), is the home town of the Timothy Taylor Brewery. A classic English brewer of Pale Ales that was established in 1858, & is still family-owned & Independent.
The Boltmakers Arms is one of Taylor's better known outlets. I first did a Pub-Crawl of Keighley with friends on my 19th Birthday in 1988. I last did it just before I left England to come to the USA. Probably just a 10 min. walk from the delightful mainline Railway Station, that sits along the KWLR line, home to many preserved Steam Engines & Oakworth Station (of Railway Children Film fame).
Whilst in Keighley, a stop at the Boltmakers was always an event that we looked forward to. It has long had a reputation for serving the highest quality Real Ale & having an excellent range of Single Malts. The range is limited by the 3 Handpumps, all offer Taylor's, but that is exactly why you come here, to imbibe the fine offerings from one of England's greatest Independent Breweries, right in its home town. I always do the full range on offer - starting with the marvelously light but fruity Golden Best which belies its 3.5%ABV. The Best Bitter at 4% is next, a robust bitter that is more malty than most. Then finish with the crème-de-la-crème, the exceptional mighty Landlord at 4.2%, surely one of the greatest well-balanced Real Ales available in the UK.
The Boltmakers sits between a Restaurant & a Decorating shop & is often missed. A smallish 'boozer' that comprises just a single room, albeit split front & back. As you enter, the wooden bar is to your left. The front area is cozy & has a Real Fire, whilst the back area has a TV & Dartboard.
Timothy Taylor's is more widely available now than it ever was when I first started drinking it in the mid-80's. Cask Ale is alive & as such it requires constant attention, skilled care, lots of love but more importantly– time! This is not always the case in today's modern Free-Trade & Pub-Chains. So if you want to try Timothy Taylor's at its very best, you should head for a Taylor's Pub. Spending a day in Keighley can be very rewarding & the Boltmakers should definitely be high on your list. Frequently voted Pub of the Season by the local Keighley Branch of CAMRA.
Serves Sandwiches only, who the bloody hell cares, because on your way back to the Railway Station, you can stop at one of the numerous excellent 'Chippies' for some authentic Yorkshire Fish n' Chips to wash all that Ale down.
Apr 27, 2006
Boltmakers Arms in Keighley, GB2, United Kingdom
Place rating:
4.66
out of
5
with
1
ratings