In De Oud Pruim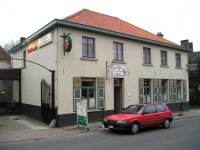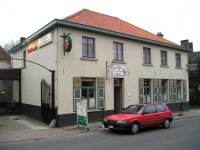 Bar, Eatery
87 Ukkelse Steenweg
Beersel
, 1650
Belgium
+32 (0)23 31 05 59 |
map
indeoudepruim.com
Notes:
Reviews by UncleJimbo:

UncleJimbo from Massachusetts
3.88
/5
rDev
-2.3%
vibe: 4 | quality: 4 | service: 3.5 | selection: 4 | food: 4
An unassuming pub, reminiscent of a German gasthaus. Tablecloths, curtains, the family of the owners in the pub.
3 taps during my visit: Pils Ulricher (a rare pilsner made by a lambic brewer), Kriek Lindemans, and Grimbergen Blond. About 30 bottles on the menu.
The room is L-shaped with the bar in the middle, in front of the door as you enter. A bell rings when the door is opened. Bricks and wood. A typical Belgian brick bar. Bright and sunny in the room with the windows to the street.
5 Generations of the Derauw family have run this pub since 1871. Fairly friend place.
Beers were good.
Had some food: Met Schepkaas. A salty, "stinky" cheese served with butter, whole grain bread, raw white onions, slices of radish (black radish). Tasty.
Overall, a cool pub that one should visit when in Beersel.
Visit 19-NOV-2007
Sep 12, 2010
More User Reviews:
DaPeculierDane from Wisconsin
3.66
/5
rDev
-7.8%
vibe: 3.5 | quality: 4 | service: 4 | selection: 3
Visited: 8-18-08
After a fun stop at Camping, Elaina and I crossed to In De Oud Pruim, a bar owned by the family Derauw since 1871. The vibe was small town, family owned café complete with a beautiful family tree on the wall. The Derauw family is now on their 6th generation in the bar business and still going strong. We ordered a bottle of Giradin Geuze (Black Label) from our French speaking waitress and listened to the Flemish spoken by the patrons as we played cards. Tap Giradin Lambik and Pils were available as were a few bottles from Boon. Also make sure you ask if any Girardin White is available. Although the selection was minimal, we did enjoy In De Oud Pruim as an excellent example of the family owned Lambik Land beer bar.
Sep 12, 2009
willjansen from Colorado
2.75
/5
rDev
-30.7%
vibe: 3.5 | quality: 2 | service: 3.5 | selection: 2.5 | food: 3
Okay, I will first say that this review will differ from those before it. It appears as though this hasn't been reviewed in about 4 years on BA, and I'm afraid times have changed.
My girlfriend and I arrived in Beersel on a beautiful spring afternoon, dropped our bags and went first to here to check out one of the traditional lambic cafes of Payottenland. We sat outdoors in a nice back courtyard under an umbrella - but the first clue to the change that this place has undergone was that this umbrella was a Lindeman's umbrella!
Stoked by Time Webb's (and other's) description of this as an "old lambic cafe with draft lambic included in the list of 50 with most offerings from Boon and Dupont", I eagerly opened the menu. I was shocked and saddened to see that is no longer the case! It appears as though Lindemans has replaced the vast majority of their traditional lambics/guezes/krieks, etc. Only sweetened Linemans Kriek on tap (and a pils) and the regular line of Lindemans bottles (along with about 20-30 easy-to-find-in-Belgium beers like Duvel, Leffe, etc). And... no Boon or Dupont as promised by Mr Webb.
As we looked up and around, we started to notice Lindeman's gear everywhere - waiter's shirt, umbrellas, garden thermometer, signs, coasters, neon lights, serving trays, etc etc. Hmmmm...
The only real lambic they had (thankfully) was Girardin Geuze - but I can't even tell you if it was the white or black label since he only brought out the glass with beer in it. The service was good, though little English was spoken and a basic knowledge of Dutch will go along way. We had some food too, which was just okay.
Though this would be a great selection of beer for a cafe/pub outside of Belgium, it is now firmly entrenched in the realm of "boring-for-Belgium and no longer a specialist beer cafe worth seeking out in my Opinion. As Longbeachbum seems to foreshadow in his review from many years ago, "one day places like this may not exist"... and this one does only in name. I don't really know what happened here, but I think most of us can hazard a good guess...
My advice: When in Beersel, head straight to Drie Fonteinen.
May 21, 2008
GreenCard from Maryland
4.5
/5
rDev
+13.4%
vibe: 5 | quality: 4.5 | service: 5 | selection: 4 | food: 4
BelgianBeers and I met up with LBB and some of his CAMRA-cronies at this rustic little bar/restaurant near the Drie Fonteinen brewery. A place I probably would never have been to if it wasn't for LBB!
Dining or drinking here is kind of like being with someone's family (in a good way... not in the "evil in-laws" way). The interior is cozy and warm, lots of dark wood and natural light coming in through the big windows. There were a whole bunch of books laying out on a table right at the front door. Not sure what that was about, but I assume they were for sale.
Anyway, we were all drinking some TASTY Girardin geuze and lambic. Very appetizing and thirst-quenching. The food looked rustic, delicious, and comforting. I just had a portion of "toast au champignon", but the steaks and frites that everyone else had couldn't have been too bad either.
Service was a bit slow, but friendly and attentive. I think the place was family run. A lady in her 60's-70's was running the place with a younger fellow (probably her son?). She really took her time to "mother" us. At one point, she brought out another helping of frites because one of the guys in the group looked like he hadn't gotten enough.
A good place to go if you'd like to try a good "cross-section" of Belgian food and beer. Like LBB mentioned, they have other things than geuze and lambic, but when you're in Payottenland... why bother?
Apr 12, 2004
TheLongBeachBum from California
4.55
/5
rDev
+14.6%
vibe: 4 | quality: 5 | service: 5 | selection: 4 | food: 4
The 'In De Oud Pruim', Beersel, holds mixed memories.
Good: Because during my first visit to Beersel at Easter '94, it was one of the many places that I first drank traditional lambics.
Sad: Because recently it was a much-needed refuge after walking back from the closed Oud Beersel Café, which I later found had closed for good.
That said, a visit to the 'In De Oud Pruim' is no disappointment whatsoever for lambic heads. If you travel here from Brussels on a Sunday as I did, catch Tram #55, alight at Uccle Calevoet, cross under the Railway lines, catch the #154 White Bus. The bus will drop you nearby the Oud Pruim, the stop after is Beersel (main square) Gemeenteplein.
A smart looking white washed 2-storey building with a red-tiled roof & shuttered ground floor windows. As you enter, it has an L-shaped interior. Neatly laid-out wooden tables on the left stretch to the back of the building - many people tend to sit at this side when they choose to eat here (the food is excellent). To your right, smaller round tables & a bench seat set against the front wall is where most of the casual drinkers sit. I sat here & had the luck to face the small bar in front me, which in turn covers the entrance to the kitchen.
The well formatted beer list numbers around 45. But the quality is exceptional & contains many traditional lambic. Boon & Girardin (White & Black-Label) Gueuze are available. A few Krieks & Framboise are also on the list. Draft beer includes Girardin Lambik (spelt with a 'k' I noted), this is very rare, dearly treasured & highly recommended. In De Oud Pruim is also the ONLY outlet that I am aware of that sells the 5% Girardin Pils (draft) called Ulricher Extra, nothing special but far better than most Belgium Pi(l)ss. There are some non-lambic beers, but I don't bother with these so I never note them down. The service was superb, as if by magic, the woman serving was always next to my Table just as my beer ran out – we chatted. She was helpful & also pointed out that the chap that I had earlier held the door open for as he left – was none other than Mr. Girardin himself – his family have Sunday Lunch here it seems.
A very clean, petite, quiet bar that probably seats no more than 30, or so, people. Beersel is well worth a Full Days visit & you must come to the Oud Pruim. Just sitting here, & trying to decide which traditional lambic to have next – Oh, such hard work!!
Small, but perfectly formed.
One day, places like this may not exist.
Last Visit: Sun. 24th Nov. 2002.
Jun 20, 2003
In De Oud Pruim in Beersel, Belgium
Place rating:
3.97
out of
5
with
6
ratings