Swinckels Volmaakt
| Bavaria Brouwerij N.V.
BA SCORE
82
good
13
Reviews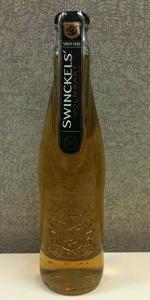 BEER INFO
Brewed by:
Bavaria Brouwerij N.V.
Netherlands
bavaria.nl
Style:
German Pilsener
Alcohol by volume (ABV):
5.50%
Availability:
Year-round
Notes / Commercial Description:
No notes at this time.
Added by Mavajo on 12-18-2009
Reviews: 13 | Ratings: 22

3
/5
rDev
-15.3%
look: 3 | smell: 3 | taste: 3 | feel: 3 | overall: 3
Two bottles of this was given to everybody present at a recent tasting by the Bavaria guy. Thanks!
Poured into a snifter.
This comes out yellow, clear and with a good two fingers of nice fluffy foam leaving a nice amount of lacing.
On the nose lots of pilsner malts, hop and a bit of yeast.
A mild malty flavor with a hint of hop in the background.
A light to medium body. Flavors don'tlinger and it doesn't have the 'crisp' I like in pilsners.
Not bad for a summer evening or to enjoy with a nice spicy meal. Memories of this beer will probably fade fairly quick...
573 characters

3.03
/5
rDev
-14.4%
look: 3.5 | smell: 3 | taste: 3 | feel: 3 | overall: 3
A-Golden with one finger white foam,lasting minute or two.
S-Usual lager aroma,lemon maybe,
T/Maybe a bit bitter,drinkable. Very usual lager,nothing new.Maybe some bigger citrus aroma.
O-Must admit this is a bit better pale lager then usual,but also
a less good pilsener.
271 characters

3.25
/5
rDev
-8.2%
look: 3.25 | smell: 3.25 | taste: 3.25 | feel: 3.25 | overall: 3.25
On tap. Pale malt aroma, with honey and a bit of sourness. Crisp and bitter taste, with a corn-like sweet layer underneath. Drinkable, I guess OK on a hot summer day.
166 characters
3.25
/5
rDev
-8.2%
look: 2.5 | smell: 2.5 | taste: 3.5 | feel: 4 | overall: 3.5
This bottle was a present from the Bavaria representative at a tasting at 'de Molen' brewery on 21st of January 2012. Thanks for letting us have a try for this beer.
A - A clear gold sits in my Struise glass, very nice to watch with some carbonation bubbles racing to the surface. I could get a head though and that is disappointing for a Pilsener. There was only a thin white foam ring. For the record; my glasses are clean! Maybe it was the 5 degree Celsius that nagger-ed the foam.
S - It smells like, surprisingly, a Pilsener.
T - The taste is rather full, fresh and bitter. There is a tiny bit of sweetness which makes it pleasant to drink.
M - The medium carbonation fits this beer perfectly, the after taste is rather bitter though. Maybe it is better to drink on a summer evening.
O - I like the bottle, if there were points to be given for presentation it would have been high. Overall a good Pilsener.
916 characters

3.43
/5
rDev
-3.1%
look: 3.5 | smell: 3 | taste: 3.75 | feel: 3 | overall: 3.5
Had a few of the tap version of this beer and I liked it quite a bit. The real surprise was when I heard that this specific beer (I had never heard of Swinckels before) is produced by Bavaria, by far my least favorite Dutch beer. Overall, the drinking experience was a good one, nice taste, mouthfeel's okay, looks beautifully bright.
334 characters
3.54
/5
rDev 0%
look: 4.5 | smell: 3 | taste: 3.5 | feel: 3.5 | overall: 4
11.2 ounce bottle - Olde Crabapple Bottle Shoppe in Alpharetta, Georgia. A fancy, albeit it clear bottle design.
Appearance: Pours a clear, golden body with a full inch of snow white suds. Thin layers of lacing on the descent.
Smell: Smells skunky immediately upon opening the bottle, though not overpowering, as it is in some cases. Given a moment to waft away, it reveals a faintly sweetish pils malt scent with wee notes of spice and citrus.
Taste: Lightly sweet, softly grainy pilsner maltiness. A few pleasant drops of honey water. Low lemony citrus quality. A hint of spicy, bitter herbs accompanied by some bitterness to balance. Soft, subtle, drying finish.
Mouthfeel: Medium-light body. Moderate carbonation.
Overall: A beer that seems it'd be far, far better fresh at its source and preferably on tap, as these clear, ornate bottles won't properly protect its contents within for long journeys.
909 characters

3.58
/5
rDev
+1.1%
look: 4 | smell: 3.5 | taste: 3.5 | feel: 4 | overall: 3.5
From the local beershop
Look: the beer pours a clear yellow-golden color with a huge fluffy head
Smell: Grass, hops, malts, some honey and skunk…
Taste: Like a regular pilsner, with a soft and smooth aftertaste
Mouthfeel: Thin body, medium carbonation
Overall: A nice beer, but why sell it in clear glass bottles. It is sold cold in the shop (in a specially designed fridge), but the fridge has light on….this is almost asking for a beer to be skunked. Having said that, fresh this is amazing!
497 characters

3.73
/5
rDev
+5.4%
look: 4 | smell: 3.5 | taste: 4 | feel: 3.5 | overall: 3.5
Got this beer from one of my buddies who was at the blind tasting evening at my place some days ago.
Swinckels wants us to believe that this is the perfect beer. Well, it's not but for a German Pilsener it's a good one.
Poured in a Dutch tulip glass the fluid is pretty yellow with a nice head and for this type of beer a good carbonation. The carbonation stays for quit a while and that's what a like in a beer.
Fresh, smooth and soft beer, not spectacular but a good beer!
477 characters

3.82
/5
rDev
+7.9%
look: 3 | smell: 3.5 | taste: 4 | feel: 4 | overall: 4
Swinkels Volmaakt is a non pasteurized beer from the Bavaria brewery. Bottles are bought in the shop from a fridge. Needs to be cooled to avoid microbial growth. ABV is 5.5%
A: Poured into my Jopen glass. A medium yellow color. I would say a little more tan than a regular pilsener. Small white head that doesn't last long.
S: Grains, hops and some wel hidden sweetness.
T: Like a regular pilsener but then with a rather impressive soft taste/aftertaste again a little sweetness. Like grape sugars I would say.
M: Good mouthfeel for a summer beer. Medium/high carbonation.
D: Clearly different from a pasteurized pilsener. Personal favorite of my father in law who's in favor of light and smooth beers. This one we will share on many occasions.
750 characters

3.88
/5
rDev
+9.6%
look: 3.5 | smell: 3 | taste: 4 | feel: 4.5 | overall: 4.5
Poured from a unique bottle into a pilsener glass. Slick and trendy packaging. The bottle appears to be clear, but actually has a slightly green tinge that becomes noticeable once it's empty. Either way, little protection against light.
Once in the glass, the beer is brilliantly clear with a fairly deep golden, somewhat orange color. Moderate white head - about two fingers thick. Recedes quickly. No lace.
Aroma and taste are fresh and zesty. Mild hop profile. Citrus and malt. It's like a macro beer -- but actually good and tasty. My non-beer-drinking wife even enjoyed it. Mouthfeel is light to medium bodied with fairly generous carbonation, and a certain soft smoothness to it.
I quite like this one. I'm generally interested in beer with more depth of flavor, but this is a fantastic beer to drink with spicy food, especially if you're not in the mood for an overwhelming hop presence. The citrusy zest pairs very well with Mexican food IMO, and it's become my go-to beer when I'm eating tacos and whatnot at home.
1,026 characters
4.04
/5
rDev
+14.1%
look: 4 | smell: 4.25 | taste: 4 | feel: 3.75 | overall: 4
Picked up in Sarajevo, at a local retailer Mercator. Poured cold beer into a snifter; it has a healthy, deep golden color. The nose is grassy with citrusy notes. The taste is pleasantly bitter, dominantly hoppy. Carbonation is medium, the beer is smooth and easy to drink. Overall an aromatic and pleasant brew, a nice addition to Bosnian beer market. Much hoppier then local beers, possibly one of the most complex lagers/pilsners I tasted lately. Knowing it's coming from Bavaria brewery I was a little apprehensive, but I'm glad I was wrong – this is not bad at all for a macro. It is more expensive than local beers, but the price is well justified.
659 characters
4.05
/5
rDev
+14.4%
look: 4 | smell: 4 | taste: 4 | feel: 4.5 | overall: 4
At $10.99 per case this couldn't be passed up. I had to give it a try--who wouldn't?
Poured this from the bottle into the trusty pint glass.
Appearance: Looking good with a light golden body and a quarter inch head that sticks around for a good while.
Smell: Bready, yeasty,almost like an American lager, but just a bit of sweetness lurking back there somewhere.
Taste: The taste lands somewhere in between a Budweiser and a Heineken. And that's good. Nothing complex but a pilsner never is in my opinion.
Mouthfeel. Really smooth, almost soft on the tongue. With medium carbonation.
Overall: This is a good damn beer, and a freaking steal at $10.99 a case--that's case, not a 12 pack.
686 characters
4.31
/5
rDev
+21.8%
look: 5 | smell: 4 | taste: 4.5 | feel: 3.5 | overall: 4.5
Got this at a Winehouse in Eindhoven, the Netherlands. It has a very nice flask, and even better glasses. It is a dutch beer from the Bavaria brewery (the Swinckels family owns Bavaria).
The taste is not very different from other pilseners, but it seems a little sweeter and fresher. It is fresh beer, so no conservatives are used. This is what gives it a fresh taste.
It is easily drinkable, and has a good after-taste.
The downside is the price, at 1,85 euro's a bottle.
475 characters
Swinckels Volmaakt from Bavaria Brouwerij N.V.
3.54
out of
5
based on
22
ratings.