Dutch Crown
| Bavaria Brouwerij N.V.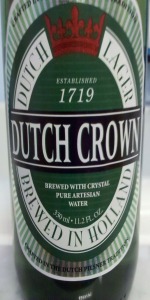 BEER INFO
Brewed by:
Bavaria Brouwerij N.V.
Netherlands
bavaria.nl
Style:
Euro Pale Lager
Alcohol by volume (ABV):
4.80%
Availability:
Year-round
Notes / Commercial Description:
No notes at this time.
Added by twiggamortis420 on 05-02-2010
Ratings: 5 | Reviews: 5
Reviews by Pegasus:
3.08
/5
rDev
-1.6%
look: 3.5 | smell: 3 | taste: 3 | feel: 3.5 | overall: 3
Appearance: Very typical of the style, clear medium golden color, with a moderate, dense white head, scattered patchy lacing, and fast-rising carbonation.
Aroma: A little skunk, due to the green glass bottle, pale malt, light fruit notes, and herbal hops.
Taste: Lots of clean pale malt at the open, as the taste progresses, herbal hops begin to assert themselves, and claim ascendency at the close of the taste, leaving only a metallic bitterness at the back of the mouth.
Mouth feel: Smooth, soft, and pleasant, with mild carbonation.
Drinkability/notes: A decent example of a lackluster style. Well suited to hot summer days.
Presentation: Packaged in a short twelve-ounce green glass bottle, served in a Pilsener glass.
728 characters
More User Reviews:

3.32
/5
rDev
+6.1%
look: 2.5 | smell: 3 | taste: 3.5 | feel: 2.5 | overall: 4
A- Pours a clear pale golden yellow color with an off-white head that quickly disappears into a thin ring of lace around the glass.
S- The aroma is light pilsner malt, grain and some spicy and grassy hops.
T- The taste is pretty clean up front with some grain along with a quick little snap from the spicy hops in the finish. Not the most flavorful pilsner but one that goes down very easy.
M- The mouthfeel is light bodied and heavily carbonated.
D- Overall, this is a decent pilsner that is highly drinkable but lacking in overall flavor and character.
558 characters

3.11
/5
rDev
-0.6%
look: 4 | smell: 3 | taste: 3 | feel: 3.5 | overall: 3
12 oz green bottle from a 12-pack box purchased at Spec's. Has a bottled on date (assuming) of 12909I09, thinking mid-2009 on this one perhaps. Pours a clear, medium gold color with a nice, fluffy cap of white foam. Pretty good retention and ok lacing, pretty nice for a EPL really.
Slightly skunky saaz hops and some stale graininess makes up the majority of the aroma, not all that different from a Heinie. A bit sweeter perhaps and a tad more malty.
Taste is sweet and grainy malts balanced by an herbal and floral hop flavor and bitterness. Pretty standard Euro lager here, nothing really stands out as unique or overly interesting. Has a respectable body and a fair amount of creaminess. Not watery at all, and has a fair amount of flavor...it's just not all that great of flavor. Glad to try it, but even on sale for $10 a 12-pack, a repeat purchase is not warranted.
879 characters

3
/5
rDev
-4.2%
look: 3 | smell: 3 | taste: 3 | feel: 3 | overall: 3
Dutch Crown pours a pale yellow color with a thin white head that dissipates quickly from a green 11.2 ounce bottle. There isn't a lot of aroma, there also isn't much flavor either, I think I get a touch of apple and a little bit of bitterness. What's there isn't offensive, I guess if I was looking for something to pound, this might do the trick, not something to savor though.
379 characters
3.16
/5
rDev
+1%
look: 3.5 | smell: 2.5 | taste: 3 | feel: 4.5 | overall: 3.5
Appearance - Pours a clear, unfiltered, light golden color with a centimeter-thick head that fades quickly.
Smell - Pretty skunky and a grassy/hay smell to it. Nothing else really stands out.
Taste - Kinda skunky, some spices I can't point out, and a little bitter afterwards.
Mouthfeel - Pretty thick with medium carbonation.
Overall - Not a bad beer for $4.99 a 6-pack!
375 characters
Dutch Crown from Bavaria Brouwerij N.V.
3.13
out of
5
based on
5
ratings.