Holland Lager 1839

Swinkels Family Brewers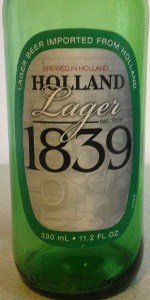 Write a Review
Beer Geek Stats:
| Print Shelf Talker
Style:

ABV:

5%

Score:

Avg:

3.04

| pDev:

14.14%

Reviews:

14

Ratings:

From:

Avail:

Rotating

Wants

Gots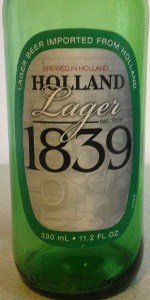 Notes:
3.44
/5
rDev
+13.2%
look: 3.5 | smell: 3.25 | taste: 3.75 | feel: 3 | overall: 3.25
The beer pours a golden color with a white head that dissipates. It is sweet on the nose and earthy. The overall aroma is medium strong. The taste is slightly cloying but the hops come through, just not with enough bitter offset. The hops taste is complex with green earthiness. The body is harder than ideal but very bubbly. This an easy drinking lager.
354 characters
3.04
/5
rDev 0%
look: 3.5 | smell: 3.25 | taste: 2.75 | feel: 3.5 | overall: 3
Poured from a bottle into a pint glass. Pours golden yellow with a tiny white head. Smells of adjunct grain, not unpleasant, but plain. Tastes of adjunct grain, that's about it. Beer is light bodied and easy drinking, good carbonation. Overall, an average beer.
267 characters
2.51
/5
rDev
-17.4%
look: 4 | smell: 3 | taste: 2 | feel: 2.5 | overall: 2.5
Low end of Dutch lagers. Taste is subpar and not worth $5.99 for six pack paid at Aldi. There are many other lagers with greater value at lower prices. I can hardly wait to deplete my stock.
193 characters
3.58
/5
rDev
+17.8%
look: 3.5 | smell: 3 | taste: 3.75 | feel: 4 | overall: 3.75
Straw yellow color, minimum head dissapates quickly. Not much of a smell, mostly grain. It's similar to Heineken but the hops are different, more peppery than floral. It has a dry mouthfeel that is a little sweet in the middle but has a dry finish with a lingering bitterness. It's in those stupid green bottles so I try and fish one out of the back of the shelf to limit the chance of it being skunked. I got lucky with this sixer, they were all good with zero skunkiness. At $5.99 from Aldi it's a nice import that's far and away better than any American macro brew. Cheers
583 characters
3.69
/5
rDev
+21.4%
look: 3.75 | smell: 3.5 | taste: 3.75 | feel: 3.75 | overall: 3.75
Clear golden color with thick white cap and good lacing.
Aroma of clean, spicy, floral hops with an emphasis on the floral.
Flavor is a good balance of malt (I'm guessing Pilsner) and spicy, floral Noble hops that strike an even middle ground between malt and hops. Not terribly complex but does come across as sophisticated.
Medium texture with balancing.
Seems to me this Aldi's Heineken beater in what is clearly a similar style offered at a lower price. If we had a local Aldi this would be on the shopping list, at least occasionally.
546 characters
2.76
/5
rDev
-9.2%
look: 2.25 | smell: 3 | taste: 2.75 | feel: 2.5 | overall: 2.75
$5.99 at Aldi, 'Beer of the Month'. More into dark beers, but for as pale as it is, it's all right. Not enough of an improvement over your typical light lager to merit searching for, but if you stumble upon it and like your beers yellow then by all means give it a try.
269 characters
3.02
/5
rDev
-0.7%
look: 3.25 | smell: 3 | taste: 3 | feel: 3 | overall: 3
Drank this in Europe and from Aldi in the US. It is clean and inoffensive. Less malt and hops flavor than Heineken. Also little sour and a slight off aftertaste. Good value for easy drinking Euro beer. Lets say the PBR of Europe.
229 characters

3.75
/5
rDev
+23.4%
look: 3.75 | smell: 3.75 | taste: 3.75 | feel: 3.75 | overall: 3.75
This is surprisingly good for a "cheap knockoff" beer. Of course given that it's made by Bavaria, it's not exactly from an unknown brewery. It's very very similar to Heineken (a good thing in my opinion) and while it may not be super cheap (like the $5 for 6 as someone else said it's worth), it's still cheap enough, and similar enough to make it worth it considering Heineken can go anywhere from $7.99 to $8.99 around here for a 6 pack. $5.99 versus $7.99 or $8.99 definitely makes it worthwhile in my book.
513 characters
3.25
/5
rDev
+6.9%
look: 3.25 | smell: 3.25 | taste: 3.25 | feel: 3.25 | overall: 3.25
Holland Lager 1839
12 oz. green glass bottle, dated "05-2015 23033250214"
$5.98/ six pack @ ALDI, 8521 W Hillsborough Ave, Tampa, FL
Notes: Brewed in Holland by H. West, Maarssen. Basic Euro-pils that's clearly designed to look like Heineken, and taste somewhat the same. The difference is that there are not as many hops, leaving both the flavor and the bitterness a little low, although mainly the hop flavor suffers. It's more towards the sweet side, but it remains in balance; and there are no defects. I drank a six-pack of this and all but the last bottle was free of skunkiness - oddly, the whole six pack was just sitting in a case with two others. I guess I got lucky. Overall... inexpensive and worth what it costs.
726 characters

3.21
/5
rDev
+5.6%
look: 3 | smell: 2.5 | taste: 3.75 | feel: 3.25 | overall: 3
Green 330 cl bottle from Aldis. Crappy after 6/14 according to bottle date. I grabbed one from in the back since the manufacturer doesn't understand basic beer making and why green bottles are bad.
Pale yellow. Straw. A bit of thin white head. Slightly fizzy.
Smells of slight pils malt sweetness, sulfur. Floral, spicy hops. Hint of phenolics like a ferment that wasn't quite spot on kind of a burnt rubber or smoky thing.
Tastes fairly clean, a light pils malt sweetness, noble hop flavor. Very nice hop spice flavor. Slightly more carbonated that I would like. It makes it gassy with some carbonic bite that doesn't blend well. Initially sweetness but finishes dry with some bitterness that lingers slightly. Hop / malt balance is fairly even.
Body is light to medium. Finishes a touch watery.
Overall it's a beer with some technical flaws that could be changed to have a very nice beer. The phenolic aroma is unpleasant. The pils flavor a little light. The body a little light. But, in the grand scheme, it's a solid beer. Price is a bit on the high side, however. $6 for 6. It's a $5 for 6 beer in its current form.
1,127 characters

2.95
/5
rDev
-3%
look: 3 | smell: 3 | taste: 3 | feel: 2.5 | overall: 3
Poured from a can into a flared glass
crystal clear pale yellow, lots of bubles, bright white head that lasted around the edge of the liquid but otherwise went away very quickly. no lace
smell is bread and white grapes
taste is a bit of sour grapes and a little bit of hops.
mouth feel is highly carbonated and dry to finish
overall, very average, and I think that one is enough.
385 characters
2.43
/5
rDev
-20.1%
look: 2.5 | smell: 2 | taste: 2.5 | feel: 3 | overall: 2.5
A - Poured out a clear, golden-yellow color with a small, white head of bubbly foam. No lacing to speak of.
S - It smelled slightly skunky with some grasses and caramel.
T - No skunky flavor. Sweet grains and caramel with some light grassy bitterness.
M - It was fairly crisp and sharp. Maybe a little thin and definitely light bodied.
O - This isn't great. I threw it into a mixed six pack because I wanted to try it.
422 characters
2.83
/5
rDev
-6.9%
look: 3 | smell: 2.5 | taste: 3 | feel: 2.5 | overall: 3
I used a glass to pour from the bottle. I got a thin light creme/tan colored head that faded quickly with little lacing. The aroma comes up with light cereal and malt. Taste is also light with malted grain and no hops. The mouth feel was light with some carbonation. Overall this lager would be ok for dinners as it won't overpower any course of the meal, but it's not among my favorites.
388 characters

3.47
/5
rDev
+14.1%
look: 2.5 | smell: 3 | taste: 3.5 | feel: 4 | overall: 4
Appearance: Fairly watery overall. Not much carbonation. Good initial foam, almost no lacing. Golden color, practically straw yellow. Lots of condensation on the glass.
Smell: Very faint peppery hop notes. Kind of a sweet muskiness as well. No metallic notes. Neutral overall.
Taste/Mouthfeel: Initial Dortmunder-like dryness. Sour, bitter, and sweet grassiness that balances pretty well. Sweetens as it warms. All in all very good. Great carbonation in the mouthfeel.
Drinkability: No complaints.
Overall: Definitely good overall.
543 characters
Holland Lager 1839 from Swinkels Family Brewers
Beer rating:
70
out of
100
with
50
ratings