Euroshopper Premium Lager
| Swinkels Family Brewers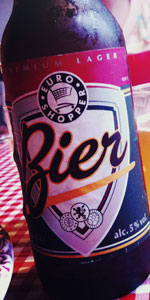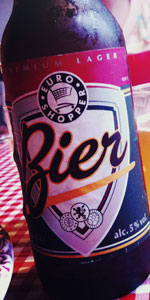 BEER INFO
Brewed by:
Swinkels Family Brewers
Netherlands
bavaria.nl
Style:
European Pale Lager
Alcohol by volume (ABV):
5.00%
Availability:
Year-round
Notes / Commercial Description:
No notes at this time.
Added by TobiasGoth on 11-06-2011
HISTOGRAM
Ratings: 14 | Reviews: 4
Reviews by Vladimiriuz:

2.29
/5
rDev
+9%
look: 2.25 | smell: 2 | taste: 2.5 | feel: 2.25 | overall: 2.25
Drink it from a half liter can. So I can write nothing about a appearance.
The smell is very away from a true pilsener. For a good sniff there is something to smell, some hop aromas.
The taste, is quite a soft bitternes and grainy.
The aftertaste flies quite quickly away but there hang some lightly flavours of beer behind.
Again a cheap supermarket beer here in the Netherlands, it is okay for the price of this premium lager.
431 characters
More User Reviews:

1.12
/5
rDev
-46.7%
look: 1 | smell: 1.5 | taste: 1 | feel: 1 | overall: 1
This beer brew is contract brewed for H-West by Bavaria Brouwerij.
Appearance
The bottle empties a transparent piss pale yellow beer. Tiny and fast receding bright white head pops up, leaving nothing on the interior of the glass.
Smell
No other words than sweet, malt and perhaps cereal come to mind. Could be that I'm wrong but there's a trace of hops.
Taste
Malty and dextrose, that's it. A strong sweet start that quickly fades into nothingness. The flavor and body remind me more of a soft drink than a lager beer. There's a soda called Trocadero that could easily trade places with it, without being noticed.
Mouthfeel
Boring, thin and very moderately carbonated.
Zilch! That's what this brew leaves me with, not an aftertaste, no memories, no biting hops, not even a bad memory. No wonder a bottle goes for only 20 Euro Cents.
847 characters
2.13
/5
rDev
+1.4%
look: 2 | smell: 2 | taste: 2.25 | feel: 2.25 | overall: 2
2.45
/5
rDev
+16.7%
look: 2.5 | smell: 2.5 | taste: 2.5 | feel: 2 | overall: 2.5
Looking to close my Curacao vacation on a high note, but that didn't happen ...at least beer-wise. The non-descript label ignores brand pride and cowers behind obscurity in a similar manner to government issued cheese and condensed milk, except for beer luxuries.
Fizzy and yellow, this must be the kind of beer that Stone Brewing Company has in mind as they conjure up the limericks that attach to the bottles. The troublesome beer has a hard time generating or retaining much head character as its froth falls to a dried out speckling on the glass.
Grain sweetness, grasses, wood, and corn all rise to the nose and contains sulfur notes of match sticks and are almost egg-like. There's just not enough real beer character to celebrate.
Grainy-sweet flavors again rise in taste and are accompanies by flavors of grain husk, dry crackers, corn-like sweetness, harsh grasses and twig-like bitterness. Apple sulfurs and lemon esters are a mild saving grace, but a grainy finish and metal taste is hard to overcome.
Mostly thin, except for light starch textures that keeps the vegetal sweetness alive on the palate, the beer favors a quick finish in an attempt to refresh the palate. But in what should be a smooth bitterness to finish turns harsh, biting, and scrubs the gullen en route to a warm alcohol finish.
At least the rest of my Curacao trip fared much better than this last beer. But any trip to the island can rely on better Amstel products or a few smattering of stouts.
1,485 characters
2.9
/5
rDev
+38.1%
look: 2.5 | smell: 2.5 | taste: 3.5 | feel: 2.5 | overall: 2.5
Had this straight from the bottle so I cannot comment om appearance, but it must be not very nice to look at.
Smell? Macrolager, grainy.
Taste? A big mouthfull of grain, could be alot worse. I might actually prefer this over Heineken, at 33% the price.
Mouthfeel, thin. Good carbonation.
Overall, mediocre lager but better than its reputation.
347 characters
2.08
/5
rDev
-1%
look: 3.25 | smell: 1.5 | taste: 2.25 | feel: 2.25 | overall: 2

Euroshopper Premium Lager from Swinkels Family Brewers
Beer rating:
2.1
out of
5
with
14
ratings