Bavaria 8.6 Gold
| Bavaria Brouwerij N.V.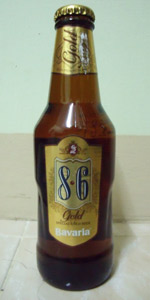 BEER INFO
Brewed by:
Bavaria Brouwerij N.V.
Netherlands
bavaria.nl
Style:
Euro Pale Lager
Alcohol by volume (ABV):
6.50%
Availability:
Year-round
Notes / Commercial Description:
No notes at this time.
Added by BlackHaddock on 01-17-2012
Ratings: 14 | Reviews: 7
Reviews by TheBrewo:
3.1
/5
rDev
+8.4%
look: 4 | smell: 4 | taste: 2.5 | feel: 3 | overall: 3
We pour a glowing reddish gold brew. It holds an initial two finger head of big tan bubbles. It retains for a minute or so, receding into a clump to one side of the glass. Spotty sheets of lacing cling to the glass. There is clear transparency, with no sediment noted. Carbonation appears active. There are adjunct grains, with corn and fresh barley. There is a freshness of apples and strawberries, which imparts a fine sweetness. Finally, there is a dry hoppiness, much like a Vienna lager. As we sip, the taste takes you by surprise. There is a syrupy, white sugar sweetness that hits like a freight train. This is somehow puckering and bittering too. This is by far the strongest component of not only the front, but of the entire beer. There is a supreme metallic spike through the sweetness. Malts are otherwise clean and pale. There is a somewhat fresh fruitiness to the middle, of extracts, syrups, and blueberries. Malts remain, keeping their pale qualities. We pull through the finish with that dry grassy hop from the nose, and a solid booziness. This further cuts the sweetness, making it less offensive to this point. Metallics continue, and a raw honey sweetness finish things off. The aftertaste breathes of adjuncts, paler malts, tin, honey, and white sugar. The body is medium and the carbonation is low to medium. There is decent sip and okay froth. The mouth is left slightly dried, but cooled and coated. The abv is appropriate and the drinkability is okay.
Overall, what we enjoyed most about this brew was the aroma. It is nice and inviting, and rather full for the style. As a big negative, however, is the offensive sweetness through the flavoring. It hits hard up front, but thankfully dissipates through the middle and end, allowing for more of a balance to set up. Okay for the style, but needs some refinement.
1,839 characters
More User Reviews:
3.84
/5
rDev
+34.3%
look: 3.5 | smell: 3.75 | taste: 4 | feel: 3.75 | overall: 3.75

2.25
/5
rDev
-21.3%
look: 2.25 | smell: 2.25 | taste: 2.25 | feel: 2.25 | overall: 2.25
Clear golden color with white, soapy head that goes away quickly. Aroma is malty with some candy/sugary notes. Taste starts sweet up-front, sugary, some vague hoppy notes in the background. Light to medium body, medium carbonation. Feels like and over sweetened, watered down tea or something like that.
303 characters
2.88
/5
rDev
+0.7%
look: 4 | smell: 3.5 | taste: 2.5 | feel: 3 | overall: 2.5
This is brewed for the French market I believe: anyway that's where I bought a pack of them for christmas guests and friends: I saved this one to review.
25cl brown, throw away bottle, poured into a 'Palm Special' bulbous tulip glass: lovely clear golden body as you'd expect from the name. The head was a proud crown of white foam that set the glass off very nicely.
The smell was yeasty with some sweet end molasses in there too.
The taste was also sweet malts, the hops not getting a look in until the mouth begins to dry. The alcohol content is easily found and I have a feeling this could give a mega hangover if you went heavy on it.
Initially I thought this was a lovely lager (I have a sweet tooth) but as the tasting has progressed I've slowly turned against it: too sweet and lacks enough umph to contain the 6.5% alcohol.
I have it's brother at 7.9%ABV next, cooling and awaiting my review: hope I'm OK in the morning!
944 characters

3.68
/5
rDev
+28.7%
look: 3.5 | smell: 3 | taste: 4 | feel: 3.5 | overall: 4
Poured from a half litre can.
Colour is a deep golden yellow, it pours a 2 fingers white/yellowish head which is quickly gone, leaving almost n lacing on the glass.
Aroma is of fruits and malts.
Great sweet taste. Medium thick and dry on palate, average carbonation.
267 characters
3.25
/5
rDev
+13.6%
look: 3.5 | smell: 3.5 | taste: 3 | feel: 3 | overall: 3.5
250ml bottle poured into a pils glass by freshness date.
A:
There is rich foamy white head in the pour that reflects its golden orange body. The head stands for some time then yields decent lacing patches, rather high carbonation.
S:
Dry fruits dominate in its aroma with mixture of grain malt, honey, floral and herbal hop.
T:
Deriving from touch of fruits, honey, floral, sugar, malt and some booze, the sweet components overpower in flavor. Hop tries to weight by lending a bitterness kick, but not enough as its sweet portions still conquering and leave residue like honey sweet lingering.
M:
Medium-bodied, carbonation is well suit to cater its body, semi-smooth mouthfeel.
O:
Really sweet but not too offensive for me, I'm quite enjoyable drinking this.
766 characters
3.06
/5
rDev
+7%
look: 3.5 | smell: 3.75 | taste: 2.5 | feel: 4 | overall: 2.75
From Carrefour Huelva. In Bavaria glass. Watching Sons of Anarchy 7x09-10. Honey-like sweetness. At first I found it pleasant, not agressive, but as the glass progressed It become tiresome
188 characters
1.65
/5
rDev
-42.3%
look: 2.75 | smell: 2.75 | taste: 1 | feel: 1.75 | overall: 1.25
Poured from a can into a 1/2 liter mug, retained 1/2 inch of thin white foam which quickly dissipated. Not much nose, faint Euro hops made me think the beer would likely be within style. Taste was like urine and sweet-and-low. Without a doubt, the most disgustingly sugary sweet beer I've ever tasted. Quite possibly the worst beer I have ever tasted. Slight sour bitterness lingered with sweetness after first sip. I had to walk away, wait a couple minutes, and strengthen my resolve to go back and give the beer another taste. Same results. I then gave my wife a taste..."what the f**k is that s**t" was her eloquent response. Remainder of beer was poured down sink.
As background, I've been a homebrewer for 19 years, do regular microbrewery tours, and am familiar with the style guidelines. This is a horrible beer.
819 characters
3.91
/5
rDev
+36.7%
look: 3.75 | smell: 4 | taste: 4 | feel: 3.75 | overall: 3.75


2
/5
rDev
-30.1%
look: 2 | smell: 2 | taste: 2 | feel: 2 | overall: 2
Bavaria 8.6 Gold from Bavaria Brouwerij N.V.
2.86
out of
5
based on
14
ratings.