Bavaria 0.0%
| Bavaria Brouwerij N.V.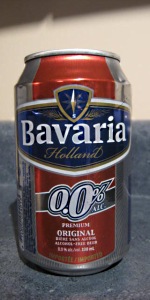 BEER INFO
Brewed by:
Bavaria Brouwerij N.V.
Netherlands
bavaria.nl
Style:
Low Alcohol Beer
Alcohol by volume (ABV):
not listed
Availability:
Year-round
Notes / Commercial Description:
No notes at this time.
Added by jazzyjeff13 on 08-27-2012
Reviews: 8 | Ratings: 21
2.83
/5
rDev
+19.9%
look: 3.5 | smell: 3 | taste: 2.5 | feel: 3 | overall: 3
330ml single can. 0.0% ABV, unlike all those 0.5% pretenders out there...really, whoever added this to BA couldn't discern this for the initial listing? Really?
This beer pours a crystal clear, pale golden colour, with two surprising fingers of puffy foamy white head, which leaves a decent low ebbing bobble edged laciness around the glass after its quick escape from this world.
It smells of thin bready malt, a bit of generic breakfast cereal, some ethereal cooked veggies, and a slight mineral character. The taste is fruity cereal malt, of the dead, long fallen off the tree variety, some weak white wine vinous notes, more rocky minerality, and some musty, earthy, dry, and almost hop-like essences.
The bubbles are rather inert and lifeless, the body medium-light in weight, and more or less smooth - as there is nothing really to get in the way, but we all know that this state hasn't exactly stopped its brethren from fucking up this particular metric. It finishes sweet, grainy, and kind of fruity, a mixed bag of stale orchard leftovers.
Well, not really all that offensive, given the lack of the one true ingredient that might give one cause for giving a shit about this offering. It guess the straight-up graininess, without the gag-worthy sweet booziness (the usual Bavaria trademark) shows how things really could be, given a more deft hand at the controls.
1,376 characters

3.07
/5
rDev
+30.1%
look: 3.5 | smell: 3.25 | taste: 3 | feel: 2.75 | overall: 3
330ml can poured into tulip 24/3/15
A clear bright yellow with lots of tiny bubbles in the liquid but the side is covered by giant air pockets, a finger of foam actually hangs around for a few sips leaving a couple polka dots of lace
S bruised apple, wet cardboard, a little dried hay and grass with some cracker, far from great but much better then expected
T not much difference but a little something in the background I just can`t place, white grape maybe
M very light, over carbonated, can`t place the aftertaste for the life of me, paper and grass perhaps
O I thought it would be much worse but still not all that enjoyable
I`m on medication that I can`t drink on for a couple months but just feel like ticking some ``beer``, this is going to be the longest couple months of my life I`m thinking
814 characters

2.16
/5
rDev
-8.5%
look: 3 | smell: 2 | taste: 2 | feel: 2 | overall: 2.5
A 330ml can with a BB of Sept 2012. Picked up ages ago from Morrisons (a cheap single can that was presumably once part of a multipack). The labelling clearly states that this is a 0.0% ABV beer.
Poured into a tulip pint glass. A clear golden colour with medium carbonation and faint floaty bits. Forms a decent head of white foam that disappears after a minute or two. Aroma of sweetish cooked grain with a hint of stewed veg. Not good.
Tastes of steamed grain with a hint of overdone veggies and perhaps a whisper of stewed leaves in the background. Slighty sweet. Mouthfeel is thin and watery, with tingly, acidic carbonation. Aftertaste of faint grain.
Blech! Not good - if I needed to stay off the booze I'd drink something else. This is horrid; sweet cooked grain and off-notes. Flavour and aroma-wise it barely resembles beer. The watery body doesn't add anything. Imagine a macro lager, then subtract what little substance remains. Voila - you have Bavaria 0.0%! Avoid at all costs.
999 characters

3.24
/5
rDev
+37.3%
look: 3.25 | smell: 3 | taste: 3.25 | feel: 3.25 | overall: 3.5
I am pretty sure I had only 3 beers below 0.5% in my entire life. The first when I was a designated driver at a high school ball and I hated it. A second when I was drunk and therefore I do not remember too much and a third on a Monday and I remember it as a sparkling icetea with hops. Now here we go:
Fast fading white foam of 2 fingers, crystal clear very light yellow body, plenty of coarse carbonation.
Smell is dominated by Pilsner malt and faint noble hops
Taste follows nose with sweet Pilsner malt and a more pronounced hop bitterness.
Refreshing and more body than expected and only a little watery before the bitterness kicks in.
This is better than I thought. It is very drinkable and I plan to go back to it. However Pilseners are not my favorite style and I think it is a tad too sweet and I would enjoy a stronger hop flavor and bitterness.
860 characters
1.55
/5
rDev
-34.3%
look: 1.75 | smell: 1 | taste: 1.5 | feel: 2.5 | overall: 1.75
From Carrefour. Can. In Ikea's pilsner glass. At lunch, with tuna. Stinky and nastily sweet. Dont repeat. Ever. Its fruit versions are much more drinkable.
155 characters
1.5
/5
rDev
-36.4%
I don't hate non-alcoholic beer. Sometimes I'll have one while marking a stack of student essays, as a pleasant, beer-like distraction. Kromacher Pils seems to be the best I've found so far, though a few German wheat beers perform adequately as well.
Having said that, Bavaria 0.0% is perhaps *the* most heinous NA beer I've encountered. Sweet and corny and metallic and sour and just tremendously unpleasant in every way I can think of.
438 characters

2.23
/5
rDev
-5.5%
look: 3 | smell: 2.5 | taste: 2 | feel: 2.5 | overall: 2
Standard dutch bottle of 300 ml, at home. Poured into a lager glass. ABV 0,0% as clearly stated on the label.
Deep golden colour, with two fingers of froathy head, quickly disappearing, leaving finally a thin film of (kind of) foam. Lots of activity in the glass, with countless bubbles rising to the surface.
Bready malt on the nose, and mostly an aroma of corn cereals soaked in water. Quite typical on all the 0% beers of the company's series.
Taste is quite bad, a bit of lime freshness at the beginnig before the wet corn cereals flavour overcomes everything, leaving at the end the taste of wort.
Thin to medium body, quite carbonated. Very dry on the palate.
Overall, not a good one, I drunk it in big gulps to make the torture end sooner.
747 characters
2
/5
rDev
-15.3%
look: 1.5 | smell: 1.5 | taste: 2.5 | feel: 1.5 | overall: 2
Bavaria Regular 0.0% pours an amber body. A small white head appears and disappears quickly.
The nose is all sweet malt, which is a mixture of barley and wheat. No hops are detectable.
My first sip followed the nose exactly. As the glass emptied, a mild bitterness emerged, though it remained overpowered by the sweetness of the malt. The beer's foam was too gassy at first. A few vigorous swirls helped it to settle a bit, and I had a handful of nice sips, but soon thereafter the beer went nearly flat.
Bavaria Regular 0.0% is not the worst Low-Alcohol beer out there. But neither is it in the same league as what I consider good "near-beers." It has an appetizing list of ingredients, but turns out to be unbalanced and far too sweet. Give it a try, but don't buy a six-pack.
781 characters
Bavaria 0.0% from Bavaria Brouwerij N.V.
2.36
out of
5
based on
21
ratings.